These candied jalapenos (also known as cowboy candy) are the ideal sweet-and-spicy condiment to spice up your favorite cuisine. They are fiery jalapeno slices in a sugary glaze. Serve with cream cheese and crackers, over sandwiches and hamburgers, or even in salads, grilled meat and baked beans!
You're in for a treat, my buddy, if you've never eaten a candied jalapeño. They really strike the ideal mix between sweetness and spice.
The jalapeño is transformed into this delectable little jewel by the sugar, which softens its intense heat.
What is Cowboy Candy?
Cowboy Candy is unique in its own right. A powerful condiment is made by marinating hot jalapeño peppers in a sweet sugar glaze. Although they soften, the jalapenos keep their spiciness, which is countered by the glaze made of sugar.
Although you may easily quadruple or triple this recipe to produce huge batches of Cowboy Candy, it is considered a small-batch recipe. If you enjoy making pickling recipes, you probably already have many of the components on hand.
In essence, they are jalapenos that have been cut into slices, then cooked and sweetened in a simple seasoned syrup. They are the ideal fast sweet treats or garnishes since they are the optimum balance of sweet and spicy.
Additionally, the process of canning aids in their preservation. The phrase has been used for years, but the recipe is so well-liked that a tiny business even registered the common name as a trademark. This handmade variation is much better.
Isn't it true that handmade is always better? Oh, and it's cheaper to make this candied goodness than to buy it, and really simple to make!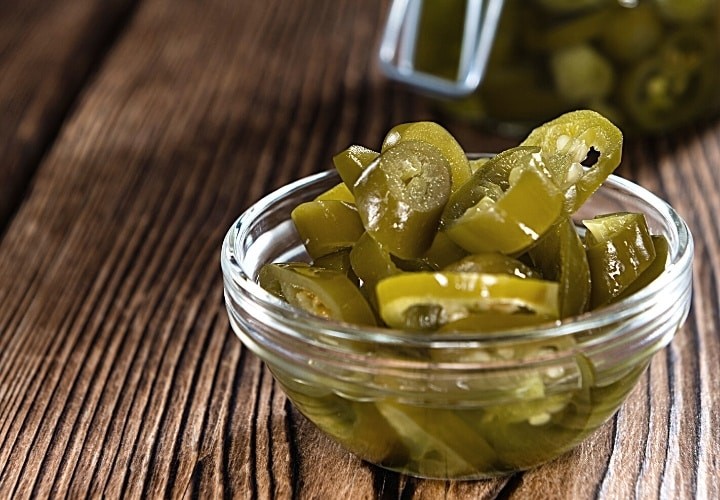 What is Cowboy Candy Made Of?
To produce this delectable condiment, only a few basic ingredients and a few spices are required.
Jalapenos: There are around 20 jalapenos required for this dish.
Apple cider vinegar: Tenderizes the peppers and adds a tangy taste.
Sugars: A mixture of brown sugar and granulated sugar in equal amounts counteracts the spiciness and vinegar.
Garlic powder, celery seed, cayenne pepper, turmeric, and other seasonings all go well with the hot jalapeno taste.
Why is this recipe the best?
There are quite a few recipes online, but I've noticed that most of them are lacking in some crucial steps when making. Don't get me wrong, making it is easy, but you must get the timing and the ingredients right for the best results.
This simple homemade recipe for candied jalapenos, often known as cowboy candy, is great for snacks or desserts since it's sweet with just a hint of spice.
They have a nice balance of spice and sweetness. They are essentially sliced jalapenos preserved in a seasoned simple syrup and are excellent for cornbread, guacamole, and cocktail garnishes.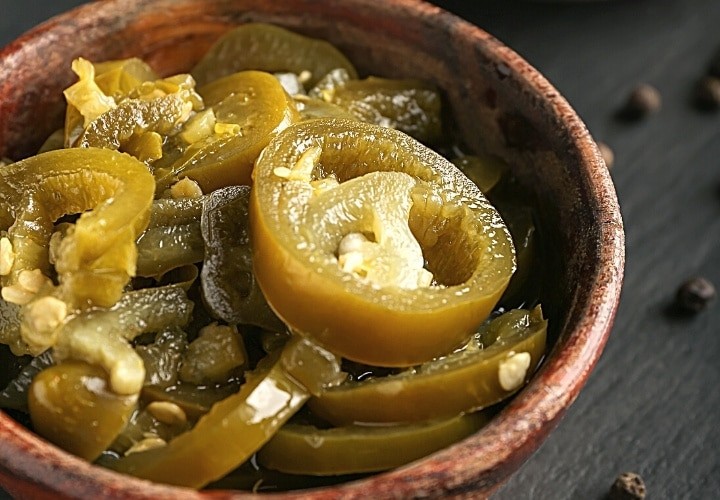 How to Make Candied Jalapeños (Cowboy Candy)
The toughest part of making cowboy candy is waiting to consume it; the process just takes a few minutes.
For detailed instructions with measurements, scroll to the bottom of the page.
Get the jalapenos ready. The jalapenos should be sliced into 1/4-inch thick rounds after the stems have been removed and discarded. Wearing gloves is essential when performing this. Place aside.
Mixtures should be simmered. In a big saucepan, bring the remaining ingredients to a boil. After 5 minutes of simmering, add the jalapenos. Simmer for 4 minutes precisely. The peppers should be transferred to canning jars using a slotted spoon.
Produce the syrup. The leftover liquid should be boiled for 6 to 7 mins on high heat to transform it into syrup. Wait three minutes for cooling. To fully cover the jalapenos, pour the syrup into the jars.
Refresh the jars. For best results, cover the jars with 2-piece lids and cool in the refrigerator for at least two weeks before consuming.
Tips for Making The Candied Jalapeños (Cowboy Candy)
These are the tips for candied jalapenos that will be useful.
Cool things down. The seeds and membrane from the jalapenos can be removed to lessen the heat a little bit if you like them to be a little less sweet and spicy. After removing the stems, twist and remove the seeds from each jalapeno by inserting a long peeler inside. After that, cut into rounds.
Avoid burning your nose or eyes. While chopping the jalapenos and moving them from the liquid to the jars, we strongly advise using gloves to protect your hands from the powerful odors.
If the peppers seem shriveled, don't be alarmed. After boiling in the hot syrup, the peppers will shrink, but they will grow again after a few weeks of cooling in the tightly sealed jars.
How do you make use of Candied Jalapeños syrup leftovers?
You may also can syrup in half-pint or pint jars if you have any remaining, which is likely to happen. It tastes well in potato salad, as a coating over barbecued ribs, as a simple syrup in margaritas, etc.
How to store Candied Jalapeños (Cowboy Candy)
Store Candied Jalapeños in the refrigerator. When made as instructed, cowboy candy keeps for up to two months in the refrigerator.
Canning Candied Jalapeños: You may go one step further and can the cowboy candy for a longer shelf life. To do this, put the full, sealed jars in a canner with two inches of water on top of them. The water should come to a full rolling boil. Set the timer for 10 minutes for half-pints or 15 minutes for pints after it comes to a full rolling boil.
Use canning tongs to move the jars to a cooling rack once the timer goes off. Give them 24 hours to cool without being disturbed. Once completely cooled, label them and wipe them down with a clean, moist rag. They may stay fresh for up to a year in the pantry.
Share the image below to your Pinterest board if you like this Cowboy Candy Recipe!
Cowboy Candy Recipe
Ok, now that we know everything we need to know about these Candied Jalapeños, aka Cowboy Candy, let's start making them!
Prep time: 5 minutes
Cook Time: 20 minutes
Ingredients
20 jalapeños, large
16 oz of apple cider vinegar
2 cups of brown sugar
1 tsp of turmeric
1 tsp of garlic powder
2 cups of sugar, granulated
1/2 tsp of cayenne pepper
1/4 tsp of celery seed
Instructions
Slice jalapeño stems off while wearing gloves, then cut peppers into 1/4-inch wide rounds and add the peppers to a bowl. Leave aside.
Add all the additional ingredients to a sizable pot set over high heat. After bringing to a boil, turn down the heat to a low simmer for about five minutes.
The jalapenos should be added now. Increase the heat to high and simmer for 4 minutes. ( Be sure not to simmer for more than 4 minutes; this is a crucial step.)
Spread the peppers within a 1/4-inch of the upper jar rim in a clean, sterilized canning jar using a slotted spoon.
Cook the liquid for around 5-7 minutes on high heat with the pot below. After that, turn off the heat and let the pot cool for about three minutes.
Transfer the syrup into the jars carefully using a ladle (or a pitcher that has a spout), making sure that all of the jalapenos are completely immersed. (Use a chopstick to repeatedly poke the bottom of the jars to remove any trapped air.)
With a fresh, moist paper towel, wipe the jar edges. Use two-piece lids to seal. Put in the refrigerator.
Refrigerate for at least two weeks (preferably a month.) Cowboy candy will taste better the longer they sit. Eat within two months and keep refrigerated. (Notes in the article above for information on canning.)
Nutrition
Calories: 170 kcal
Carbohydrates: 41g
Protein: 1g
Fat: 1g
Saturated Fat: 9g
Monounsaturated Fat: 1g
Polyunsaturated Fat: 9g
Sodium: 2mg
Potassium: 89mg
Fiber: 1g
Sugar: 42g
Calcium: 23mg
Vitamin A: 175IU
Vitamin C: 18mg
Iron: 1mg