Olive Garden Five Cheese Fonduta is so delicious that I've decided to make a copycat recipe for this heavenly appetizer. If melted cheese isn't one of the most delicious and sinful foods worth each calorie you take, well, then I really don't know what is!
Olive Garden Five Cheese Fonduta
My husband and I recently visited Olive Garden and got the "Dip Duo," and we got really stuffed with cheese. He begged me to re-create a homemade version of the Olive Garden 5 Cheese Italian Fonduta on Saturday when he watches soccer games.
I am not 100% certain of each cheese they use in their dip; however, I was sure I might taste mozzarella and Parmesan. Anyway, the version I created at home, you're going to love it!
It blows their version away. Primarily cause the cheeses you can purchase at your market are simply higher quality than most chain restaurants. I always use fresh mozzarella balls. Another secret is not to get any grated cheese that comes in the bag. You can; however, it simply doesn't have identical melt-ability and efficiency that freshly cheese off the block provides.
Next, you have got to look for fresh baguette bread (or low-carb bread with almond flour if you're on a low-carb diet) from your store and broil it with lots and plenty of butter and freshly chopped garlic. It'll be really crunchy and chewy – simply the right texture to dip into your stretchable gooey cheese.
Other fantastic recipes from Olive Garden are Alfredo sauce and Zuppa Toscana!
Pin the image below if you like this recipe!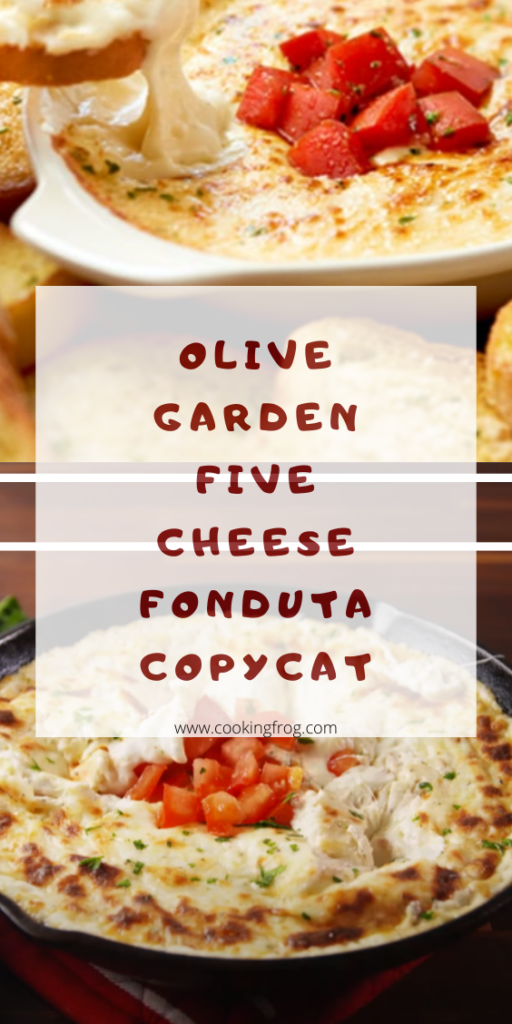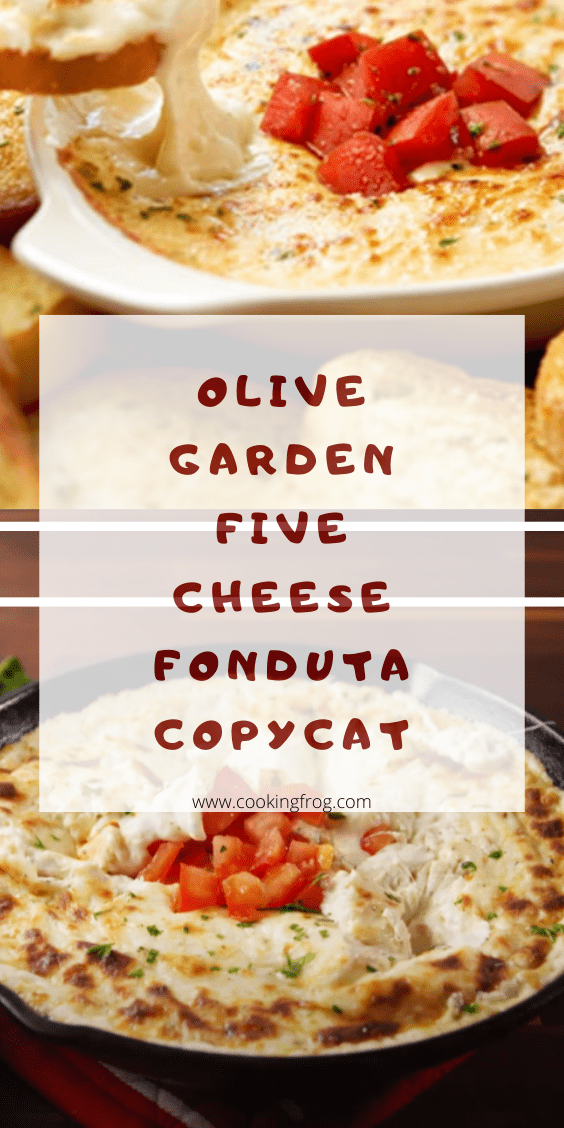 Ingredients
8 oz block of softened Philadelphia cream cheese
8 oz of freshly grated/chopped mozzarella
1/2 cup of Parmesan, freshly grated
4 oz of provolone, freshly grated
4 oz of fontina, freshly grated
2 teaspoons of red pepper flakes
1 diced Roma tomato
1/4 cup of melted butter
3 cloves of minced garlic
1 loaf of sliced French baguette (or a low-carb bread with almond flour if you're on a low-carb diet)
freshly ground black pepper to your liking
How to make Olive Garden Five Cheese Fonduta Copycat
Heat the oven to 450 F. Grease a glass Pyrex dish (I use a pie dish) with non-stick spray or a bit of butter.
Take a medium size bowl and mix the softened cream cheese with all of the other cheeses. Mix well with a rubber spatula to combine completely till it's smooth.
Add in the pepper flakes and freshly ground pepper and mix.
Pour the mixture into a previously greased dish and level the mixture using a spatula.
Place it in the oven and cook for about 15 minutes. In the meantime, prepare the baguette bread. (Look below for how to prepare the bread)
Flip the oven on Broil and add tomatoes ( diced ) in the middle of the cheese mixture. Combine and cook for an extra 3-4 minutes until the top is golden brown.
Slice the French baguette and lay it on a baking sheet while the cheese is cooking.
Take a microwave-safe bowl and Add 1/4 cup of butter, add the minced garlic, and microwave together for 20-30 seconds.
Brush garlic butter onto every slice of French bread.
Broil until golden brown, 5-6 minutes, rotating the pan halfway through.