Let's make a delicious Roman Suppli, a classic that promises a comforting crunch on the outside and a gooey mozzarella wonder inside. This dish is prepared with the rich flavors of carnaroli rice, mozzarella cheese, and butter and elevated by the subtle touch of onion, tomato puree, and fresh basil leaves.
The creaminess of milk, the depth of veggie broth, and the binding magic of eggs come together effortlessly. And let's not forget the finishing touch: a generous drizzle of Parmigiano and Roman pecorino cheese. Enter the world of Roman Suppli, where each bite celebrates flavor and texture!
Roman Suppli (Supplì alla Romana)
Dive into the core of Rome's culinary traditions with Roman Suppli, a dish that seamlessly blends taste and history. These crisp rice balls, filled with gooey mozzarella, are prepared with the most satisfactory ingredients: carnaroli rice, mozzarella cheese, butter, and fried in extra virgin olive oil.
The aromatic presence of onion, tomato puree, and fresh basil leaves improves the ensemble. Add to this the creaminess of milk, the richness of the vegetable broth, and the binding powers of eggs, all completed with a plentiful amount of Parmigiano and Roman pecorino cheese.
But there's a mesmerizing twist to this Roman delicacy's story. Outside its popular name, these golden delights are known as "Supplì alla Romana." And for those with a good sense of history, the term "suppli al telefono" resonates. Why? Because the stretching mozzarella, when pulled apart, joyfully mirrors the spiral telephone cords that were once omnipresent in homes.
It's a fun reflection of how meals and memories twist, catching the essence of Roman gastronomy and parts of day-to-day life from the past. With Roman Suppli, every bite delivers not just flavor but a tale, linking the past to the present in the most mouthwatering way.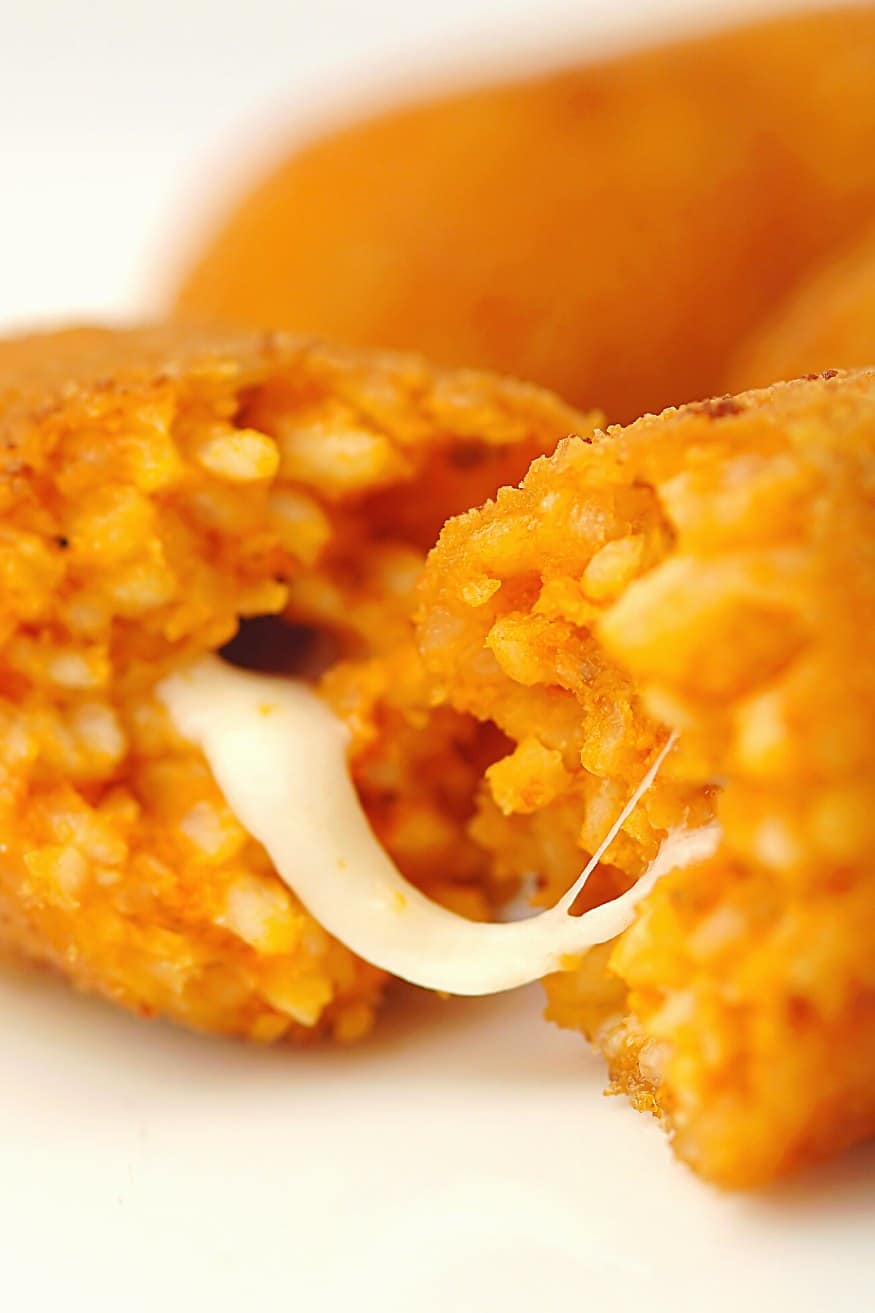 The Best Suppli in Rome
Have you ever walked through the streets of Rome? If yes, you might have heard stories about the remarkable Roman Suppli at Supplizio. This culinary jewel, helmed by the renowned chefs Arcangelo Dandini and Lorenzo D'Ettore, stands proudly in Rome's historic soul, serving some of the city's finest Suppli.
Their menu is a lovely tapestry of flavors. While they master the traditional version, adventurous palates can explore variations such as cacio e pepe or the indulgent blend of butter and anchovies. A nod to tradition, they also prepare the age-old original Suppli, a wide variety of chicken giblets, pork sausage, mozzarella, Parmesan, tomato, and fresh porcini mushrooms.
For those who want a fiery kick, the arrabbiata suppli, infused with zesty pepperoncino, is a must-try.
Ingredients you'll need
Carnaroli Rice: Frequently referred to as the "king of rice," carnaroli rice is the spine of this recipe. Its starchy content provides a creamy consistency, making it the excellent choice for holding the Suppli together while delivering a delightful bite.
Mozzarella Cheese: The star of the dish! When warmed, mozzarella melts into a string-like, gooey treat, delivering the signature "telephone cord" effect. Its mild taste complements the other ingredients, guaranteeing a harmonious taste.
Butter: Butter enhances the rice mixture, giving it a silky texture and improving the overall mouthfeel of the Suppli.
Onion: A foundational flavor. The onion, when sautéed, releases sweetness and fragrance that forms the base note for the dish, ensuring depth and sophistication.
Tomato Puree: This provides a tangy undertone, balancing out the richness of the cheeses and butter. It also imparts a dynamic color, making the treat visually attractive.
Milk: Milk softens the carnaroli rice, ensuring that the inside of the Suppli stays creamy and contrasts beautifully with the crisp exterior.
Vegetable Broth: This broth infuses the rice with a rich flavor, ensuring that every grain is filled with taste.
Basil Leaves: Fresh basil presents a burst of herbaceous freshness, slicing through the richness and adding a layer of aromatic sophistication.
Eggs: Acting as a binding agent, eggs provide that the rice mixture holds its form while also adding a touch of richness.
Parmigiano Cheese: Known for its strong and nutty flavor, Parmigiano adds a depth of flavor, boosting the overall flavor profile of the Roman suppli.
Roman Pecorino Cheese: This goat cheese, with its salty and tangy notes, complements the mozzarella and Parmigiano, rounding off the cheesy trio that makes the Suppli irresistibly appetizing.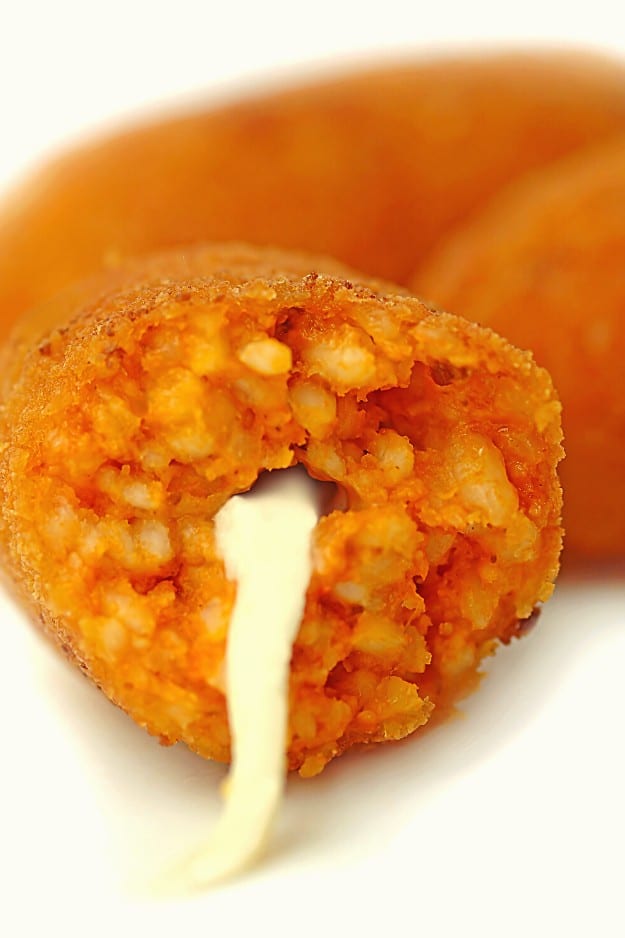 What is the difference between Arancini and Roman Suppli?
Arancini generally boast a round or teardrop shape and are prepared with rice, often accompanied by ingredients like meat, peas, and sometimes pistachios. The variety of Arancini flavors is quite comprehensive compared to Suppli. On the other hand, Suppli embraces an oblong form, featuring a precise combination of tomato sauce and rice.
At its heart, a piece of mozzarella awaits. It's essential to serve them while they're hot. The name "Suppli al Telefono" (telephone) arises from the visual spectacle when you split one: the mozzarella stretches between the halves, reminiscent of a telephone cord.
Roman Suppli Recipe
Ingredients
5 oz of carnaroli rice
5 oz of mozzarella cheese
4 Tbsp of butter
1/3 of medium onion
14 oz of tomato puree
1 cup of milk
½ cup of vegetable broth (or more if needed)
4 Tbsp of freshly chopped basil leaves
2 eggs
½ cup of grated Parmigiano cheese
½ cup of grated Roman pecorino cheese
Salt to your liking
Olive oil or other vegetable oil for frying
Instructions
Preparation of Onion: Chop the onion into fine pieces for a subtle flavor infusion.
Sautéing the Base: Heat oil and 2 tbsp of butter in a pan. Add the finely chopped onion, and saute until it turns translucent.
Rice Introduction: Add the rice to the pan, seasoning it with a touch of salt. Toast the grains shortly for enhanced flavor.
Broth & Tomato Fusion: Slowly pour in vegetable broth, stirring to incorporate. Follow this with tomato puree and warm milk.
Rice Cooking: Keep at medium heat and cook the mixture for around 15 minutes. Ensure constant stirring and refill with broth as required. Fold in the freshly chopped basil as the rice approaches its perfect texture.
Season & Combine: Modify saltiness to your liking. Blend in the remaining butter, pecorino, and Parmigiano, ensuring a harmonious mix.
Cooling the Risotto: Spread your creamy risotto on a cool surface, allowing it to settle a bit.
Mozzarella Centerpiece: Slice the mozzarella into bite-sized cubes. Mold the rice into a ball using wet hands, creating a small pocket in the center. Insert a mozzarella cube inside, sealing and shaping the rice into an elongated form.
Egg Wash & Breading: Whisk eggs in a bowl, seasoning with a touch of salt. Immerse each rice ball, making sure it's an even coat. Roll them in breadcrumbs, pressing gently to secure a consistent crust.
Frying to Perfection: Heat the oil to 340°F. Fry the Roman Suppli until they get a light walnut hue, approximately 3 minutes.
Final Touches: Drain excess oil using absorbent paper. Allow the Suppli a short resting period. Serve them warm, ensuring they're not overly hot, for the best taste experience.
Enjoyed your Roman Suppli? Give that photo below a pin on your Pinterest board. Because recipe this good deserves a double-tap… or a pin! 🙂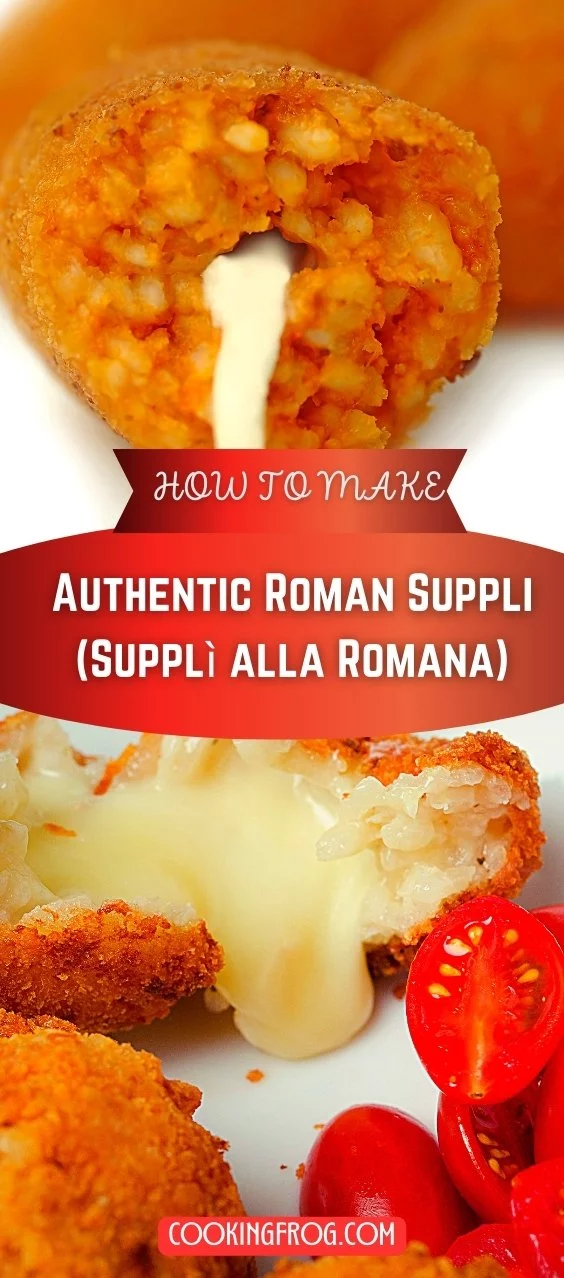 More Italian Recipes to Explore
Italian Chocolate Salami: A satisfying no-bake dessert, this "salami" is a fusion of cocoa, biscuits, and nuts, offering a lovely treat that's both whimsical and indulgent.
Italian Chocolate Gelato: Dive into the creamy profoundness of this classic Italian ice cream. It's the epitome of chocolatey perfection, rich in cocoa and velvety smooth.
Pizzelle Cookies Recipe: These thin, crispy waffle cookies testify to Italian baking finesse. Delicately flavored and beautifully patterned, they're excellent with a cup of Italian espresso.
Homemade Canestrelli Recipe: Experience the buttery excellence of these shortbread cookies, lightly dusted with powdered sugar and often shaped like delicate flowers.
Italian Meatballs Recipe: Savor the rich combination of meats and herbs in these iconic Italian meatballs. They're a hearty Italian favorite, perfectly seasoned and simmered in a robust tomato sauce.
How to Make Authentic Maritozzi: Dive into the world of these sweet buns, often filled with whipped cream. A Roman breakfast staple, they're a lovely start to any day.
Italian Chicken Vesuvio Recipe: Relish the savors of roasted chicken melded with garlic, wine, and herbs. A dish that's both rustic and sophisticated, it captures the spirit of Italian home cooking.