Swiss Stromboli and Ham is a perfect meal because you can serve it for dinner or breakfast or just a quick snack. This meal is universal in that regard, because it can be the main meal or a side dish. Everyone will love it, that's for sure.
What is Stromboli?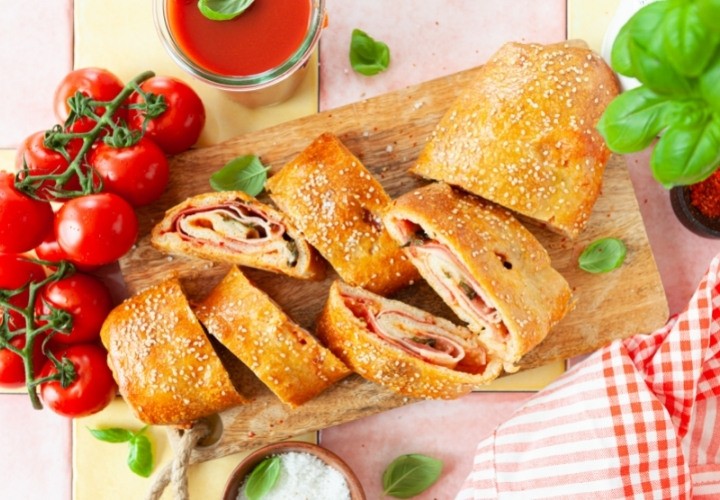 Stromboli can be compared to pizza, it can be thought of more similar or different kind of Calzone. While Stromboli's ingredients are rolled in, Calzone is stuffed inside the dough. The difference is also in the ingredients because the ingredients are not classic pizza ingredients.
Awesome thing about Swiss Stromboli is that you can play with more complex mixtures or just simple combinations. Stromboli's are traditionally made of Italian Cheeses and Cold Cut mixes.
Share the image below to your Pinterest if you're still loving this Stromboli recipe in 2022! 🙂
Ingredients
One pizza crust dough
3 Tablespoons of mustard, dijon
6 ounces of ham, sliced
6 sliced green onions
8 pieces of cooked bacon, sliced
1 whole egg, beaten
1/4 cup of Parmesan Cheese, grated
How to make Swiss Stromboli and Ham?
Heat the oven to 400 degrees Fahrenheit. Line the parchment paper on a baking sheet, and roll out the pizza dough on it.
Add sliced cheese and ham and top with bacon and green onions.
Roll the dough by placing the seam side down on the baking sheet.
Sprinkle the top with Parmesan cheese, and brush with egg and just little bit of olive oil.
Bake until the top side is golden brown, it should take about 12 – 16 minutes.