Chick-fil-A Mac and Cheese, a last year's addition to the Chick-fil-A menu, has swiftly gone to the top of the favorite menu item list. While nothing beats buying it at the restaurant, we've created a Chick-Fil-A mac and cheese recipe that will quickly become a household favorite.
If you like Chick-fil-A, you must never forget to get the Mac & Cheese! Their mac and cheese are arguably among the best available. The mac and cheese, made with a variety of cheeses, Is creamy, gooey, rich, and just fantastic. It is one of the most popular things on their menu, and both children and adults like it.
Chick-Fil-A Mac and Cheese Recipe
You don't have to look elsewhere if you would like your homemade mac & cheese to taste like Chick-fil-A's. We've created a fantastic copycat recipe that will provide you nearly the same results as purchasing it in Chick-Fil-A – however, we think the homemade flavor is even better.
My kids loved it, and to be frank, everyone that tried it did too. It takes conventional macaroni and cheese to the next level, and I don't think there will be a dissatisfied guest in the house with this dish.
Chick-fil-A's new Mac & Cheese is cooked fresh every day, and the formula is more sophisticated than you'd imagine from a fast-food chicken restaurant. According to the published ingredient list, the recipe contains many types of cheese, including Parmesan, Pecorino Romano, famous Italian cheese made of sheep's milk, and BellaVitano, a prize-winning hard cheese from Wisconsin.
The BellaVitano cheese lends a delicate nuttiness to the blend, and all three hard kinds of cheese contribute a strong umami taste that balances the white and yellow cheddar combination perfectly. Together five types of cheese combine to provide such a wonderful taste, but the mixture could dissolve into a greasy mess if it weren't for the help of one additional common cheese: American.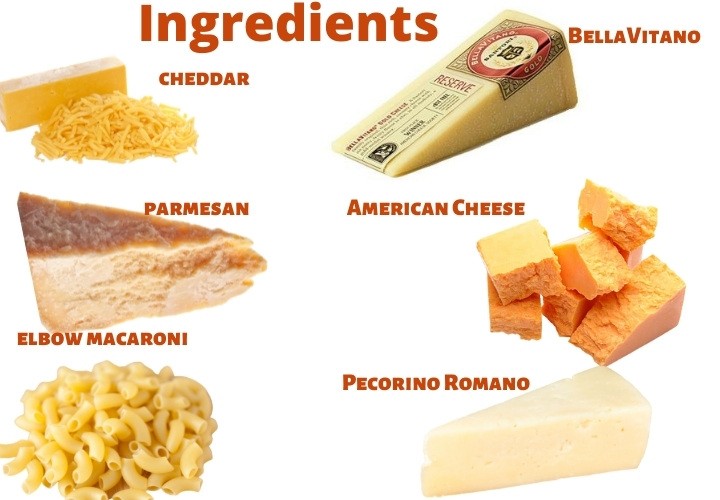 The value of American cheese is found in the sodium citrate it contains, which balances its lack of flavor. This organic sodium salt acts as an emulsifier, preventing the fat within cheeses from breaking. We don't need to prepare a roux to make a wonderfully smooth cheese sauce since we first melt several pieces of American cheese in the milk.
Another trick for cooking the macaroni: don't follow the guidelines on the package for al dente macaroni since you don't want the macaroni to be al dente or somewhat hard. Cook the elbow macaroni for twenty minutes to allow it to soak as much water as possible.
This guarantees that the macaroni does not absorb fluid from the cheese sauce when mixed and that the sauce remains flawlessly creamy.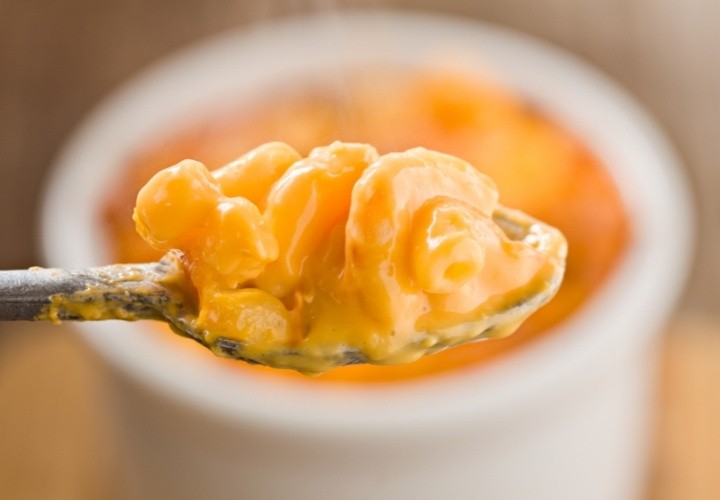 Chick-Fil-A recipes on our website are very popular, and no wonder, because we take a lot of trial and error until we get it right, or at least the closest to the real thing. So I highly recommend you check some other popular Chick-Fil-A recipes below:
Chick-fil-A Sauce Copycat Recipe
Chick-Fil-A Chicken Salad Copycat Recipe
How to Make Chick-Fil-A Chicken Minis
Chick-Fil-A Grilled Chicken Cool Wrap
What about Chick-Fil-A Chicken Sandwich and Mac and Cheese Combination?
What's the deal with the chicken sandwich and mac & cheese? You've almost definitely seen folks put mac and cheese on top of the Chick-Fil-A chicken sandwich if you're surfing the net.
And, sure, it is truly excellent. The crunchy chicken, pickles, and bread all work well together with Chick-Fil-A mac and cheese. Who would have guessed?
You can also combine the Chick-Fil-A mac and cheese with your favorite burger for an amazing experience, like in the photo below.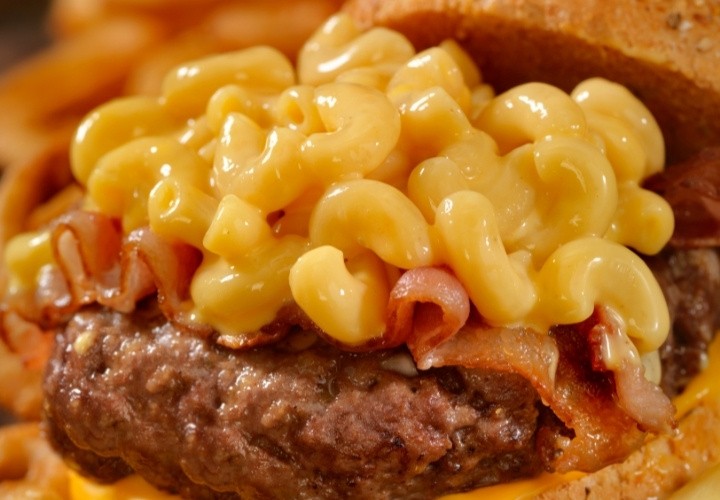 Tips for making the best Chick-Fil-A Mac & Cheese:
The secret to making the greatest Chick-Fil-A Mac and Cheese is a specific cheese mix. We like to cook it for only the right amount of time so that all of the cheeses melt nicely together for a crunchy top.
You have to ensure your ingredients are all at room temperature. Instead of being pulled directly from the refrigerator, they just mix better this way.
I prefer whole milk. However, if low-fat milk is the only that's available, you are free to use it. It's not quite as creamy, but it's just as tasty.
If you can't seem to find BellaVitano Gold Cheese, you may replace it in this recipe with more parmesan cheese. You may also add heavy cream to provide it with that additional creaminess that all of us crave.
For Chick-Fil-A mac and cheese, you can use gluten-free noodles if you want a gluten-free dish.
Don't follow the guidelines while cooking the macaroni; as I've said before, you don't want the macaroni to be al dente. You should cook them for around 20 min, so the macaroni can absorb water and not cheese, and the sauce stays nice and creamy.
FAQs
Can I make Chick-Fil-A mac and cheese in advance?
You can! You can make Chick-Fil-A mac and cheese up to a day in advance and store it in the refrigerator uncooked — I highly suggest you wait to add the cheese for the day of baking.
If you wish to save it for afterward, place it in the freezer uncooked and well-wrapped for up to 3 months.
Can I put Chick-Fil-A mac and cheese in the freezer?
Absolutely; if you have mac and cheese leftovers, you may store them for up to 3 months in a freezer-safe storage container. Be careful that it will most likely not be as wonderful when reheated.
How long can I keep Chick-Fil-A mac and cheese in the fridge?
It should preserve for 3-5 days in an airtight container.
Share the image below to your Pinterest board if you like this Chick-Fil-A mac and cheese recipe!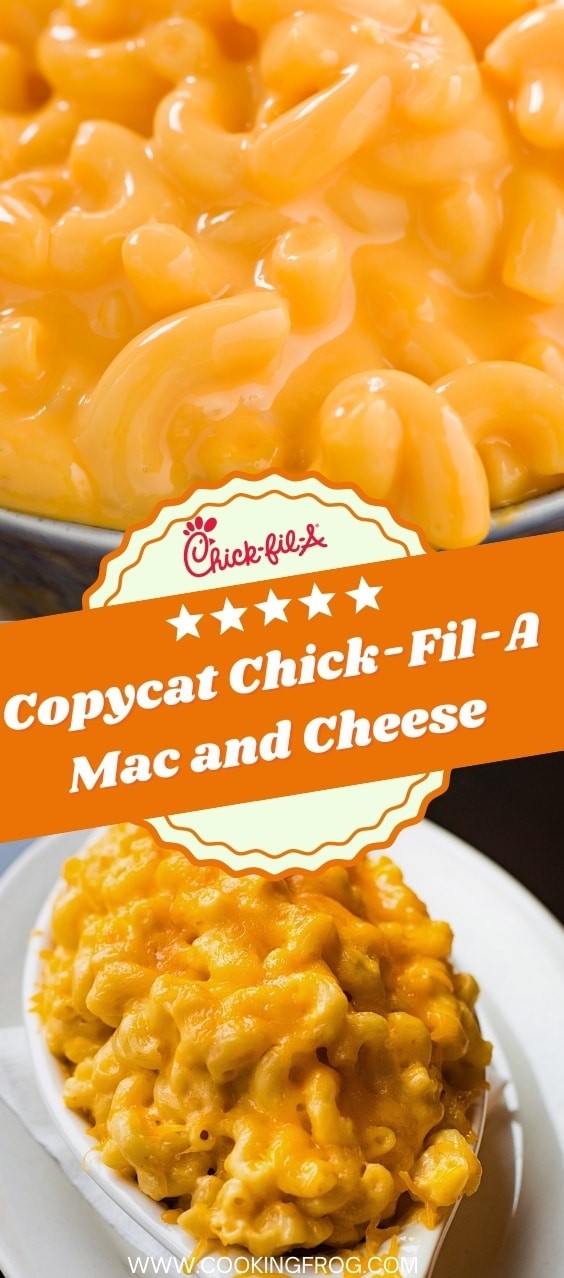 Ingredients
8 oz of macaroni (elbow macaroni)
1 cup of whole milk
5-6 slices of roughly chopped or torn American cheese (don't use Kraft Singles)
1 TBSP of butter, unsalted
1/2 tsp of salt
½ Cup oz of cheddar cheese, shredded
1 oz of white cheddar cheese, shredded
1 oz of BellaVitano Gold cheese, shredded
3 TBSP of Parmesan, grated
1 TBSP of grated Pecorino Romano
For the Topping:
3 ½ oz of sharp cheddar cheese, shredded
3 ½ white cheddar cheese, shredded
Directions
Boil the water in the pot and cook the macaroni for 20 minutes. Remove the water and strain when the macaroni is totally soft.
In a medium saucepan over medium/low heat, combine the milk, butter, American cheese, and salt to make the cheese sauce.
Warm the milk slowly to melt the butter and cheese. Whisk frequently till the American cheese is melted and the sauce is smooth and creamy.
Add in the cheddar cheeses, BellaVitano Gold cheese, Parmesan cheese, and Pecorino Romano, and mix in until the sauce is smooth. When it's done, remove the sauce from the heat.
Leave the sauce to cool and thicken for ten min before combining it with the macaroni in a large bowl and allowing it to cool sufficiently so that the cheese does not drop to the bottom.
As it rests, gently stir it every now and again.
Prepare your broiler by setting it on high and place the macaroni and cheese in a baking dish.
To make the topping, combine the yellow and white cheddar cheese, then spread the mixture over the top of your Chick-Fil-A mac and cheese.
Place the pan in the broiler for 2–3 minutes or until the top is slightly browned. Enjoy!
This recipe is meant for around 6 servings of mac and cheese.
Tips
If you can't get BellaVitano cheese, use 1 tablespoon more Parmesan cheese instead.
If you don't have American cheese in your kitchen, you can substitute Velveeta or really any cheese with sodium citrate.
Last words
So, there you have it. Like most Copycat recipes, this Chick-Fil-A mac and cheese isn't only about the ingredients; you have to know a few tricks also. I hope you've enjoyed it, and if you have any questions or issues with this mac and cheese, please let me know in the comments section, and I'll get back to you as always.