During this outbreak of Coronavirus (Covid-19), there is nothing much you can do other than keep yourself safe and healthy as possible. In regards to healthy French onion soup for cold, you might be forgiven to believe that it doesn't have much to provide with regards to nutrients. Having its comforting clear broth, not much veggies, "only" onions and the cheese topping with toast.
French Onion Soup for Cold
First of all, this isn't the cure, it will just help you to boost your immune system and help you get the nutrients that are proven to have strong benefits against the viruses.
Trust me, you will end up pleased to learn that it's actually Onions that will provide you with all the benefits. Onions are part of the Allium family, and contain Quercetin . Quercetin is really a powerful anti-inflammatory and shouldn't be overlooked as a vegetable when it comes to your food for cold. Also, this recipe includes Thyme, which is a very powerful ingredient that can stop the cough and boost your immunity.
I suggest you look at this video from pulmonologist & critical care specialist Roger Seheult and the latest findings in regard to Quercetin and promising results in its effect on coronavirus.
For a vegetarian or vegan variation, a vegetable broth works perfectly, however, you will have to take some time to carefully cook the onions; very gently for quite a long time to make sure that they're truly caramelized for more flavor. It's really worth the time to create this Healthy French Onion Soup for the cold!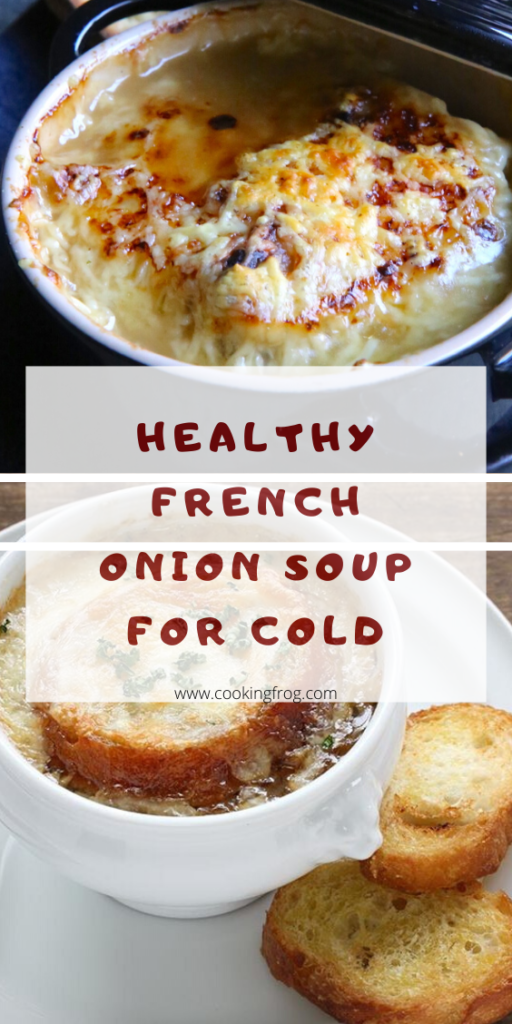 Ingredients
10 medium-sized onions or, sliced
4 cloves of garlic
Olive oil and butter, for frying
1 tsp of Sea Salt, or other that you prefer
½ tsp of Black Pepper
1 tbsp of Dijon Mustard
2 pcs of bay leaves
1 tbsp of Balsamic Vinegar
33 oz of Stock, Vegetable or Beef
4 sprigs of Thyme
1.8 oz of Emmental, Gruyere and Parmesan cheese (you can go with one if you don't have all of them)
4 slices of whole-grain bread
How to make Healthy French Onion Soup for Cold?
Using a big saucepan, slowly heat the butter and olive oil mixture. Take care not to let it overheat.
On medium heat Sauté the onions for around 5mins till they start to soften. After that add the garlic, thyme, bay leaves, salt and pepper.
Lower the heat and permit the onions to cook for about 30 minutes. Don't cover them until they're caramel color and soft.
If they still haven't turned the colour, turn the heat up for about 5 minutes more, stirring and ensuring that the onions don't burn.
Once the onions are cooked, add in the mustard, stock and balsamic vinegar.
Bring it to the boiling point and cover. Lower heat to really low and simmer for 15 to 20 minutes.
Switch off the heat to permit the flavors to infuse.
In the meantime, toast the side of the bread until it turns golden in color. Do it on the other side and spread a slim layer of Dijon Mustard on the toast and top with cheese.
Grill for one minute approximately, before the cheese is melted and slightly browned.
Serve with a cheese toast. Enjoy!!!