Strawberry Banana Bread Easy Recipe is quick to make with simple ingredients. Adding strawberry to banana bread takes this recipe to a next level of tastiness. The positive effect of baking Strawberry Banana Bread in the oven is that your whole house will smell heavenly.
So next time, when you're out to get some fresh vegetables and fruit, don't forget to pick some Bananas and Strawberries. Because I'm sure that you will love this bread. Strawberry Banana Bread is a great breakfast meal because it has all the necessary ingredients for you and your family. It will give you enough energy to start a day perfectly.
Share the image below to your Pinterest board if you like this heavenly strawberry banana bread!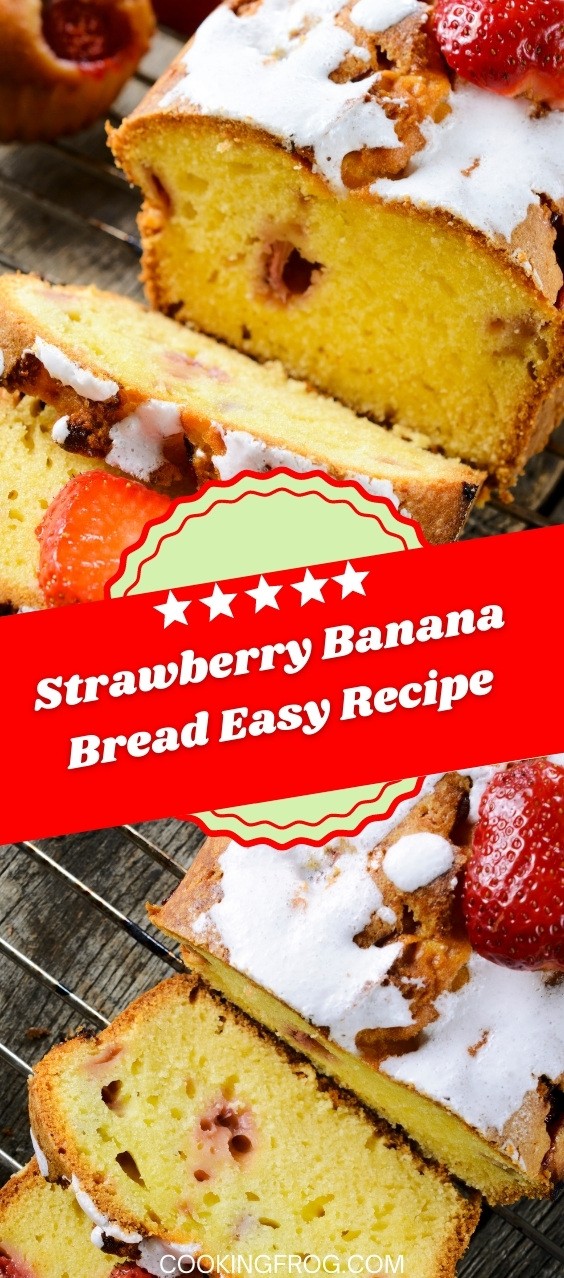 Ingredients
4 ounces of butter, softened
1 cup of sugar, granulated
2 whole eggs
3 mashed bananas
2 cups of flour
A teaspoon of baking soda
Half teaspoon of salt
Half cup of strawberries, fresh and chopped. Mixed with one tablespoon of flour
Strawberry Banana Bread Easy Recipe
Heat the oven to around 375 degrees Fahrenheit.
Take a loaf pan, dimensions 9×5, and spray with non-stick spray. Leave aside.
Mix the cream butter and sugar until it's fluffy and light. For this use a large bowl and standard mixer.
Use the fork to beat the eggs, in a small bowl. Add the eggs to a butter and sugar mixture and beat until they're nicely combined. Next, add the mashed bananas to the mixture and mix until they combine.
Add flour, salt and baking soda. Make sure you don't over mix, you should mix so the flour is just combined, not to much. Fold in previously floured strawberries at the end.
Take already prepared loaf pan and pour batter in. Bake for around 15 minutes at 375 degrees. After 15 minutes has passed, reduce the heat to around 350 degrees F. Bake until the edges of Strawberry Banana Bread are just slightly brown, or you can check by placing the toothpick into the center of the bread and it comes out clean. This should take additional 30 minutes.
Take it out of the oven and let it cool completely before removing from the loaf pan.
Please leave feedback on this Strawberry Banana Bread Easy Recipe, because we love hearing from you. We'll be making more unique bread recipes in the future. Enjoy!