Have you ever tried the Classic Carol Chicken Salad from Chicken Salad Chick? Some of us are fortunate enough to live close to a Chicken Salad Chick restaurant; if one sets up in your neighborhood, I urge you to visit.
But if you're not anywhere near Chicken Salad Chick restaurants, no worries at all because this copycat of Carol's delectable classic chicken salad will not lack in any way whatsoever.
Chicken Salad Chick classic Carol recipe is the coziest and most conventional recipe to prepare for a holiday feast. Despite being straightforward to prepare, this chicken salad dish is delicious.
A great meal to prepare for your family and recipe is a copycat from a famous restaurant, Chicken Salad Chick. It is quick and easy to prepare but also somewhat flavorful and sweet.
Chicken salad is ideal for Sunday brunches, potlucks, or even fast, lighter meals with a lovely cold glass of lemonade. Everybody cooks chicken salad slightly differently, but if you like Chicken Salad Chick, you'll like this recipe for Chicken Salad Chick copycat that you can prepare at home.
You probably already have the essential ingredients for this dish, which is quite easy to make. It stands out because chicken tenders are poached in chicken broth or stock that adds to the dish's rich taste. The dry Ranch salad dressing mix is the second component that adds flavor to this dish.
For this chicken salad dish, consistency is key. Before serving, ensure all ingredients are thoroughly combined and the celery is chopped extra fine. Sometimes I add chopped, hard-boiled egg pieces to my chicken salad for an added nutritional boost.
There are several ways to prepare and serve this Chicken Salad Chick. I love mine with tomatoes and lettuce on a sandwich, similar to my Chick-Fil-A Chicken Salad Recipe, or with a croissant, as shown in the photo above. It could also be served over a bowl of lettuce. Alternatively, you may serve it with some of your preferred crackers.
What is Chicken Salad Chick
Based in Auburn, Alabama, Chicken Salad Chick is a fast-casual restaurant brand and chicken salad franchise.
The business has more than 200 franchisee restaurants and retail locations throughout around 20 different U.S. states as of July 2022.
In 2016, Chicken Salad Chick was listed as the 37th fastest-growing U.S. company on the Inc. 5000 list.
What Makes Chicken Salad Chick so Good
I believe this recipe is special due to a few different components.
Only chicken tenders are needed. After cooking, chicken tenders break apart beautifully to shred.
The celery is very finely diced, so there are no noticeable huge bits.
Dry Ranch salad dressing mix also imparts a distinct taste.
I decided to cook the chicken tenders using chicken stock for this recipe. I believe this gives the dish more taste levels. Onions, carrots, and celery are used to make high-quality chicken stock. Some of this taste is absorbed by the chicken tenders.
Salad Choices at Chicken Salad Chick Restaurant
Your best bet for a wide variety of delicious chicken salads is the Chicken Salad Chick restaurant. They provide a classic, sweet, nutty, savory, fruity, and hot chicken salad.
Are you seeking a fantastic chicken salad recipe? This salad is flavorful and just made. You're going to start to love this recipe.
What Mayonnaise To Use For Chicken Salad Chick?
Chicken Salad Chick restaurant uses Duke's mayo, so that's the one we're going to use with this recipe. If you want, you can also use Hellman's mayo, but this is a copycat recipe after all, and to make it 100% authentic, we're going to follow the recipe.
Is this Chicken Salad Chick Salad Recipe gluten-free?
Yes, if you follow the recipe, it is gluten-free. Hidden Valley Ranch Original Dressing Mix and Duke's Mayonnaise are gluten-free products. The ingredients you use to make the salad will determine this.
To be certain, you must examine the label on each one. chicken stock from the grocery store has gluten in it.
Share the image below to your beautiful Pinterest board if you like this Chicken Salad Chick – Classic Carol Chicken Salad Copycat Recipe! 🙂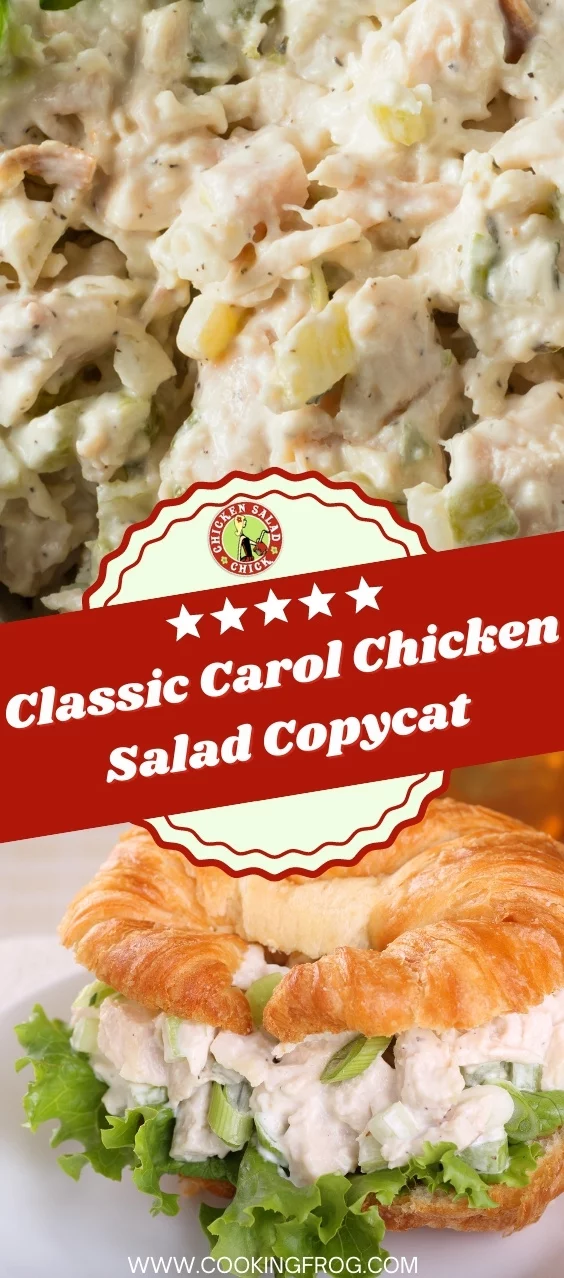 Ingredients
1 1/2 pounds of chicken tenders
32 oz of chicken stock, low sodium
1/2 cup of mayonnaise (Duke's)
2 TBSP of finely minced celery
2 tsp of dry Ranch salad dressing mix
1/2 tsp of ground black pepper
1/2 tsp of salt
Instructions
Poach the chicken in chicken stock to prepare it. Put the chicken in the boiling chicken stock, cover it, and remove it from the heat immediately. Remove the chicken from the pot after 20 minutes.
Next, shred the chicken. A stand mixer's paddle attachment may be used to shred chicken. Alternatively, use two forks to shred the chicken tenders.
Add Duke's mayonnaise, celery, dry Ranch dressing mix, salt, and black pepper to a medium bowl and stir the mix well to combine.
Stir in the chicken shreds after adding them. Chicken salad should be kept in an airtight container.
If the chicken salad is made a few hours before serving, it tastes better. Serve Chicken Salad Chick on a lettuce bed or on a sandwich.
Notes
This recipe calls for keeping it fresh in an airtight jar for 4 days after preparation.
You could add 2 Tablespoons of bell peppers for variation.