Have you ever felt the warmness of a comforting embrace in a dish? If not, you're about to. Today, we're not just sharing a recipe; we're sharing an experience, a memory, and a story that revolves around the satisfying Chicken a la King.
This isn't just about cooking; it's about the love, devotion, and soul that goes into making a masterwork. So, let's make this delicious treat together, shall we?
Chicken a la King – A Dish That Echoes Home
Remember those chilly nights when all you desired was something warm and hearty? The kind of dish that not only fills your belly but also warms your soul? That's Chicken Ala King for many of us. It's not just food; it's a sensation.
And while it's easy to grab a canned version off a shelf, the magic truly happens when you make it from scratch, with all the love and care it deserves.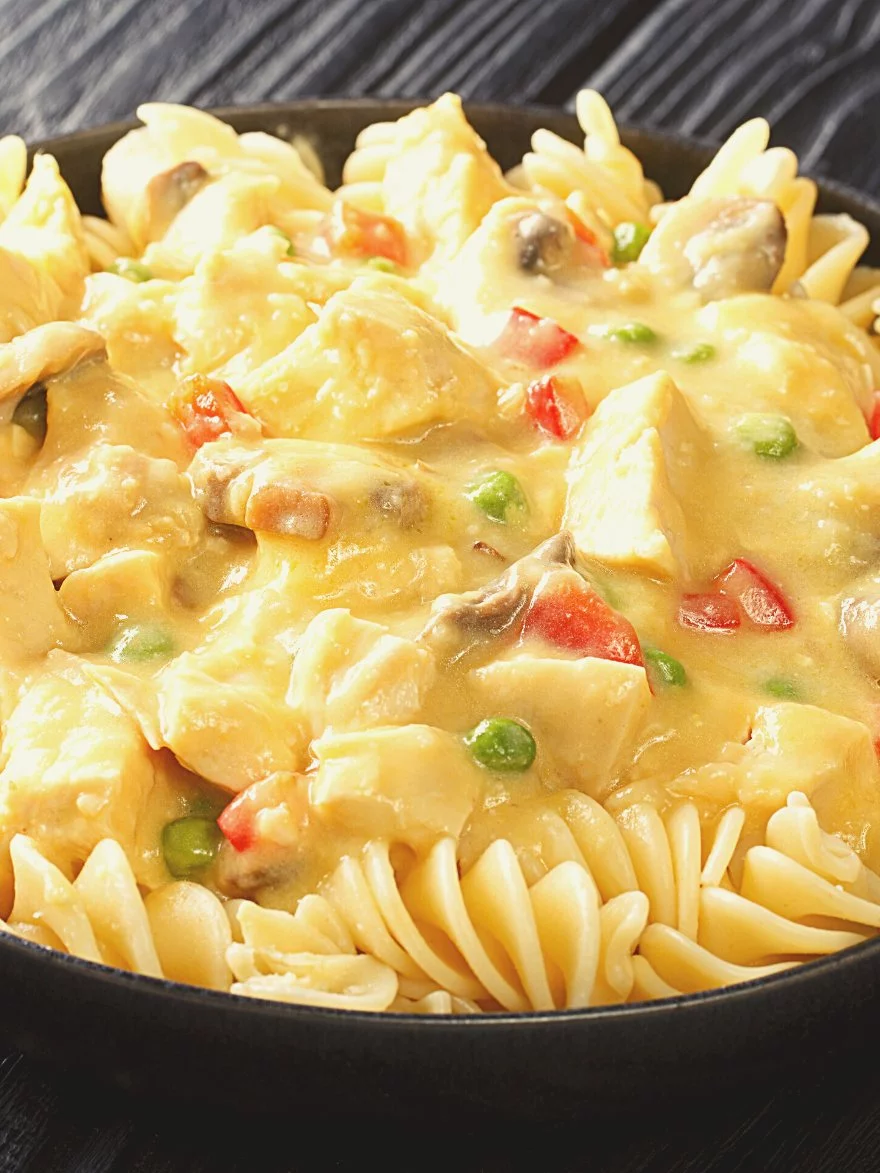 The Tale Behind the Name
The roots of Chicken a la King might be debated, but its royal taste is unquestionable. A lovely concoction of tender chicken, vibrant veggies, and a creamy sauce that's nothing short of perfection. Despite its regal name, it's a dish that brings the simple joys of home-cooked meals to the forefront.
Chicken a la King Ingredients
Butter: Forming our dish with butter sets the tone for richness. The butter ensures that each ingredient shines while combining harmoniously with the others.
All-purpose Flour: Just what a recipe needs, a creamy sauce requires a base. The flour is the foundation, thickening the sauce and providing the ideal consistency to envelop our chicken and veggies.
Chicken Broth & Half and Half: These two bring depth and creaminess, making a melody of flavors. The broth adds a savory note, while the half-and-half adds a smooth texture, making our sauce irresistibly silky.
Peas & Carrots: Adding color, texture, and a touch of sweetness, these veggies dance through your dish, making every bite exciting and delightful.
Onions & Garlic: Subtle yet crucial, onions and garlic provide a depth of flavor. Ensuring the dish is well-rounded and complete.
Pimento & Bell Pepper: While not overwhelming, these ingredients whisper touches of spice, adding layers to our dish. They're the subtle plot twists in our recipe, ensuring there's never a dull moment.
Thyme: Fresh and fragrant, thyme adds a timeless note. It complements the chicken beautifully, reminding us of the age-old traditions and memories of home-cooked meals.
Chicken: Tender and delicious, the chicken is undeniably the star of this recipe. It absorbs the flavors, delivers substance, and ensures that our Chicken a la King is truly fit for royalty.
Cremini Mushrooms: Adding an earthy undertone, these mushrooms ground our dish. They introduce a rural charm, reminding us of the simple joys of nature and wholesome dishes.
Cajun Seasoning: Adding a hint of the American South, Cajun seasoning infuses your dish with warmness, spice, and a zesty flair.
Chicken a la King Variations
While perfect in its original form, every classic dish offers a canvas for creativity. Chicken ala King, with its rich history and adaptable nature, is no exception. Let's explore some lovely variations that can add a fresh twist to this dish.
Turkey ala King: Swap out the chicken for tender chunks of turkey. This variation is particularly great for post-holiday meals when you have leftover roasted turkey. The slightly gamey flavor of turkey adds a new depth, making the dish feel even more festive.
Seafood ala King: Imagine succulent shrimp, scallops, and chunks of white fish in the creamy sauce. Seafood delivers a lighter yet equally flavorful alternative, making the dish a coastal delicacy.
Tofu ala King: For our vegetarian friends, firm tofu can be an excellent substitute for chicken. Marinate the tofu in some herbs and spices before adding, and you have a protein-packed, vegetarian version that doesn't skimp on flavor.
Spicy ala King: For those who like heat in their meals, add some chili flakes, jalapeños, or even a dash of hot sauce. This spicy twist can boost the dish to a fiery delight, perfect for warming up those chilly evenings.
Wild Mushroom ala King: Swap out the cremini mushrooms for a mix of wild mushrooms like shiitake, chanterelle, morels, or even Lion's mane. This variation transports you to an enchanted forest with deep, earthy flavors.
Creamless ala King: For a lighter variation, replace the half and half with a blend of milk and a touch of Greek yogurt. This version retains the creamy texture but feels more delicate on the palate, perfect for those mindful eating days.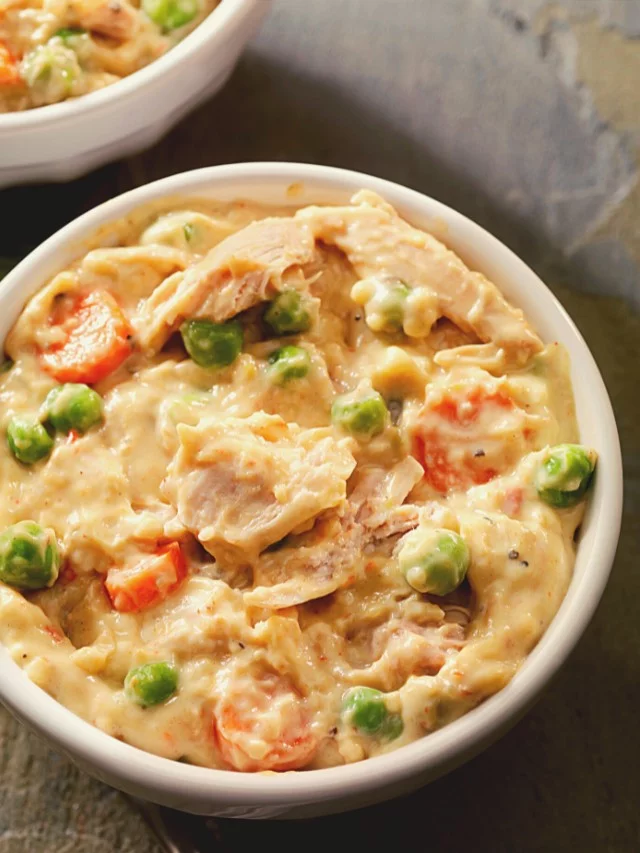 Pairing Ideas
Consider accompanying your Chicken ala King with:
Gently flavored rice like Coconut or Jasmine Rice.
Pasta, particularly fusilli or penne, which holds onto the creamy sauce.
Soft, buttery biscuits or freshly baked bread.
Chicken a la King Recipe
Here's the Chicken a la King recipe you've been waiting for. No fluff, just flavor. On to the ingredients and instructions!
Ingredients
For the Creamy Base:
Butter: 4-6 Tbsp, divided
All-purpose flour: 1/3 cup
Chicken broth: 2 1/3 cups
Half and half: 1 cup (or mix ½ cup cream with ½ cup milk)
For the veggies:
Peas: 1 cup (frozen)
Carrots: 2 medium, sliced (about 1 cup)
Onions: 1 medium, diced
Garlic: 2 tsp, minced
Pimento: 4 ounces, chopped
Bell pepper: To taste
Thyme: 2 tsp, fresh and minced
For the Chicken:
Cooked chicken: 4-5 cups, cut into chunks
Cremini Mushrooms: 8 ounces, sliced
Cajun seasoning 1 1/2 tsp
Instructions
Mushroom Prelude: Melt 2-3 tablespoons of butter using a large saucepan. Add mushrooms, sauté until tender, and set aside.
Sauce Symphony: Melt additional butter blend in flour, followed by onions, thyme, and garlic. Once it's tender, pour in the half and half and chicken broth and stir until the mixture thickens.
Vegetable Harmony: Add celery, carrots, and previously sautéed mushrooms. Blend well.
Chicken Finale: Add in the cooked chicken chunks, peas, pimento, Cajun seasoning, and parsley. Season as per preference and let it simmer until everything melds beautifully.
Pro Tip: The dish is versatile. Adjust ingredients to resonate with your personal preference. After all, the best meals are those sprinkled with a dash of originality.
Enjoyed this Chicken a la King? Show it off on Pinterest by pinning the picture below. Let's see who's cooking it next!