Looking for a simple and tasty way to cook chicken thighs? Blackstone Griddle Chicken Thighs will blow your mind. The marinade is lively and full of flavor, so your chicken thighs will be juicy and tender. And let's not forget the griddle, which makes the outside deliciously crisp. If you try these Blackstone Griddle Chicken Thighs, you'll be totally hooked!
We often grill chicken at home, and I'm currently obsessed with making it on my Blackstone Griddle, especially when making these chicken wings. You can even venture to make this El Pollo Loco Chicken on your griddle—just follow the marinade recipe, and the grilling method stays the same. Try it, and enjoy the delicious results!
Ingredients for Blackstone Griddle Chicken Thighs
Chicken: The recipe calls for boneless, skinless chicken thighs, which are more flavorful and juicier than chicken breasts. You can use chicken with the bone in or chicken breasts if you prefer, but make sure to adjust the cooking time and use an instant-read thermometer to make sure the chicken is cooked to the right temperature.
Mayonnaise: Choose a brand like Hellmann's, which makes the marinade creamier and holds it all together.
Duck Fat: This ingredient adds a rich, savory flavor and is great for griddling. It doesn't burn easily and is great for making crispy textures. Duck fat spray is my top choice because it does a great job of giving chicken thighs that crispy skin we all love while they cook. You can also use avocado oil, butter, vegetable oil, or olive oil as alternatives, but watch the smoke point.
Dijon Mustard: This ingredient adds a sharp, tangy flavor. You can replace it with spicy brown mustard for a different flavor.
Soy sauce: Soy sauce gives the marinade a savory, umami flavor. Use gluten-free tamari or coconut aminos as an alternative.
Seasonings: Seasonings like thyme, sea salt/kosher salt, pepper, and cayenne create a well-rounded flavor with a hint of spice. Feel free to change the mix to your taste, and if you want more depth, try adding garlic powder, chili powder, or paprika.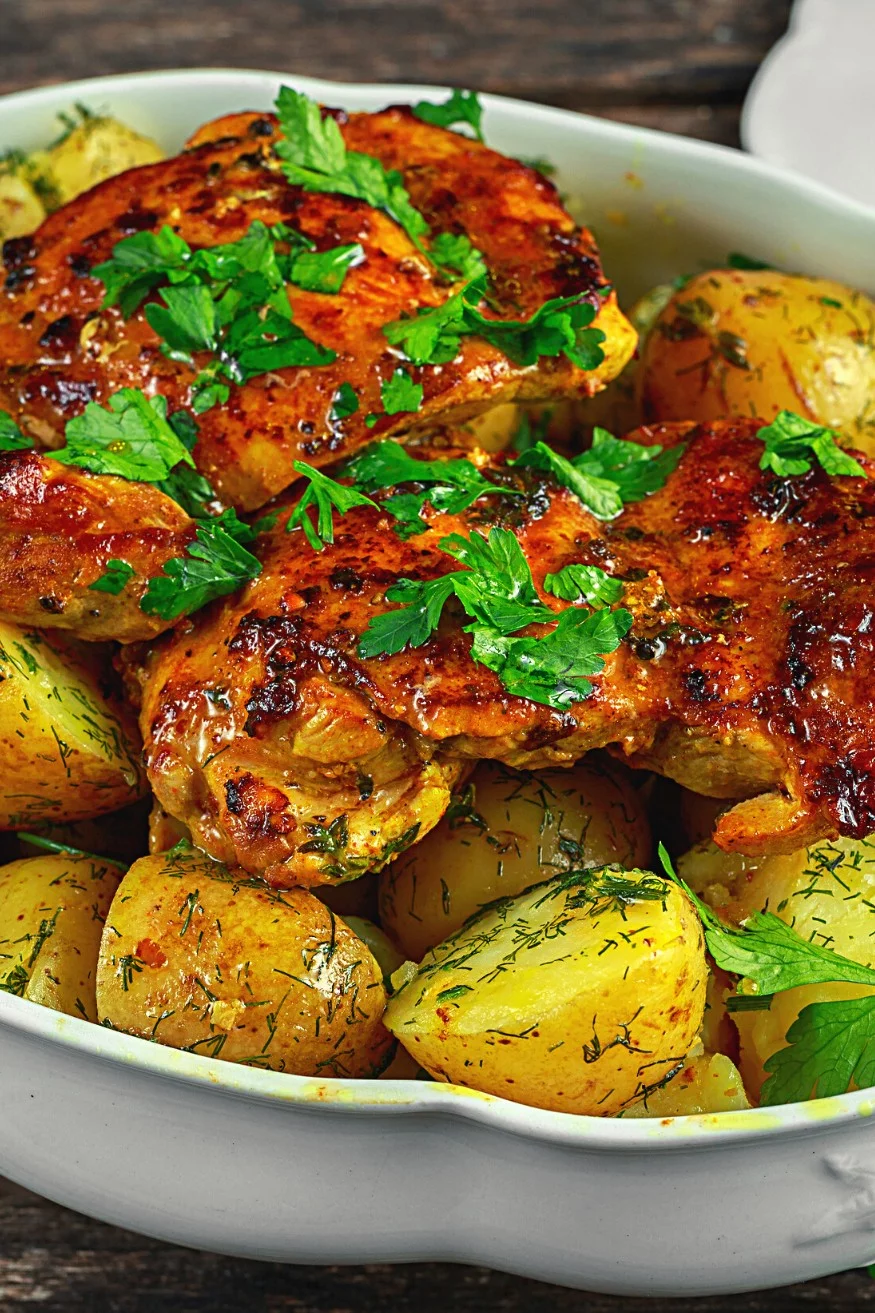 Tips & Tricks for Perfect Blackstone Griddle Chicken
Always use a thermometer to check the temperature of the griddle. The temperature of the cooking surface can change when you cook outside because of things like the air temperature and where you are (e.g., Florida in the summer vs. Maine in the fall).
The chicken should be taken off the griddle when the temperature inside reaches 160°F. The temperature will rise to the recommended 165°F as it rests.
Consider putting a lid or tent made of aluminum foil over the chicken while it's cooking to help keep heat in and make sure it cooks evenly.
Rotate the chicken every so often to get uniformly crisp skin and a consistent temperature inside.
Let the chicken rest for a few minutes after grilling so that the juices can redistribute. This makes for tender, juicy chicken thighs.
Serving Suggestions for Chicken Thighs
Here are some tasty side dish choices to serve alongside your wonderful griddled chicken thighs:
1. Garlic Mashed Potatoes: Creamy and delicious, this standard side dish matches the chicken beautifully.
2. Grilled Veggies: Asparagus, brussel sprouts, zucchini, bell peppers, or eggplant make for a healthy and lively addition.
3. Corn on the Cob: Grilled or boiled, corn on the cob is a summer treat that goes well with chicken.
4. Rice Pilaf: A tasty rice pilaf with herbs and spices adds a bit of grace to the meal.
5. Green Beans Almondine: Delicate green beans sautéed with almonds and garlic make for a tasty and refined side.
6. Mac and Cheese: A comforting, cheesy macaroni dish is always a crowd-pleaser.
7. Dinner Rolls or Warm Bread: Serve fresh, crusty bread or delicate dinner rolls with butter to complete the meal. I suggest these Texas Roadhouse Rolls.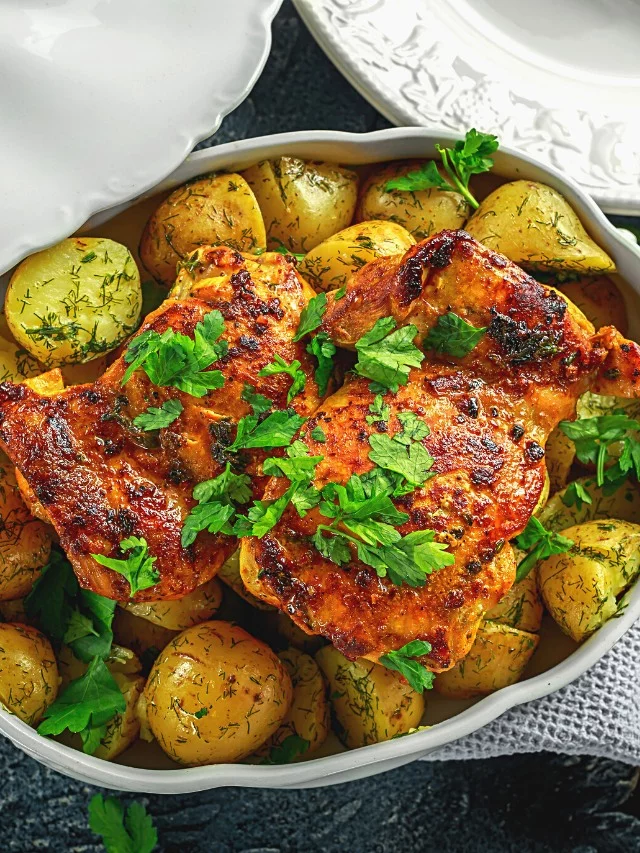 Blackstone Griddle Chicken Thighs Recipe
You'll go on a flavor adventure with this delicious Blackstone Griddle Chicken Thighs Recipe. From the first bite of these chicken thighs, you'll be hooked on their zesty marinade and crispy, juicy perfection. Start up that griddle and let the smell of something delicious sizzling do its magic.
Ingredients
2 pounds of Boneless Skinless Chicken Thighs
4 Tbsp of Duck fat
1 juiced Lemon
1 Tbsp of Honey
1 Tbsp of Paprika
½ tsp of Garlic Powder
½ tsp of Salt
½ tsp of Pepper
1 cup of Mayonnaise
2 Tbsp of Soy sauce
1 tablespoon of Dijon mustard
1 tsp of Thyme (if dried) or 1 tablespoon (if fresh)
¼ teaspoon of Cayenne pepper (adjust to taste for spiciness)
Instructions
Mix the mayonnaise, soy sauce, Dijon mustard, thyme, salt, pepper, and cayenne pepper together in a small bowl.
Mix the chicken thighs with marinade in a shallow dish or a plastic bag with a zip-top and marinate them in the fridge for at least four hours or overnight for the best results.
Remove the chicken thighs from the marinade and discard any extra marinade.
Heat your Blackstone griddle or medium-high, aiming for a temp between 350°F and 400°F.
Drizzle or spray duck fat on the griddle surface.
Cook the chicken thighs for 7 minutes before turning them over.
Keep cooking for another 7 to 10 minutes or until an instant-read thermometer reads 160°F.
Place the chicken legs on a plate and cover them with foil to keep them warm.
Let the chicken rest for 5 to 10 minutes before serving the juiciest chicken thighs.
If you love this mouthwatering Blackstone Griddle Chicken Thighs Recipe, let everyone know! Share the picture below on your Pinterest board and become the culinary superhero your friends and followers never knew they needed. 🌟 Don't be shy; share the goodness. 😋🍽️