Chicken Piccata is more than just a dish; it's an experience. This Italian-American classic, with its roots deeply embedded in traditional Italian cooking, has found its way into the hearts of many. The dish boasts of tender chicken breasts, kissed with a golden crust, and bathed in a zesty lemon butter sauce.
The addition of capers, parsley, and rosemary not only elevates the flavor but also adds a touch of elegance. Let's dive into the world of Chicken Piccata and discover the magic behind this beloved dish.
A Glimpse into the Chicken Piccata History
Chicken Piccata, originally a veal-based dish in Italy, has undergone a beautiful transformation in America. The essence of the dish lies in its lemon butter wine sauce, which, when combined with garlic, capers, and fresh parsley, creates a symphony of flavors. While many are familiar with the Tuscan chicken, Chicken Piccata stands out with its unique blend of tangy and savory notes, similar to this Greek lemon chicken.
Choosing the Right Ingredients
The beauty of Chicken Piccata lies in its simplicity. Here's what you'll need:
Chicken: Choose boneless, skinless chicken breasts for the best results.
Dredging Mixture: This mixture is crucial for that golden crust. Combine flour, freshly grated parmesan cheese, salt, and pepper. While arrowroot flour is a great gluten-free option, feel free to use your preferred flour.
Chicken Piccata Sauce: The star of the dish! Fresh lemon juice, dry white wine, chicken broth, butter, garlic, capers, fresh parsley, and rosemary come together to create this delectable sauce. If you're not a fan of white wine, simply replace it with additional chicken broth.
Chicken Piccata Recipe
Ingredients:
2 large boneless skinless chicken breasts
¼ cup flour
¼ cup finely grated parmesan cheese
1 teaspoon kosher salt
1/3 teaspoon freshly ground black pepper
2 tablespoons extra virgin olive oil
1 tablespoon unsalted butter
½ cup dry white wine (or chicken broth)
4 garlic cloves, minced
1 cup chicken broth
3 tablespoons lemon juice (from 1 lemon, roughly)
2 tablespoons capers, drained
2 tablespoons unsalted butter
2 tablespoons roughly chopped fresh parsley
A pinch of rosemary
Instructions:
Prepping the Chicken:

Put the chicken breasts on a cutting board.
Using a sharp knife, carefully slice each breast in half horizontally to create thinner pieces.

Creating the Dredging Mixture:

Combine the flour, parmesan cheese, salt, and pepper in a shallow bowl. Mix well.

Coating the Chicken:

Dip each chicken piece into the dredging mixture, ensuring both sides are evenly coated. Shake off any excess flour.

Cooking the Chicken:

Using a large skillet, heat the olive oil with 1 tablespoon of butter over medium-high heat.
When your butter is melted and the skillet is hot, add the chicken breasts.
Cook for 3-4 minutes on each side or until the chicken has a golden-brown crust.
Use tongs to remove the chicken and set them aside on a separate plate.

Preparing the Sauce:

In the same skillet, add the white wine and minced garlic. Allow it to simmer for 3-4 minutes or until the wine has reduced by half.
Add the chicken broth, lemon juice, capers, and the remaining 2 tablespoons of butter. Stir constantly until the butter is melted and the sauce begins to simmer.
Sprinkle in the rosemary and mix well.

Combining Chicken and Sauce:

Return the cooked chicken pieces to the skillet.
Spoon the sauce over the chicken, ensuring each piece is well-coated.
Let the chicken simmer in the sauce for 1-2 minutes, ensuring it's warmed through.

Serving:

Transfer the chicken to serving plates.
Spoon extra sauce over the chicken for added flavor.
Garnish with freshly chopped parsley and serve immediately.
Mastered our Chicken Piccata? Let the world in on your culinary win. Snap, pin, and spread the foodie love. 🍗📌
Impressed? Pin the image below!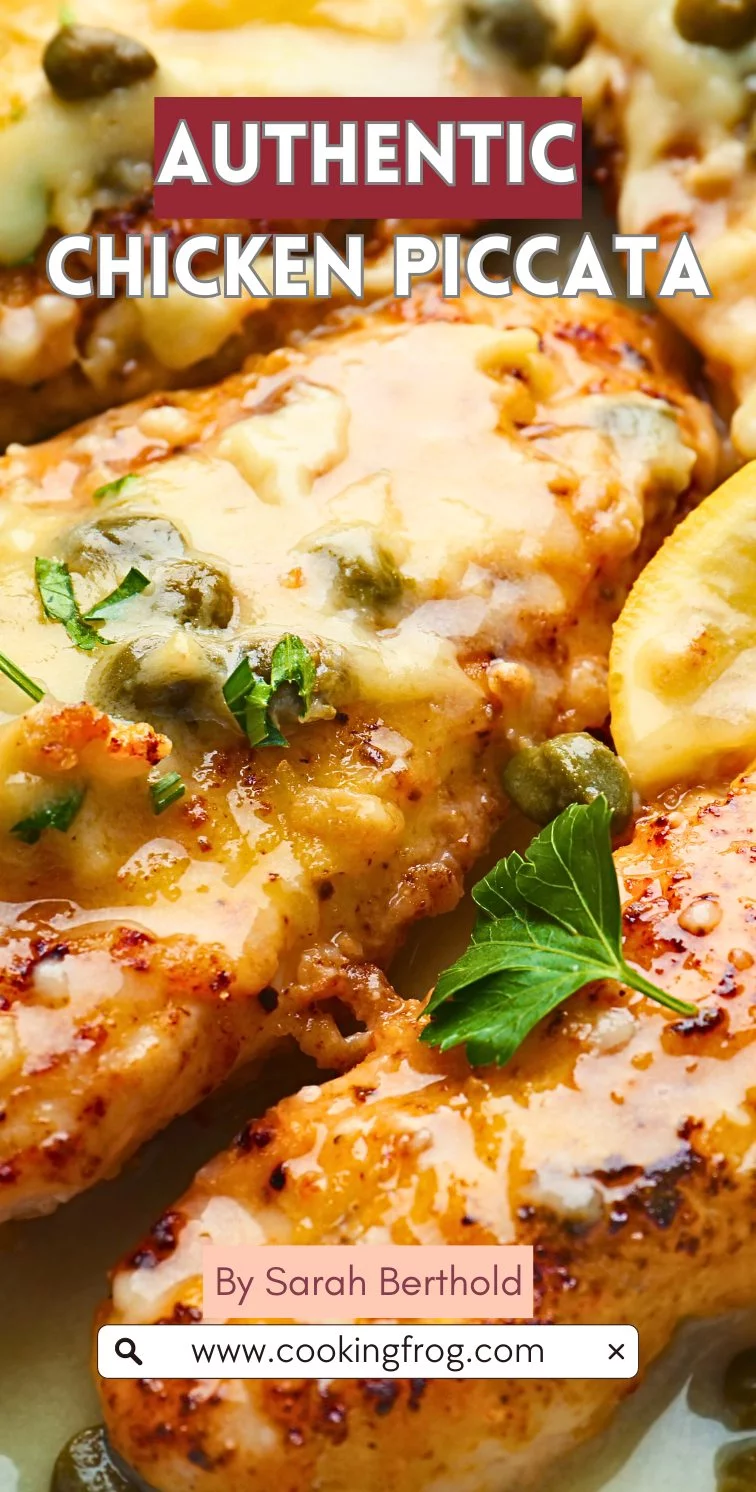 Recipe Variations:
1. Herb-Infused Chicken Piccata:
Add finely chopped fresh herbs like basil or thyme to the dredging mixture. This will give the chicken an aromatic and herby crust.
2. Spicy Chicken Piccata:
If you enjoy a kick of heat, spread some red pepper flakes into the sauce or add a finely chopped chili pepper for an extra zing.
3. Creamy Chicken Piccata:
For a richer sauce, stir in ¼ cup of heavy cream or half-and-half after adding the chicken broth. This variation results in a velvety, creamy sauce that's absolutely indulgent.
4. Mushroom Chicken Piccata:
5. Tomato Burst Chicken Piccata:
Incorporate a handful of cherry or grape tomatoes to the sauce. They'll burst and add a sweet-tart flavor, complementing the tangy lemon sauce.
6. Olive Chicken Piccata:
Along with capers, toss in a handful of pitted and sliced green or Kalamata olives. They add a briny touch, making the dish even more flavorful.
7. Gluten-Free Chicken Piccata:
For those with gluten sensitivities, use almond flour or coconut flour for dredging. Ensure other ingredients, like chicken broth, are gluten-free as well.