Why leave your house when you can eat at home and homemade? It's Absurdly simple to make this homemade version of Subway Sweet Onion Sauce. You'll be perplexed as to why you didn't begin preparing this flavorful sauce sooner. Excellent for enhancing your preferred handmade subs, sandwiches, chicken, salads, and more!
Don't be intimidated by the lengthy ingredient list for this Subway menu item; making this sweet onion sauce only takes a few minutes and yields a condiment that practically never goes bad. It could not be simpler to make and makes a terrific addition to anyone's sandwiches. It doesn't contain any odd preservatives, which is just a plus.
As much as I enjoy dining out, I equally enjoy staying in and preparing my versions of well-known restaurant favorites. This simple recipe for a substitute for Subway's sweet onion sauce is perfect for stashing in your refrigerator as a topping for homemade subs.
The Sweet Onion Sauce's distinctive tang and sweetness define the Subway experience. So it only makes sense that I would try to recreate that distinctive flavor when preparing my own subs!
I'm sure you feel the same way if you enjoy this tangy sauce!
What Is Subway Sweet Onion Sauce?
Have you recently seen the sweet onion sauce on the Subway menu? Are you unsure what it is and what to expect if you get it in a Subway sandwich? So here's everything you need to know.
What is sweet onion sauce from Subway? The low in fat, sweet, and tasty sweet onion sauce from Subway is prepared with onions and other seasonings. It is one of the restaurant's distinctive sauces intended to be put on most of its sandwiches or used as a salad dressing.
Frankly, the title contains the key. Regardless, this sauce is quite well-liked. Although it might not be as adaptable as some of the other sauces on the menu, it is still worth a try.
But what exactly is in this sauce, how healthy is it, and what does it taste like? Let's investigate!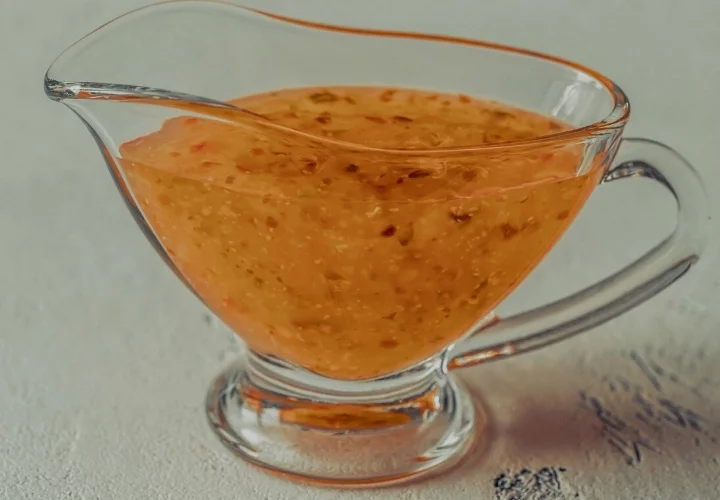 You might also like this Popeyes Blackened Ranch Sauce Copycat Recipe!
Subway Sweet Onion Sauce Taste
The flavor of Subway's sweet onion sauce is as implied by its name. It is highly sweet and leaves a mildly acidic taste in the mouth. It has a lot of flavors and is rather rich; therefore, a little makes a big difference. As a result, it goes exceptionally well with subs made of chicken, turkey, or fish meats, like this blackened tuna steak.
Together with the honey mustard sauce appears to be another dish that Subway consumers enjoy putting together. You won't want to include it in your steak and cheese, meatball marinara, or pizza sub melt.
But aside from that, it does appear to complement the other menu items really nicely.
Additionally, its combination with chicken and lean meats, in general, is demonstrated by the sweet onion Teriyaki chicken!
Can you Purchase Subway Sweet Onion Sauce?
Unfortunately, it is not possible to purchase Subway Sweet Onion sauce. It can only be ordered in-store and added right to your salad or sandwich. While some shops sell sauces, it's uncommon to find sweet onion.
In reality, some Subway locations offer a " Subway Grocery service." Essentially, this enables clients to purchase specific sauces in a sauce bag. Though, only the mustard, mayonnaise, marinara, ranch sauce, teriyaki, or chipotle sauce are usually available.
You can always specifically request more sweet onion sauce, but the staff's decision in doing so is final.
However, another sauce brand is sold online and has a flavor profile similar to that of Subway.
You might also like this Arby's Bronco Berry Sauce Copycat Easy Recipe!
How to make Subway Sweet Onion Sauce
The fact that this recipe uses such basic ingredients is its best feature. Probably, your pantry already contains all you need. Along with the fact that the ingredients are straightforward, it keeps well in the fridge.
For the most outstanding results, I advise utilizing your sweet onion sauce within two to four weeks; nevertheless, it will last much longer. The finished sauce will have a lengthy shelf life because all ingredients have one! Exercise caution, and if in question, toss it out as you would with anything.
Always store homemade sweet onion sauce in the refrigerator in an airtight container.
For detailed instructions with ingredients measurements, scroll down.
Ingredients for Subway Sweet Onion Sauce
Sugar: This gives sweet onion sauce its "sweet" flavor.
Vinegar: A little sour is necessary with anything sweet! Clean-tasting traditional white vinegar is ideal for this dish.
Onions: You'll need to use grated onion to keep the sauce silky. It was grated into a smooth paste using a little rasp grater. Although you may also use a garlic press, grating it is preferred. Simply watch those fingers!
Red wine vinegar: You will also require a small amount of red wine vinegar. This dish benefits greatly from the addition of this additional taste factor.
Corn starch: This thickener gives the Sweet Onion Sauce its ideal consistency by acting as a thickener.
Mustard: This dish needs a smooth, somewhat spicy mustard like Dijon mustard to offer the right amount of flavor.
Sesame oil: Just a little sesame oil! Either ordinary sesame oil or roasted sesame oil can be used.
Seasonings: You'll need salt, celery seeds, onion powder, poppy seeds, dry mustard powder, paprika, black pepper, and garlic powder.
Water: This keeps the sauce from becoming overly potent. It won't be diluted at all because the corn starch will help thicken the mixture.
Subway Sweet Onion Sauce Directions
You only need a medium-sized saucepan and a whisk to get started! This recipe couldn't be more basic.
Stir everything together in the pot after adding the ingredients. Over medium-high heat, bring to a boil while frequently whisking to avoid burning.
Turn the heat down to low, cover, and simmer for 5 minutes or until thickened. Make sure to whisk often to avoid burning and promote even sauce thickening.
How to Store Subway Sweet Onion Sauce
Allow cooling entirely before transferring, labeling, and placing in an airtight container. Use within one month of storing in the refrigerator; otherwise, freeze for longer storage.
You can store it in a squeeze bottle with an airtight cap if you want.
Subway Sweet Onion Sauce Substitutions
Keto, Sugar-Free, and Diabetic Friendly: Use a low-carb sweetener that measures cup for cup like sugar in place of the sugar. Stevia, Lakanto or Swerve are my top picks.
Verify the individual ingredients (such as sesame oil, red wine vinegar, and Dijon mustard) are free of gluten and other impurities. In all other respects, the recipe, as described, is gluten-free.
Dairy-Free: The recipe, as written, contains no dairy products.
Please share the image below to your Pinterest board if you like this Subway Sweet Onion Sauce Copycat recipe!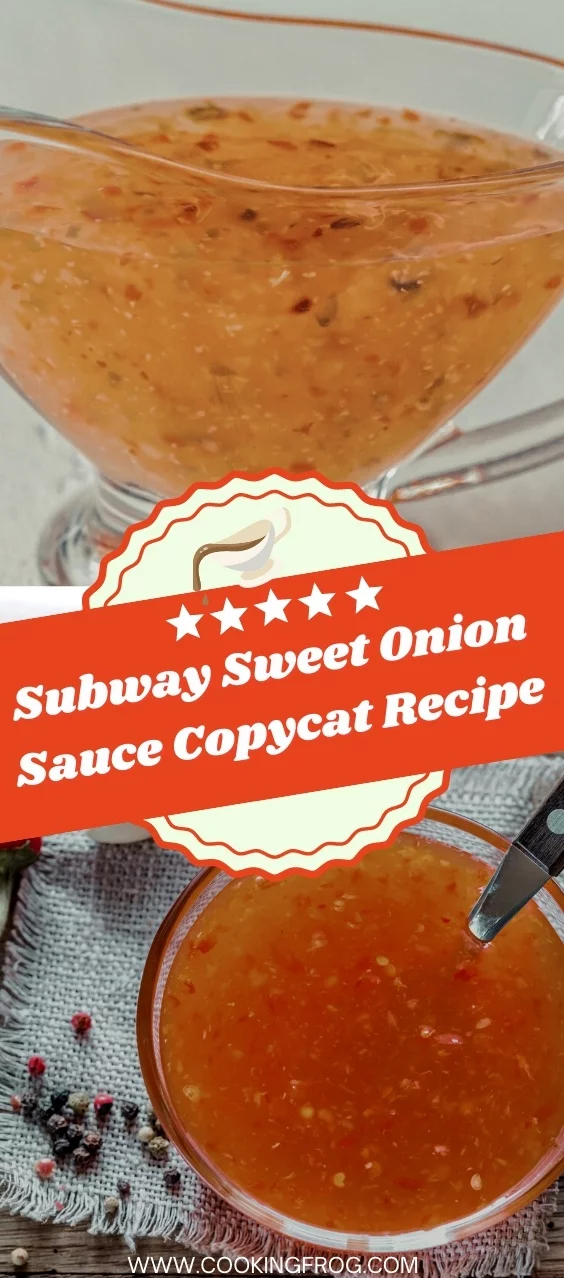 Subway Sweet Onion Sauce Copycat Recipe
You can comfortably make your favorite Subway sweet onion sauce at home! The powerful onion flavor combines sweetness, sourness, and deliciousness to create a sweet onion sauce. Perfect for enhancing all of your preferred homemade subs and sandwiches.
Prep Time 5 minutes
Cook Time 5 minutes
Total Time 10 minutes
Ingredients
1 cup of sugar, granulated
½ cup of water (Add more if needed)
6 TBSP of white vinegar
4 tsp of red wine vinegar
1 tsp of onion, finely grated
1 TBSP of Dijon mustard
1/3 tsp of sesame oil
1 TBSP of cornstarch
1 TBSP of minced onion flakes
2 tsp of mustard powder
1 tsp of salt
1 tsp of Poppy seeds
1/2 tsp of Celery seed
1/3 tsp of Onion powder
1/3 tsp of Paprika
1/3 tsp of Ground black pepper
1/4 tsp of garlic powder
Instructions
In a small saucepan, combine the ingredients by whisking them all together.
Over medium-high heat, bring to a boil while whisking frequently to avoid burning.
Lower the heat to low and simmer for 5 minutes or until the mixture thickens.
Be careful to whisk often.
After letting it cool fully, put it to a jar with a lid and label it.
Place in the fridge and consume within one month; alternatively, freeze for extended preservation.
FAQs
Is Subway Sweet Onion Sauce Keto-Friendly?
Whereas Subway's original version of sweet onion sauce is prepared with a lot of sugar, you may have a delicious version of sweet onion sauce as part of your keto diet if you make it at home with sweetness. You can use Stevia, Swerve, or other keto-friendly sweeteners instead of sugar.
For how long will sweet onion sauce last?
Depending on the components, homemade sauces may last anywhere from a few days to a few months. The best sauce will have a vinegar and spice foundation (like this Subway sweet onion sauce) and keep for two to a month. A sauce made with mayo or eggs might only keep for a few days.