Subway is a famous American restaurant chain that sells the best sandwiches, salads, and beverages around the globe. Their sandwiches are so good that you instantly become a fan. The good thing is you can make sandwiches like theirs at home too.
But first!!! Let's talk about their tasty Subway bread loaf because the perfect sandwich starts with ideal bread! Right? So, I'm here with a fantastic Subway bread copycat recipe that will surely give you the perfect bread, just like the Subway sandwich bread.
This is the best recipe for making delicious subway bread at home. It contains all the natural ingredients. It's the easiest and simplest recipe and would make your bread better than the subways bread. The bread you make with this recipe is soft, light, spongy, and has a beautiful brown crispy crust.
Subway Bread is Easy and Fun to make
It's a fun recipe; you can even make it with your kids to have a fun and exciting baking experience. You can make this bread for casual as well as special events. It goes well for picnics, parties, and get-togethers.
You can make it any time you want to have sandwiches. Just fill up the bread with your favorite fillings. You can add leftover turkey, pepper jack, tomatoes, and honey mustard punch and take it to another level of taste and deliciousness. Also, if you have some leftover bread, you can make this delicious Italian bread pudding. You can even spread some of this Apple curd; endless possibilities with this amazing bread.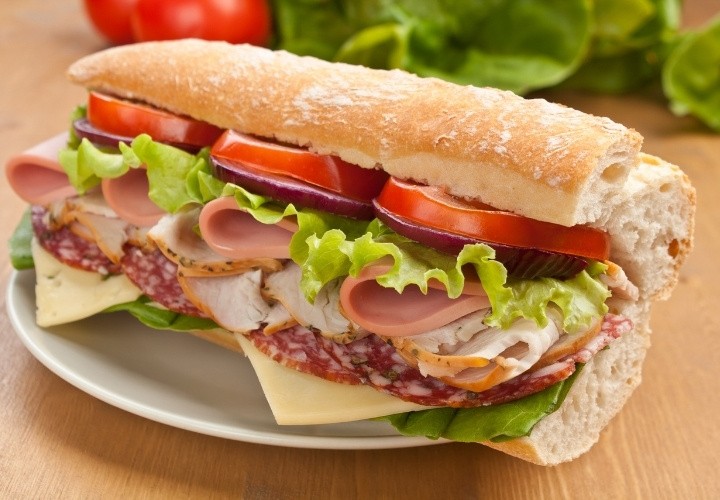 Some Important Tips for Subway Bread Recipe:
If it's your first baking experience and you're unsure how much flour you should add, add enough flour to keep the dough soft and sticky. Because if you add too much flour, your dough will get complicated, and your bread will get hard too.
Remember! You must use warm water for this recipe. Warm water helps the dough rise well. The temperature of the water should be around 110°
Suppose you don't have a stand mixer; no worries. You can simply mix all the ingredients in a bowl. The goal is to knead the dough well for 8 minutes to make the dough smooth.
You can mix half of the wheat flour and half of the all-purpose flour to make the whole wheat subway buns out of this same recipe.
Add vital wheat gluten into the recipe if you want to make it soft and chewy, just like real subway bread. You can easily buy it at a nearby grocery store. It's a bit expensive but gives you soft and chewy bread that tastes and feels like real Subway bread. You can add 1 tbsp. Of vital wheat gluten per 2 – 3 cups of flour.
Additional Tips for Subway Bread
You can use special sub molds available in the market to make your dough look exactly like the sandwich bread from Subway. These molds help the dough rise in exactly the same shape as the subway bread. But if you don't have those pans, simply skip them and shape the dough with your own hands.
You can use the same recipe to make whole-wheat bread. Just add whole wheat bread instead of all-purpose flour. Before putting your bread into the oven, top it up with some sesame seeds or shredded Parmesan cheese.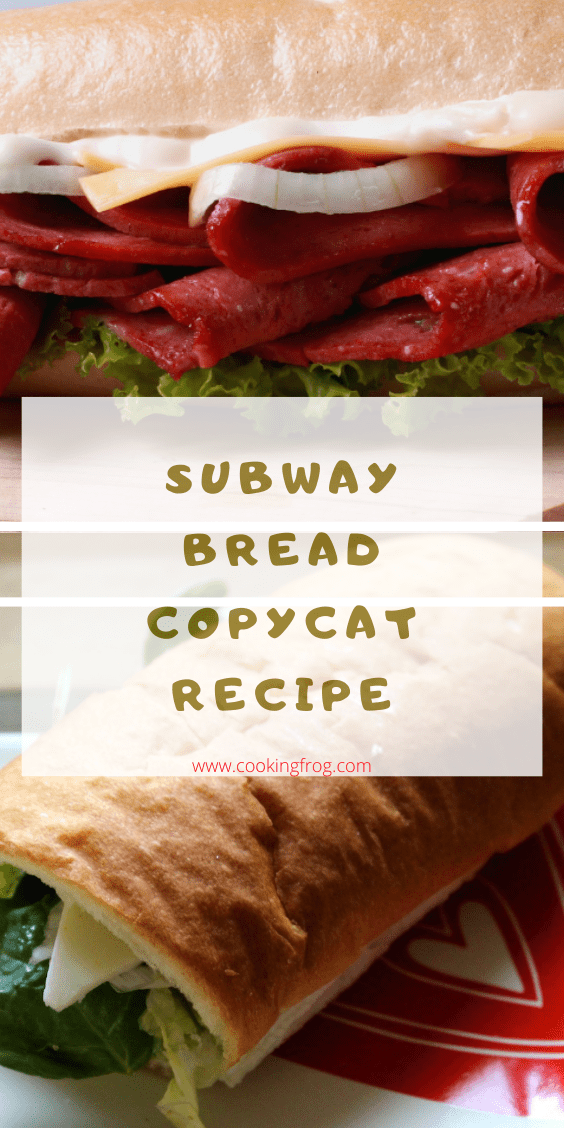 Subway Bread Copycat Recipe:
Ok, now that you know everything you need to know, let's jump into this delicious Subway bread copycat recipe.
Ingredients
2 ½ – 2 ¾ cups of All-Purpose Flour
1 tbsp. of Yeast (Dry Active)
1 tbsp. of Sugar
1 ½ tsp. of Salt
4 tbsp. of Olive Oil
1 cup of Warm Water
Instructions
Take a large mixing bowl and add warm water, sugar, salt, yeast, and olive oil into it. Mix them all. Let the mixture rest for 5 minutes until the mixture gets bubbly and frothy.
Add 1 cup of all-purpose flour and mix it with the stand mixer for about 4 – 5 minutes. Now keep on adding flour, ¼ cup of flour at a time. Mix it well until a soft, and a bit sticky dough is formed. Remember, the dough must be sticky. It should be sticking to the bottom of the bowl. The total mixing time of the dough must be around 8 minutes.
When the dough gets smooth, well-combined, and sticky, take it out on a flour-sprinkled worktop and knead it well until it gets more smooth and even. Fold the dough into a round shape and put it back into the mixing bowl.
Cover the bowl with a cloth or cling film and let it rise for about half an hour.
When the dough rises, take it out on a clean surface and divide it into four equal parts.
Shape each dough ball into a long loaf of about 9 – 10 inches in size.
Now line the baking tray with a baking sheet or parchment paper and place these dough loaves into the baking tray. There should be at least 2 inches distance between the loaves.
Cover the baking tray with cling film again and let the dough loaves rise again for about one hour until they get double in size.
Preheat the oven to 350°F. Remove the cling film from the baking tray and place it into the oven. Bake the loaves for 25 minutes until they get a beautiful brown texture.
When the loaves get a brown texture, take them out of the oven. Apply butter to the loaves' top to make them soft and give them a tasty buttery flavor.
Let the loaves rest for at least 30 minutes to let them cool. When cooled, slice them from the center. Fill them up with your favorite fillings and enjoy the remarkably tasty sandwiches at home.