Listen up, dessert fans! Summer will be here sooner than you think, and we have a treat that will blow your mind and make your taste buds dance with delight. It's Buko Pandan, the best cold dessert in the Philippines. This delicious dessert is a mix of jelly cubes, young, tender coconut, and sweetened cream flavored with the aroma of pandan leaves.
Buko Pandan is usually saved for special events like weddings and fiestas, but who needs a reason to enjoy this delicious treat? You can make it any time you want a sweet, creamy dessert that makes you feel like you're in a tropical paradise.
And don't forget about the add-ins! Every spoonful has a variety of textures and tastes, from soft jelly to chewy Nata de Coco and sweet coconut meat. Trust us, Buko Pandan is the best dessert that will take your taste receptors on a wild ride to flavor town.
What is Buko Pandan?
Buko Pandan is a famous Filipino dessert that is usually made with Pandan-flavored jelly (screwpine) and shredded Buko (coconut) meat. Even though there are different versions of the recipe, traditional versions use condensed milk instead of coconut milk to give the dish a creamy and sweet taste. You can use coconut milk for dairy-free Buko Pandan.
Traditionally, Pandan leaves are used to make Buko Pandan, but they can be hard to find outside of the Philippines. But don't let that stop you from enjoying this delicious dessert! Pandan extract is often used as a substitute, and it does a great job of giving the dish a bright green color and an amazing flavor.
Buko Pandan is a delicious dessert that is perfect for any time of year, but especially during the hot summer months. So why not give this recipe a try and try this sweet and creamy Filipino treat?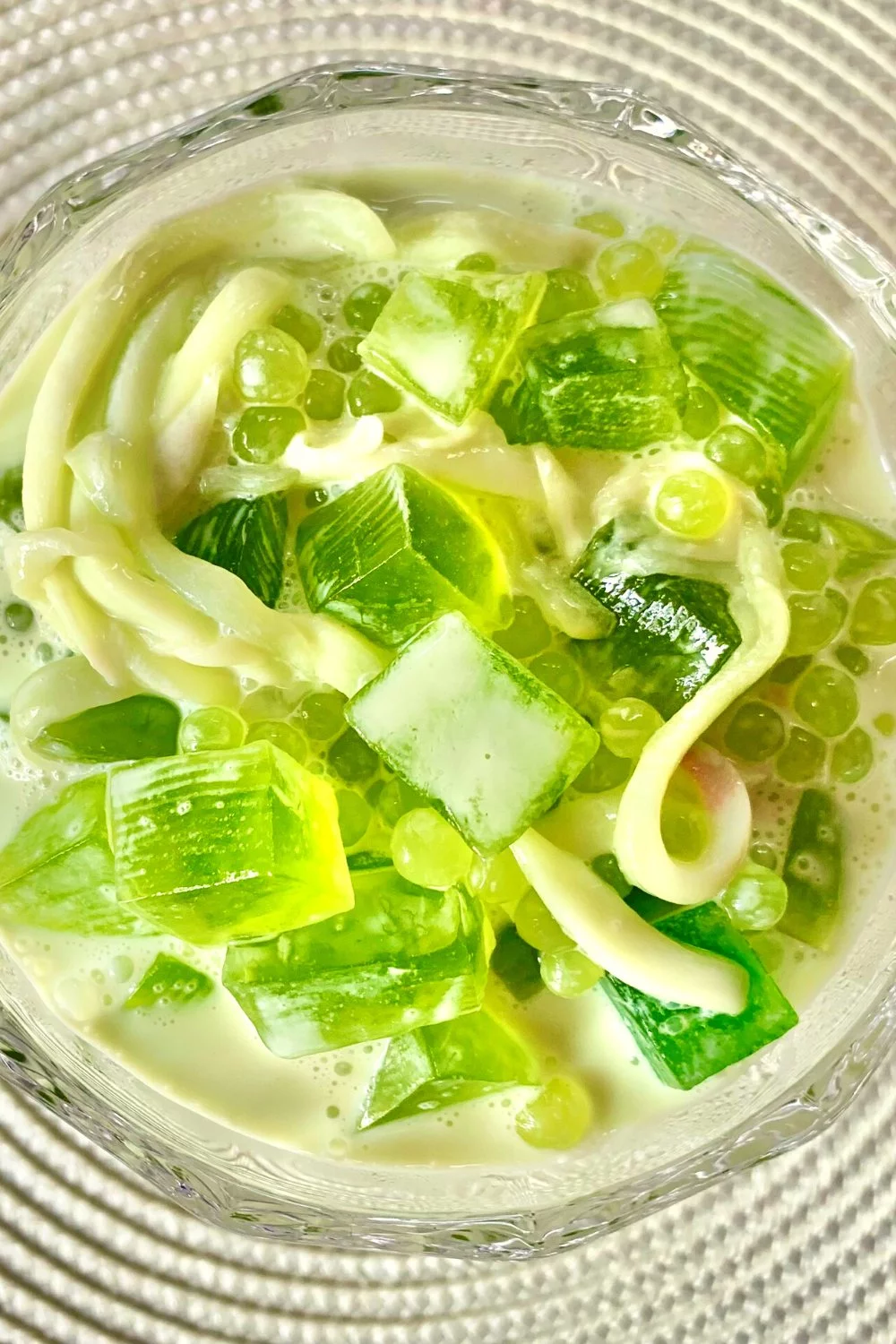 Ingredients and Substitutes
Here's the list of ingredients and substitutes for this delicious Filipino dish:
Young coconut: Young coconut cut into thin strips is an important part of Buko Pandan because it gives the dessert a refreshing and slightly sweet taste. If you can't find young coconut, you can use strips of coconut from a can or shredded coconut instead.
Condensed milk: Another key ingredient that gives Buko Pandan its sweet and creamy taste is condensed milk. If you want to avoid dairy, you can use condensed coconut milk instead of condensed milk.
Table cream: Table cream is used to make the dessert taste richer. If you don't have table cream, you can substitute heavy cream or whipping cream. For the vegan version, you can use coconut cream.
Powdered gelatin: The powdered gelatin is used to set the dessert. You can use agar-agar or carrageenan instead of powdered gelatin if you want a vegetarian or vegan option.
Water: Water is required to dissolve the gelatin and mix all of the ingredients together.
Pandan extract: Buko Pandan flavoring is made from pandan leaves, which give this Filipino recipe its unique taste and smell. Because it's hard to find pandan leaves outside the Philippines, we are using Pandan extract for this recipe.
Nata de Coco: Nata de Coco is a jelly made from coconut water that is chewy and see-through. It gives texture and flavor to the dessert. If you can't find Nata de Coco, you can substitute a canned fruit cocktail or diced fresh fruit.
Macapuno strings: Macapuno strings are made out of a mutant coconut variety with soft, jelly-like meat. It changes the texture and taste of the dessert in a unique way. If you can't find macapuno strings, you can substitute them with shredded coconut or toasted coconut flakes.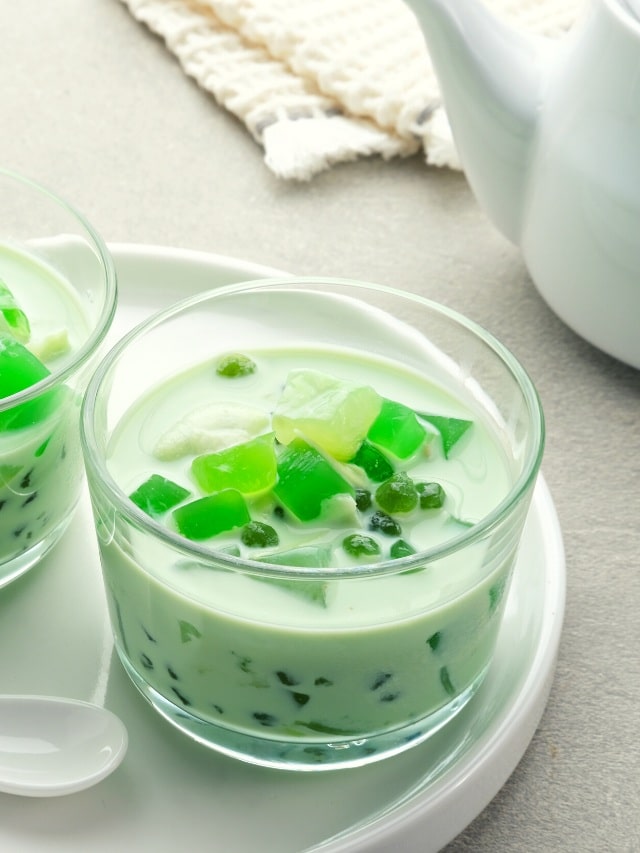 Buko Pandan Recipe
Buko Pandan is the perfect sweet, creamy, refreshing dessert for any occasion. This traditional Filipino dessert is a hit with both kids and adults. It is made with young coconut and pandan-flavored gelatin. So get ready to enjoy a tasty treat that will take your taste buds directly to the tropics.
Ingredients
1 1/2 cups of young coconut, cut into strips
1/4 cup of sugar
6 oz of condensed milk
9 oz of table cream
3 oz powdered gelatin
1 1/3 cups of water
2 tsp of Pandan extract
1 cup of nata de coco
1 cup of Macapuno strings
Instructions
To make the Buko Pandan dessert, you will need a mold to set the jelly in. It could be anything that can hold the mixture and let it set, like a cake pan or individual cups.
Mix the gelatin powder, pandan extract, sugar, and water in a medium-sized saucepan. Make sure you stir it well, so there are no lumps. The green color and unique taste of the dessert come from the pandan extract, which is the essence of pandan leaves.
Stir the mixture often while heating it over medium heat until it boils. Let it boil for two minutes while you stir it constantly so that lumps don't form.
Turn off the heat and pour the mixture into the prepared mold. Let it cool down and set. The texture of the mixture should be firm once it has cooled. If you are short on time, you can put the mold in the refrigerator to speed up the cooling process. But let the temperature drop first before putting it in the fridge.
While you wait for the jelly to set, prepare the other ingredients. In a different bowl, mix the condensed milk, table cream, and young coconut together until they are well blended. The young coconut gives the dessert a tropical touch, while the condensed milk and table cream gives it a creamy and sweet taste.
Add in the macapuno and nata de coco strings.
Once the jelly has set, cut it into one-inch cubes and mix them with the condensed milk, cream, and young coconut mixture. Let the mixture chill in the fridge or freezer for a few hours to make it thicker.
When you're ready to serve, put the mixture on plates or in cups for each person. Add a scoop of ice cream to each serving for an extra treat. Enjoy!
Who says that you can't have the cake and eat it too? Share the Buko Pandan recipe below on Pinterest to show the world how it's done! We can make mouths water and taste buds sing joyfully if we work together. 🙂