Here's a recipe for the tastiest and creamiest macaroni pudding you'll ever try. If you like mac and cheese but want to try something new, this recipe is just what you need. This macaroni pudding will become a household favorite because of its smooth sauce and soft noodles.
This dish is a true comfort food classic, with its rich, creamy sauce and perfectly cooked noodles. And what's best? It's very easy to make, and you probably already have all the ingredients you need in your kitchen. So why not try this macaroni pudding and see for yourself how good it is?
Macaroni Pudding
Looking through my cookbooks in my comfy kitchen, I knew I had to find the best recipe for macaroni pudding. I felt that an old, worn-out book that had been in my family for a long time would help me become a good cook.
After looking through all the pages, I finally found a recipe for macaroni pudding written by hand. I was thrilled to try it, so I got all the ingredients together and started mixing and stirring with great enthusiasm.
But as I carefully mixed the creamy mixture into the pasta, I couldn't shake the feeling that something was missing. I looked through my cupboards to find the right ingredient to make the dish come to life. I finally found a jar of nutmeg and knew it was precisely what the recipe required.
I added it to the macaroni and put the dish in the oven with a smile on my cheeks. I couldn't wait to dig in when I could smell the pasta and sauce cooking.
I took the dish out of the oven when the timer went off and allowed it to cool for a few minutes before serving it. To my joy, the macaroni pudding was a flavourful, yummy classic that made my taste buds tingle with pleasure.
I finally found the perfect macaroni pudding recipe, and I couldn't wait to share it with you.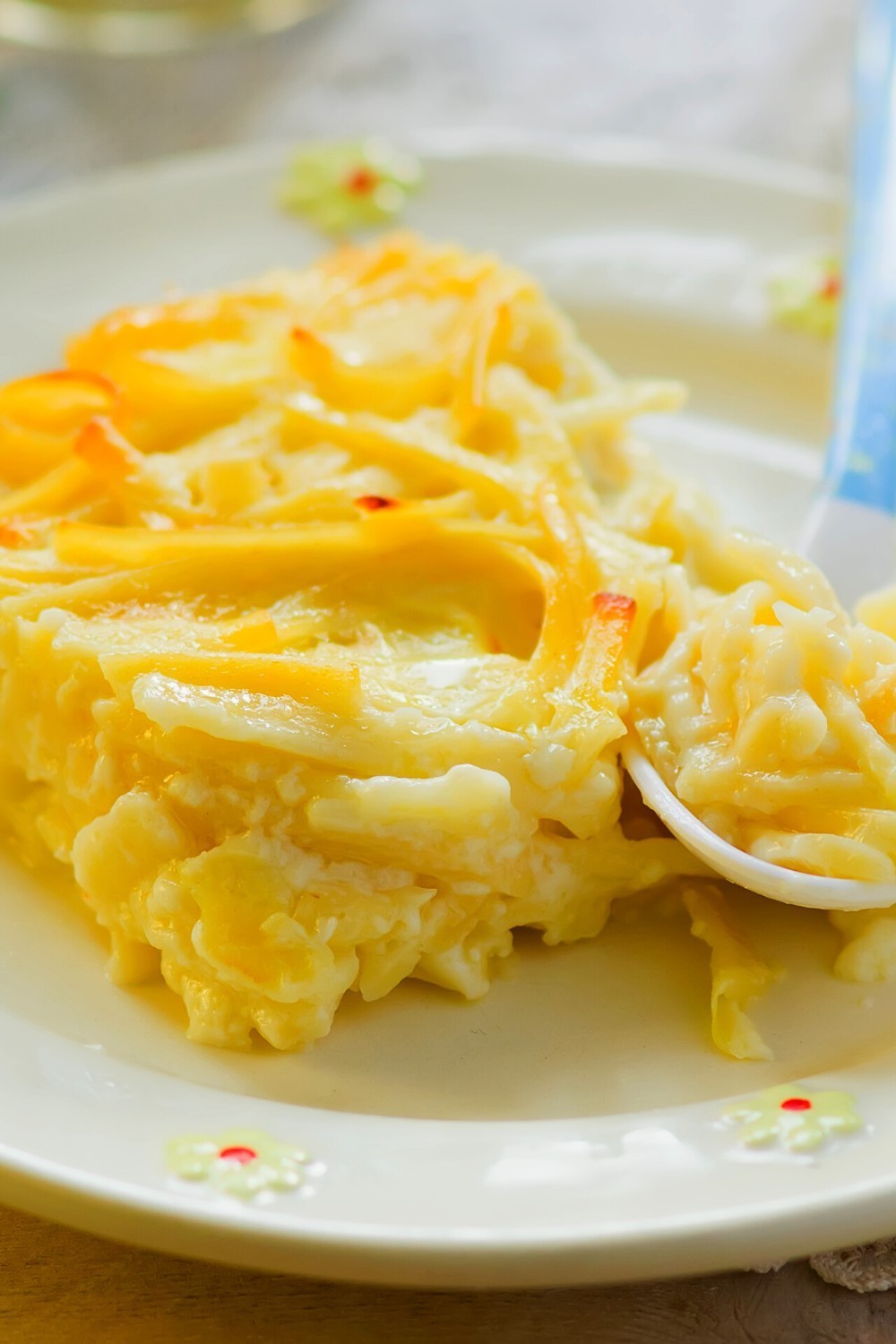 What is Macaroni Pudding?
Imagine it as the pasta-infused relative of rice pudding. It is a creamy, custardy delicacy with a nutmeg taste that is made with cooked macaroni as the foundation. Several recipes even include an eggy, rich texture or a small amount of sweetness with sugar and sultanas.
All you need to make it are milk, butter, and simple ingredients. Just mix everything and bake it in a dish that has been greased for a dessert that is both creamy and crunchy with golden brown edges.
Even though it isn't as well-known as it once was, macaroni pudding is still a cozy, nostalgic delight that will make you smile.
Fun Fact: Back in the day, the Victorians liked to change up their mac and cheese by adding a bit of boozy brandy or a coat of marmalade, whichever they liked best. And just when you thought it couldn't get any better, they added a dash of nutmeg to give it that classic eggnog flavor.

Here's the real takeaway: they cooked this meal for a staggering 45 minutes, which made the macaroni so soft you could almost mush it with a fork. And while it may have been popular in the 1800s, we feel that today's more sophisticated tastes might not be a good match for this recipe. But hey, they tried, right?
Macaroni Pudding Recipe
Prepare yourself to enjoy a creamy, luscious dessert that will take your taste senses to heaven! Presenting macaroni pudding, a delectable mixture of creamy custard, thick and silky macaroni noodles, with a dash of nutmeg for a little more warmth and spice.
Ingredients
6 oz macaroni
2 eggs
¼ Cup sugar golden caster
1 tsp vanilla extract
2 Cup milk
1 tsp butter
1 tsp ground nutmeg
½ tsp salt (for cooking pasta)
Instructions
Preheat the oven to 35F.
Bring a pot of water to a boil (about two-thirds full).
When the water starts to boil, add some salt and your pasta. Cook for 10–14 minutes, or as long as it says on the package of pasta. The pasta should be soft but not soggy.
Use a pasta strainer to drain the pasta, and then put it back in the pot.
Mix milk, eggs, sugar, and vanilla together in a separate bowl to make a custard.
Pour the sauce over the cooked macaroni and mix it well.
Apply butter to your baking dish, and then put the macaroni mixture in the dish. Put the dish on a large tray for baking.
Put everything in a 350°F oven for about an hour. So, that's all! Enjoy your creamy macaroni pudding.
Add some deliciousness to your Pinterest board! If you like this recipe for macaroni pudding, share the picture below with your friends.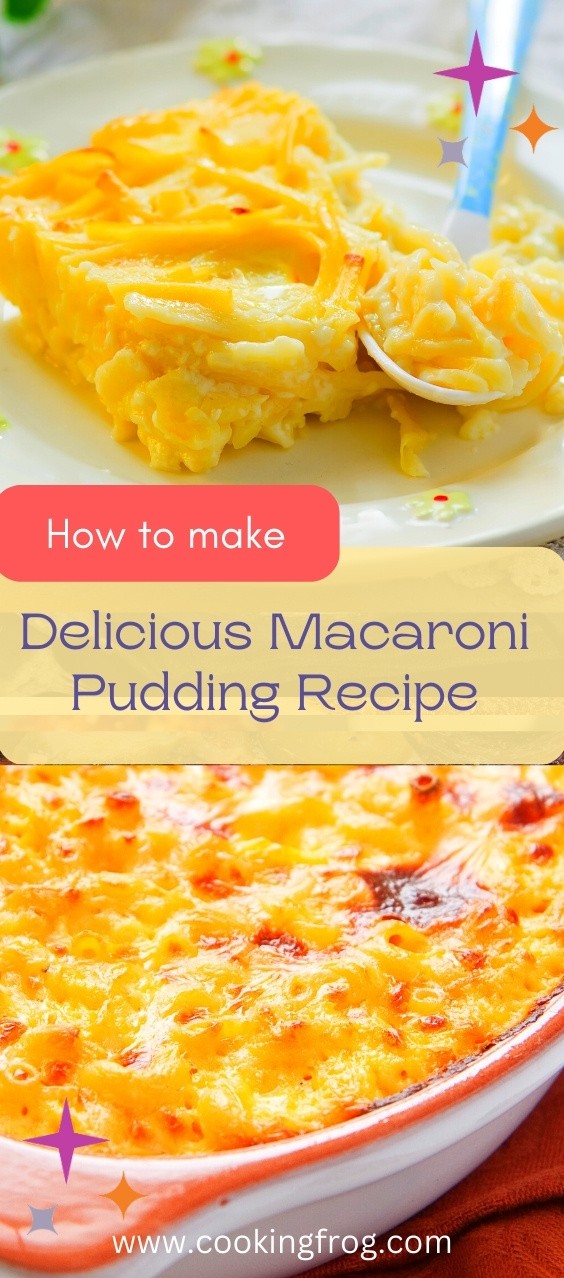 Serve Macaroni Pudding With
You can enjoy a rich and creamy macaroni pudding with ice cream, whipped cream, butter, or all three! Pour a little honey or chocolate, or caramel sauce on top for a touch of sweetness.
Add a spoonful of strawberry jam for a burst of fruity flavor, or top with fresh strawberries or raspberries for a cool finish. This delicious dessert can be used in a lot of different ways.