Behold the delicious and easy-to-make Vanilla-Infused Condensed Milk Sauce! Intended to go perfectly with my gourmet Italian bread pudding, it's a match made in culinary heaven. But hold on; there's more! This delicious syrup doesn't have favorites. It goes well with cheesecake, flapjacks, or any other sweet treat that needs a tantalizing topping.
The Best Vanilla Condensed Milk Sauce
Last summer, I was in a small Italian village where I learned how to make the easiest and most delicious bread pudding sauce ever. The locals couldn't stop talking about it, and that's when I knew I had to tell everyone about this beautiful thing I'd made.
This easy vanilla sauce was initially made to go with my recipe for Italian Bread Pudding, but it got so much praise that I had to give it its own moment in the spotlight.
This rich bread pudding sauce is made with condensed milk, making it an indulgent treat that will take any dessert to the next level. What's best? You only need four basic ingredients, and you probably already have them all in your kitchen.
If you love bread pudding as much as the people in this village and I do, don't miss the original Italian Bread Pudding recipe that inspired this delicious sauce. It's just as easy and tasty as the sauce it goes with, so it's perfect for a night of eating and telling stories.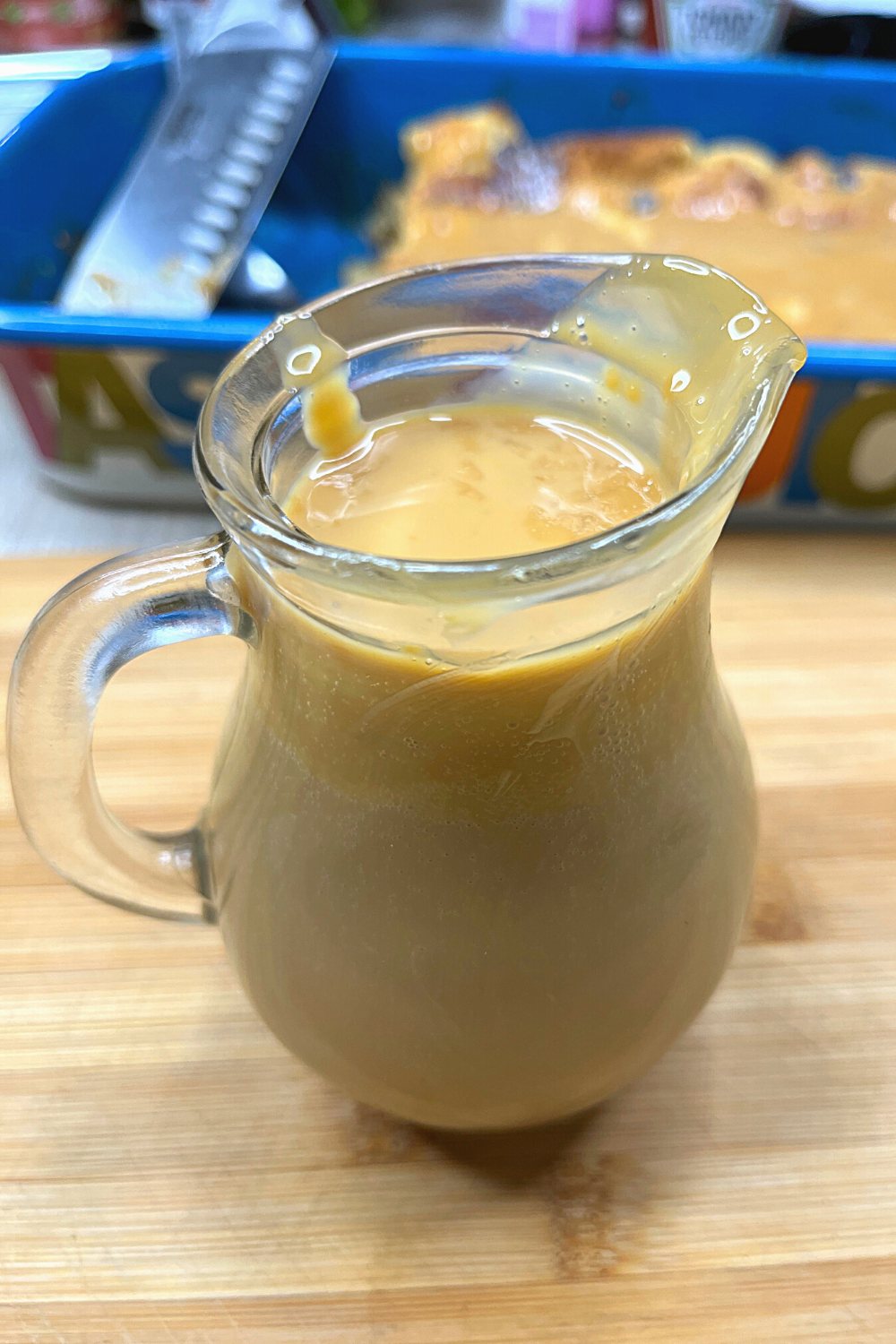 Ingredients you'll need
Condensed milk: Sweetened condensed milk is a delicious mix of whole milk and sugar. It is essential to our sauce because it gives it a rich, creamy base.
Vanilla extract: Vanilla extract comes from tiny pods of vanilla beans. This magical essence gives our creation a hint of sweetness and warmth that is hard to resist.
A touch of butter: Just a little bit is enough to give our sauce a glossy sheen and a deeper flavor, taking it to new heights.
Milk: Milk is the perfect balancer, and it helps adjust the thickness of the sauce so that it is just right for drizzling over desserts or breakfast treats.
Rum (Optional): If you like a little kick, you can add a tablespoon of rum to the sauce to give it a new depth of flavor. This is an optional addition, but it can make the sauce more suitable for adults, making it perfect for a special occasion or just because.
How to Make Vanilla Condensed Milk Sauce
Step 1: Pop open a can of condensed milk and pour its silky contents into a medium saucepan set over medium heat.
Step 2: Add the butter and stir it in gently until it's completely mixed in.
Step 3: Infuse the mixture with vanilla and milk, stirring steadily for a full, hypnotic minute. If you're using rum, now is the time to add it.
Step 4: Take the pan off the heat and pour the warm sauce over the dessert of your choice.
There's no need for any magic in the kitchen to make this delicious sauce come to life. Just a little stirring will do the trick, impressing your guests and making your taste buds happy.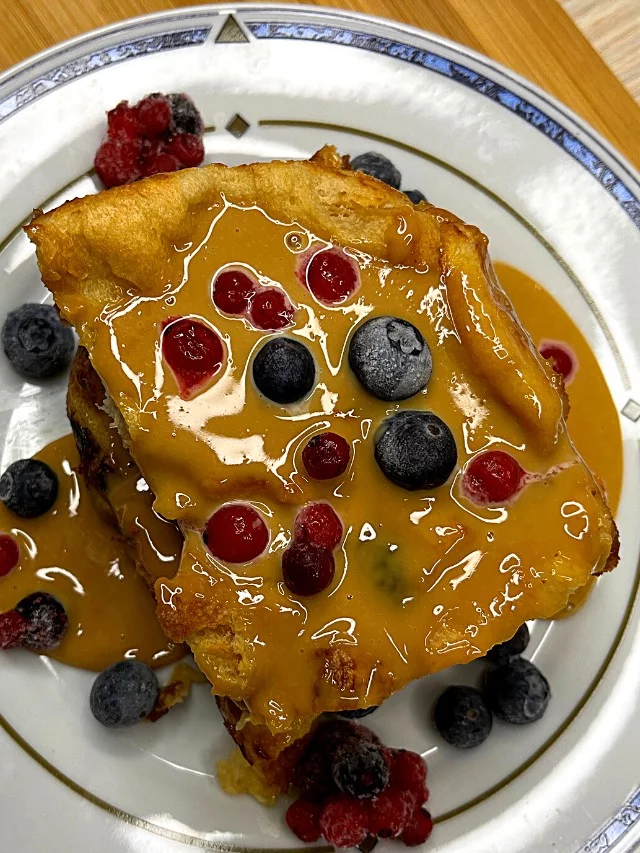 Condensed Milk Sauce Variations
Bourbon Bliss: Replace the milk in the sauce with bourbon to make it a spirited, bourbon-flavored treat.
Anise Fun: Add 1/6 teaspoon of anise extract to the sauce for a fragrant twist.
Almond Allure: If you add 1/6 teaspoon of almond extract, your taste buds will be captivated by the flavor of almonds.
Cinnamon Enchant: Sprinkle in 1/2 teaspoon of cinnamon for a warm, cozy feeling.
Orange Voyage: Use 1/2 teaspoon of orange zest and 1 tablespoon of fresh orange juice to add a tangy twist.
Minty Vibe: Add 1/8 teaspoon of peppermint extract to enjoy a cool, minty sensation.
Chocolate Delight: Whisk in 2 tablespoons of unsweetened cocoa powder to make the sauce taste like a chocolate dream.
With our delicious Vanilla Condensed Milk Sauce, you can do almost anything. Start your culinary adventure by trying out these tempting flavors or coming up with your own new combinations.
Storing Condensed Milk Sauce
After taking the sauce off the heat, let it cool to room temperature.
Transfer the condensed milk sauce to an airtight container, such as a glass jar with a tight-fitting lid, to keep it fresh and prevent any spills.
Store the container in the fridge for up to a week.
Vanilla Condensed Milk Sauce Recipe
Get ready to make some magic in your kitchen with this delicious Vanilla Condensed Milk Sauce Recipe! It's not only delicious but also easy to make. Get ready to show off and satisfy your taste buds with this delicious treat!
Ingredients
1 can of sweetened condensed milk
2 Tbsp of milk
2 ½ tsp of vanilla extract
1 Tbsp of butter
1 Tbsp of Rum (Optional)
Instructions
Prepare your ingredients: a can of sweetened condensed milk, two tablespoons of milk, 2 ½ teaspoons of vanilla extract, and one tablespoon of butter. (You can add 1 Tbsp of rum if you like)
Open a can of condensed milk and pour the milk into a medium saucepan. Gently heat the milk over medium heat.
Add the butter and stir until it all blends together nicely.
Add the vanilla and milk and mix them well for 1 minute. If you are using rum, now is the time to add it.
Take the pan off the heat and pour the warm vanilla syrup over your favorite dessert.
Hey, if you love this delicious Vanilla Condensed Milk Sauce Recipe, why not tell your friends? Share the picture below on your Pinterest account to make your followers drool with joy. 😜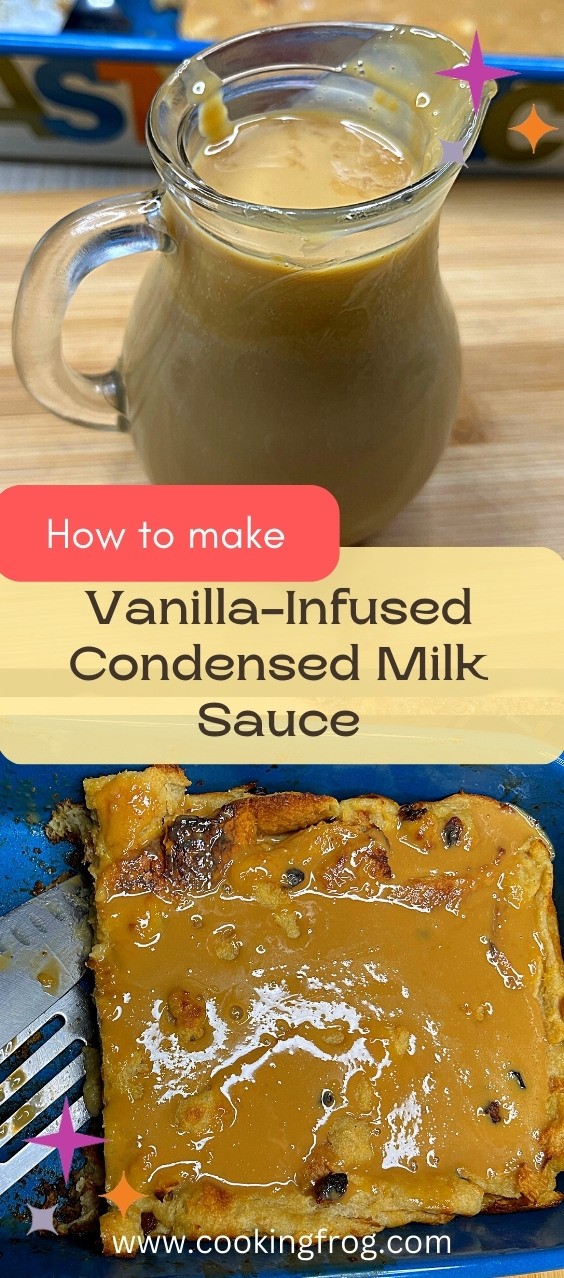 Vanilla Condensed Milk Sauce Video