Pour some Tiger Sauce over a sandwich or use it as a dipping sauce. This sauce's tanginess and subtle heat make it a versatile condiment.
This tiger sauce has a delightfully smooth texture and a rich, powerful taste that's just a bit spicy. It can be whipped up in under a minute with only three basic ingredients and is a perfect complement to various proteins.
The simple ingredients for tiger sauce are mayonnaise, horseradish, lemon juice, and garlic. The versatility of this sauce will have your family asking for it at every meal.
The Best Tiger Sauce Recipe
If you're looking for a homemade alternative to bottled tiger sauce, go no further than this recipe. The sauce is spicy, savory, somewhat sweet, and tastes like nothing else.
However, I think the creaminess is what makes it so good. It's just as tasty as this Burrito sauce or this Chipotle sauce, in my opinion. Although this tiger sauce goes well with many other foods (I'll list my personal favorites in a little), I think roast beef is where it really shines.
The most excellent part about this sauce is that it requires only a few simple ingredients and less than a minute to prepare.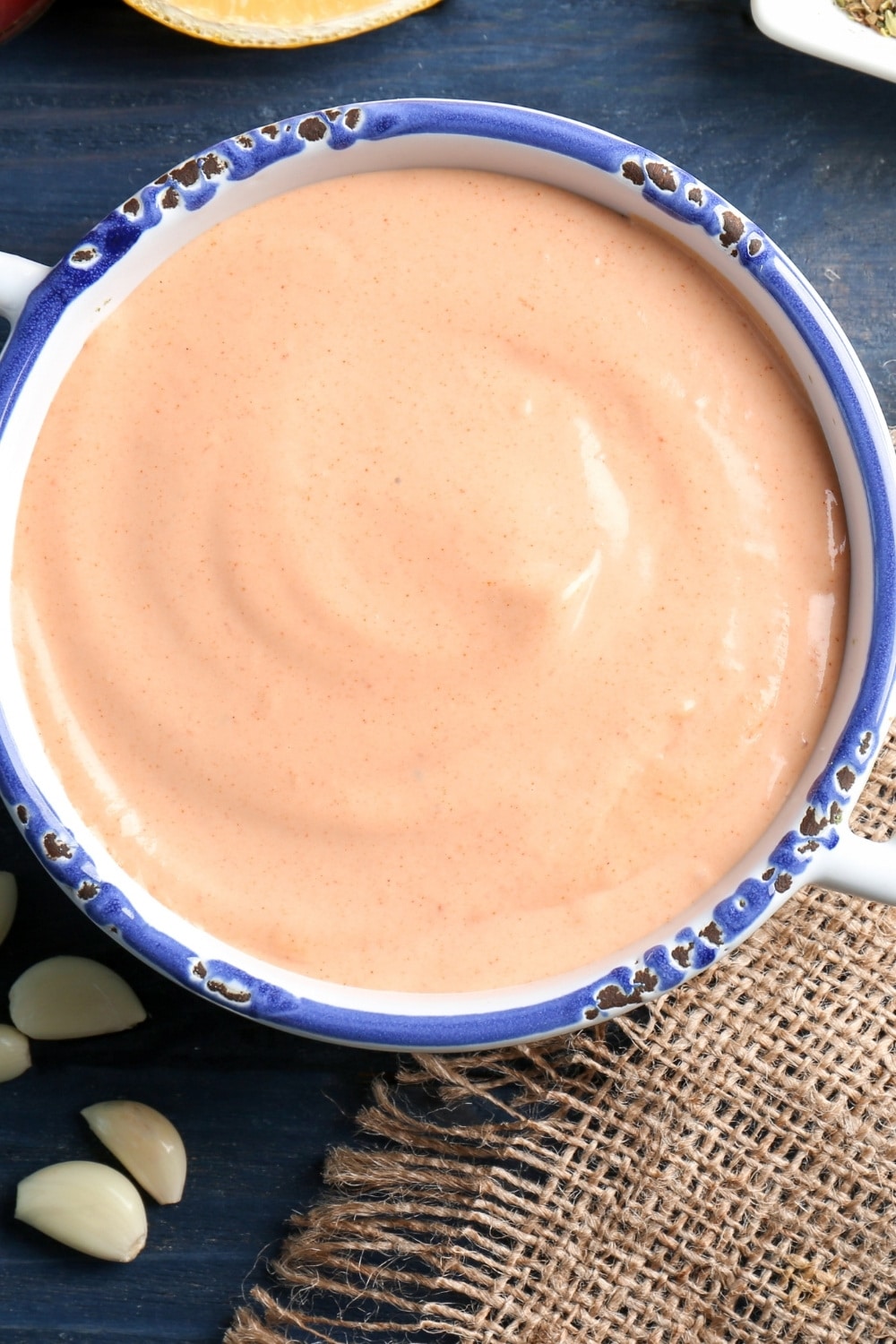 Ingredients you'll need
This sauce recipe's ingredients are typical and should be available at your local supermarket. You probably have a couple of these on hand already, and that doesn't even surprise me!
The list of ingredients is below, and for the quantity of the ingredients, see the detailed recipe below:
Mayo
horseradish
Garlic
Lemon juice
Salt
Pepper
How to make Tiger Sauce
As I've already indicated, this tiger sauce literally takes no time at all to prepare. So, get your supplies, and let's not dally any longer.
Step 1: To begin, pour the mayonnaise into a bowl of approximately medium size.
Step 2: Stir in the horseradish, garlic, lemon juice, salt, and pepper.
Step 3: Add everything to a mixing bowl and whisk vigorously until a smooth sauce forms.
Step 4: Pair it with whatever else tickles your fancy and dig in!
Depending on how you like your sauce, you may modify this recipe to suit your needs. If you like things on the spicier side, feel free to increase the amount of horseradish, garlic, or both! Follow the instructions above if you like a milder dish with well-balanced tastes.
How to use:
Although tiger sauce has a distinct flavor, it complements various dishes. In my opinion, these are the best dishes to prepare with it:
Storing Tips
This sauce recipe may make an extra half cup of sauce. So, after eating it with one of the dishes mentioned above, you will most likely have some leftovers.
The sauce may be kept in the fridge for up to two weeks if stored in an airtight jar or container.
To use it, just remove it from the refrigerator, mix it well, and serve it at your convenience.
Tiger Sauce Recipe
It is time to make this sauce with detailed instructions.
Ingredients
1 cup of Mayo

1/2 cup

of horseradish

1/3 TBSP of garlic

½ Lemon Juice
Salt to your liking
Pepper to your liking
Instructions
Blend mayonnaise, garlic, and lemon juice together in a bowl.
Blend the ingredients together, seasoning with salt and pepper to taste.
Combine well so that a smooth sauce develops.
Extra Tips
This recipe can easily be doubled by increasing each item's quantities and stirring them together in a larger dish.
You may substitute the lemon juice from this recipe with lime juice for a slightly different flavor.
Replace the mayonnaise in this tiger sauce with a healthier one, such as one made with avocado oil, for a healthier substitution.
A dash of salt, some chili peppers, hot sauce, or crushed red peppers may create a terrific substitute for tiger sauce, adding a fiery taste without the use of actual tigers.
Reduce the number of calories you consume by eating less or switching to low-fat or fat-free mayonnaise. You may also give a mayonnaise made with olive oil a shot.
Substitute sour cream for the mayonnaise.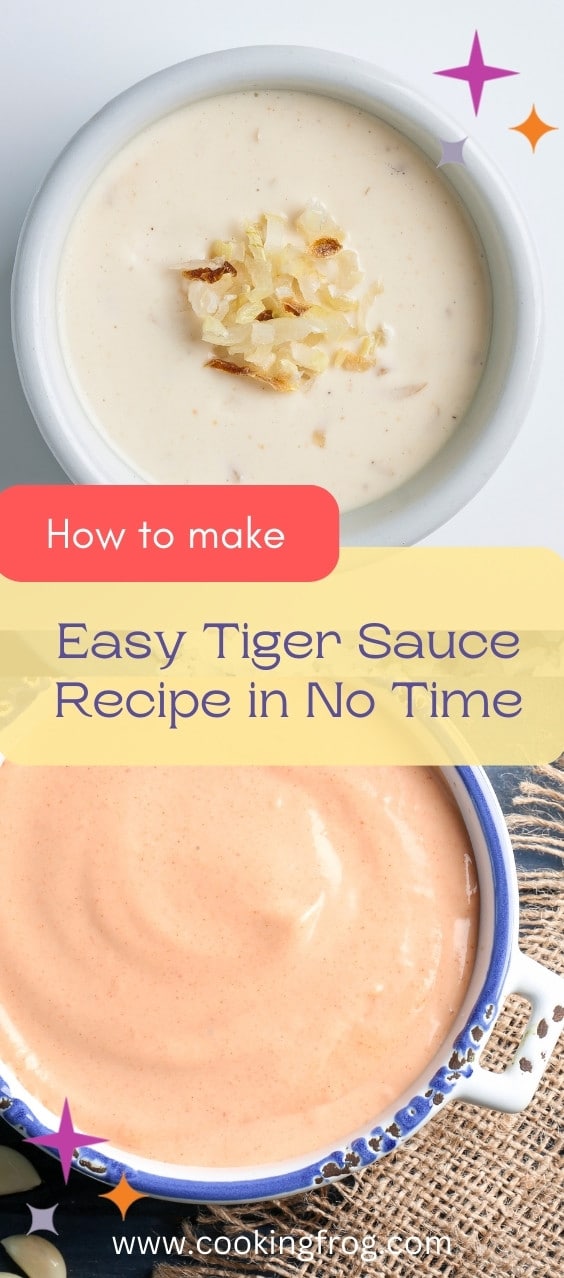 FAQs
What is a Tiger Sauce?
Creamy and mildly spicy, tiger sauce gets its kick from horseradish and garlic. Traditional tiger sauce recipes ask for either mayonnaise or sour cream, or sometimes a combination of the two, for a creamy texture.
What other sauces are like this one?
A cream sauce made with horseradish is the one closest to tiger sauce.
How hot is this Tiger Sauce?
Tiger sauce is mildly hot. You may adjust the heat level of tiger sauce to your preference. Adding extra horseradish and garlic will boost the heat. If you want it spicier, try sprinkling in additional crushed red pepper flakes.
Can I freeze Tiger Sauce?
Because mayonnaise separates when frozen and thawed, you shouldn't store this sauce in the freezer.
What are the Ingredients for Tiger Sauce?
Mayonnaise, horseradish, garlic, lemon juice, salt, and pepper are the key ingredients in this tiger sauce recipe.