Are you looking for how to make a healthy side dish to go with your meals effortlessly? We've got you covered. Whether it is a dinner party or brunch, this purple sweet potato recipe will leave you in awe. There are many side dishes available, but we present a rare blend of taste with health.
This Purple Sweet potato comes with a dash of butter and a twist of herbs. We are talking about none other than the exotic purple sweet potato dish, which will surely make your mouth water. Potatoes are known for their flexibility to fit into anything, but this recipe will surely bring a wave of taste you have never experienced before.
Purple Sweet Potato
Purple sweet potatoes come from a large family of potatoes; these sweet potatoes are also called Stokes and are more prevalent in Japanese culture. In Japan, they are popularly known as Okinawa sweet potatoes. With a history of being gifted to and grown by farmers, these potatoes will surely make space in your tummy's heart.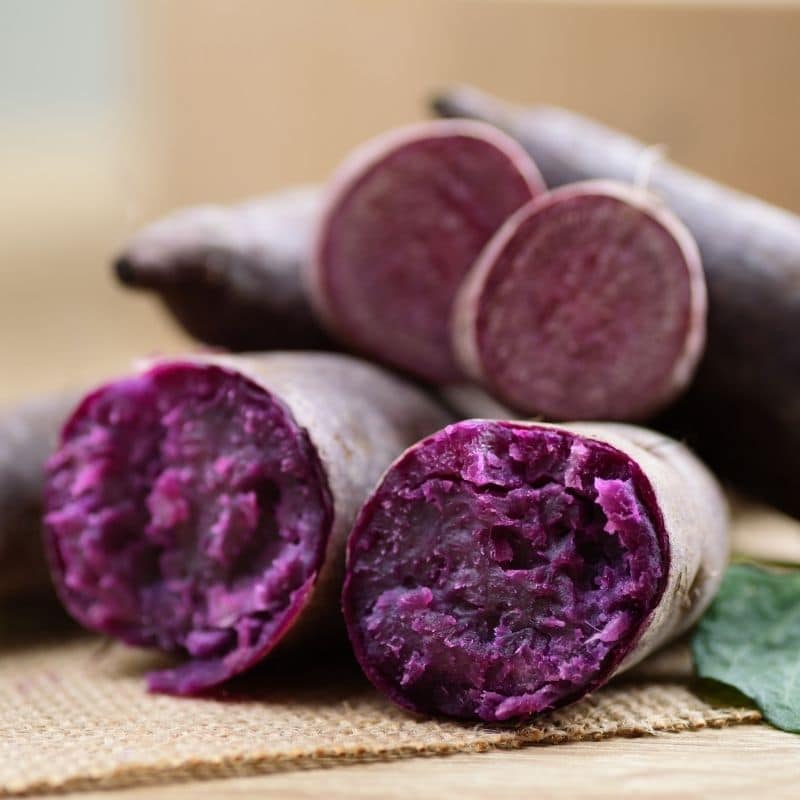 Grown in the soil of a curious farmer and thankfully reaching us, potatoes come in all different shapes, sizes, and colors. Yes, colors too. This recipe shows us how to cook purple potatoes, but you can try these with yellow, red, and, the most popular white potatoes. Purple potatoes are not only a healthy alternative but are also low in fat and calories, highly nutritious, and rich in vitamin C and potassium.
The presence of high amounts of Anthocyanin and carotenoids gives these potatoes their purple color. These antioxidants help protect us from free radicals that can damage our DNA and cause oxidative stress. Ready within a small time fragment of 30-40 minutes, the purple sweet potato recipe is sure to leave you with the taste of a lifetime.
Purple Sweet Potato Tips
You can use melted ghee or cooking oil instead of butter.
Ghee will add a homely yet rich flavor. Ghee also holds very high nutritional value helping with digestion and faster metabolism, whereas oil will add to the shine and crispiness of the veggies.
You can also add more veggies to the dish, including beetroots.
Along with parsley and rosemary, you can add black pepper, paprika, or other herbs as a seasoning. Just sauté those with garlic and follow the procedure as mentioned.
You can use other herbs for added flavors giving the dish a more aromatic experience. These herbs can be sautéed or sprinkled upon; they leave a fantastic taste in both methods.
Another healthy alternative to cooking purple potatoes would be to air-fry them instead of baking them. Air frying consumes less oil and is considered a healthier option than baking, frying, or even shallow frying.
To make garlic yogurt at home, you can add 1-2 cloves of minced or grated garlic, a few drops of freshly squeezed lemon, one tablespoon of fresh green chives, and a pinch of kosher salt to one cup of Greek yogurt. Mix them all well until there are no lumps. This dip tastes better when served cold.
To peel or not to peel is the question! To answer this question, potato skin is full of nutrients and vitamins. So, it is safe to say it's completely edible. The choice remains and depends on how you prefer your potatoes. As we have mentioned, the taste does not vary too much as long as you follow the recipe. Please remember young kids should not be fed potato skin, as it can lead to choking.
Rich in nutrition and packed with taste, the purple sweet potato perfectly suits all your meals. Not only can it be a standalone snack, but it also is a replacement for French fries, potato nuggets, and baked potato chips. So next time you decide to cook burgers, don't forget to spice them up with some delicious roasted purple potatoes, making them worth a try!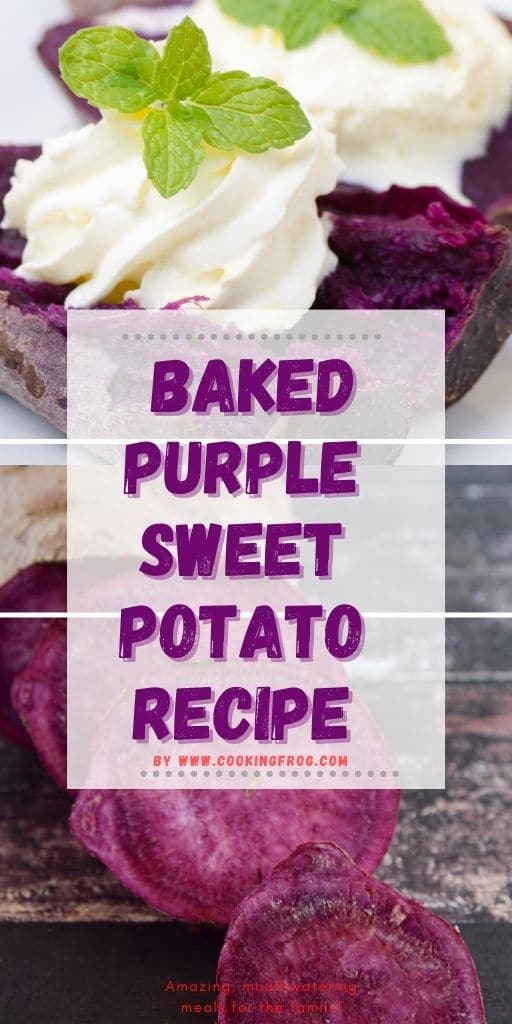 Purple Sweet Potato Recipe
Ingredients
2 purple sweet potatoes
1 Red onion
7 to 9 cloves of Garlic
1 ½ tablespoon of melted butter
Parsley to garnish
Rosemary
Salt to taste
Instructions
Preheat your oven to 425 degrees F.
Start by chopping red onions and potatoes into bite-sized pieces or thick slices of one inch each. You can do it as desired. Wash them thoroughly to remove any soil or bacteria on the surface. Don't forget this step, as it is essential for the fresh taste of this recipe.
Add some salt of around one tablespoon to 2 cups of water. Bring the salted water to a boil and gently add potatoes to it. Cover the potatoes and let them simmer for 10-15 minutes until they are soft. Make sure to cook them only until they are tender and not until they are falling apart.
Very gently remove them on a dry vessel and drain the water. The next step is to pat the potatoes dry with a towel or kitchen cloth.
In a bowl, toss minced garlic and freshly cut rosemary with some melted butter. Mix the contents well until the ingredients are blended well.
Place the onions and potatoes on a baking sheet. It would help if you preferably used a larger baking vessel to avoid overlapping and maintain the veggies' crispiness.
Spoon the garlic-herb mixture on every piece of onion and potato.
Transfer them to the oven and bake for over 15 minutes. Toss them over and continue to bake for another 10 minutes to obtain the desired crisp.
You should season with salt to taste, chopped parsley, or any additional herbs.
Serve hot to enjoy the fresh flavors.
A good alternative is to enjoy these potatoes with a dipping made from Greek yogurt or yogurt and garlic.
Another way to cook this dish if you are running low on time is to skip the boiling part. Place the chopped potatoes on the baking tray directly with the onions and spoon them with herbs and butter. Transfer them to the oven and bake for over 15 minutes. Toss them over and continue to bake for another 10 minutes to obtain the desired crisp. Season them with salt to taste, chopped parsley, or any additional herbs.