Hello folks, we're about to go on a tasty trip to the sunny streets of Portugal! Today, we'll make Caldo Verde soup, a traditional Portuguese soup that will warm your heart and please your taste buds.
This hearty green soup is not only full of healthy things, but it also has a lot of bold and interesting tastes. So put on your aprons and prepare because it's time to start cooking! But before we start, I want to tell you a little secret: this soup is so good that it might make you dance to some "fado" (Portuguese traditional music) in your kitchen.
What is Caldo Verde?
Caldo Verde is a mouth-watering soup that has all the flavors of Portugal. This delicious soup comes from the Minho Province in northern Portugal. It is made from shredded collard greens, potatoes, olive oil, onion, garlic, and savory sausage. It has been warming hearts and stomachs since 1936.
Even though it's often thought of as a national dish, some people might argue that there's a fierce competitor in the mix (ahem, Acorda de Mariscos). Regardless, the Portuguese love this tasty treat, and it has even made its way to Brazil, where it is very popular. When in Portugal, be sure to enjoy a steaming bowl of Caldo Verde at a wedding or birthday party. It goes well with a piece of broa (Portuguese cornbread).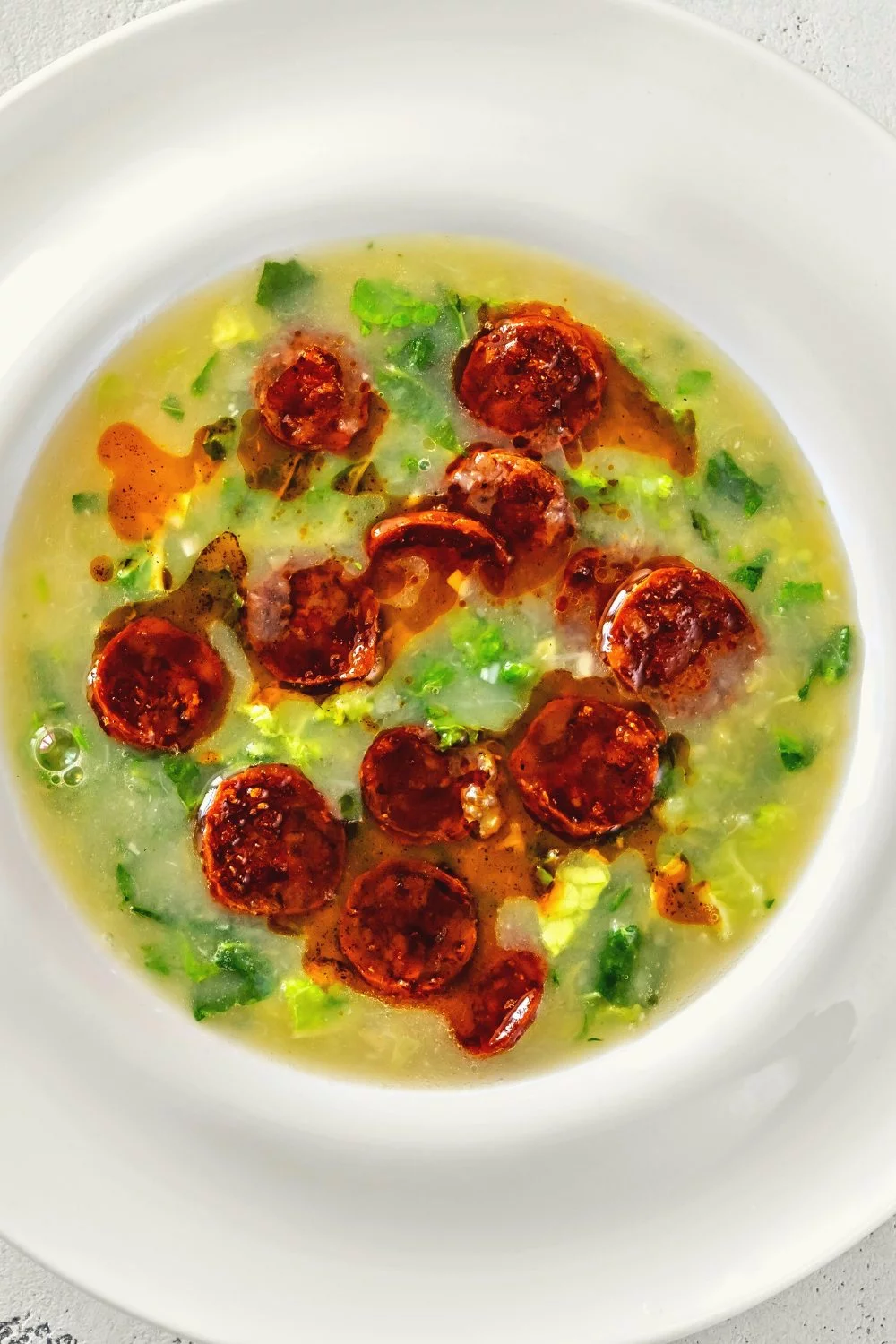 Ingredients you'll need
Collard Greens: Collard greens are an important part of this Portuguese green soup. You can use couve-galega, which is a type of Portuguese collard greens, or kale. For the best texture in the soup, cut the greens into thin strips.
Sausage: For this recipe, the most authentic sausage to use is linguica or calabresa. It's a smoked pork sausage with garlic and paprika that gives the soup a wonderful flavor. If you can't find linguica, you can use chorizo or kielbasa instead. Don't use Mexican chorizo, though, because it has a different taste and won't work in this dish.
Potatoes: You can thicken the soup with Yukon Gold or Russet potatoes. Both will be blended into the soup, so it doesn't matter which kind of potato you use.
Onion and garlic: These two ingredients make up the base flavor of the soup and are important for incorporating richness and depth.
Broth: The original recipe calls for water, but using either chicken broth or vegetable broth can improve the taste of the soup.
Olive Oil: Many Portuguese dishes use a lot of high-quality olive oil, which adds flavor and good fats to the soup.
Salt and Pepper: Just like with any dish, adding salt and pepper to taste will help bring out the flavors in the dish.
How to make Caldo Verde Soup
Caldo Verde is a traditional Portuguese soup. Its name literally means "green soup" in Portuguese. It's a hearty and comforting meal made with collard greens, potatoes, onions, garlic, and sausage. It's great for a cold day. Even if it takes a little time to make, it's worth it in the end.
Note: At the end of this article, you can find a full recipe with clear instructions and a list of all the ingredients.
Step 1: Prepare the Collard Greens
The first step to making Caldo Verde is to prepare the collard greens. To achieve this, remove the stems from each leaf and stack them. Roll the stacked leaves into a tight cigar shape, then thinly slice the greens crosswise into strips.
Step 2: Make the Caldo Verde Soup Base
The following step is to create the base of the soup. In a big pot, cook the potatoes, onions, garlic, broth (if using), and oil until the onions and potatoes are soft. Once everything is cooked, blend it all together until it's smooth and creamy. You can use an immersion blender or work in batches in a regular blender. Add the sliced collard greens and cook until soft.
Step 3: Brown the Sausage
Add the sausage to a big skillet with a drizzle of olive oil and sauté until browned while the greens are cooking. Season the soup to taste with salt and pepper before adding the cooked sausage.
Enjoy your flavorful and filling bowl of Caldo Verde, and top it up with a drizzle of olive oil to add even more flavor.
Caldo Verde Soup Variations
As you can see in the image below, this soup can be made in some delicious variations.
Making Caldo Verde Vegetarian or Vegan: For a plant-based version of the traditional soup, omit the sausage.
Pork-Free Alternative: For a comparable flavor profile without using pork products, consider using smoked turkey sausage.
For bacon lovers: Those who simply can't get enough bacon can think about adding some extra pieces to their soup for a smoky, salty bite.
Beans variation: White beans are a popular bean-filled variation that some people like to add to their Caldo Verde for an additional protein boost. If you're not using sausage in your soup, it's a fantastic alternative.
Add Some Texture: Instead of mixing the potatoes, try cutting them into little pieces to add some texture. The texture and feel of the soup will change as a result.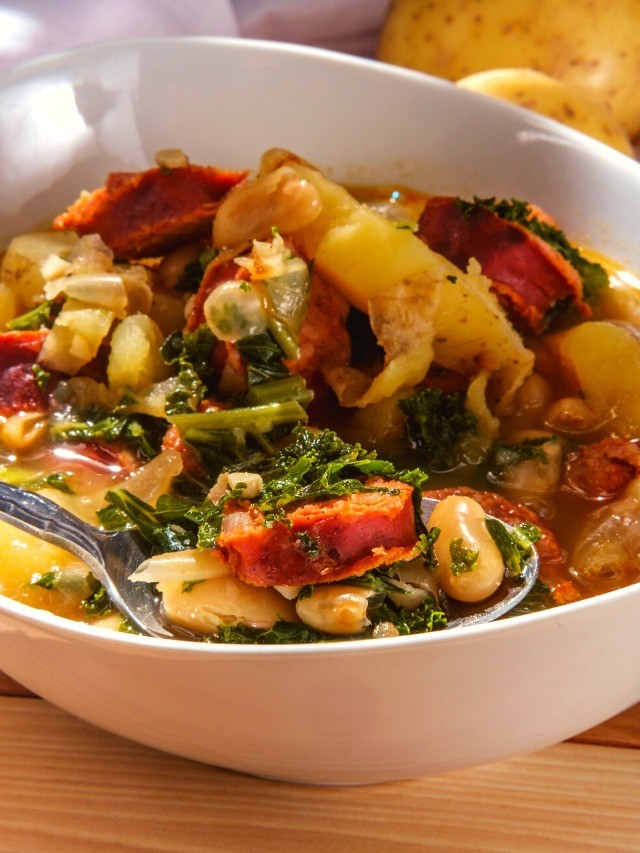 Caldo Verde Soup Recipe
This traditional Portuguese soup has been a favorite for ages for a good reason. Caldo Verde is a classic in homes all around the world thanks to its flavorful blend of crisp greens, creamy potatoes, and savory sausage.
Ingredients
4 cups of potatoes, peeled and quartered (Yukon Gold or Russet)
1 yellow onion, peeled and quartered
4 cloves of minced garlic
1/2 cup of olive oil
16 oz of linguiça sausage, thinly sliced (you can also use kielbasa or chorizo)
1 bunch of collard greens washed
8-9 cups of chicken or vegetable broth
Salt and pepper to taste
Instructions
First, carefully remove the stems from each collard green leaf and stack 3–4 of them together. Roll them tightly like a cigar, then cut them crosswise into thin strips. Repeat the process with the rest of the leaves and set them aside.
In a sturdy pot, put your ingredients: peeled potatoes, chopped onion, minced garlic, a drizzle of olive oil, and a lot of chicken broth. Turn up the heat and bring to a boil, then lower the heat to medium-low and let the potatoes simmer until they're soft and ready to be mashed (around 20 minutes).
You can use a traditional blender or an immersion blender to make the soup smooth and creamy.
Add your collard green ribbons, and let them cook until they're soft and flavorful (around 15 minutes).
While your greens are cooking, cook the sausage in a large skillet over medium heat until they're golden brown and crispy (about 5-8 minutes).
Stir the sausage into your soup, season with salt and pepper to your liking, and bring it to a boil again.
Serve it hot, and appreciate the burst of flavors in each and every bite! And don't forget to sprinkle a little extra olive oil on top for a touch of richness.
The soup's up! If you liked this Caldo Verde recipe, share it on Pinterest. Let's soup-ercharge the world a pin at a time!