Chicken Florentine Soup, a dish that has its roots intertwined with history, culture, and culinary artistry. This soup, with its creamy texture and wholesome ingredients, is not just a meal; it's an experience. Let's journey to learn its origins, the reasons behind its popularity, and how to make this masterpiece in your kitchen.
What's the Origin of the Name 'Chicken Florentine'?
The term "Florentine" in culinary lingo often points towards dishes that feature spinach. But why? The story traces back to the 1500s when Catherine de' Medici of Florence, Italy, moved to France to marry Henry II. With her, she brought her cherished Italian chefs and her adoration for spinach.
While it might sound exaggerated that Catherine demanded spinach in every meal, there's no denying the influence she had on French cuisine. Like Zuppa Toscana, this soup, though reminiscent of Italian flavors, is a nod to French culinary traditions, making it a beautiful blend of two rich cultures.
What Makes This Soup Stand Out?
In a world brimming with soup recipes, what makes Chicken Florentine Soup so special? It's the simplicity paired with depth of flavor. Within just 30 minutes, you can have a pot of this creamy delight ready, making it perfect for those busy weekdays. Plus, its mild yet savory profile ensures it's a hit with both kids and adults.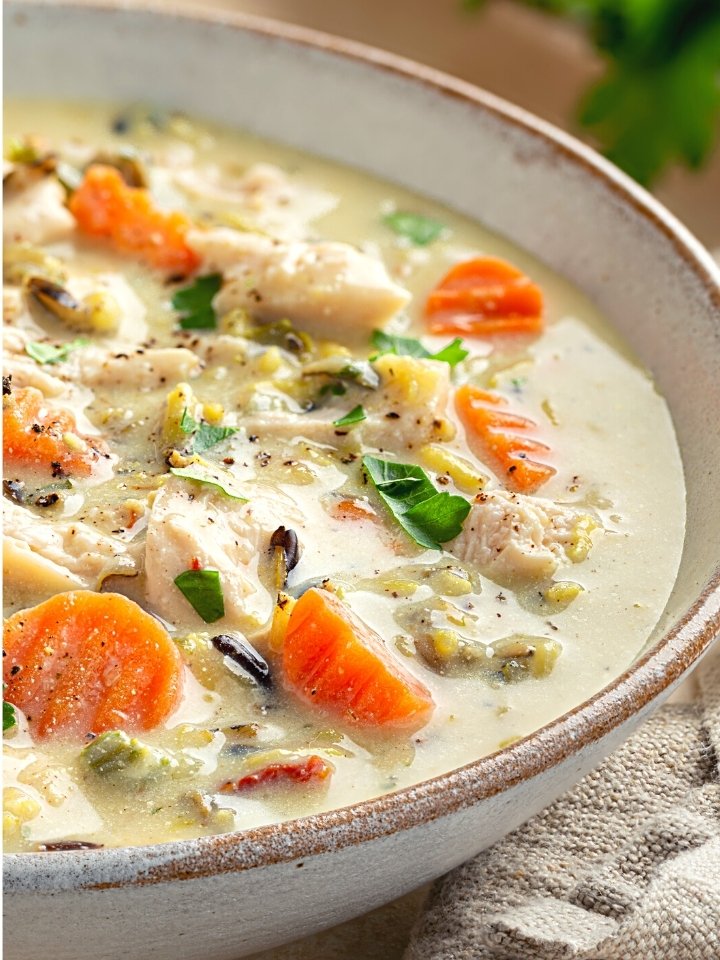 Creamy Chicken Florentine Soup Recipe
Ingredients
Main Components:
Chicken Breasts: About 1.5 pounds, boneless and skinless
Fresh Baby Spinach Leaves: Roughly 2 cups
Soup Base:
Olive Oil: 1 tablespoon
Unsalted Butter: 1 tablespoon
Yellow Onion: 1 medium, diced
Carrot: 1 medium, peeled and diced
Celery: 1 stalk, diced
Garlic: 3 cloves, minced
Liquids & Creaminess:
Low Sodium Chicken Stock: 4 cups
Heavy Cream: 1 cup
Seasonings & Flavors:
Salt: 1 teaspoon (adjust to taste)
Ground Black Pepper: ¼ teaspoon
Dried Thyme: ½ teaspoon
Italian Seasoning: 1 teaspoon
Shredded Parmesan Cheese: ½ cup
Thickening Agent:
Cornstarch: 3 tablespoons (mixed with 2-3 tablespoons of water)
Instructions:
Beginning with the Base: In a large saucepan, combine olive oil and butter. Saute the onion, carrot, and celery until they soften. Introduce the garlic and let it cook briefly.
Infusing with Chicken: Pour in the chicken stock and bring it to a boil. Add the chicken breasts along with the seasonings. Let it simmer until the chicken is thoroughly cooked.
Creamy Transformation: Once the chicken is done, remove and shred it. To the pot, add heavy cream and parmesan. Introduce a cornstarch-water mixture to thicken the soup.
Finishing Touches: Return the shredded chicken to the pot and add in the spinach leaves. Adjust the seasonings if necessary.
Soup's on and it's laugh-out-loud good! 😂 Pin the pic below to your Pinterest and serve up a 'souper' surprise to your followers!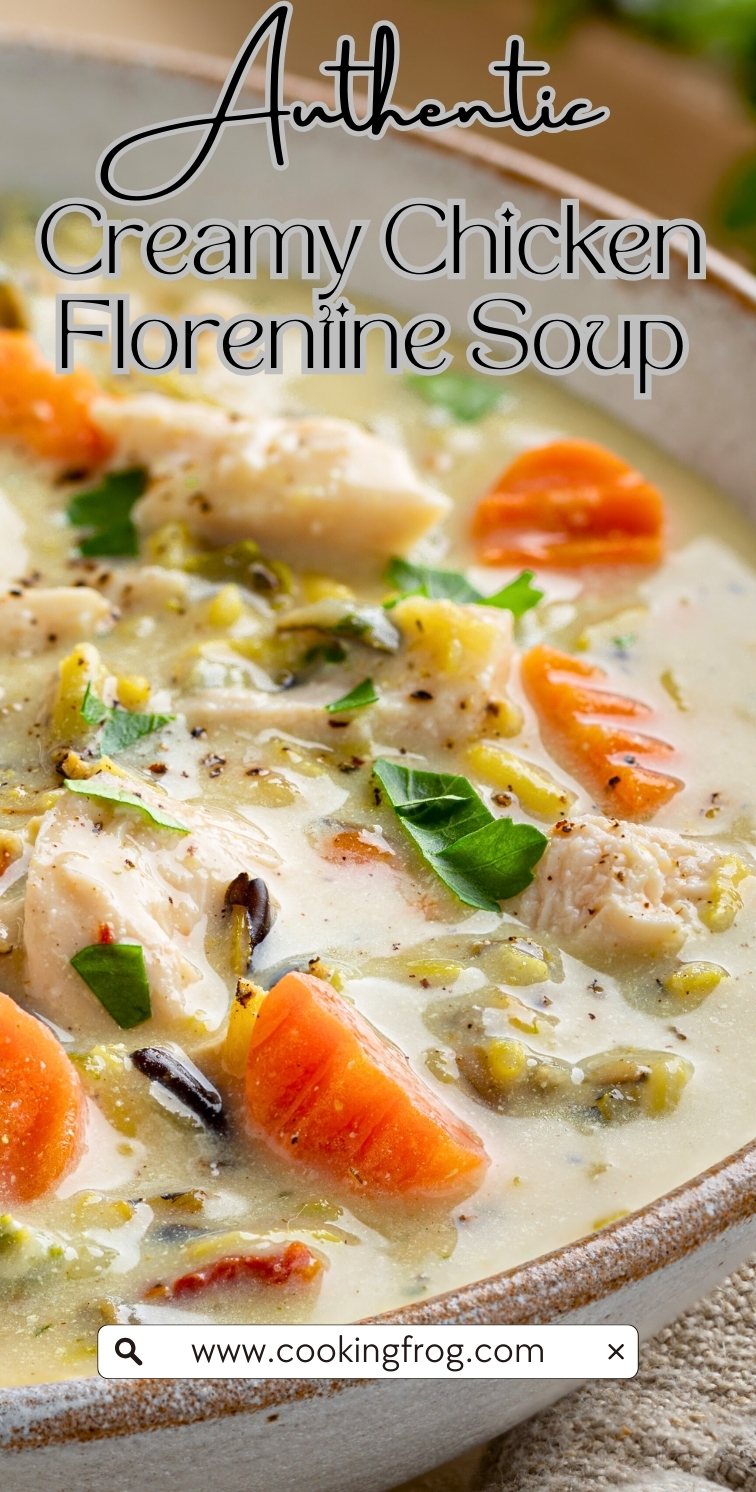 Chicken Florentine Soup: Variations
Vegetarian Florentine Soup:

Replace: Chicken breasts with tofu cubes or chickpeas.
Stock: Use vegetable stock instead of chicken stock.

Creamy Tomato Florentine:

Add: 1 can (14 oz) of diced tomatoes or crushed tomatoes.
Optional: A pinch of red pepper flakes for a slight kick.

Florentine Soup with Grains:

Add: ½ cup of cooked quinoa, barley, or rice for added texture and heartiness.

Seafood Florentine Soup:

Replace: Chicken with shrimp or chunks of white fish like cod or tilapia.
Cooking Tip: Add seafood to your soup towards the end of the cooking process to avoid overcooking.

Kale Florentine Soup:

Replace: Spinach with kale. Make sure to remove the tough stems and roughly chop the leaves.

Low-Carb Florentine Soup:

Omit: Cornstarch.
Add: Extra vegetables like zucchini or bell peppers.

Dairy-Free Florentine Soup:

Replace: Heavy cream with coconut milk or almond milk.
Omit: Butter and use olive oil or coconut oil for sautéing.

Spicy Florentine Soup:

Add: 1 teaspoon of chili flakes or a diced jalapeño for a spicy kick.

Mushroom Florentine Soup:

Add: 1 cup of sliced mushrooms (like cremini or shiitake) sautéed with the onions and garlic.

Artichoke Florentine Soup:
Add: 1 can of drained and coarsely chopped artichoke hearts along with the spinach.
Pro Tips:
Always opt for freshly shredded parmesan for a smoother texture.
Monitor the chicken's internal temperature to ensure it's perfectly cooked.
For a quicker version, consider using pre-cooked rotisserie chicken.
Serving and Storing
This soup pairs wonderfully with crusty bread or homemade breadsticks. If you're looking to store it, ensure it's in a sealed container in the fridge. Due to the cream content, it's best consumed within 4 days.