Avgolemono soup, a classic Greek dish, is a harmonious blend of chicken, rice, and a lemony broth. This dish is not just a soup; it's an experience. It's a comforting embrace on a cold day and a refreshing zest during the summer. The beauty of Avgolemono lies in its simplicity, yet it delivers a burst of flavors that dance on your palate. Let's dive into the world of this Greek marvel and discover how to make it effortlessly at home.
The Magic Behind Avgolemono
Avgolemono, at its core, is a sauce made from eggs, lemon, and broth. This sauce is versatile and can be used as a delightful topping for various dishes. However, when transformed into a soup, it becomes a comforting bowl of warmth. The tangy lemon, combined with the richness of the egg, creates a velvety texture that complements the chicken and rice perfectly.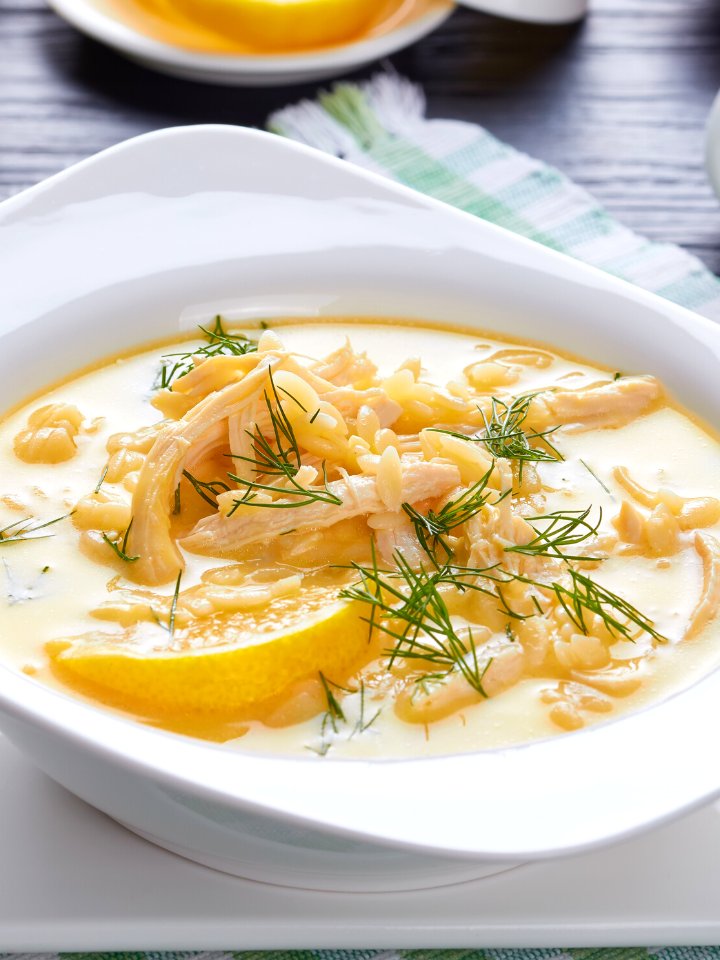 Greek Avgolemono Soup Recipe
Ingredients
Ingredients:
1 1/2 tablespoon extra-virgin olive oil
1 small onion, diced
2 celery ribs, chopped
4 cups low-sodium chicken broth
2 bay leaves
Salt and freshly ground black pepper, to taste
2 large eggs
¼ cup lemon juice (from about 1 to 2 lemons)
1 ½ cup cooked white rice
2 cups shredded chicken
Fresh dill or parsley for garnish
Instructions
Preparation Stage:

Dice the onion and chop the celery into small pieces.
Have your shredded chicken ready, either from a rotisserie chicken or home-cooked.
Measure out all other ingredients to have them on hand.

Building the Base:

Using a large saucepan, heat the olive oil over medium heat.
Add the diced onions and chopped celery. Sauté until they become translucent, ensuring they don't brown.
Introduce the bay leaves to the mix, letting their aroma meld with the onions and celery.

Creating the Broth Foundation:

Pour in the chicken broth to the saucepan.
Season with salt and pepper to taste.
Let the mixture to come to a gentle simmer, ensuring it doesn't boil vigorously. This simmering will help the bay leaves release their flavor.

The Heart of Avgolemono:

In a blender, combine the eggs and lemon juice. Blend until you achieve a smooth mixture.
To this, add a small portion of the simmering broth from the saucepan. This process, known as tempering, ensures the eggs don't scramble when introduced to heat.
Blend until the mixture is well combined and has a creamy texture.

Bringing It All Together:

Slowly pour the egg-lemon mixture back into the saucepan, stirring continuously to integrate it with the broth.
Add the previously cooked rice and shredded chicken to the soup.
Let the soup simmer for another 10 minutes, ensuring it doesn't come to a boil.

Finishing Touches:

Taste your Avgolemono soup and adjust the seasoning if needed.
Before serving, take out the bay leaves and discard them.
Ladle the soup into bowls and garnish with freshly chopped dill or parsley.
Got a soft spot for this Greek Avgolemono Soup? 🍋 Give your Pinterest board a tasty upgrade. Pin the image below and let the soup bragging begin!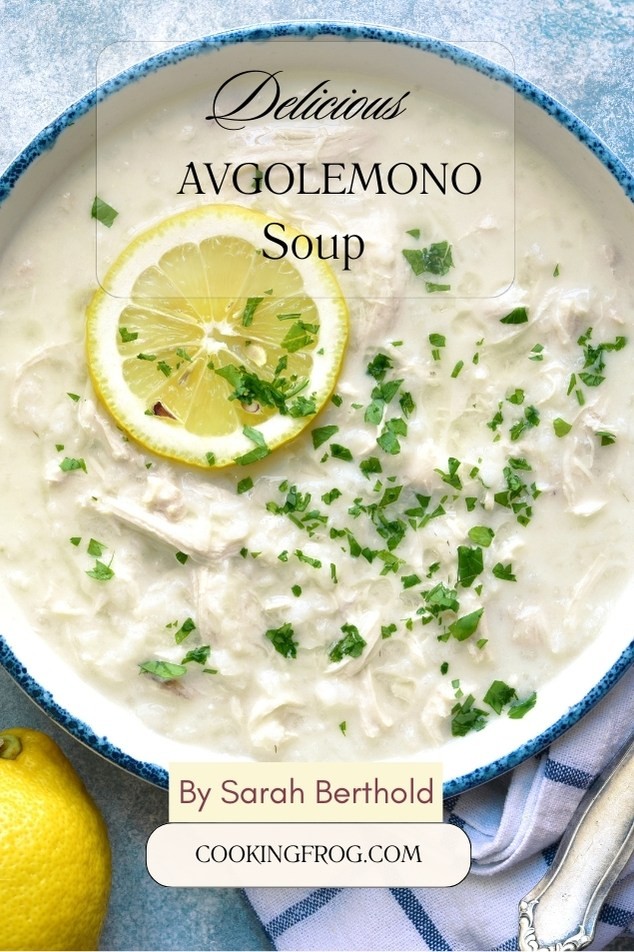 Storing and Serving Tips
Refrigeration: Store any leftover soup in an airtight container in the fridge for up to 4 days.
Freezing: If you wish to freeze the soup, use a freezer-safe container. It can be stored frozen for up to 3 months.
Reheating: When reheating, use low to medium heat to ensure the soup's texture remains consistent. If the soup thickens upon refrigeration, you can add a splash of chicken broth or water during reheating.
Soup Variations: Personalize Your Avgolemono
Avgolemono soup, in its traditional form, is a delightful blend of flavors. However, the beauty of cooking lies in its adaptability. Here are some variations to the classic Avgolemono soup that can cater to different tastes and dietary preferences:
Vegetarian Avgolemono:

Replace the chicken broth with vegetable broth.
Omit the shredded chicken. Instead, add hearty vegetables like zucchini or bell peppers, which have been diced and sautéed until tender.

Creamier Consistency:

Add a dollop of Greek yogurt or a splash of heavy cream to the soup. This will give it a richer, creamier texture.

Grain Variations:

Instead of white rice, experiment with other grains like quinoa, barley, or orzo. These grains not only change the texture but also introduce a new flavor profile to the soup.

Spiced Avgolemono:

For those who like a bit of heat, add a pinch of red pepper flakes or a dash of cayenne pepper. It gives the chicken soup a gentle kick without overpowering the lemony essence.

Seafood Twist:

Replace the shredded chicken with pieces of cooked shrimp or flaked fish like cod or tilapia. This variation transforms Avgolemono into a delightful seafood soup.

Herbal Infusion:

Apart from dill and parsley, consider adding other fresh herbs like cilantro, chervil, or tarragon. Each herb will impart a unique flavor, making each bowl of soup a new experience.

Lemony Boost:

For an extra lemony punch, add some lemon zest to the soup. This intensifies the citrus flavor and adds a refreshing aroma.