Hailing from the rugged coastlines of the northeastern United States, New England Clam Chowder is a culinary masterpiece that beautifully marries the ocean's bounty with the heartiness of farm produce.
Imagine a bowl where the brininess of clams, the richness of cream, and the smokiness of bacon come together in perfect harmony. This isn't just a soup; it's a narrative of New England's culinary heritage. The best part? This iconic dish, with its layers of flavors and textures, can be brought to life right in your own kitchen.
A Glimpse into Clam Chowder's Legacy
New England Clam Chowder, with its distinct milk or cream base, proudly distinguishes itself from the tomato-infused Manhattan variant. Beyond its ingredients, this chowder tells a story of coastal towns, fishing communities, and the warmth of family gatherings. Renowned for its comforting depth and soulful taste, it's a testament to the region's rich gastronomic legacy.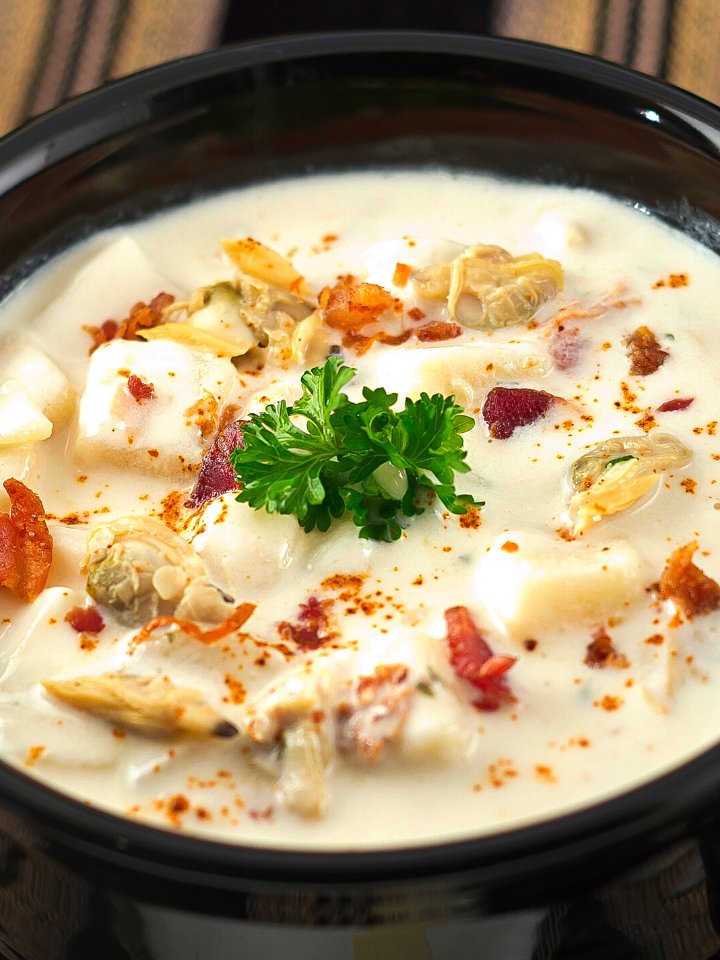 New England Clam Chowder Recipe
Ingredients:
3 5 oz. cans of chopped and minced clams in clam juice
8 oz clam juice
6 bacon strips, chopped
1 tablespoon butter
2-3 stalks celery, finely chopped
1 onion, chopped
1 1/3 pounds russet potatoes, peeled and diced into ¼-½" cubes (approx. 3 ½ cups)
3-5 garlic cloves, minced
¼ teaspoon red pepper flakes (optional)
⅓ cup all-purpose flour
2 cups low-sodium chicken broth
2 teaspoons chicken bouillon
2 bay leaves
Seasonings: ½ teaspoon each of dried parsley, dried oregano, salt, and ¼ teaspoon each of dried thyme, pepper
1 cup heavy cream
1/3 cup of sweet corn kernels
Garnishes (Optional):
Oyster crackers
Fresh parsley
Instructions:
Preparation: Drain clam juice from the cans into a measuring cup. Add bottled clam juice to make up 2 ½ cups. Set aside.
Bacon Time: In a Dutch oven, cook bacon until slightly brown. Remove half and set aside. Melt butter into the remaining bacon.
Veggies: Increase heat and add celery, onion, and potatoes. Sauté until onions soften. Add garlic and red pepper flakes, followed by flour.
Broth: Pour in chicken broth, reserved clam juice, chicken bouillon, bay leaves, and seasonings. Bring to a boil, then simmer until potatoes are tender.
Creamy Finish: Stir in heavy cream and heat. Remove from heat, discard bay leaves, and add clams and sweet corn. Adjust seasoning.
Serve: Garnish with reserved bacon, oyster crackers, and fresh parsley.
Feeling clam-tastic about this chowder recipe? Give your Pinterest followers a taste of your impeccable culinary choices! Go on, pin the image below and let them dive into this New England delight. Chowder you waiting for?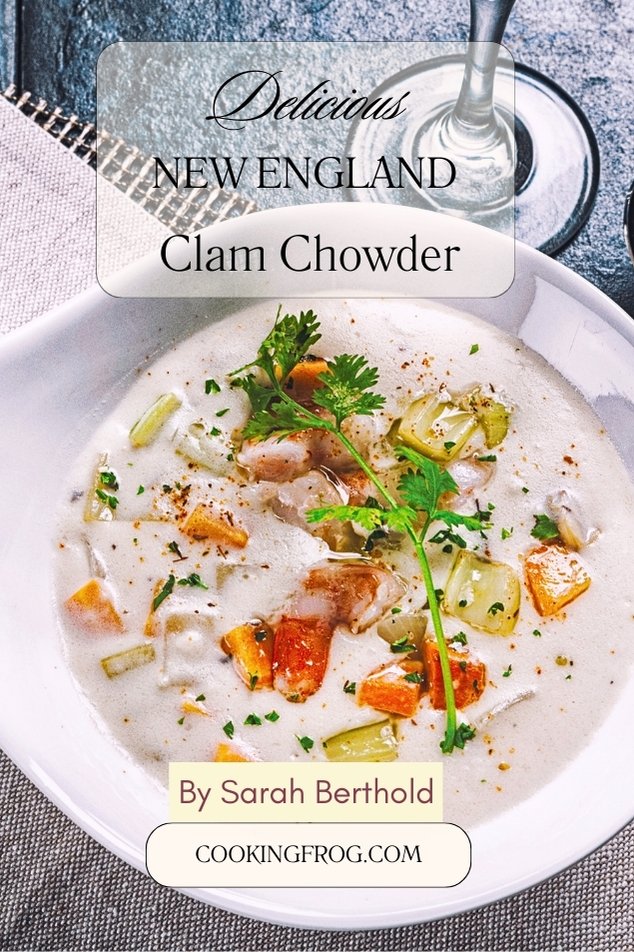 Recipe Variations: Personalizing Your Chowder
New England Clam Chowder is a classic, but that doesn't mean you can't put your own spin on it. Here are some variations to consider, allowing you to tailor the chowder to your personal preferences or to experiment with different flavors:
Vegetable Boost: Add diced carrots or bell peppers for an extra layer of flavor and color. These veggies not only enhance the nutritional value but also add a sweet undertone to the chowder.
Herb Infusion: While traditional recipes stick to thyme and parsley, consider adding fresh dill or tarragon for a unique aromatic twist.
Spice It Up: If you enjoy a kick in your soup, add a dash of cayenne pepper or a sprinkle of paprika. It gives the chowder a gentle heat that lingers.
Alternative Proteins: While clams are the star, you can also incorporate other seafood like shrimp, scallops, or even chunks of white fish for a more varied seafood experience.
Dairy-Free Version: For those who are lactose intolerant or prefer a lighter version, replace the heavy cream with coconut milk or almond milk. This not only makes it dairy-free but also adds a subtle new flavor profile.
Gluten-Free Adaptation: Replace the all-purpose flour with a gluten-free flour blend or cornstarch to thicken the chowder, ensuring those with gluten sensitivities can enjoy it too.