Recreate the famous Burger King Zesty Sauce right in your kitchen! Start with the creamy basis with your favorite mayonnaise, full-fat or low-fat. Add in the vibrant tang of ketchup and the bold kick of homemade horseradish.
Add the sharpness of yellow mustard and the brittle acidity of white vinegar. Counterbalance your flavors with a touch of sugar and a splash of lemon juice. And for that signature zest? A dash of cayenne pepper does the magic. Perfect for dipping for onion rings or your cherished dishes, this copycat recipe brings the adored Burger King flavor straight to your kitchen!
Burger King Zesty Sauce
Ever wondered about the secret behind Burger King's addictive Onion Rings? It's their Zesty Sauce! This luscious dip boasts a creamy consistency paired with a unique blend of tangy zest, a touch of sweetness, and a gentle whisper of heat.
Crafted to be the perfect sidekick for those crispy, golden Onion Rings, this sauce elevates every bite, creating a harmonious dance of flavors on your palate. It's not just a sauce; it's an experience!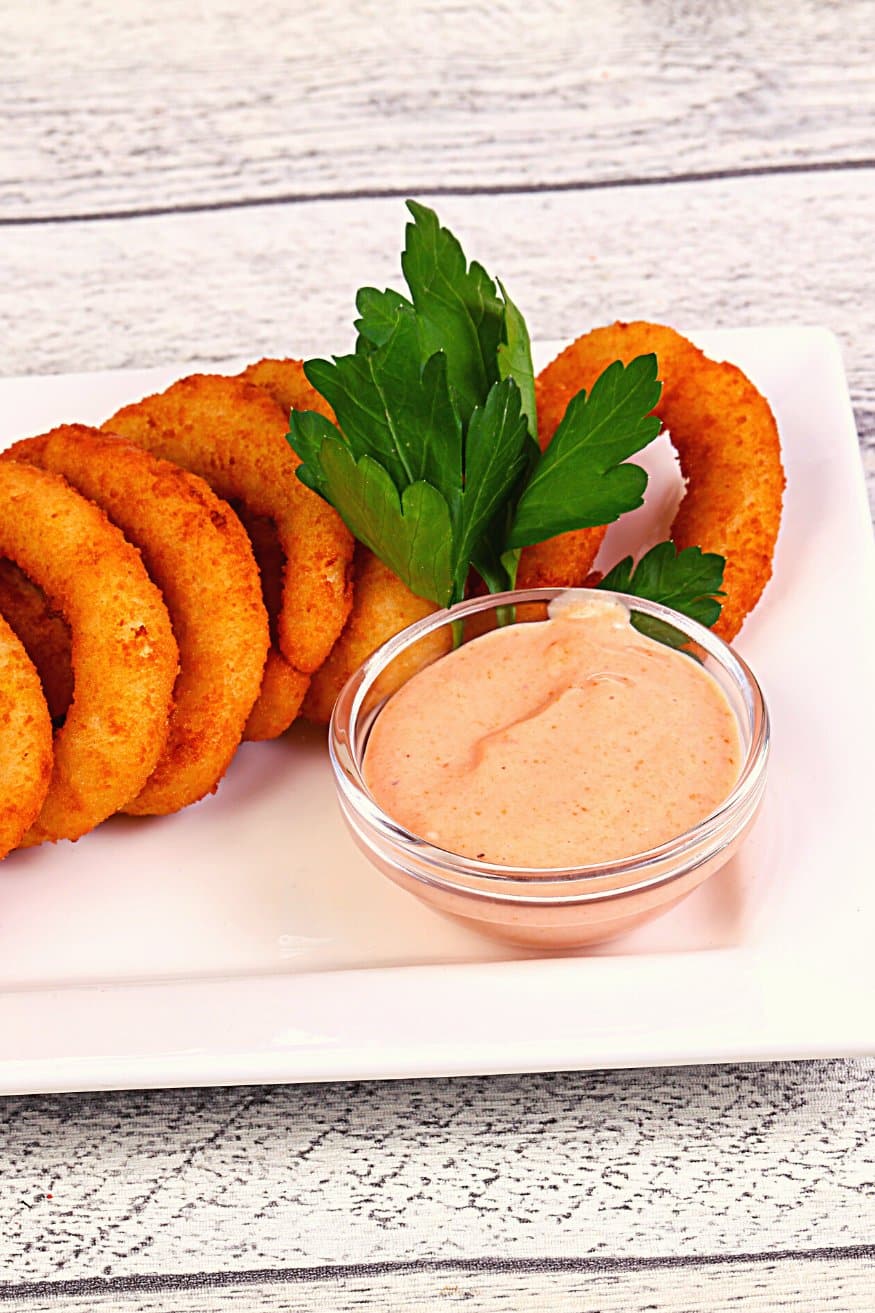 Unique Taste of Burger King Zesty Sauce
Burger King's Zesty Sauce is a pleasant blend of tangy, creamy, subtly sweet, and mildly spicy flavors. Ever contemplated its unique taste composition? This sauce is more than just a mixture; it's skillfully formulated to flawlessly emphasize the crunch of their signature Onion Rings.
Each flavor is a nod to its adaptability and unpaired complementing mastery. Give it a try and savor the flavor extravaganza!
Top Picks for Pairing with Burger King's Zesty Sauce: Culinary Recommendations
Onion Rings: The ideal choice! Burger King Zesty Sauce and onion rings are a match made in heaven. The sauce's tangy and creamy core improves the crispy appeal of the rings.
French Fries: Transform your standard fries into a flavor-packed delight. Dip those hot, crispy fries into the zesty sauce and undergo a flavor burst.
Burgers and Sandwiches: Looking to jazz up your burgers or sandwiches? Slather on some zesty sauce for that extra kick and a flavor transformation.
Chicken Tenders: Whether it's chicken tenders or nuggets, this sauce is an excellent match, presenting a lovely fusion of flavors.
Grilled Vegetables: Drizzle or plunge your grilled veggies in the zesty sauce for a tangy twist to your wholesome snack.
Fish Sticks: Give your fish sticks a zesty match. The creamy tanginess of the sauce complements the crispy seafood amazingly.
Wraps and Tacos: A dollop of Burger King zesty sauce in your wraps or tacos can introduce a burst of flavor, making every bite unforgettable.
Burger King Zesty Sauce Recipe
Ready to make a copycat of the iconic tang of Burger King's Zesty Sauce in your own kitchen? This DIY recipe will walk you through preparing that irresistible blend of flavors, turning ordinary meals into unforgettable delights.
Ingredients
1/2 cup of mayonnaise
2 ½ tsp of ketchup
2 ½ tsp of pre-made horseradish
1 tsp of white vinegar
1 tsp of mustard, yellow
½ tsp of Worcestershire sauce
1/2 tsp of sugar
1 tsp of lemon juice
1 tsp of cayenne pepper
¼ tsp of garlic powder
¼ tsp of salt
Instructions
Preparation: Grab a medium-sized mixing bowl and blend together the mayonnaise, horseradish sauce, ketchup, yellow mustard, Worcestershire sauce, cayenne pepper, garlic powder, onion powder, and salt
Mixing: Using a whisk, blend your ingredients thoroughly, ensuring the spices infuse uniformly throughout the mixture.
Taste & Tweak: Test your creation, and if you want more heat, sprinkle in additional cayenne pepper and/or horseradish. Dial down the cayenne pepper if you're leaning towards a softer kick.
Chill & Set: Pour your prepared sauce into a sealed container and let it cool in the fridge for at least 30 minutes. This cooling step lets the flavors cozy up, enhancing the sauce's depth.
Serve & Store: Present your DIY Burger King Zesty Sauce alongside fresh, crispy onion rings or any dish that calls for a tangy companion. It's Kept cooled and'll stay fresh and delicious for up to seven days.
Are you craving more zing in your pinning? Tickle your followers' taste buds by pinning the image below of our Burger King Zesty Sauce recipe! Go on, give 'em a zesty surprise!