Who doesn't love the creamy, cheesy excellence of Olive Garden Alfredo sauce? But what if you could recreate that extravagant experience in the comfort of your kitchen? Dive into this Copycat Olive Garden Fettuccine Alfredo recipe, and you'll be serving up dishes of pasta perfection in no time.
After the great success of our garlic parmesan creamy white sauce, I felt an irresistible desire to venture further into the realm of creamy pasta sauces. The two sauces share a kinship, but there's something undeniably special about Olive Garden's Fettuccine Alfredo.
Its rich, silky texture and the excellent balance of cheese and cream have made it a favorite for many, including me. I mean, who doesn't have a soft spot for Olive Garden? With memories of countless meals at this beloved Italian chain, I embarked on a culinary exploration to recreate this iconic dish at home.
And guess what? This Copycat Olive Garden Alfredo recipe catches the core of the restaurant's version and promises a plate of pasta perfection in under 30 minutes!
Why is This Olive Garden Alfredo Sauce a Must-Try
Authentic Taste: This recipe grabs the essence of Olive Garden's iconic Alfredo sauce, making it a lovely treat for your taste buds.
Quick and Easy: With a preparation time of just 20 minutes, you can whip up a delicious meal without spending hours in the kitchen.
Versatile Toppings: The magnificence of this Alfredo sauce lies in its adaptability. Feel free to garnish with shrimp, grilled chicken, sun-dried tomatoes, or even steamed broccoli.
Budget-Friendly: Enjoy restaurant-quality Alfredo without the restaurant cost. More flavor, less worry for your wallet!
Crowd-Pleaser: Whether it's a family dinner or a gathering with your friends, this dish is bound to earn you great reviews.
Comfort in a Bowl: Something is soul-soothing about a bowl of creamy pasta. It's comfort food at its finest.
Elevate Your Alfredo Experience:
Pair your creamy pasta with a glass of white wine, some garlic bread, and perhaps a fresh salad on the side. And keep in mind, while this recipe brings Olive Garden to your table, the real magic lies in the love you give to your cooking.
Olive Garden Alfredo Sauce Recipe
Ingredients:
Butter: 1/2 cup (salted or unsalted)
All-purpose flour: 3 Tbsp
Minced garlic: 1 1/2 Tbsp
Heavy cream: 2 cups (or heavy whipping cream)
Milk: 1 cup (whole milk)
Parmesan cheese: 1 1/2 cups (freshly grated)
Pecorino Romano cheese: 1/2 cup (freshly grated)
Fettuccine noodles: 16 oz
Fresh parsley: Optional for garnish
Instructions:
Cook the Pasta: Boil water and cook your fettuccine to al-dente based on package instructions.
Prepare the Sauce: Melt butter in a large saucepan. Add minced garlic and cook until golden brown. Add flour and whisk to form a roux. Gradually add heavy cream and milk, whisking constantly.
Add the Cheese: Once the sauce thickens enough, incorporate your cheeses gradually, ensuring they melt seamlessly into the sauce.
Combine and Serve: Mix the drained fettuccine with the sauce. Garnish with parsley and additional parmesan if desired.
Have you enjoyed my take on the Olive Garden Alfredo? If it made your dinner special, consider sharing the love. Pin the image below to your Pinterest board and spread the joy of a great recipe!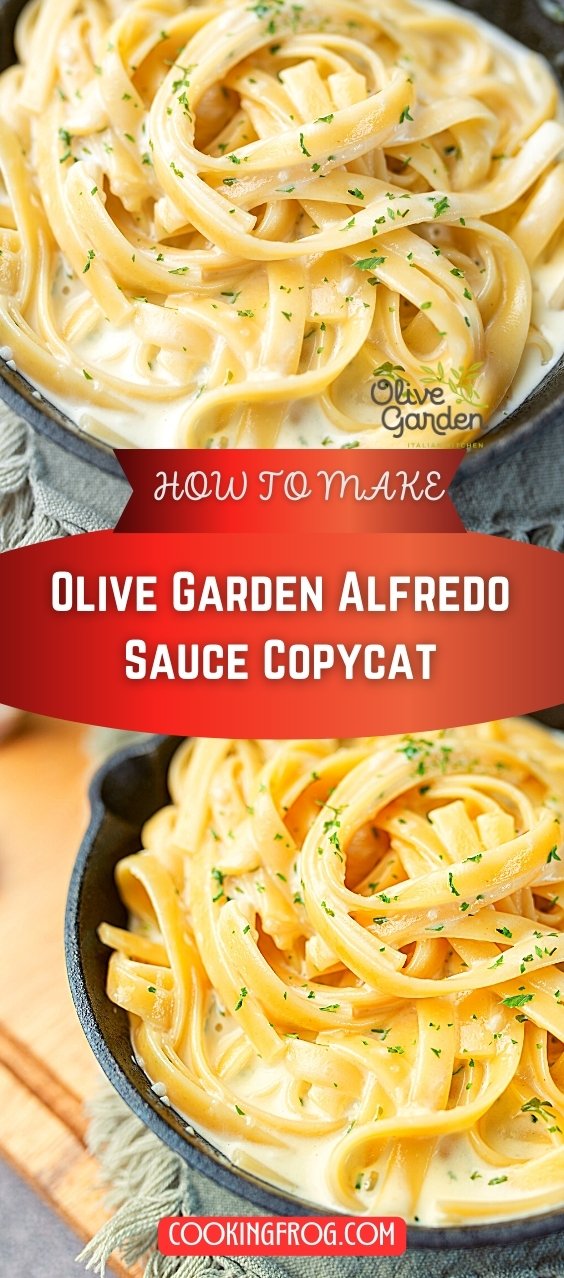 Prepping Alfredo Sauce in Advance: A Time-Saver
Alfredo sauce isn't just a creamy treat; it's also a great choice for convenience. Thanks to the flour in this recipe, it stands out from other cheese sauces by maintaining its consistency even after cooling and reheating. Here's the scoop:
Fridge Life: Got Alfredo sauce leftovers or prepping for a future meal? Don't worry. Your Alfredo sauce can chill in the refrigerator for up to 3 days.
Freezer-Friendly: Planning the sauce ahead? This sauce has got you covered. Freeze it, and for optimal flavor, use it within 1-2 months.
Reheating Your Alfredo Sauce
Noticed your Alfredo sauce has thickened and settled a bit? Fear not! Whether you're taking it out of the fridge or the freezer, here's how to bring it back to its creamy glory:
Reheating 101: Alfredo sauce tends to thicken as it cools. But it's back in the game with a microwave or a gentle reheating on the stove. For the most satisfactory results, consider using a makeshift double boiler. This method ensures even heating, whether warming the Alfredo sauce alone or with pasta.
From the Freezer: If your Alfredo sauce has been in deep freeze, give it a night in the fridge to thaw before you heat it up.
Too Thick? No Problem: If you find your sauce a tad too thick upon reheating, introduce a splash of milk or chicken broth. It'll thin out and be as pleasing as ever.