This Blackened Tuna Steak is ready in about 10 minutes and is bursting with flavor! Serve it with your favorite side dishes, in tacos, or on a sandwich! I enjoy any type of blackened fish. Every time I go to a seafood restaurant, I order it in this style.
I began to experiment at home with various spices to replicate restaurant-style Blackened Tuna in my kitchen. It took me several attempts, but I eventually got it! Let's get started on making delicious Blackened Tuna Steaks!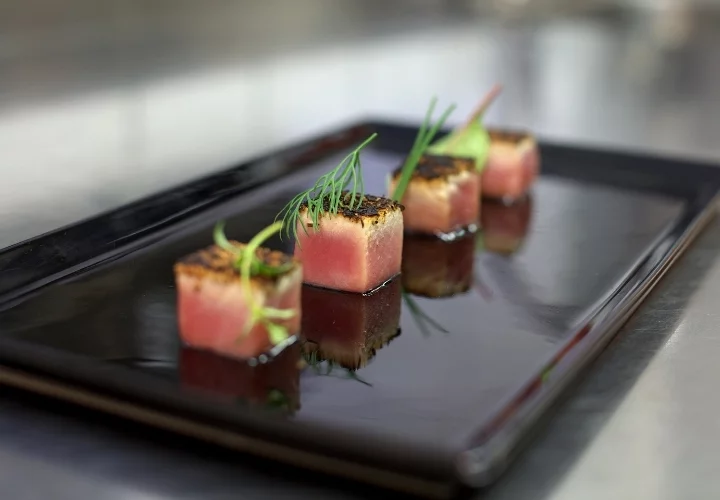 What is blackened tuna steak?
A Cajun dry rub is rubbed onto all sides of a raw tuna steak to make blackened tuna. The tuna is then cooked and sliced.
How to Thaw Tuna Fish?
Begin by thawing your frozen tuna. The best approach to defrost your seafood is to place it in the refrigerator the night before you prepare your tuna fillet dish.
Are you in a rush? Place the sealed tuna steaks in a dish of cold water to thaw to expedite the defrosting phase.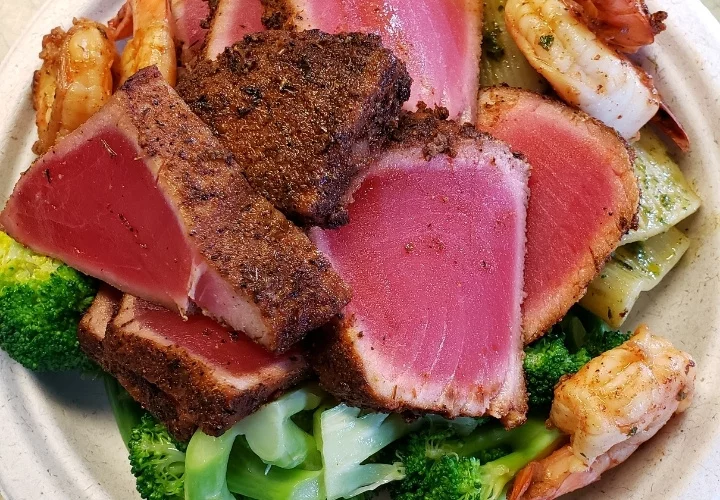 Blackened Tuna Steaks Recipe
The Blackened Tuna Steak is covered with a spicy dry rub, seared, and then quickly cooked in a pan, yielding a stunning blackened tuna steak that is medium-rare on the interior, or if you like it well done, keep it in your skillet a few minutes more.
Paul Prudhomme, a famed chef, invented pan-blackening. He proposed coating redfish in melted butter, dredging it in Cajun seasonings, and cooking it in an extremely hot cast iron skillet. He suggested pan-blackening outdoors on a BBQ grill because the technique creates so many stinging eyes from the smoke.
Tuna steaks, like beef steaks, are served blood-red and rare. This Cajun-type dish includes blackening spices and a remoulade sauce. In the middle is a stunning rare tuna with an explosive, spicy crust.
Paprika, Garlic Powder, Cayenne, Onion Powder, Oregano, Salt, and Pepper are all you need for the blackened tuna flavor. This approach works with almost any sort of seafood. You could also use it on chicken or beef!
Simply combine and rub the spices and distribute them equally over both sides of the tuna. Heat the cooking oil in a big cast iron pan over medium to medium-high heat.
Once the oil has heated and is shimmering, add the Tuna Steaks. Cook for a couple of minutes on each side for rare, or 3-5 minutes on each side for medium to well done. Take away from the pan and serve right away.
Blackened Tuna Steak on Blackstone Griddle
You can also make this blackened tuna steak on your Blackstone griddle. To make blackened tuna using a griddle, simply use the same rub technique explained earlier and add 1 Tablespoon of sesame oil to the griddle and cook 5-6 oz tuna steak for 1 – 1.5 minutes on each side, or until it's blackened nicely.
Once the blackened tuna steak is done, place it on the cutting board, slice it into 1/4 inch pieces, and serve with Cajun Remoulade or with whatever you prefer.
Trust me, your Pinterest followers are craving this tuna magic. Pin it and be the culinary hero they didn't know they needed!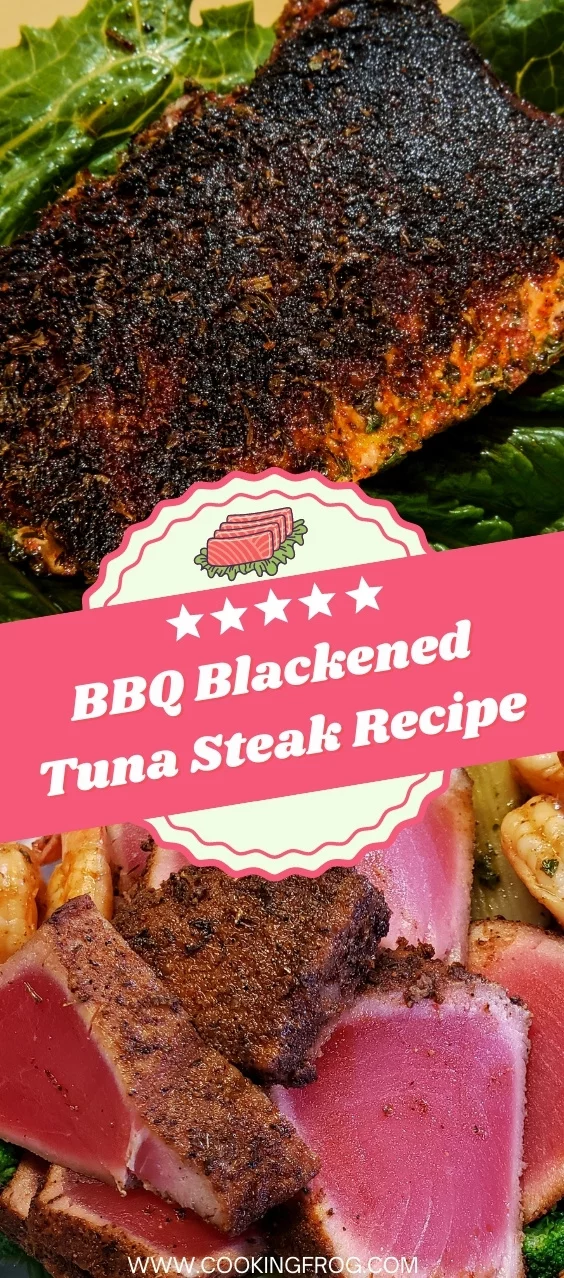 Ingredients
For Cajun Remoulade
4 TBSP of mustard, Creole or grainy
2 TBSP of Worcestershire sauce
1 cup of mayonnaise
2 TBSP of horseradish
2 TBSP of lemon juice
1 TBSP of ketchup
2 TBSP hot sauce, or according to your taste
1 TBSP sweet paprika
1/2 tsp of black pepper, ground
1/3 tsp sugar
1 finely diced and peeled large shallot
2 TBSP of celery, finely diced
3-4 TBSP fresh parsley, finely chopped
1 finely chopped and trimmed scallion (green and white parts)
Coarse salt to your liking
For Blackened Tuna
2 Ahi tuna loin steaks
½ tsp of cayenne pepper, or to your liking
½ tsp of garlic powder
¼ tsp of dried thyme
1 tsp of black pepper
½ tsp of paprika
¼ tsp of celery salt
1 tsp of salt
1 tsp of cooking oil
Directions
For Blackened Tuna Steak
Pat the thawed, raw tuna steak dry with a paper towel.
In a small dish, blend all of the spices until thoroughly mixed.
Spread the dry rub all over the outside of the tuna steak.
In a pan over high heat, heat 2 teaspoons of oil.
Sear the larger side of the tuna filet for about 60 seconds, or until the fish exterior goes from pink to white, then rotate the tuna filet to sear the opposite side.
Take the tuna fish out of the skillet and slice it through the sear.
The tuna fish steak should have a white rim with a pink interior.
Place the tuna steaks on a chopping board and set aside. Slice into 1/4-inch pieces and arrange on a dish or plate.
Serve with the Cajun Remoulade and garnished with sliced scallions.
BBQ Blackened Tuna Steak
Preheat the grill for direct grilling to high. Place a cast-iron skillet on the grill grates and heat both at the same time.
Brush the frying surface with oil. Add the wood chips to the coals or place in the smoker box of your grill sometime before cooking.
Next, melted butter should be brushed on one side of each tuna steak. Place the tuna steaks and butter side down on the grill.
Sear the tuna stakes for 2 minutes, then flip; brush the opposite side of each steak with melted butter.
Grill for 2 minutes more, or until the surface is deeply charred, but the center is still rare, rotating with tongs.
To make Cajun Remoulade
In a mixing bowl, combine all of the ingredients and swirl or whisk to combine.
Adjust the seasoning using salt and hot sauce to your preference. Refrigerate after pouring to a sealed jar.
This sauce should stay in the refrigerator, and it can be used for at least one week.
Last words
Well, I hope you've enjoyed this blackened tuna steak recipe; as you can see, I've also added Cajun Remoulade sauce within the same article, so you don't have to go elsewhere because this sauce goes amazingly with tuna. If you have any questions or concerns, or maybe you have some great suggestions regarding this tuna recipe, please let me know in the comments section, and I'll be happy to assist.