If you want to try some amazing vegetable recipes, then look no further. I've got you the best and the most delicious recipe ever and it's (CPK) California Pizza Kitchen Buffalo Cauliflower Bites Copycat recipe.
Who likes cauliflower here? I became its fan recently when I ordered that amazing Buffalo Cauliflower at California Pizza Kitchen. It was much more delicious than expected. I quickly fell in love with this recipe and decided to re-create it in my kitchen. Ever since I tried it, I've made it for more than 10 times at home, and believe me, this is finger-licking good.
I'm basically a carnivore and always prefer meat recipes. Whenever I have to eat anything else other than meat, I feel something's missing and never get fully satisfied. The same is the case with my husband. Maybe it's all in my head but there's always a missing sensation whenever I eat veggie meals…. but, surprisingly that's not the case with my most favorite cauliflower recipe.
If I didn't know exactly what I was eating, I would simply think that I just ate boneless chicken wings and would have never think of anything different.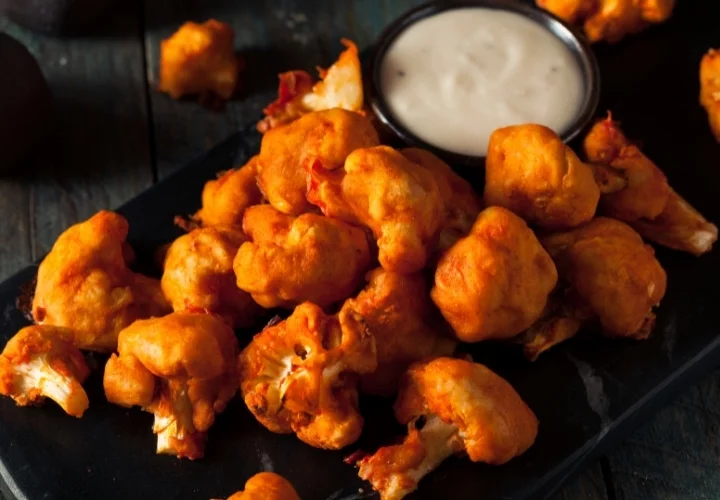 Air-fried Buffalo Cauliflower Bites
Of course, these versions are different and the original is fried, so the recipes are different. Buffalo cauliflower can be easily made in the air fryer. Just follow the directions and spread an even layer of marinated cauliflower pieces in the air fryer. Just make sure that the pieces don't touch each other and cook them for 8 – 10 minutes at 400°F. Now take the florets out and toss them in the buffalo sauce.
Baked Buffalo Cauliflower Bites
Also a different version cause the original is fried, so the recipes are different. Serve these amazingly delicious baked cauliflower bites with your preferred dipping sauces – I usually go for my homemade ranch sauce. You can also try these bites with Cheese sauce. It will take you to another level of taste. The Chipotle Ranch sauce is another great option. There are endless possibilities with this fun appetizer.
You can fry these bites as well but baking them is the best option. Baking these cauliflower bites makes them healthier and gives them amazing crispiness if broiled for the last minute of baking. I'm pretty sure that you will agree that this cauliflower recipe tastes just like the chicken and is incredibly tastier as well.
Reheating the Buffalo Cauliflower Bites
Reheating the fried items is not always a good idea for fried foods taste best when fresh. But if you want to reheat these cauliflower bites, you can do so by placing them on a baking sheet greased with oil and bake them at 375°F for 12 – 14 minutes. Then broil them for the last minute to develop the crisp.
If you are a vegetarian, you would already be knowing that this recipe is going to turn out great. But if you are a meat fan like me, and are planning to try out this recipe as a starter for your meat entree, then share your experience with me in the comments section to let me know if you are as amazed as I am by the satisfying glory of these cauliflower bites.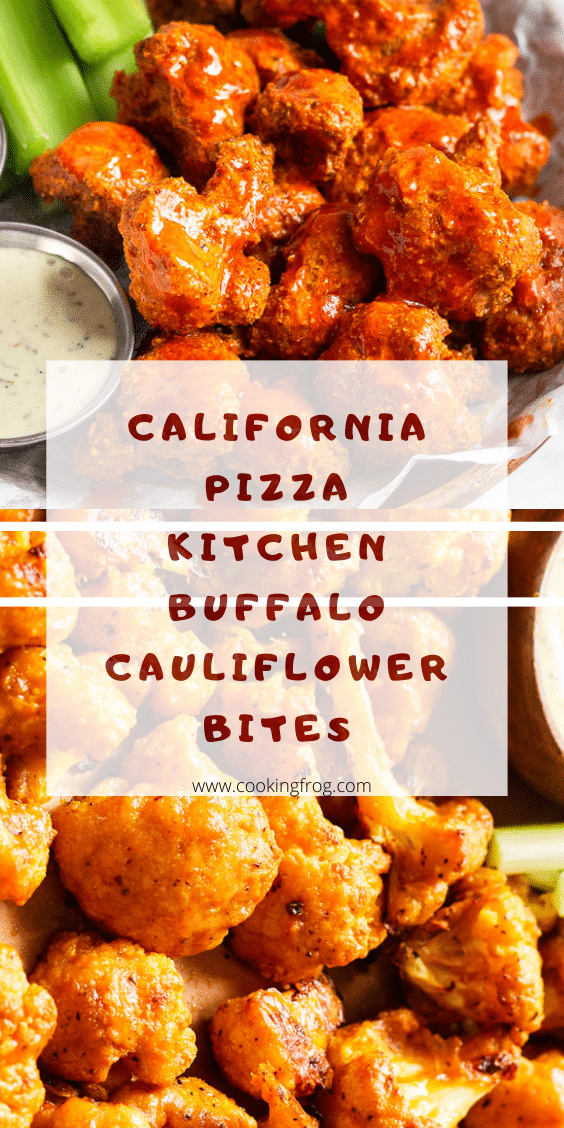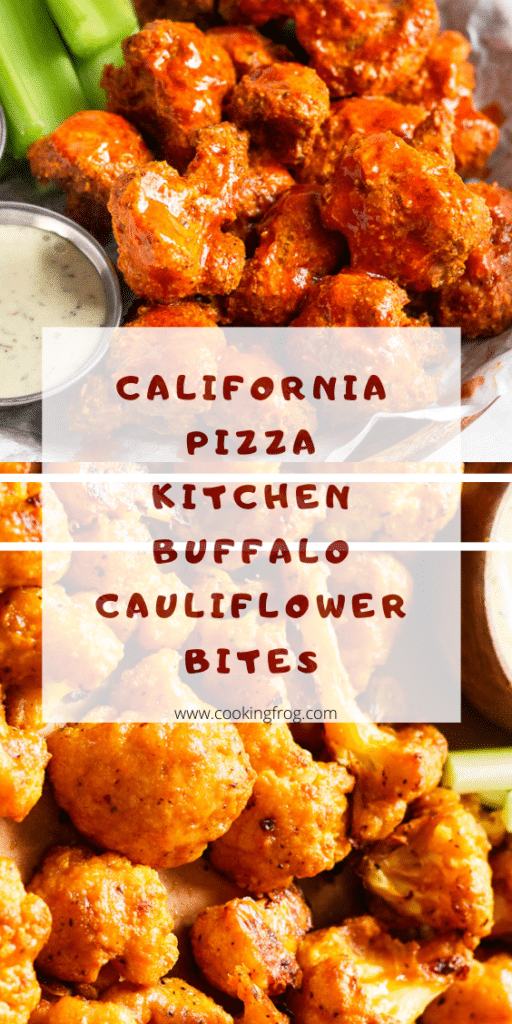 Ingredients
Fried Cauliflower Bites
1 large Cauliflower, cut into floret chunks
2 eggs
1 &1/2 cup All-Purpose Flour
2 tsp of Cayenne Pepper
1 tsp of crushed Black Pepper
1 tsp of Sea Salt
1/2 tsp of Paprika Powder
1 teaspoon Garlic Powder
Vegetable Oil for frying (minimum 3 inches of oil in the frying pan)
Buffalo Hot Sauce
1/4 cup of melted salted Butter
1 Tbsp of Cayenne Pepper
1 Tbsp of Sriracha Sauce
1/4 cup Frank's Red Hot Sauce
1/2 tsp of Cracked Pepper
1 Tbsp of Honey
Garnish
Shredded Celery
Green Onion
Gorgonzola Cheese
How to make CPK Buffalo Cauliflower Instructions
Heat the oil in a medium oil pan/pot at about 325°F. Set a few paper towels in the cooling rack and place near the fryer.
Now take a medium bowl. Add 2 eggs and 2 teaspoons of water in it and beat the eggs well. Combine flour and all other dry ingredients in a separate pot or ziplock bag.
Toss the pieces of cauliflower in the flour mixture you just made and coat the pieces well. Dip these marinated pieces into the eggs and coat them well. Now coat the florets again with the flour mixture.
Now fry the florets in the oil. Make sure fry too many pieces at once, rather work in batches. Fry the florets until golden brown.
Now remove these cauliflower pieces from the oil and place them in the cooling rack. Let the florets rest for one minute and fry them again for 1-2 minutes. Frying them for additional 1-2 minutes gives them a remarkable crispy finish.
Meanwhile, the florets are frying in the oil, prepare the buffalo sauce by combining all the ingredients in a large bowl.
Toss the warm cauliflower pieces into the buffalo sauce and coat them well. Dish them out and garnish with the Gorgonzola cheese, green onion, and celery shreds and serve them hot.