This elegant recipe for the BEST Lobster Ravioli sauce has only basic ingredients, which you probably have at your hand, and can be made in just 20 minutes. The lemon brown butter and Pecorino Romano cheese are the star ingredients in combination with a bit of red wine. The recipe is simple enough to make on a weekday yet elegant enough to serve on a date night at home.
What Makes a Good Lobster Ravioli Sauce?
Whenever you order lobster ravioli, the first thing that pops into your head is probably, "What does lobster ravioli sauce truly look like?" To be honest, it may look like a variety of things, but the choices that are unquestionably the finest, in my opinion, are a sauce that is based on cream or a sauce that is based on butter.
Because lobster is such a decadent and rich food, the sauce it is combined with needs to compete with it. In addition, butter and lobster have been best friends since the beginning of recorded history.
Lobster Ravioli Sauce Variations
When it comes to lobster ravioli sauce, you have a wide variety of options to choose from, as I indicated before. Suppose you're searching for something that features butter as a primary ingredient. In that case, I make an incredible brown butter and pine nut sauce that goes wonderfully with lobster ravioli (really, it's one of the best things I've ever eaten).
You could also try alfredo sauce, garlic butter (which is very similar to the method I use for brown butter), vodka sauce, pink sauce, or in this particular case, white sauce made with strong and sweet pecorino Romano cheese (we are adding a little tomato paste to bring out the sweetness of the lobster). Because of this, it is the ideal dish to serve to your significant other on a date. You can also try this Garlic Parmesan White Sauce; it is excellent with lobster ravioli.
A few different things are going on with this sauce that we will discuss. To begin, the lobster shells impart an incredible taste to the dish. Second, there is a hint of sweetness contributed by the tomato, and third, to tie everything together, we are going to add some white wine, lemon juice, and tarragon.
If you've been eating lobster for any length of time, you probably already know that each taste is a traditional complement to the crustacean.
P.S. Make an effort to purchase some Chardonnay for the wine. You can use it to make this sauce, and then after that, you can drink it with dinner, and it will go great with it!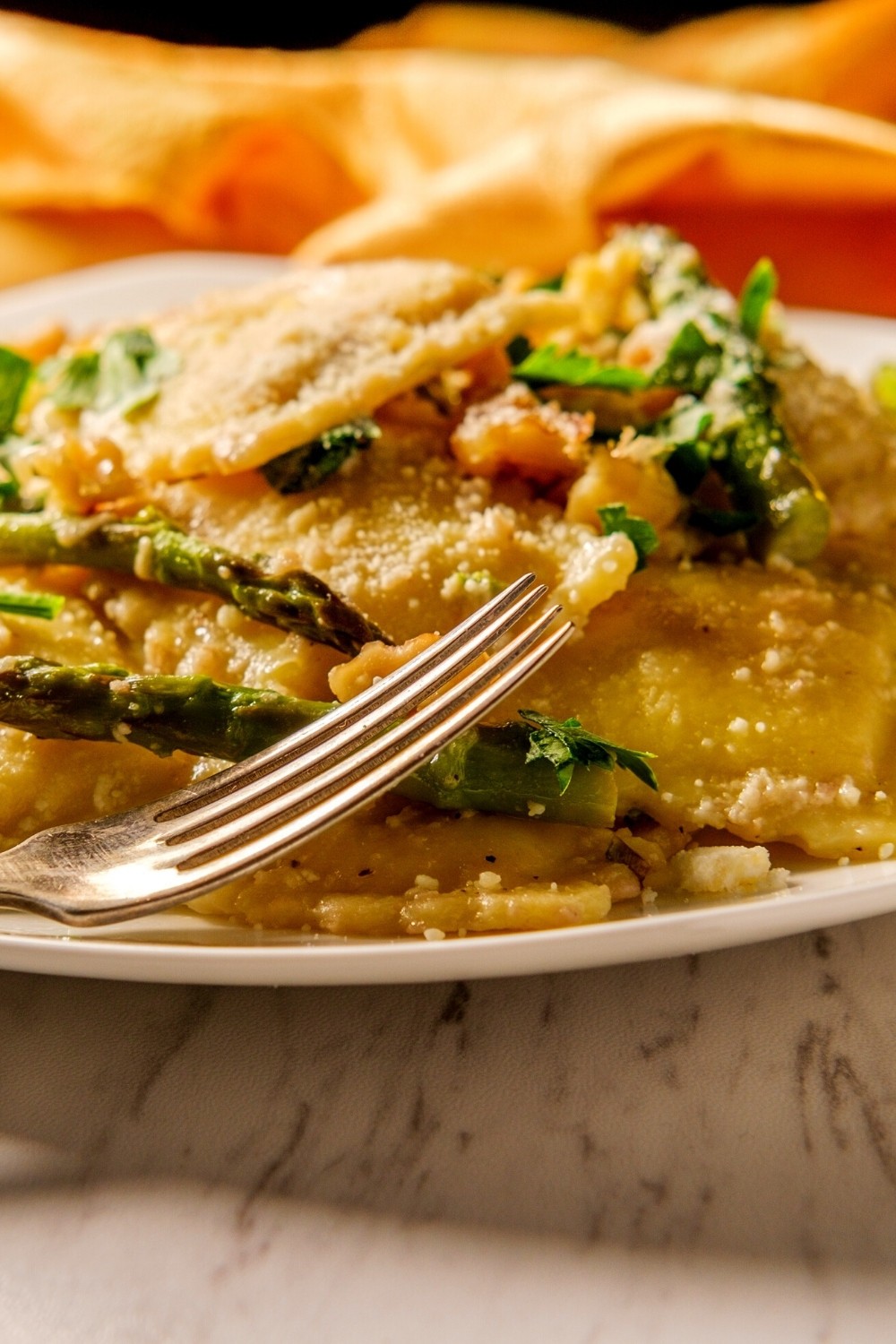 Where to buy Ravioli?
Listen, I'm not going to sugarcoat this; I'm going to tell it like it is. Although making handmade lobster ravioli from scratch is worth the effort, it is a Task. If you don't have the time to make ravioli but you want indulgence, you should purchase some.
If you're going home to have a nice evening with your partner and you need something to combine with a soapy bottle of champagne or white wine if you prefer, Trader Joe's and Costco both have great selections of ravioli for you to choose from. P.S you'll need a white wine for this recipe, so go for that instead of champagne.
Ingredients you'll need
Lobster ravioli
White Wine
Butter
Lemon
Lemon zest
Minced garlic
Pecorino Romano cheese (If you don't like Pecorino, use Parmesan cheese)
Fresh parsley for garnish
Salt and Pepper
Red pepper flakes or a dash of Old Bay seasoning can be added for spiciness, and a splash of heavy cream can provide richness. These ingredients are optional.
How to Make Lobster Ravioli Sauce
This mouthwatering brown butter sauce is rich in brown butter, pecorino cheese, and fresh from the lemon. This sauce is ideal for lobster ravioli.
Step 1: Melt the butter over medium heat in a large frying pan.
Step 2: Lemon slices should be browned on all sides. This will allow some lemon flavor to permeate the butter sauce.
Step 3: The lemons should be taken out and placed on a clean dish. Add the last of the butter. Stir in the minced garlic after adding the butter and after it starts to bubble slightly.
For the lemon garlic sauce
Step 1: For a few minutes, stir the butter as the fat solids begin to brown slightly. Keep an eye out not to burn the butter.
Step 2: Heat up a large pot of water with salt. Add the ravioli and cook it until it's al dente.
Step 3: Include a cup and a half of the pasta water with white wine, and boil for an additional minute or two, until a smooth sauce emerges.
For the Ravioli
The cooking is complete when all of the ravioli rise to the top.
Step 1: Add the ravioli to the pan using a slotted spoon and gently mix to incorporate.
Step 2: Add freshly grated Pecorino Romano and, If preferred, garnish with parsley and lemon zest.
Step 3: Place a charred lemon on the plate's side and serve. Enjoy!
How to Cook Store-Bought Ravioli
I use Maine lobster ravioli from the Giovanni RANA brand, which is excellent for this dish. You may get these or other variations at most supermarkets, including Trader Joe's, Whole Foods, and Kroger. They are stored in the refrigerator area.
In case you can't locate the directions, which are often printed on the package:
Prepare a big pot of water (about 1 gallon and 2 Tbsp of salt).
Put in the ravioli and bring the water back to a low boil for 3 to 5 minutes. When the ravioli are cooked, they should float to the top.
In case your ravioli are frozen, leave it in the freezer until the water comes to a boil, and boil for 7-8 minutes or until it rises to the surface. Gently stir the pasta in the beginning and middle of cooking to prevent it from sticking to the bottom.
Strain the cooked ravioli and set aside a cup of the cooking water.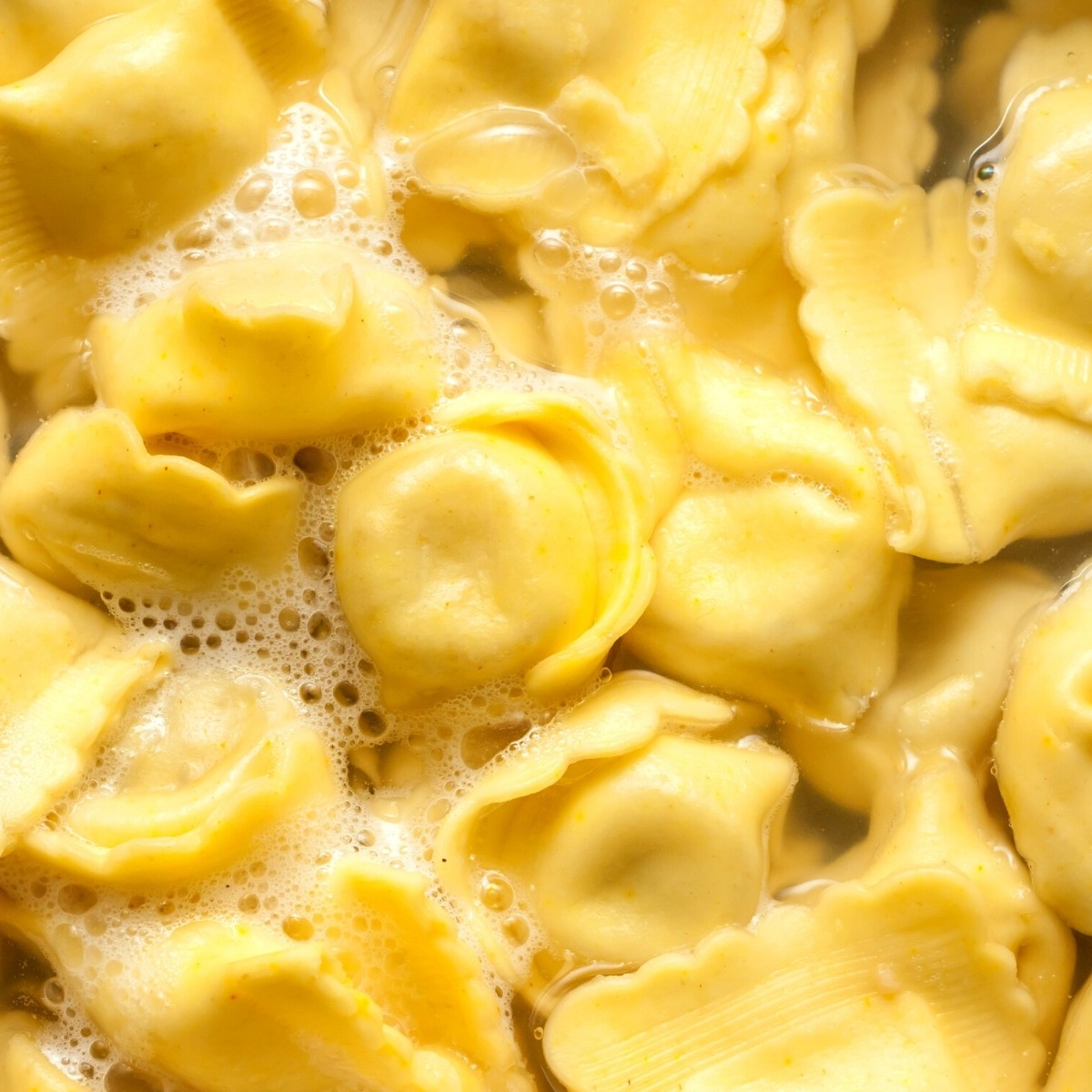 What is the best sauce for lobster ravioli?
A cream or butter sauce is often the finest lobster ravioli sauce. To complement the lobster, the sauce should be delicate but tasty. I enjoy the flavor of lobster.
Brown butter is used in this dish. It gives taste depth without dominating the meal.
Restaurant Quality Lobster Ravioli Sauce
Lobster ravioli is a wonderful delicacy in our house! I enjoy the flavor and prefer not to overthink the sauce to allow the lobster flavor to show.
While the ravioli are cooking, make the creamy garlic butter sauce in minutes. This luscious lemony brown butter sauce with a touch of garlic and Pecorino cheese is the ideal complement!
Recipe Suggestions for Lobster Ravioli Sauce
Grate the cheese and lemon zest using a Microplane.
Brands of lobster ravioli that I recommend:
Giovanni Rana's, or any locally prepared lobster ravioli also definitely works.
High-quality salted butter, such as Land O Lakes. This will take your sauce to the next level!
Browning Butter Tips
Always brown the butter over medium heat. There is a short period between brown and burned butter. Keep an eye out for it.
Use a light-colored pan to see when the butter starts to brown.
Add the saved pasta water as soon as the butter starts to brown.
Enhance your Lobster Ravioli Sauce
If you'd like to up the protein in this dish, use grilled shrimp or even bits of fresh lobster tail!
You may add heavy cream to make the sauce extra creamy.
This sauce also goes nicely with spinach, butternut squash, and three cheese-packed ravioli.
Fresh herbs that go well with shellfish, such as thyme, can be added.
Share the image below to your Pinterest board if you like this lobster ravioli sauce!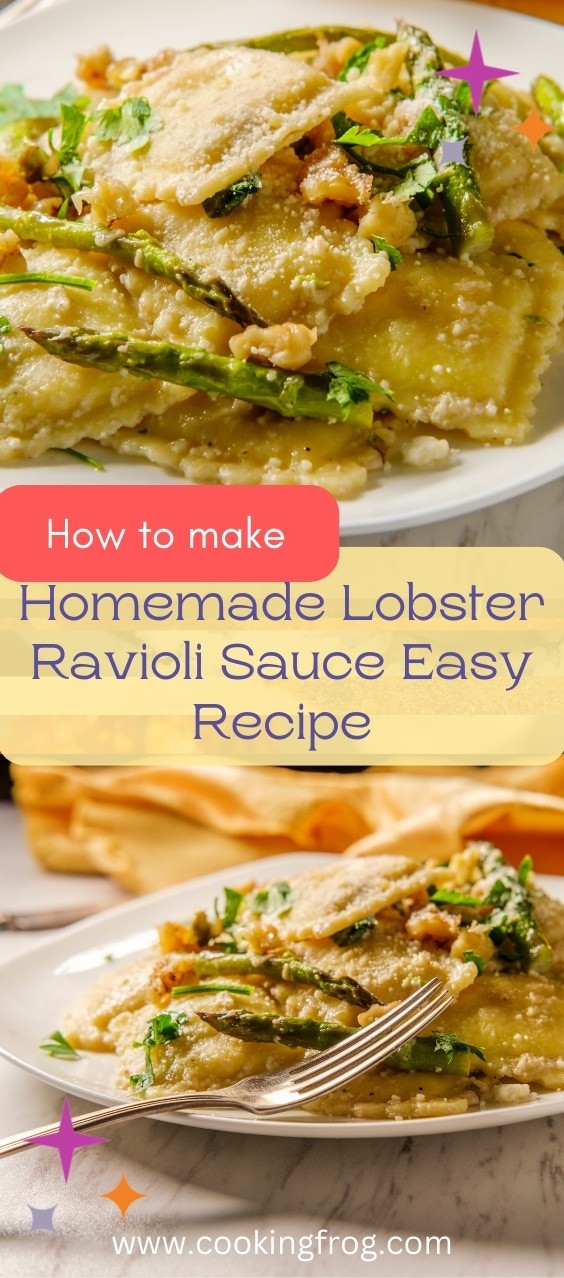 Lobster Ravioli Sauce Recipe
The sauce for the lobster ravioli is about to become your new favorite! The flavor of the lobster is highlighted by the simple preparation of a sauce made of lemon brown butter and pecorino romano.
Ingredients
1 (13 oz) package of lobster ravioli
5 Tbsp of salted butter
1 garlic clove, minced
1 lemon, cut into slices
Pasta water from cooking
¼ Cup of White wine
½ cup freshly grated Pecorino Romano cheese
Lemon zest o for garnish (optional)
Instructions
In a cast iron skillet or another large saucepan, melt 1 tablespoon of butter over medium-high heat. Add the lemon when the butter has melted, and sauté it until both sides are golden (about 2 minutes per side). Lemons may be taken out of the pan and put aside.
Salt the water well and bring a big saucepan of water to a boil. As directed on the packaging, cook the ravioli until it is al dente.
Add the final butter chunk in the meantime. The garlic should be added when the butter begins to boil. For a few minutes, continue stirring the butter while the fat solids begin to brown slightly. Keep an eye out not to burn the butter.
Drain the ravioli and set aside approximately a half cup of the pasta liquid. When the glossy sauce develops, add the cooking liquid and white wine to the pan and cook for approximately a minute.
Add the ravioli and gently mix everything together in the pan. If preferred, add freshly grated Pecorino and lemon zest to the top. On the side of the platter, serve with charred lemon or asparagus if you like. Enjoy!