With its amazing crust and juicy rose pink inside, Baltimore is very well known for its pit beef! This Baltimore Pit Beef is Baltimore's signature sandwich, it begins with huge, rubbed with spices, roast beef grilled on fire.
The beef is sliced very thin, placed on a large, soft bun, and topped with a couple of fresh onion rings. How hard is it to remake this, spicy, savory, and sloppy mess of a sandwich in our home? Some tips about what I've discovered:
Regular Baltimore pit beef normally begins with whole top or bottom rounds. While filled with flavor, these large cuts will also be really tough if cooked at medium rare. We've chosen the top sirloin roast for low-cost, tender, and full-of-flavor sandwich beef that was better compared to the round roasts while testing both on the grill.
When having the ratio right within our paprika rub, we discovered that despite the savory exterior, the beef's inside was still undeniably bland. To correct this, we've sliced our roast in half—the seasonings allowed the 2 smaller roasts quicker and now it is double the smoky and spicy crust.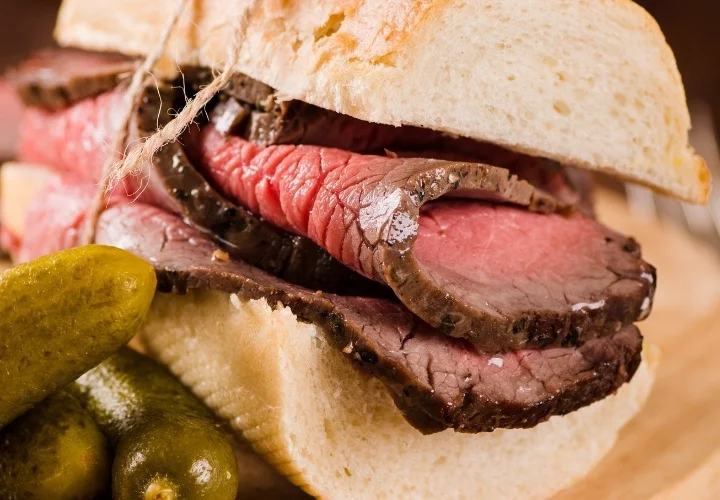 Baltimore Pit Beef Tips
To get it roast, but avoiding a band of overcooked meat just underneath the top, we've wrapped our roasts using aluminum foil till they reached the temperature that's about 100 F. After that, we cranked up our grill, gave the roasts additional seasoning, and seared it on the grill for approximately 15 min. They ended up charred externally and uniformly rosy within.
For the topping of this Pit beef Baltimore sandwiches, we've assembled an easy variation of famous traditional Tiger Sauce with a mix of horseradish, mayonnaise, garlic, lemon juice, salt, and pepper.
The trick to making pit beef sandwich, the same as Chaps is the meat slicer or electric knife. It enables you to have the beef and tissue very thin. This permits the beef to glow through with only a wisp of onion flavor. I actually do like my horseradish cut with only a little mayonnaise, and I really like sliced dill pickles – so experiment according to your liking. So, let's get to work, and make this amazing Baltimore Pit Beef Recipe: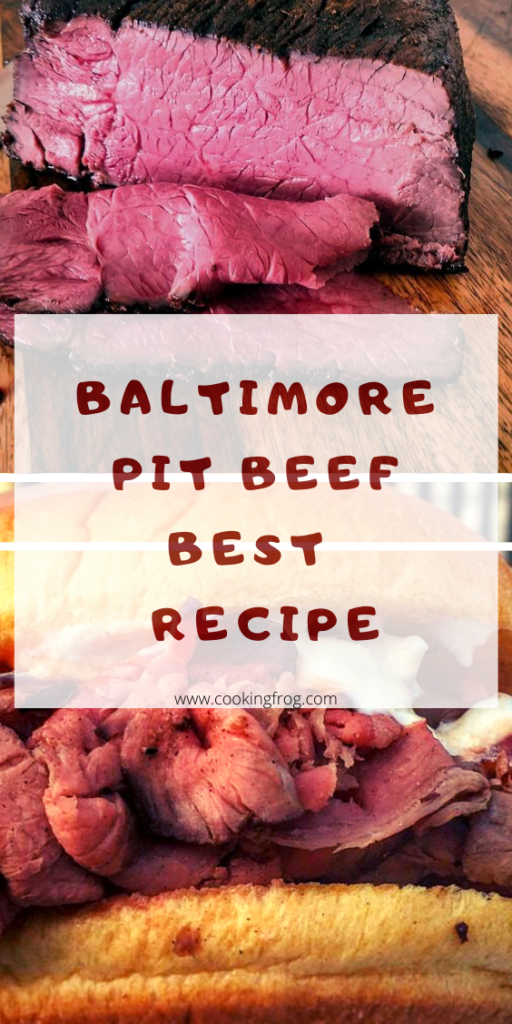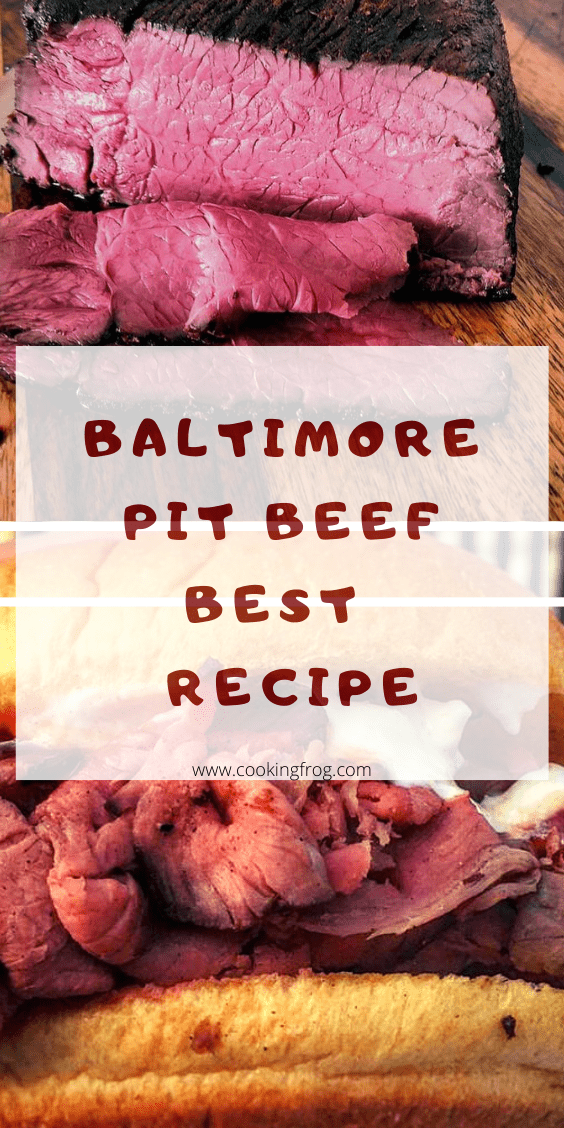 Ingredients
For Tiger Sauce
1/2 cup of mayonnaise
1/2 cup of hot horseradish
1 minced garlic clove
Salt and pepper
Pit Beef
4 tsp of kosher salt
1 Tbsp of paprika
1 Tbsp of pepper
2 tsp of garlic powder
1 tsp of dried oregano
1/4 tsp of cayenne pepper
1 boneless top sirloin beef roast (4 to 5 pounds)
10 kaiser rolls
1 yellow onion
Baltimore Pit Beef Recipe
For the Tiger Sauce
Take horseradish, lemon juice, mayonnaise, and garlic and whisk using a bowl—season with pepper and salt to your liking.
For the Pit Beef
Mix the seasonings using a bowl. Dry the roasts by patting, using paper towels and rub with 2 Tbsp of the seasoning mix.
Wrap the beef tight using plastic wrap and place in the fridge for 6 to 24 hours.
For the Charcoal Grill
Light the chimney starter filled up with charcoal briquettes (your vent should be opened halfway).
After the coals at the top are covered in part with ash, pour equally over 1 / 2 of grill.
Put the cooking grate in position and cover it, then open the lid vent halfway. Heat the grill till hot enough; it should take about 5-6 min.
For the Gas Grill
Switch all the burners on high, cover, and heat up the grill till it's hot enough, it should take about 15-16 min.
Leave the main burner on high and switch off the other burners.
Prepare the oil cooking grate. Take your roasts and put an end to end on the larger side of the aluminum foil.
Fold the foil loosely around top of roasts. Put the meat on the cooler section of the grill with side covered with foil close to heat.
Cover and let it cook till beef reach 100 F, 40 to 55 minutes.
Move the roasts to the plate and remove the foil. Switch all the burners to high-temp if utilizing gas.
In case you're using charcoal, easily take away the cooking grate and light the chimney starter 3/4 full of with charcoal briquettes.
After the top coals are somewhat covered with ash, place evenly over the spent coals. Put cooking grate in position and cover. Heat the grill for about 5-6 min.
Pat dry the roasts using paper towels and rub with the rest of the spice mixture.
Put the beef on hot section of grill. Cook (if you're using gas, cover), turning from time to time, till it's charred on both sides and meat shows 120 -125 F (that is medium-rare), 10- 20 min.
Move the beef to the board, loosely tent using foil, and let it rest 15 min.
Place the sliced beef on the buns, top with sliced onions, and drizzle with tiger sauce.