Honey Glazed Salmon Recipe with the addition of apple cider for a delicious caramelized taste. These salmon fillets are cooked in a great combination of honey and apple cider glaze on the stovetop and then served over fresh wilted spinach.
A lovely way to prepare salmon would be using a simple glaze made with honey and apple cider. You may think that this honey combination would make the dish too sweet, but it merely adds a delicious caramelized flavor to the fish. This recipe might look a bit complicated, but it's really simple; follow the instructions.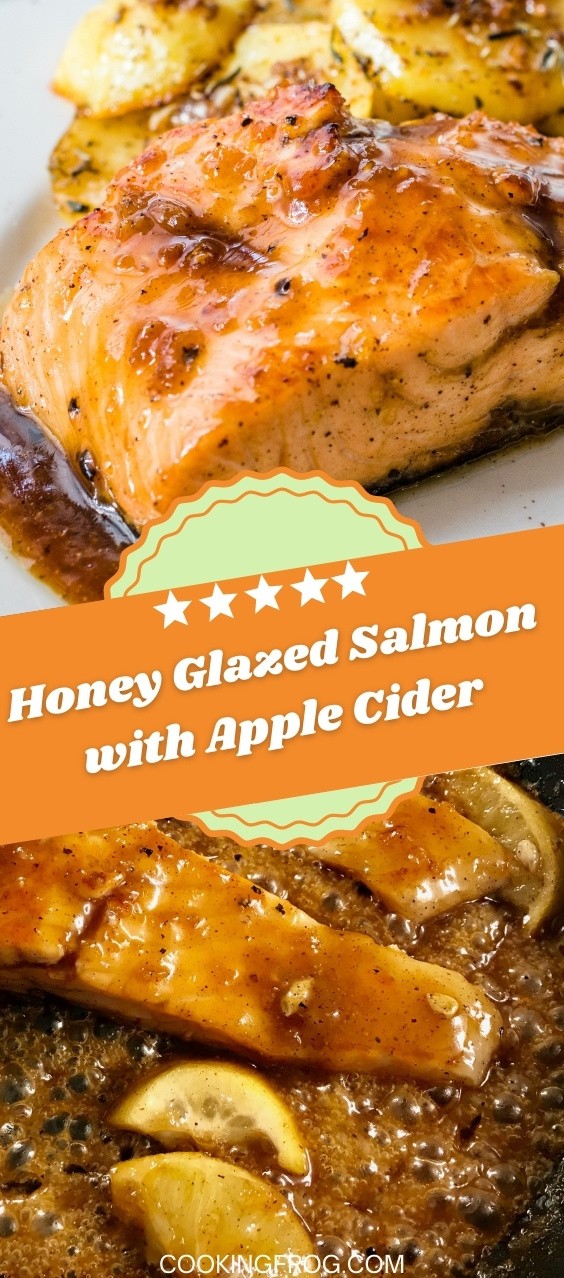 Ingredients
1/2 cup unfiltered apple juice or apple cider
1 1/2 tablespoons honey
4 salmon fillets (6 ounces each)
1 tablespoon extra virgin olive oil
Salt, to your likin
2 teaspoons lemon juice
1 tbsp butter
8 ounces of fresh baby spinach
Freshly ground black pepper
Lemon slices for garnish
How to make Honey Glazed Salmon with Apple Cider?
First, make the glaze by massaging apple cider (or juice) and honey. Then pour that glaze over the uncooked fillets and let them marinate in it for a little bit. Then cook the salmon fillets on the stovetop while you baste with all the glaze until done!
Make apple cider vinegar glaze: set the apple cider vinegar and honey in a small shallow pan on medium heat. Allow it to come to a boil and boil it till the mixture reduces by about half, leaving you with a bit more than 1/4 cup of glaze. Let it cool for a moment.
Let the raw salmon fillets sit prepared glaze: Organize the salmon fillets (skin-side down, if using skin-on salmon fillets) in a rimmed dish big enough to fit all of the fillets in a single layer. Pour the honey cider glaze over the salmon.
Let it sit for 5 minutes, then turn the salmon pieces again and let it sit for another 5 minutes at the glaze.
Place fillets in a hot pan, flesh side down: Heat olive oil in a skillet medium-high. (It helps to use a comparatively stick-free pan like hard anodized aluminum.)
Set the fillets flesh side down (skin-side up) in the skillet. Cook for two minutes on medium-high heat.
As the fish cooks, brush the sides of the fillets with some of the glaze.
Turn fillets over, flesh side up: Turn the salmon fillets above (now skin-side down) and brush with the remaining honey.
Reduce the heat to medium. Cook for 3 to 5 minutes before the salmon is just barely cooked.
Brush the cooked fillets with the remaining pan glaze: Most of this glaze should have caramelized from the pan. Use your pastry brush to brush nicely any pan juices over the top of the fillets. Cover with foil to keep warm.
Wilt baby spinach: Melt butter over medium-high heat in a separate skillet. Cook for a moment.
After the spinach starts to wilt, use tongs to turn the leaves over in the pan to help coat the leaves with a little butter.
Sprinkle with pepper and salt. Continue to cook for a minute or two until the spinach is wilted.