Have you tried pink sauce? Or how about pink sauce pasta? It's the right blend of superb, robust tomato sauce plus a few crucial ingredients to make it luscious, rich, and oh-so-lovely.
This pink sauce pasta is a perfect comfort meal; with its ideal balance of tomato and cream sauce, it is one of our favorite recipes to cook and pulls together in no time! With only a few ingredients and a short preparation time, you can have lunch or supper on the table in no time.
What is Pink Sauce Pasta?
As the red and white colors make the pink, depending on the amount of each color will affect the shade of pink you want in this pink sauce. The pink sauce pasta is an Italian invention, of course. It's made from tomato sauce and a cream base or Alfredo sauce. This blend gives it its famous "pink" color. It's also known as Parma Rosa or rose pasta sauce.
Pasta with pink sauce is among the most famous restaurant meals in Italy. Because it's a combination of tomato and cream sauce, the final pasta sauce is pink. It's very wonderful; it's rich without being too heavy! It has tomato sauce's sharpness and white sauce's creaminess without being overly thick and heavy. It makes creamy spaghetti sauce more appealing!
You might also like Gigi Hadid's viral TikTok pasta recipe!
Frequently Asked Questions
Is it possible to make the pink sauce from the marinara sauce?
Yes, the pink sauce could be made using marinara sauce, milk, and cream (heavy or half and half). If the marinara is too acidic for you, add around 1 teaspoon of sugar to help counteract the acid.
What is the difference between Vodka sauce and pink sauce?
The vodka sauce has the same components as the pink sauce, except with the inclusion of vodka. However, for personal or religious considerations, many people today prepare vodka sauce without alcohol.
Can you combine Alfredo and tomato sauce for this recipe?
Yes, if you're pressed for time, blending Alfredo sauce with marinara sauce or passata will result in a rich tomato pink sauce.
Can I use milk instead of cream in Pink Sauce?
Yes, you can use milk for the pink sauce. This substitution is easier to make if the sauce does not contain acid, such as an Alfredo sauce. For the creaminess and flavor, whole milk would be my preference.
Whole milk is best if you use it in a sauce containing acidic ingredients like tomatoes or lemon juice. Whole milk has more fat, which helps to prevent the sauce from clumping.
Heavy cream is less susceptible to separation than milk, so let it simmer before making pasta sauce, and don't let your milk boil.
How does Pink Sauce taste?
It is tangy from the Passata de tomatoes, while heavy cream balances it. Because the cream balances the flavors, it is slightly less acidic than a typical marinara. This sauce perfectly combines both, creating a creamy pasta sauce.
This is a very popular dish. The tomato sauce gives it a fresh, tomato-y flavor, but the creaminess and cheesiness make it even more delicious.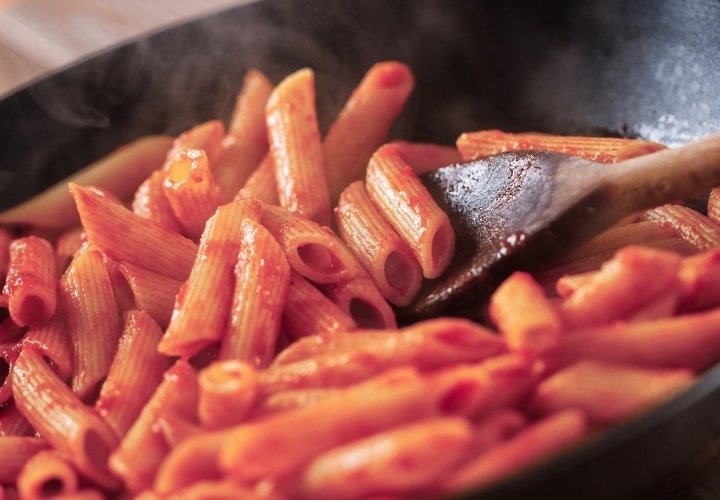 Pasta with pink sauce has the following ingredients:
Pasta: I like to use penne because it's the most common noodle used in pink sauce pasta; however, you may utilize any pasta you choose.
Passata de tomatoes: This is not to be confused with tomato paste. Passata jars can be found in the same department as canned tomatoes and sauce. It's just uncooked or minimally cooked tomatoes that have been blended and filtered. If you can't locate it, use tomato puree or tomato sauce instead.
The creamy element is a combination of heavy cream or whipping cream and milk. This is another excellent option to prevent the pasta from becoming overly heavy with heavy cream.
The seasoning: The sauce begins with an olive oil and butter foundation in which we saute onion and garlic. This starts the flavoring process.
The spices are just dried basil (you can substitute Italian seasoning if you prefer), red chili flakes, salt and pepper, and a bit of sugar to aid with the acidity of the tomatoes. The crushed bouillon cube (or vegetarian stock) adds another layer of flavor, richness, and salt to the meal.
The cheese: I prefer mozzarella that is added to the sauce at the last end, making it gooey and wonderful. If desired, garnish the finished dish with additional Parmesan or more mozzarella.
Pink sauce pasta preparation:
Cook the pasta first. You'll prepare it as per the package directions until the pasta is al dente, then drain it but save a little pasta water. Be watchful not to overcook the noodles since they will be put back into the pink sauce to cook even more.
In a wide enough skillet to hold all of the pasta components, melt the butter and olive oil over medium heat.
After that, add the chopped onion and cook until softened. After the onion has softened, add the garlic and cook for another minute or until aromatic.
Simmer for a couple of minutes after adding the tomato passata and all of the herbs.
Then you will whisk in the milk, cream, and shredded mozzarella cheese until a rich pink sauce develops.
Return the cooked pasta to the skillet and toss until thoroughly covered in the sauce if it's too thick, thin it with a sprinkle of pasta water.
That's all! In a jiffy, you can have a great lunch!
Tips for making the Sauce:
Be careful not to overcook the pasta, as it may become too soft when added back to the sauce.
Completely cook the onions till tender. Once you add the tomato passata, they won't cook anymore.
Customize the seasonings to your preference. Because the bouillon cube will increase the saltiness, taste it before adding more salt.
Make it as rich and gooey as you want it. The quantities shown are my ideal balance.
If you've liked this Pink Sauce Pasta recipe, please share it to your Pinterest board and spread the word! Thank you!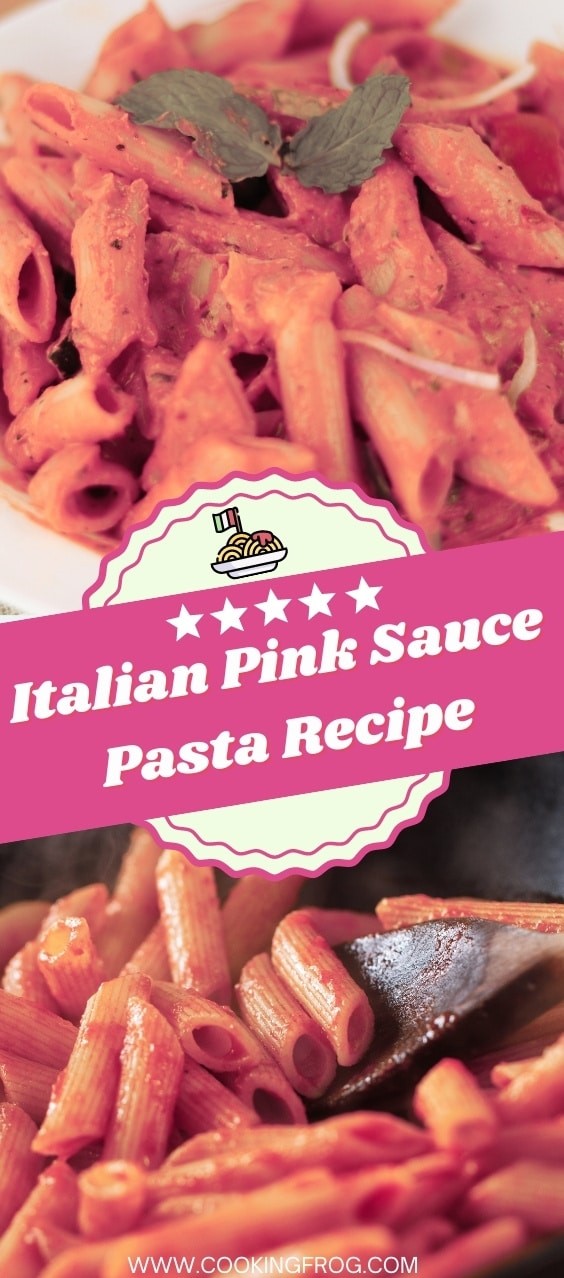 List of Ingredients
pinch of sugar
a sprinkle of red chili flakes
salt and pepper to taste
1 tsp dried basil
1 tbsp olive oil
1 chicken bouillon cube, crumbled
2 tbsp butter
4 garlic cloves, minced
1 small red onion, minced
1/2 cup heavy cream
1/2 cup milk
1/3-1/2 cup shredded mozzarella cheese
5 cups of tomato passata (or puree or sauce – don't use tomato paste)
10 oz of penne pasta, (rigatoni or ziti)
Directions
Cook the pasta until al dente per the package directions, then drain and set aside some pasta water.
Melt and combine the butter and olive oil in a large pan over medium heat. When the butter has melted, toss in the onion and simmer for about 4-5 minutes, or until softened. Sauté for another minute or less after adding the garlic.
To taste, stir in the tomato passata, dried basil, chicken bouillon cube crushed, sugar, red chili flakes, and salt and pepper. Once a couple of minutes have passed, add in the cream, milk, and shredded mozzarella.
Mix in the cooked pasta and heat through for a few minutes. If the sauce is overly thick, thin it with a dash of pasta water. Enjoy it straight away!
Conclusion
Pink sauce pasta is a creamy, comforting dish that is easy to make, it takes only about 20 minutes, and it's ready to be served. It's a perfect last-minute dinner idea that everyone will enjoy. Also called Rosa Sauce, it has an appealing look, which makes it even more appetizing.
If you've liked this pink sauce pasta recipe, please share it with your friends on social media. If you have any questions or suggestions regarding this Rosa Sauce, please let me know down in the comments section, and I'll reply. Thank you!