Hawaiian Shoyu Chicken is one of the most popular dishes of the Hawaii restaurant. This juicy chicken is savory and sweet at the same time. Give it a try, and it will instantly make a place in your favorites list. It's a simple and easy recipe and gets ready in about 30 minutes. It would be a perfect dish for your dinner table today!
This chicken is loaded with a fantastic duo of sweet and salty flavors and is one of the most unique yet amazing recipes out there. The best thing is you don't have to go to Hawaiian restaurants to taste it rather you can make it easily at home anytime you want.
This fantastic recipe is so simple yet so delicious. With just a few simple ingredients, this recipe gives you another dimension of taste and flavor. In Japan, the word Shoyu is used for the Japanese soy sauce. As it's clear from its name, this recipe uses a lot of soya sauce. Other ingredients include Brown Sugar, Worcestershire Sauce, Water, Garlic, Ginger, and Red Pepper Flakes.
Best Chicken Cut for Hawaiian Shoyu Chicken
The best chicken cut is skinless and boneless chicken thighs. I would recommend using boneless thighs as these are soft, tender, and juicy and will be the best choice for this recipe. You can also use boneless chicken breast, but I highly recommend using chicken thighs.
Some useful Tips:
You can make this recipe in a slow cooker on the stove. You'll find detailed directions in the recipe section.
You can serve this chicken best with white rice, fresh pineapple, salad, and one of the best sauces, "Da Sauce." The recipe for this flavorful Da Sauce is also given below.
Best cooking utensils for this recipe:
1- Instant Pot:
You can use an instant for slow cooking. It gives you the best results. It helps cook food easily and the chicken and other food items usually take hours to cook.
2- Ninja 3-in-1 Cooking System:
Another best choice for slow cooking is a Ninja 3-in-1 cooker. It's an amazing cooking system and is best to slow cook and bake meat all in a single cooker. You can cook and bake all on just the stovetop.
Pin the image below if you like this Hawaiian Shoyu Chicken Recipe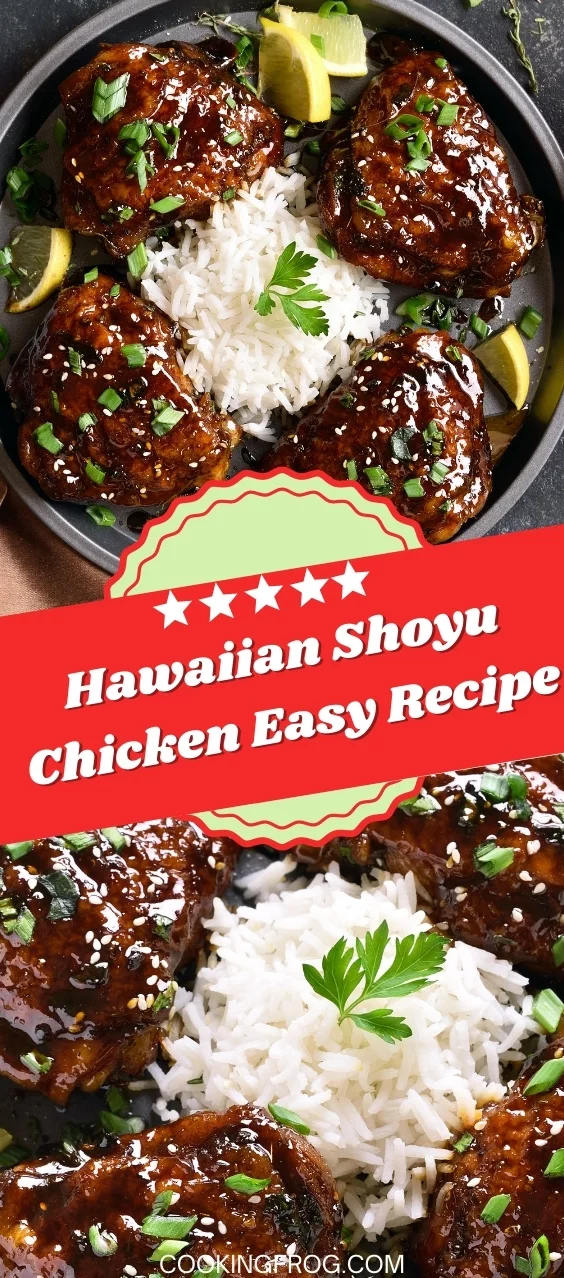 Let's move forward to the recipe for this Hawaiian Shoyu Chicken:
Ingredients
• 3 pounds of skinless & boneless Chicken Thighs
• 11/2 cups of Water
• 11/2 cups of Soy Sauce
• 11/2 cups of Brown Sugar
• 11/2 tablespoons Worcestershire Sauce
• 1/4 teaspoon Red Chili Flakes
• 2 cloves Garlic (Crushed)
• 2-inches Ginger piece (Crushed)
For the Sauce
• 1/4 cup of Water
• 1/4 cup of Soy Sauce
• 1/4 cup + 2 tablespoons of Brown Sugar
How to make Hawaiian Shoyu Chicken
Take a large pot, place it on the stove, and add Chicken to it.
Mix water, soya sauce, Worcestershire sauce, ginger, garlic, sugar, and red chili flakes in a bowl. Mix it well until the sugar gets dissolved. Pour this mixture into the pot with the chicken.
Once the chicken gets to a low boil, reduce the flame, and let it simmer. Cook on low heat for about 1 hour at a low flame until the chicken is done.
Remove the chicken from the pot when there is still some liquid soup in it. Shred the chicken and put it back in the pot so that it can soak up the remaining soup.
Dish it out and serve with rice and Da Sauce.
For Da Sauce:
Combine all the ingredients together and mix well until the sugar gets fully dissolved. Your sauce is ready to be served with chicken and rice.
Note: If you are using a slow cooker, cook the chicken on "Low" for up to 8 hours or on "High" for 4 hours.
Instructions for Instant Pot:
Mix water, soya sauce, Worcestershire sauce, ginger, garlic, sugar, and red chili flakes in the Instant Pot. Now add the chicken to the pot. Now pour the sauce over the top side of the chicken with the help of a spoon.
Place the Instant Pot lid over it and the Lock tightly. Just make sure the venting valve is properly sealed.
Cook the chicken at high pressure for 15 minutes.
Meanwhile, the chicken is being cooked, and prepare the Da Sauce by combining all of its ingredients in a bowl.
When the chicken in the pot is done, wait for 10 minutes until the pressure in the pot is released naturally. After 10 minutes, release the remaining pressure quickly. As the pin of the lid drops, remove the lid.
Dish out the tender and juicy chicken and serve with steamed rice and Da sauce.