Uncover the exotic flavors of the Caribbean with this irresistible Jamaican Beef Patty recipe, a classic that combines a delicious ground beef filling with a delicious, flaky, golden pastry crust. This popular Jamaican street food can be enjoyed as a snack or a light meal.
This authentic Jamaican beef patty recipe lets you choose from a variety of tasty fillings, so it's easy to make ahead of time and excellent for freezing.
Jamaican Beef Patties
You can make Jamaican beef patties at home that taste just as good as the ones made in restaurants. Let's be honest: these homemade treats taste much better than any frozen ones you can buy in a store. They have a more vibrant flavor, are fresher, and taste better than anything else.
These mouthwatering patties have been a staple in our home for as long as I can remember. They are a quick and tasty way to make lunch or a snack to pick you up. The power of these bright, protein-packed gems to tantalize the taste buds and bring warmth to any moment remains unmatched.
This spicy, savory Caribbean street food has been used as a model for many dishes worldwide, including meat pies, empanadas, and samosas. Still, an authentic Jamaican beef patty has a charm that can't be beaten and will stay with you forever.
History of Jamaican Patties
British colonists brought the minced beef-filled Cornish pastry to the island, where the Jamaican patty started. Over time, the Jamaican patty has changed thanks to the creativity of the Caribbean diaspora.
Now, Jamaican beef patties are the most popular fast food on the island and the most wanted snack. One of the most popular lunch or midday snack combinations is one or two patties with a refreshing, ice-cold drink.
Juici Patties and Tastee Patties stand out because they have some of the best patties on the island of Jamaica.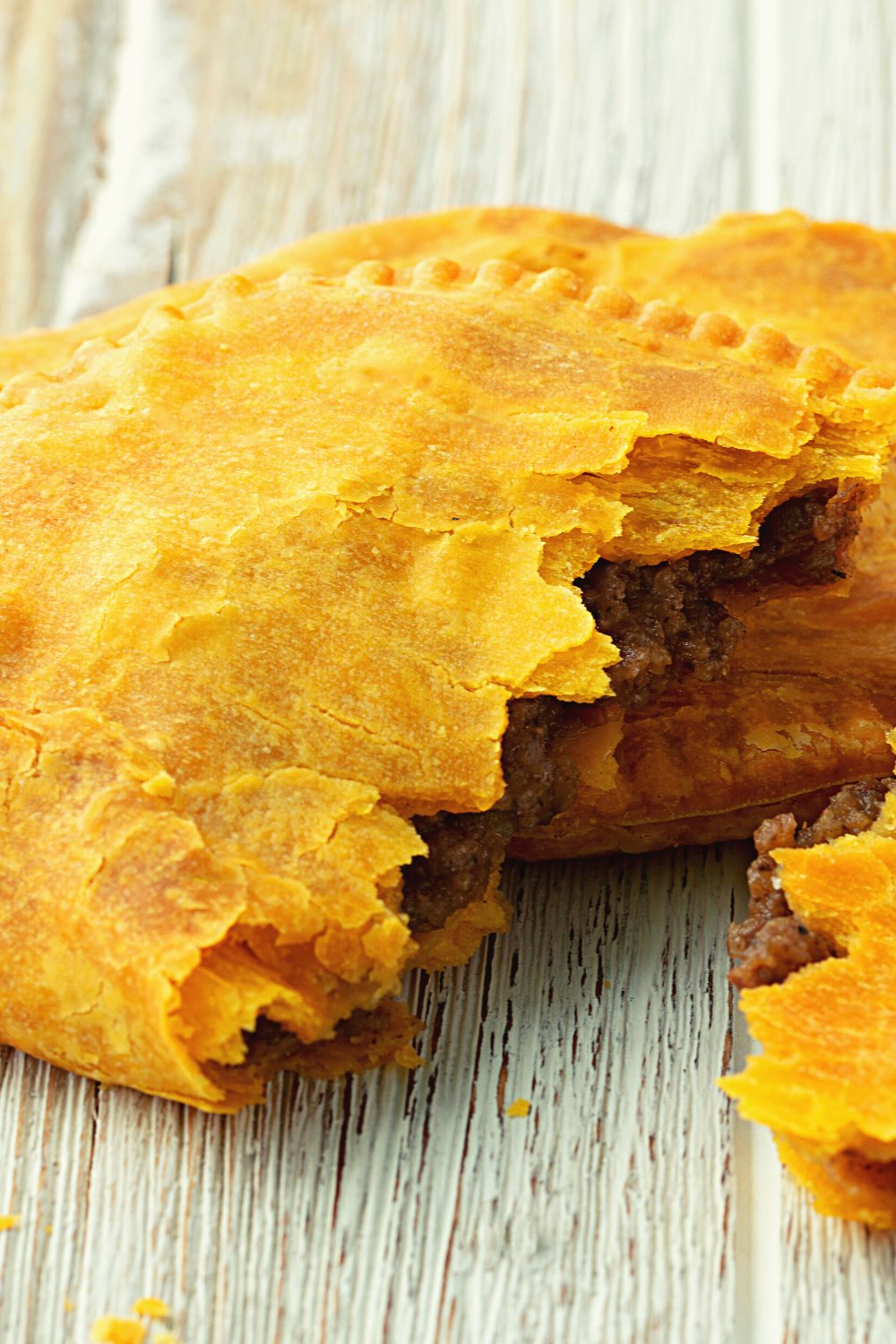 Why you'll love these Jamaican Beef Patties
Ideal for a quick meal: These beef patties are known as the best fast food in the Caribbean because they are so convenient.
Customize to your taste: The traditional Jamaican beef patty is delicious, but you can also try fillings like Ackee and Saltfish or Jamaican Callaloo.
Perfect for parties: This recipe makes 12 big patties, which are great for feeding many people at your next party or gathering.
Mouth-watering and satisfying: These patties have a rich flavor profile and a delicious flaky crust that will leave you wanting more.
Freezer-friendly: Make a bunch ahead of time and store them in the freezer so you can have a quick, delicious meal or snack whenever you want.
Versatile: Serve these patties as a snack, a light meal, or with a side dish for a more substantial meal.
Ingredients and Key Notes
Please look at the recipe card at the bottom of the page for a full list of ingredients, amounts, and instructions.
For the Ground Beef Filling:
Ground Beef: Choose the type you like best. Lean ground beef makes a healthier, less greasy filling, while regular ground beef adds a richer flavor.
Yellow onion: Gives a mild sweetness and depth of flavor. You can replace it with white or red onions that have been finely chopped.
Escallion: Adds a bright, mild onion flavor. It is also known as a green onion or spring onion and should be finely chopped.
Thyme: Thyme is a fresh, fragrant, and flavorful herb with earthy, minty, and slightly lemony notes. It is an essential ingredient in Jamaican cooking.
Scotch Bonnet Pepper: Adds a fruity, spicy heat; it's finely chopped and optional. Replace with habanero peppers or other kinds, or leave them out for a milder patty.
Plain breadcrumbs: This helps the filling stay together and have a consistent texture.
Seasoning: Paprika, salt, black pepper, and ground allspice create a well-balanced flavor profile.
Water: Keeps the filling moist and juicy and stops it from drying out.
Garlic: Freshly minced or grated garlic adds aroma and depth of flavor.
Ketchup: Ketchup improves the overall flavor and adds a hint of sweetness.
Browning: Provides a beef mixture with a rich brown color.
Beef bouillon: Beef bouillon is an important part of the dish because it adds saltiness and umami.
Salted butter: Adds more flavor and richness to the dish as a whole.
For the Crust:
All-Purpose Flour: Forms the main structure of the patty crust.
Salt and sugar: Salt and sugar give flavor and balance to the pastry dough (patty crust).
Cold shortening: This makes a flaky, layered crust; it should be very cold or almost frozen.
Cold Butter: This helps make the flaky, layered crust, and it should also be very cold or near frozen.
Turmeric Powder: It gives Jamaican beef patties their traditional golden color. Curry powder can be used to get a similar color, but it will change the flavor.
Ice-cold water: It keeps the dough's temperature low, which leads to a tender, flaky crust.
For the Egg Wash:
Egg: Use one large room-temperature egg to make the surface of the patty shiny.
Water: Add 1 TBSP of water to thin out the egg proteins and get a glaze instead of a thick egg layer.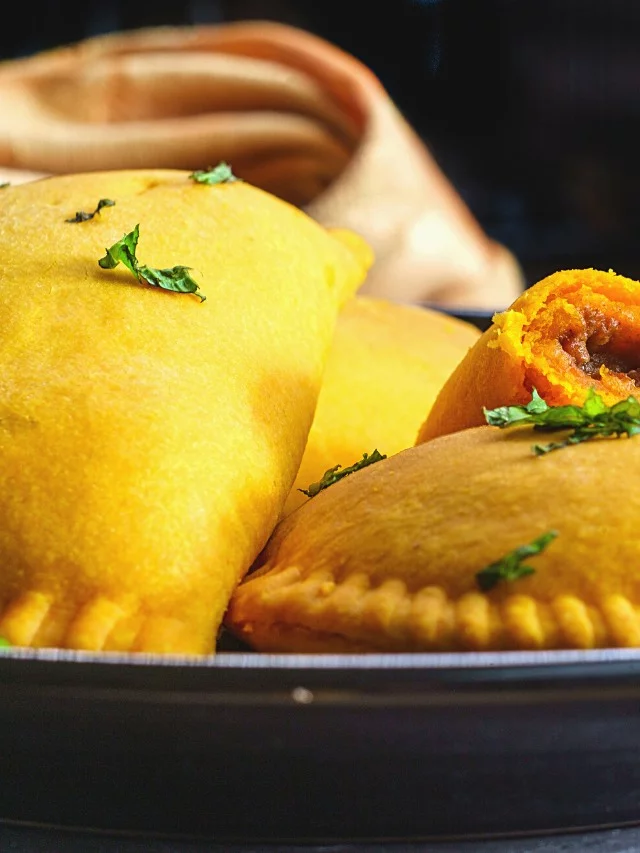 Recipe Variations & Suggestions for Jamaican Patties
Vegetarian Patty: Use Jamaican Callaloo instead of ground beef for a meat-free alternative.
Cheesy Jamaican Beef Patty: Add sliced cheddar on top of the beef prior to folding the dough to make a cheesy delight.
Spicier Jamaican Beef Patty: boost the amount of Scotch Bonnet pepper for a hotter patty.
Jerk Chicken Patty: Instead of the ground beef mixture, you can use shredded jerk chicken for a unique twist.
Turmeric Substitutes: If you can't find turmeric, you can use curry powder or a combination of both turmeric and curry powder to get the color and flavor you want.
Seafood Jamaican Patty: Add cooked shrimp or fish to the filling for a delicious seafood variation.
Sweet Potato Jamaican Patty: Instead of ground beef, use a spiced sweet potato filling to make a nutritious and delicious option.
Gluten-Free Jamaican Patty: Gluten-sensitive people can use a gluten-free flour blend instead of all-purpose flour in the crust.
Mini Jamaican Patties: Make smaller, bite-sized patties perfect for parties and appetizers.
Curry Goat Patty: Use tender, cooked curry goat meat as the filling for a more exotic and flavorful patty.
Jamaican Beef Patties Recipe
With this recipe for Jamaican Beef Patties, you will enjoy the flavors of the Caribbean. A delicious filling of ground beef wrapped in a flaky, golden pastry crust makes for a tasty snack or light meal.
Ingredients
For Ground Beef Filling
2 lb of Ground beef, lean
1 small Yellow Onion, chopped
2 -3 stalks of Escallion (green onion), finely chopped
2 sprigs of Thyme roughly chopped
4 cloves on Garlic, minced
1 Scotch Bonnet Pepper, chopped
1 tsp of Paprika
1/3 tsp of Ground Allspice
1 tbsp of Olive Oil
1 tsp of Sea Salt
1 tsp of Black Pepper
1 cube of Beef Bouillon
1 TBSP of Salted Butter
2 TBSP of Ketchup
2 ½ tsp of Browning
1/2 cup Plain Breadcrumbs
2 cups of Water
1 Tbsp of Hoisin Sauce (Optional)
For the Crust
4 cups of All-Purpose Flour
2 ½ tsp of Turmeric Powder
2 tsp of Granulated Sugar (Brown or White)
1 ½ tsp of Salt
1 cup of Cold Shortening
1/2 cup of Cold Salted Butter
1 cup of Ice-Cold Water
For the Egg Wash
1 large Egg
1 Tbsp of Water
Instructions
For the filling:
Pour olive oil into a large pan and heat it on medium-high. Add the ground beef, breaking up any big chunks and stirring it occasionally until it is browned. If you need to, drain the fat. Make room in the middle of the pan and add the onions, garlic, thyme, and escallion. Sauté and mix with the ground beef.
Pour in 2 cups water and season the meat mixture with paprika, allspice, salt, black pepper, beef bouillon, and Scotch bonnet pepper. Add (optional) ketchup, browning, and hoisin sauce.
Bring the mixture to a boil, then lower the heat and let it simmer until the liquid is reduced by half and forms a thick sauce. Add the breadcrumbs, turn off the heat, and let it cool entirely.
Crust (Pastry Dough) and Assembly:
Mix the flour, salt, sugar, and turmeric powder in a large bowl using a whisk.
Cut shortening and butter into small cubes and add them to the flour mixture.
Use a dough cutter, a fork, or your fingers to combine the fat and flour into a crumbly mixture quickly. If the dough gets too warm, put it in the refrigerator to cool.
Mix in enough ice-cold water to make a dough, then move it to a lightly floured surface and knead lightly until smooth. Wrap in plastic and put in the refrigerator for at least 30 minutes to an hour. Do not overwork the dough.
Roll out the dough that has been in the fridge until it is about 1/4 inch thick on a floured surface, and use a bowl to cut out circles that are 4 to 6 inches in diameter. Put 2 or 3 tablespoons of meat filling on one side of each round, leaving a 1/2-inch border around it. Fold the other side of the dough over the filling, and then use a fork to seal the edges together.
Mix the egg and water with a whisk.
Place patties on a baking sheet that has been prepared, lightly brush each one with egg wash, and bake at 350°F for 30 to 35 minutes, or until the tops are golden and lightly browned. Let it cool for 5 minutes, then serve it immediately and enjoy the flavor!
If this Jamaican Beef Patties Recipe made your mouth water, tell everyone about it! Pin the picture below to your Pinterest board to share a bit of Caribbean magic with your friends.