Depending on your preference, this venison burger meal can be made on the stovetop or the grill. I gave each of them directions. I have included cooking durations and internal temperatures to assist you in achieving your ideal level of doneness!
My friend likes his venison burgers medium, which takes approximately 8 minutes, while I prefer mine medium-well, which takes about a minute longer.
After the huge success with my Elk burger recipe, it is time for this amazingly delicious Venison Burger recipe.
Also, be sure to check out these fantastic burger recipes: Authentic Mushroom Swiss Burger Recipe, Blackstone Griddle Juicy Smash Burger Easy Recipe, and this fantastic venison backstrap with marinade!
What exactly are venison burgers?
Venison burgers are similar to beef burgers, except they're made with ground deer flesh rather than beef! Because deer is quite lean, I advise preparing them similarly to beef burgers but also adding a little more oil.
To add fat and smokey flavor to my ground venison, I prefer to add finely chopped uncooked bacon, which results in juicy and delectable deer burgers.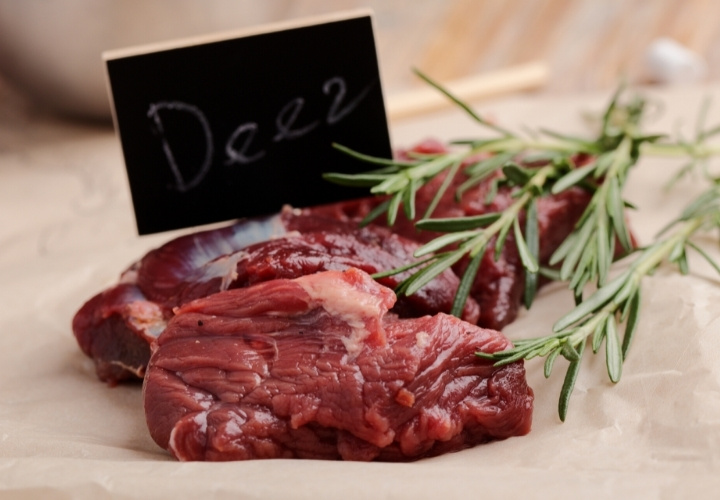 Ingredients for Venison Burgers
Ground venison
Bacon
Butter
Cheese
Dijon mustard
Egg
Garlic powder
Onion powder
Pepper
Salt
Worcestershire
Notes about the Ingredients
Bacon. Fat is required for a venison burger! The venison patties will be dry if you don't add fat. Bacon is a fantastic addition. It adds pig fat to the dish while also providing flavor! Besides the excellent flavor, bacon cooks well into the burgers, and you won't even notice it's there!
Egg. Venison burgers don't stay together as well as ground beef because of the lack of fat. One egg acts as a terrific venison burger binder, preventing the patties from falling apart.
Butter. I prefer to use butter for cooking venison burgers since it adds a lot of flavor and fat. Oil or lard might also be used.
Worcestershire. The Worcestershire's acidity helps balance the venison's gamey taste.
Burgers made with venison that are succulent
Increase the fat content! Venison is a lean cut of meat. In fact, the deer I just purchased had almost no fat. Unlike ground beef, which is typically 80 percent protein and 20% fat, ground venison is nearly all protein.
I like to incorporate raw bacon into my venison burgers to keep them moist—the bacon pairs well with the ground venison, resulting in juicy, delicious burgers.
Except for the delightful, slightly smokey flavor, you won't even notice there's bacon in this patty recipe!
Portioning Burger Meat Equally
I enjoy using mason jar rings to distribute and shape burgers equally. One pound of burger fills four mason jar rings to the brim.
Turn the rings over and stuff the meat into each one. Then, remove the ring with the ground venison inside by flipping it over. It's fantastic!
How Long Do Venison Burgers Take to Cook?
Here are some approximate cooking times for venison burgers:
Rare:4 minutes
Medium Rare: 5 minutes
Medium: 6-7 minutes
Medium Well: 8-9 minutes
Well Done: 10 minutes
Here are some estimated temps if you're using a meat thermometer:
Rare: 120-125 degrees F
Medium Rare:130-135 degrees F
Medium:140-145 degrees F
Medium Well:150-155 degrees F
Well Done:160-165 degrees F
The best way to cook venison Burgers
For cooking venison burgers, cast iron skillets are ideal! Cast iron effectively distributes heat, allowing you to obtain a great sear on the exterior of the patties while keeping the insides well cooked.
Use the best pan you have if you don't have a cast iron skillet. I only advise against using a nonstick pan since the burgers won't get as great of a sear.
Preheat the skillet. Melt butter in a cast iron pan over medium-high heat.
Prepare the burgers. When the skillet is heated, add the patties and sear them for 4-5 minutes, then turn them and sear them for another 4-5 minutes. The amount of time it takes depends on how well done you prefer your burgers.
Enjoy with a variety of toppings on buns!
How Long Should Venison Burgers Be Grilled?
Burgers can be grilled just as easily as they can be cooked on the stove. For example, grilling a venison burger to medium will take around 8 minutes.
This is how you do it:
Prepare the grill by preheating it—to medium-high temperature. Brush the grill grates clean if required to prevent the burgers from sticking.
Grill the burgers for 4-5 minutes once the cook is hot, then turn, add cheese, and grill for another 4-5 minutes. The amount of time it takes depends on how well done you prefer your burgers.
Enjoy! Serve with your favorite toppings on buns!
The Smoky Aioli
Smoky aioli is wonderfully tasty and simple to create. It goes great with this venison patty recipe, which I strongly suggest!!
All you'll need are a few materials that you likely already have on hand.
Mayonnaise (or miracle whip)
Dijon mustard (or any other mustard you have on hand)
Dill pickle relish
Paprika (smoked)
All you have to do now is combine all the ingredients, and you're done! Cover the bottom buns with a thick coating of aioli, then top with a venison burger and your preferred toppings!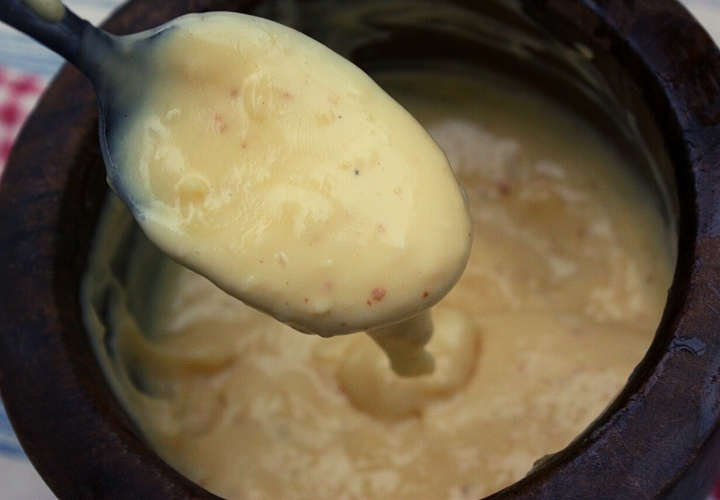 Reheating and storing Venison Burger
Refrigeration is recommended.
You may keep raw venison burgers in the refrigerator for up to two days.
Cooked venison burgers may be kept in the refrigerator for 3 to 4 days.
Venison Burgers in the Freezer
To store venison burgers, form them into patties and layer them with parchment paper squares between them. Then, put the burgers in a Ziploc bag or a sealed container. Store for up to 3 months in the freezer.
Refrigerate the burgers overnight before cooking them according to the recipe's instructions.
Reheating Burgers on the Stovetop
I prefer to reheat burgers on the stove. Sear on both sides for approximately 1-2 minutes each side, or until cooked through, in a pan with butter over medium heat. This will result in a well-done burger, so bear that in mind.
FAQs
Is it possible to create these venison burgers ahead of time?
Yes! The uncooked burgers can be shaped into patties and kept in the refrigerator for up to two days.
Lay squares of wax paper between each raw burger to prevent them from sticking together.
When you're ready to cook, take it out of the fridge and follow the instructions below.
Binder for venison burgers
Ground venison burgers stay together well with additional fat, such as bacon and one egg.
I also suggest letting the burgers sit for 10 minutes once they've been made into patties. This makes it easy to move them to the burner or grill without them disintegrating.
For this venison burger recipe, the best cheese to use is:
For venison burgers, any sort of cheese will do, but for extra taste, I recommend choosing a strong cheese like sharp cheddar. Smoked cheese, such as smoked cheddar or smoked gouda, would also taste delicious!
Toppings for venison burgers that are the best
I suggest putting cheese, lettuce, pickles, and chipotle aioli on your venison burgers! The smokey taste of the chipotle aioli complements the venison nicely. Tomatoes are also a delicious venison burger addition, but they may become messy!
When making venison burgers, how much fat should I use?
Due to the leanness of venison, deer burger patties are sometimes dry and chewy. Therefore, for deer burger meat, I propose a ratio of 80 percent lean to 20 percent pork fat.
Are venison burgers good for you?
Venison patties are lower in fat and higher in protein than beef, making it a healthy choice.
Share the image below to your Pinterest board if you like this Venison Burger Recipe!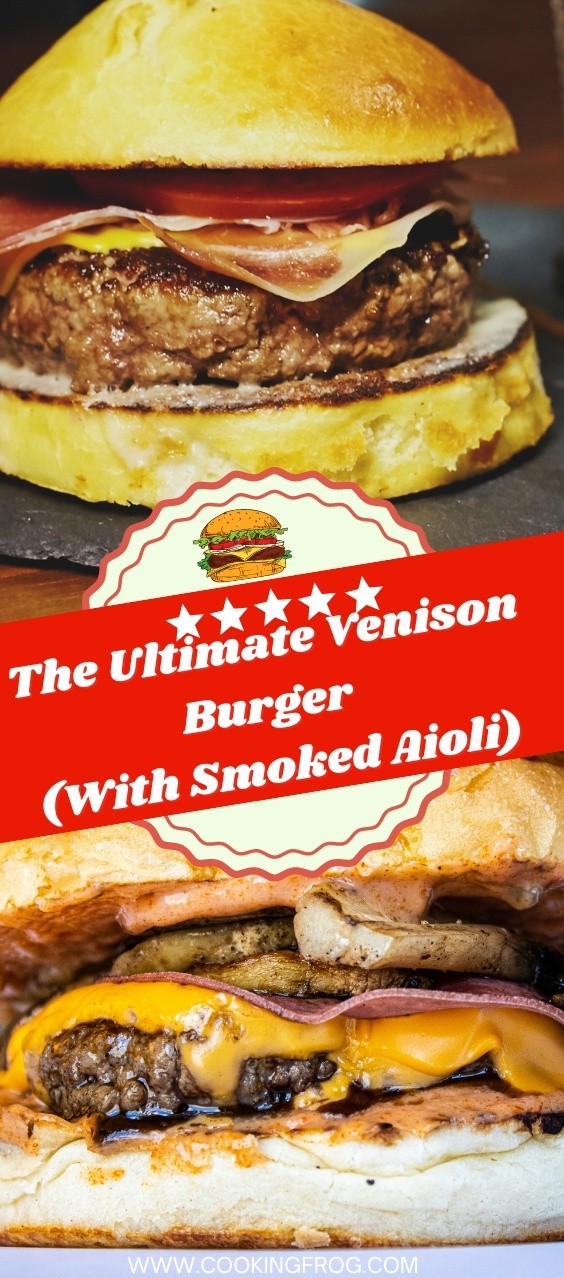 List of Ingredients
¼ tsp pepper
½ tsp onion powder
½ tsp garlic powder
½ tsp salt
½ tbsp Dijon mustard
½ tbsp Worcestershire sauce
1 egg, whisked
3 slices of uncooked bacon, finely chopped
butter
your favorite toppings: lettuce, tomato, pickles, etc.
4 cheese slices
4 hamburger buns
1 pound ground venison
Smoky Aioli
½ tsp smoked paprika
½ tbsp Dijon mustard
½ tbsp pickle relish
¼ cup mayo
Instructions
Combine the venison, bacon, egg, Dijon, Worcestershire, onion powder, garlic powder, salt, and pepper in a large mixing bowl. Form into four burger patties, somewhat bigger than the buns. Allow 10-20 minutes for resting. When transporting the burgers to the burner or grill, this helps them stay together.
On the stovetop, melt one tablespoon of butter in a large cast iron pan over medium-high heat. Fry the burgers for about 3-5 minutes per side, or about 6-7 minutes overall for medium doneness, after the oil is heated. If necessary, work in batches to avoid overcrowding the pan. As required, add extra butter. Garnish the burgers with cheese in the last 1-2 minutes of cooking.
To grill
Preheat the grill to medium-high heat and clean the grate to prevent the burgers from sticking. Once the grill is hot, cook each burger for 3-5 minutes on each side, for a total of 6-7 minutes for medium doneness. During the last 1-2 minutes of cooking, top the burgers with cheese.
To toast the buns, brush the insides of the top and bottom buns with butter and set the butter side down in a pan or on the grill. Toast for 1-2 minutes, or until golden brown; keep an eye on them to avoid burning.
For the Smoky Aioli and assembly
Smoky Aioli: Combine all ingredients in a small dish.
Spoon smoky aioli on the bottom buns. Combine the burgers with your preferred toppings.