After Tobiko, we are going in-depth on what is masago and masago sushi recipe. Masago sushi is a special Japanese dish. If you don't know the Japanese traditional masago recipe, or you want to learn how to make masago sushi perfect as a Japanese chef, this is the place for you.
We're going to jump into the recipe first, and then you can continue reading to learn more about masago and masago sushi.
Ingredients for Masago Sushi
For sushi rice
1 cup of short-grain sushi rice

1 cup of water

2 TBSP of sushi vinegar (optional)

1/2 tsp of sugar

1/2 tsp of salt
Pro Masago Sushi
4 oz of imitation crab

1 thinly sliced avocado

2 seaweed nori leaves

1 TBSP of masago
How to make Masago Sushi
Rinse the rice first, then add the water together with rice to a rice cooker.

After the rice has been cooked, place it in a large bowl and then add the sugar, salt and sushi vinegar.

Cover the bamboo mat using a piece of the plastic wrapper on top. This will keep the rice from sticking to your bamboo mat.

Divide the nori slices by folding them in half and cutting them using scissors.

Add one-half of the nori leaf onto the bamboo.

Spread 1 cup of cooked rice to the nori sheet evenly.

Gently push it with your hands.

To prevent it from sticking, you can wet your fingers with water.

It should be turned so that the nori faces up and the rice faces down.

Add the avocado and imitation crab slices to the nori.

Your thumbs should be under the bamboo mat. Lift the edge upward and cover the filling with your thumbs.

Roll the bamboo mat, and then apply light pressure to secure it.

Continue scrolling until you reach the end.

Place the roll on a cutting board. Cut each roll into 10 pieces.

Masago: Sprinkle masago over each sushi piece.

To distribute the masago evenly, you can use your hands.
Pin the image below if you like this Masago Sushi Recipe, it would mean a lot to me!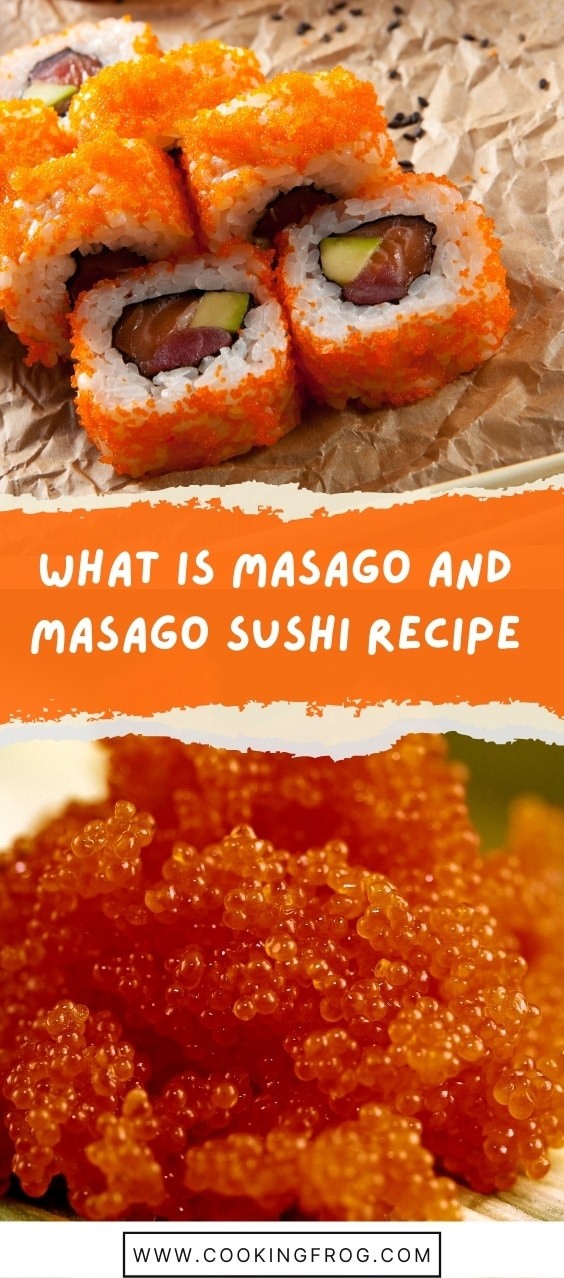 What is Masago (Capelin Roe)?
Masago, a Japanese term for edible capelin roe is the small egg of fish that are found in cold waters of the North Atlantic, North Pacific, and Arctic oceans. These small yellow eggs are about 1 millimeter wide (which is smaller than many fish eggs) and have a delicate fishy flavor. Masago is not like tobiko and ikura. It has a dull yellow color, but it can be dyed to an orange color to make it more appealing.
Masago can be used to add texture and flavor to sushi rolls and nigiri. Masago sauce can be made by adding a light cream to it, which is one of the most popular Japanese sauces.
Is Masago Caviar?
Masago, as I mentioned before, is a type or fish roe, or fish egg, not caviar. Caviar and masago are made from different types of fish. Both are egg fish and both can be used as eggs. However, they differ in their treatment methods.
Caviar is traditionally roe from sturgeon fish. Are they any different when it comes to prices? A 1 oz bag of masago can cost between $ 7-10. Caviar, however, can beabove $100 for 1 oz.
How is Masago different from Tobiko
We've already made an article on Tobico and explained the difference. Tobiko is flying fish roe, while masago is cepelin roe.
Masago is smaller than tobiko and therefore is a popular alternative to tobiko for sushi rolls and masago sauces. Masago is a dull yellow color, which is different from the bright red tobiko. It can also be colored to add visual interest. Masago is similar in taste to tobiko but has a more crunchy texture.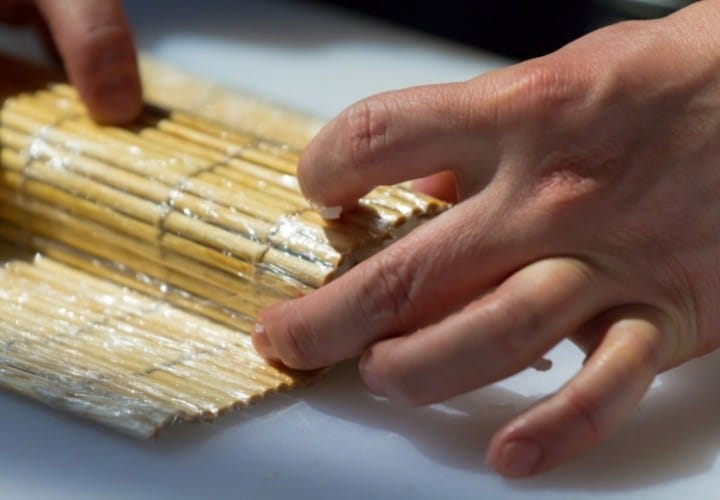 What does Masago taste like?
Masago is mildly similar to Tobiko. It's slightly sweeter, more salty, and has a citrusy quality. If you've ever tried tobiko, you'll know exactly what I'm talking about here.
Unfortunately, Masago does not create a crackling mouth as larger fish roe. Just a little.
Ways to use Masago?
Masago can be used as a topping on sushi rolls. To give your sushi rolls a new taste, you can mix masago with yum-yum sauce or spicy Alfredo sauce. You can also add masago if you prefer cooked fish to this dish. Masago can be added to your salad.
As for toppings for sushi rolls: This is the most common use of masago. It adds a bright, crunchy texture and color to the sushi roll like the California Roll.
Masago sauce This is a combination of light cream sauces and masago that makes a delicious creamy sauce. It's often used to top Japanese spaghetti noodles.
To the fillings in the roll: It's often added to the fillings while rolling maki sushi to enhance flavor and texture.
As for decorations: Masago can be used to decorate many dishes with its bright orange color and is essential to create a lava look in Volcano Rolls.
You can also use Masago with:
What side dish is best for Masago sushi?
Sushi isn't always served with a side meal. It can be great on its own or with a simple sauce. There are many options for masago sushi that can be served with other dishes.
Some are simple dishes, while others are special ingredients for sushi.
Side dishes that are great for masago sushi include:
Miso soup

Surimon soup

Tsukemono (Japanese cucumbers)

Ohashi

Tempura

Wakame salad

Eggplant

Edamame

Green tea

Dango

Gyoza

Kani salad

Tamagoyaki
Health and nutrition of Masago
This is one of the most frequently asked questions about masago. Is masago safe and healthy for my body? Masago is one of your most powerful and healthy foods.
Masago is just filled with nutrients, high in protein, vitamin B12 and selenium, which are vital for our bodies health.
Masago is full of:
protein

vitamin B12

Selenium

Omega 3

Magnesium

Iron

Riboflavin
Masago has many health benefits:
Heart health

Eye health

Bone health.

Reduce arthritis symptoms

Muscle strength increases.

Lower blood pressure and cholesterol
Where can I buy masago?
As for most of my sushi ingredients, I buy Masago at my local Japanese grocery shops. You can also buy it online, but I highly suggest you find Japanese, or other Asian grocery store because of the quality.
How do you store Masago?
Put the masago in insulated glass, cover with plastic wrap and place in the refrigerator. Masago can be kept in the refrigerator for 4-6 days.
Masago can also be frozen, which I highly recommend. Masago can be frozen for 6 months.
How do you reheat the masago?
To reheat the masago after it has been frozen, you don't need to heat it. Simply take it out of the freezer and let it thaw. You can speed up this process by placing the masago into a sealed container. Then, heat the container in warm water. It will take approximately 10 minutes for the masago to reach room temperature before you can use it.
Is masago raw?
Masago is a colored and flavored raw edible egg of the capelin fish. So, the answer is yes, masago is raw!
Masago Sushi Nutrition Facts
Calories: 46

Carbohydrates 7 g

Protein: 1,1 g

Fat: 1 g

Saturated fats 0.9 g

Cholesterol: 3.9 mg

Sodium: 39 mg

Potassium: 48 mg

Fiber: 1,1 g

Sugar: 1g

Vitamin A: 31 IU

Vitamin C: 1,5 mg

Calcium: 4 mg

Iron: 1 mg