How to Make Burgers with Ground Beef without Egg? It's really not as hard as you think. This allergy-friendly Burger recipe turned out to be easier than traditional recipes with less ingredients. Also the moisture is perfect and most importantly, they don't ever fall apart.
The secret to egg-free burgers
Hey, it's me, Sarah from Cooking Frog, and today I have the pleasure of sharing this allergy-friendly beef burger recipe. The secret to make beef burgers without eggs is chia seeds and good quality ground beef. Although chia is used mostly for sweet-style recipes, it is known for making the best burgers. Once you use it, you'll never return to eggs. 2 Tablespoons of Chia seeds are soaked in 3 tablespoons of water, replacing 1 egg. The chia seeds won't add crunch to your burger, so don't worry. My whole burger-loving family has given the seal of approval to this recipe.
The texture of these egg-free burgers is very nice and easy to shape by hands. They hold the shape perfectly, don't crumble and are very juicy. This recipe works well for all kind of burgers, mini burger patties, big burgers and also if you need to make meatballs, they'll do the trick. Also, this burger recipe is made without breadcrumbs.
Ingredients
500g (17 oz) of ground beef, minced
3/4 cup of tomato purée
2 tablespoons of chia seed
Spices (i use 1 tsp of oregano and 1 tsp paprika )
How to Make Burgers with Ground Beef without Egg?
Place the Burger ingredients in a medium bowl and mix well with your hands.
Cut into patty portions and roll into meatballs.
Put the meatballs on the plate and place into the refrigerator for about 25 minutes.
Heat the bbq or frying pan to a medium heat.
Press the meatballs to a patty flat shape and cook on a medium heat. Cook them to your preferred doneness.
Serve hot.
The best toppings for egg-free burger
I love rich burger, with onions, cheese, awesome hamburger sauce, tomato, pickles, lettuce and mustard always. I also love burgers with bacon, but you can use any of these:
egg-free mayonnaise, mustard or ketchup
crispy lettuce
tomatoes
sweet pickles or dill pickles
sliced onions
caramelized onions
sauteed mushrooms
cheese to your liking
crispy bacon
What are your favorite toppings for hamburgers? You can share in comments below.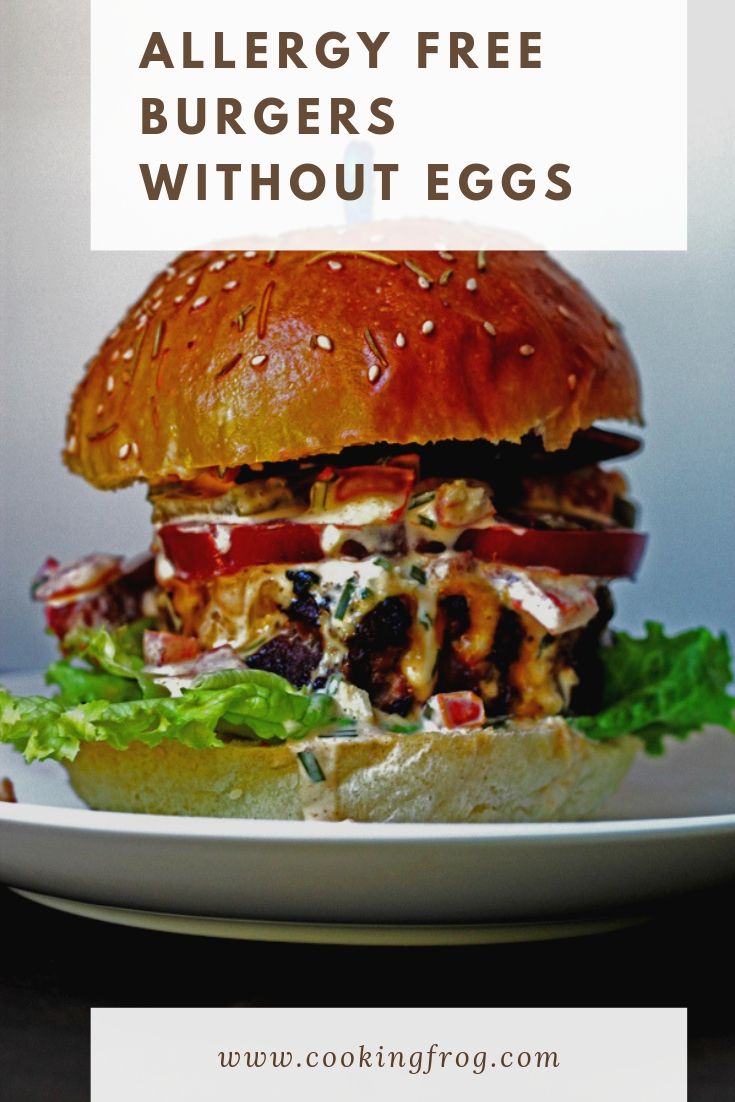 If you've liked this Egg-Free Burger Recipe, be sure to check Egg-Free Pancake Recipe