Today I'm here with another fun and exciting recipe, and I'm going to show you how to make Taiyaki a famous Japanese cake. This unique recipe serves as a snack as well as a dessert. You can make this recipe with your kids and believe me! Your kids are surely gonna love it 😉
Taiyaki
Taiyaki (鯛焼き), as clear from its name, is a Japanese recipe. It's a very popular vendor snack in Japan that's also served on festive occasions. It's a fish-shaped cake. Its shape resembles the shape of a Japanese seasonal fish called "Tai" that's why it's called Taiyaki.
This amazing fish-shaped dessert is usually filled with a red paste that's made from Adzuki beans. Still, you can also fill it with Custard, Nutella, Sweet Potato paste, Chocolate, or yummy Cheese filling. This warm cake can be enjoyed at any time of the year but is best suited for winter.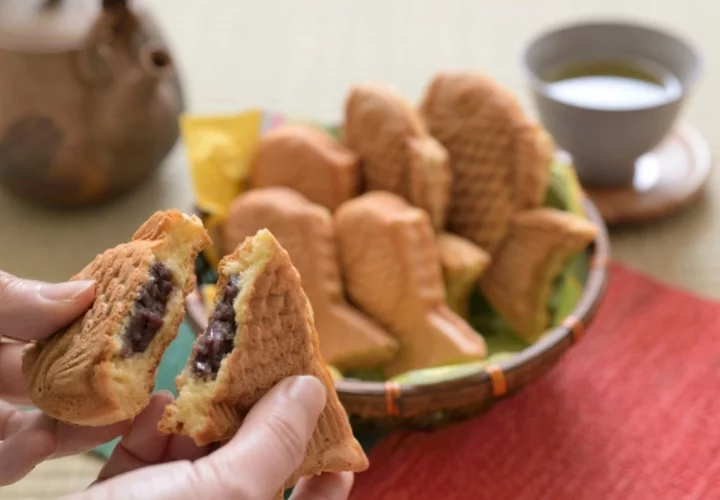 Some Important Tips for making Taiyaki:
You can use Pancake flour instead of cake flour, which also goes well with the recipe.
Baking soda reacts with the acidic elements of the dough and has a leavening effect, and the cake gets lighter and puffier.
Japanese recipes are usually less sweet than our cakes, that's why this recipe contains a bit of sugar. If you are a sugar-lover, then you can add more sugar according to your taste.
Salt is added to balance the sweet taste of sugar. But it's optional. You can skip if you like cake sweeter.
Only adding milk will leave this cake a bit dense. Make a mixture of half water and half milk. A mixture of water and milk will make this cake light and fluffy.
Taiyaki Fillings
The best part of this cake is that you can fill it with any filling of your choice. It gets wells with almost all kinds of fillings. Japanese traditionally fill it with a sweet red paste of adzuki beans. But you've got the option to use the filling of your choice.
The most popular fillings for this cake include:
Custard
Cheese Filling
Chocolate Filling
Sweet Potato Paste
Nutella
Strawberry Jam
You can also check this Vegan version of Taiyaki.
Red Bean Paste
Red bean filling, famously known as "Anko" is made from Adzuki beans. To make this paste, soak the adzuki beans overnight and boil them until they get tender. Now add sugar into the beans and mash the mixture of beans and sugar to a smooth paste.
If you don't want to make Anko Paste by yourself, you can buy it easily from a nearby Japanese store in your area.
Taiyaki in the US
If you're craving Taiyaki but don't have a fish-shaped Taiyaki mold or aren't in the mood to cook it by yourself, then don't worry! There are plenty of spots in the US where you can buy this amazingly delicious fish-shaped Japanese cake.
If you live in New York, Boston, Los Angeles, or Miami, then there's a Taiyaki restaurant chain called Taiyaki NYC that makes the best Taiyaki around town. You can dine in or can get your Taiyaki delivered to your home.
Likewise, if you live in Texas, California, or Hawaii, there's another restaurant chain called SomiSomi that serves Korean ice cream stuffed in Taiyaki. This amazing ice cream stuffed Taiyaki cone is called "ah-boong". SomiSomi also serves Taiyaki with different fillings like Nutella, Taro, Cheddar, Custard, and Red Bean Paste.
How to store Taiyaki?
I recommend eating Taiyaki cakes fresh because they taste the best right after they are dished out of the pan. Fresh Taiyaki cakes are soft, crispy, and slushy. But if you want to store them, then you can store them in two ways:
Refrigerate Taiyaki
Freeze Taiyaki
1- Refrigerating Taiyaki
You can store taiyaki cakes in the fridge for up to two days. It's better to store them in an air-tight container to maintain their moisture, softness, and texture.
2- Freeze Taiyaki
If you want to store Taiyaki for a long time, then you can freeze it. To freeze taiyaki, wrap each fish individually in plastic wrap and place them in a sealable bag or air-tight container. You can store them in the freezer for up to 6 weeks.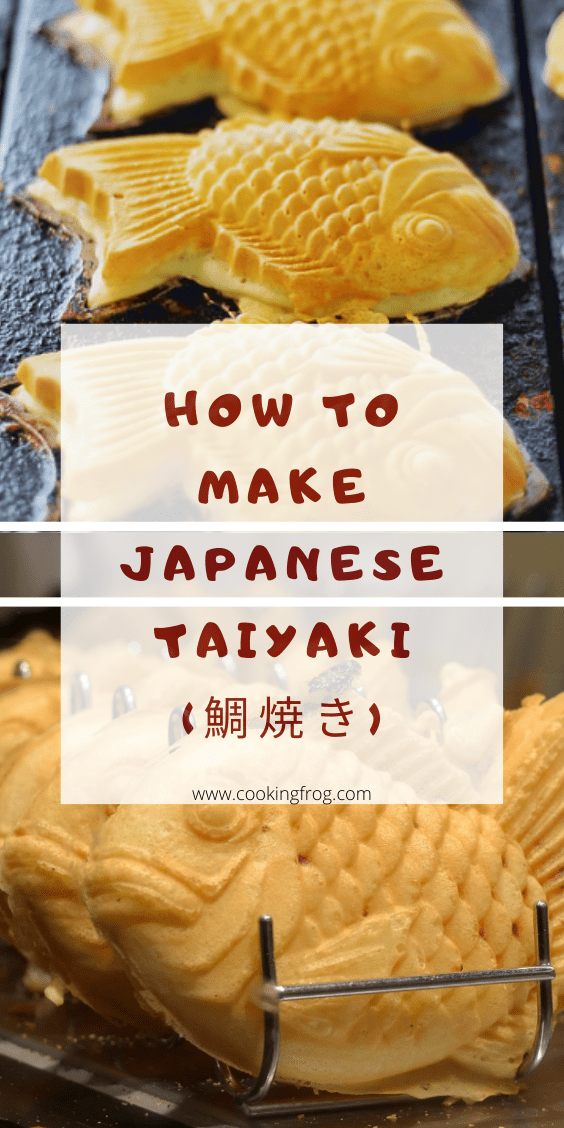 How to make Taiyaki Recipe
Ok, it is time to make this Japanese Taiyaki! Don't be afraid if you are making this recipe for the first time, just follow the instructions below and I promise you will make the most amazing Taiyaki! 🙂
Ingredients
1 ½ cup of Cake Flour
2 tsp of Baking Soda
1 ½ tbsp. of Sugar
1 pinch of Salt (Optional)
1/3 cup of Water
1/3 cup of Milk
1 large Egg
Oil to brush the pan
Instructions
Take a medium bowl and flour, sugar, salt, and baking soda in it and mix them well.
Now add an egg and (milk + water) in it. Mix them well until a smooth batter is formed. Make sure there are no lumps in the batter.
Cover the batter and refrigerate one to two hours.
Take a fish mold cake pan and brush them with oil.
Place the cake pan on a burner on medium-low heat.
Once the pans are heated, pour a thin layer of batter into the fish molds.
Remember that, don't overfill the pans otherwise the cake will pop out of the mold and its fish shape will get distorted.
Let it cook for a few seconds. Add 1 tbsp. of Anko paste or the filling of your own choice in the center of the fish.
Now add more batter over the filling until it gets covered well.
Now close the lid of the Taiyaki mold pan.
Cook the batter for 2 – 3 minutes from one side. After 2 – 3 minutes, flip the pan and heat the other side for 1 – 2 minutes until both sides of the cake get a beautiful golden color.
Remember that your pan may have different-sized fish molds and your cooking time may vary a bit.
Dish them out in a baking rack or plate and let the cakes cool.
Now serve the cakes to your loved ones and enjoy
How to Reheat Taiyaki?
There are 3 methods to reheat Taiyaki:
Toasting
Frying
Heating in Microwave
Toasting Taiyaki
The best way to reheat taiyaki is to toast them in a toaster. Toasted taiyaki will be crispy and yummy. Taiyaki cakes mostly fit in the toaster but if they don't, then you go for any of the other two reheating options.
Frying Taiyaki
You can reheat Taiyaki by frying them in the pan. For this purpose, heat the pan and fry them in the pan without using oil. This way you will get a crispy taiyaki exterior.
Heating Taiyaki in Microwave
You can reheat the taiyaki cakes in the microwave for 20 seconds but this reheating method has a drawback that your taiyaki cakes won't be crispy anymore.