Have you ever had Kare-Kare? This is a traditional Filipino oxtail stew. Kare Kare is a rich and thick peanut sauce-based Filipino dish. It is a classic meal eaten on special occasions in the Philippines. The customary recipe requires a cow tail.
There are several recipes that call for both ox tripe and tail. String beans, eggplant, bok choy, and banana blossoms are among the vegetables used in this meal. To thicken the sauce, golden brown toasted powdered rice is utilized.
What is Kare-Kare?
Kare-Kare is a famous Filipino stew given on special occasions such as fiestas, birthdays, and family reunions. The dish's signature component is its peanut sauce. This is created from peanut butter, powdered toasted rice, and annatto seed extract and is prepared with a variety of vegetables and meat (typically oxtail or ox tripe). It has a milder flavor than other rich Philippine meals, which is why it is frequently served with bagoong, a salty shrimp paste.
This meal is prepared in a palayok or clay pot. At the very same time, it serves as a serving dish. Kare-Kare tastes best when served with regular white rice. Bagoong alamang, or fermented shrimp paste, adds character to the meal. Simply mix a spoonful of rice, Kare-Kare, and bagoong with a tiny piece of bagoong and enjoy!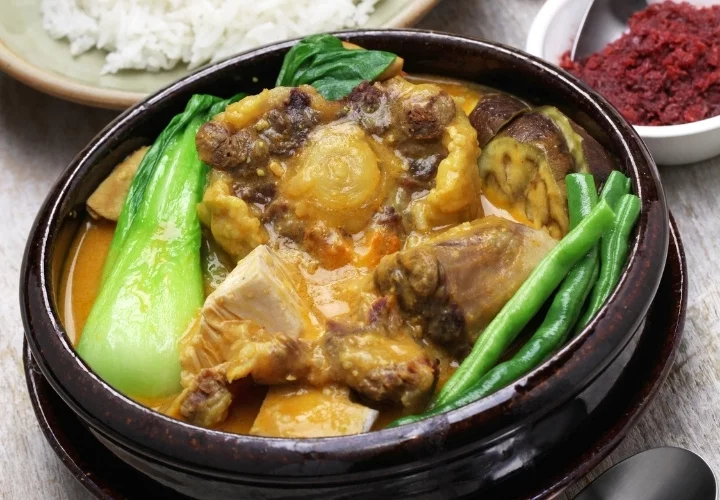 Kare-Kare Variants
Kare-kare has multiple variations. The most noticeable distinction between them is related to the meat component. We now know that oxtail is the typical protein in this meal. Tripe is another useful meat option. There are various variations that employ different types of beef and even seafood.
Beef Kare-Kare
The classic variation is known as beef Kare-Kare. This primarily applies to beef-based variations. Beef Kare-Kare is made of beef chuck, beef shank, and Maskara ng Baka, or cartilage from the cow's face.
Seafood Kare Kare
Seafood includes shrimp, crab, mussels, and squid. There is a recipe that includes all of these items. It's known as seafood Kare-Kare. Fish can be utilized as well.
Pata Kare-Kare
If you want to make Kare-Kare with a pig leg or a pork hock, this is called pat. Pata is the second most common ingredient, just after oxtail. This cut of meat is popular, not just because it is less expensive than beef but because it complements the other flavors greatly.
Pata is a favorite ingredient in my Kare Kare. The rich and flavorful sauce compliments the pata's soft flesh and fat. It's scrumptious!
Be sure to check these Filipino Recipes:
Technique for Cooking Kare Kare
Let's get into how I made the rendition in this recipe article. The key steps are to tenderize the meat, create the sauce, and prepare the veggies.
Boil the meat with the sliced onion to soften it. This should make it supple while also giving a wonderful taste. For the most outstanding results, oxtail should be really tender. If trying the conventional technique, it takes approximately 3 hours to boil. A pressure cooker is a faster option. It cuts the cooking time in half.
The peanut sauce has the power to make or ruin your meal. Therefore, it is critical to have the right mixture ratio to create the desired sauce quality. Try not to get it perfect – not too heavy or too thin. To prepare the sauce, I combine peanut butter and crushed peanuts. It gives it a deep taste. Annatto seeds give the sauce a crimson hue. You'll need to soak the seed in warm water for around 12 minutes to remove the color. The colored water, not the seed, is utilized to produce the dish. After using the seed, throw it away. Toasted ground rice can be used as a thickening agent for the sauce.
Vegetables are an integral part of Kare Kare. They can be cooked alongside the meat or added after the meal is served. I chose to sauté the veggies separately with garlic.
Cooking Hints for Kare-Kare
To rapidly tenderize the oxtail, use a pressure cooker. It tends to take me half an hour, as opposed to about 3 hours when done traditionally.
When boiling with the conventional technique, keep an eye on the quantity of water. Pour in extra water as required until the meat is thoroughly soft.
Bagoong alamang, or shrimp paste, is a vital ingredient. It must be thoroughly cooked before serving. I'll be making this recipe soon for you, in the meantime, precooked bottled bagoong alamang is also available in supermarkets.
Share the image below to your Pinterest board and save this Kare-Kare Recipe!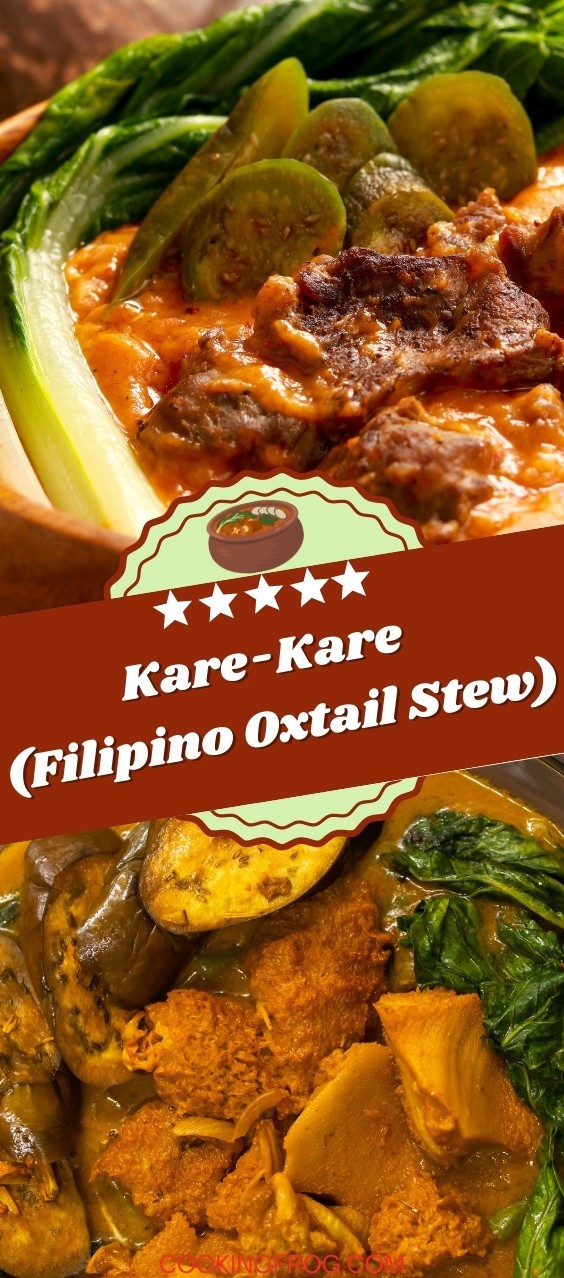 List of Ingredients
salt and pepper to taste
1 tbsp garlic minced
1 small banana flower bud sliced
1 onion chopped
1 bundle pechay or bok choy
1 bundle of string beans sliced into 2-inch pieces
4 pieces of eggplant sliced
1/2 cup peanut butter
1/2 cup shrimp paste
1/2 cup of annatto seeds (soaked in water)
1/2 cup toasted ground rice
1 cup ground peanuts
33 Ounces water, about 1 Liter
3 lbs. oxtail cut in 2-inch slices (or use tripe or beef slices)
Directions
First, boil the water in a big saucepan.
Add the oxtail, then the onions, and cook for 2.5 to 3 hours, or until soft, 35 minutes when using a pressure cooker.
When the meat is cooked, throw in the ground peanuts, peanut butter, and annatto seed coloring water and let it simmer for five to seven minutes.
Cook for 5 minutes after adding the toasted ground rice.
Sauté the garlic in a separate skillet, then toss in the banana blossom, eggplant, and string beans and simmer for 5 minutes.
Place the cooked veggies in the big saucepan with the other ingredients.
Season with salt and pepper to taste.
Serve immediately with shrimp paste. Cheers!
Conclusion
This Kare-Kare Recipe (Filipino Oxtail Stew) is really simple to make, as you can see from the instructions. Even if you're not a fan of oxtail I strongly recommend you try it, you'd be surprised. When all these ingredients come together, you'll have an explosion of different tastes complementing each other in your mouth. If you have any questions about Kare-Kare please let me know down in the comments section, and I'll reply.