This Gigi Hadid pasta recipe became viral in 2020 and completely took over TikTok and Instagram! Is it worthy of the hype? Totally! This restaurant-quality, spicy, and creamy vodka sauce is so simple to create. I'll give you Gigi's identical Instagram recipe and demonstrate how to prepare delicious hot pasta both with and without alcohol.
This Gigi Hadid vodka pasta is irresistible for all the best of reasons. It is exploding with flavor and has just the right amount of heat and sweetness.
This dish is attributed to supermodel Gigi Hadid and offers a delectable twist on regular vodka spaghetti (Penne alla Vodka). In addition, this recipe's lively, fresh taste will make it a contender for your go-to pasta dish. How could it not, really?
Al dente pasta with a sauce that is really creamy, rich, and just a little spicy goes together nicely in this Gigi Hadid pasta dish. And to add even more umami, hefty amounts of parmesan cheese are sprinkled on top to round off the meal.
I think Gigi took the vodka out of her recipe since she was expecting it when she produced the popular video, but she did specify where to put it in the directions.
Oh, and this meal is the epitome of simple if you like PASTA.
Making all of this heavenly pasta takes less than 30 minutes from beginning to end!
Fun Fact: Gordon Ramsay loves Gigi's cooking. In 2016, Gordon participated as a judge on the US edition of Celebrity MasterChef, where Gigi competed and was named the show's champion. Gordon was amazed by her culinary abilities and even praised her burger as "delicious."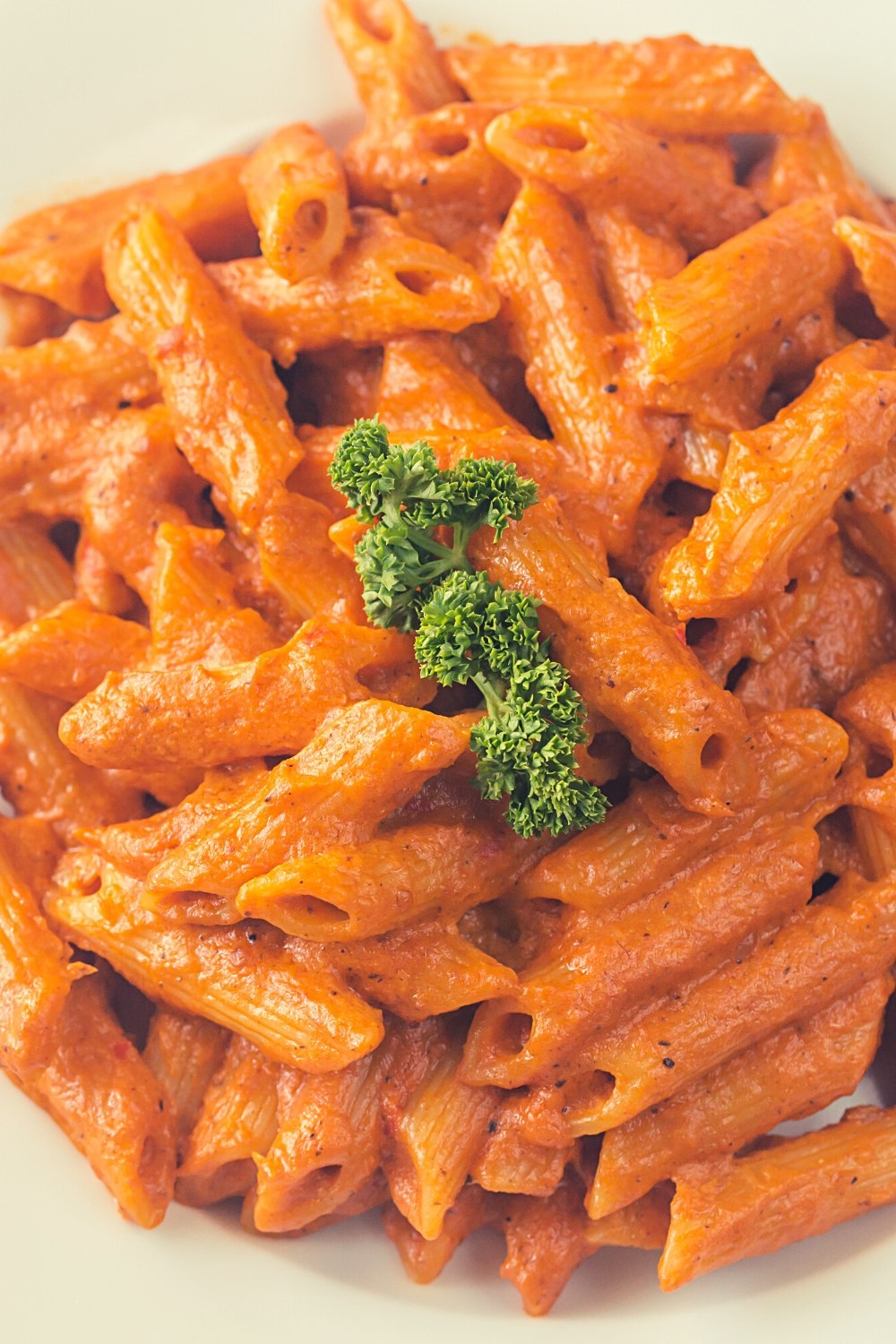 Why you'll love this Gigi Hadid Pasta?
Well, I have four good reasons for you:
Super simple vodka spaghetti that tastes as if it came from a restaurant!
A fantastic dish of creamy, rich, and spicy goodness!
A popular cooking trend that lives up to the hype!
It makes a meal with just a few basic ingredients that are very exceptional!
Ingredients you'll need
Here's the list of ingredients you'll need to make a deliciously spicy vodka pasta:
Pasta
Olive Oil
Red Onion
Garlic
Tomato paste
Vodka
Heavy cream
Red Paprika flakes
Butter
Parmesan cheese
Salt & pepper
Basil
Notes on Ingredients
Regarding the pasta, I agree with Gigi that the shells she used were perfect. They do a fantastic job of capturing the flavor of the sauce. However, if you use penne pasta, you may turn this into "penne alla vodka." I'll be honest; you can use ANY pasta since the sauce is fantastic.
Any kind of vodka will do the trick. Try one of the alternatives I suggest below if you don't have vodka on hand, or leave it out entirely. Not using it at all and yet having a delicious sauce is an option. In reality, Gigi omitted the vodka from the original pasta recipe shared on her Instagram story because she was not yet ready to share that she was pregnant.
Gigi used a red onion when making her spaghetti, but she notes that a shallot would work just as well. Onions of any color will do!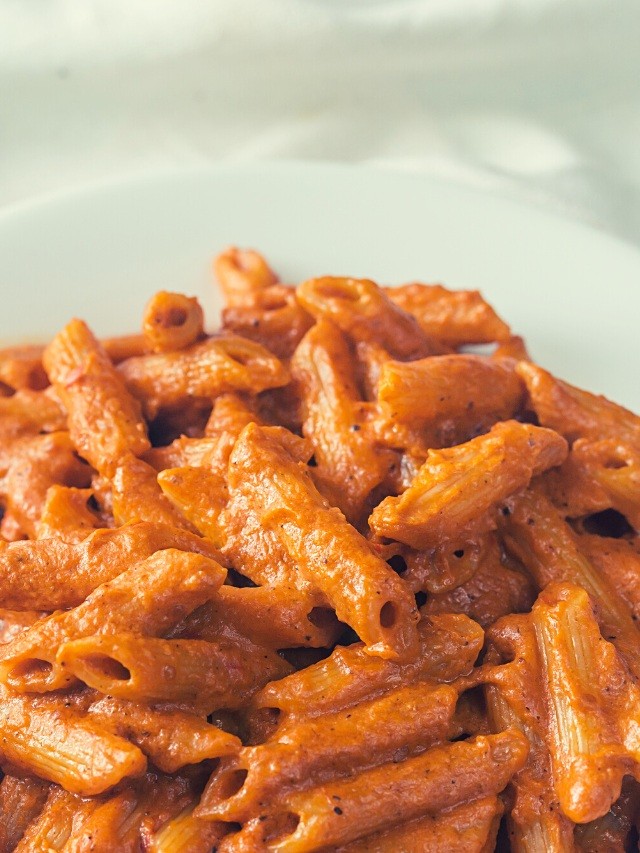 How to make Gigi Hadid Pasta
Always refer to the recipe card below for detailed directions and a list of precise ingredients.
Step 1: Prepare the pasta as directed on the box. (Don't drain the pasta until you've saved roughly a cup of water). While the pasta cooks, sauté the onion and garlic in olive oil on medium heat.
Step 2: Add in the tomato paste and simmer for several minutes or until it darkens slightly in color.
Step 3: Add vodka and cook just enough to allow the alcohol to evaporate; it should take a minute or two. After that, include pepper flakes and heavy cream. Salt and pepper are used as seasonings.
Step 4: Add in the pasta, the saved cooking water, and butter. Toss the pasta until it is well coated with sauce.
Step 5: Toss in Parmesan cheese. As necessary, add salt and pepper. Immediately garnish with basil and serve.
You might also want to try this Creamy Japanese Mentaiko Pasta.
Alternatives to vodka in vodka pasta
There are 3 simple alternatives to vodka in "vodka" pasta:
Eliminate the vodka entirely. If you exclude the vodka, the meal will still be delicious.
White wine or cooking sherry can be substituted for vodka in a hurry if you don't have any. If using alcohol, you should simmer the sauce until some of the alcohol burns off.
A mixture of Lemon juice and Lime with apple juice: vodka gives just a touch of acidity to this meal, which is subtle yet delicious. This "acid" may be recreated by mixing equal volumes of lemon or lime juice with apple juice.
Gigi Hadid Pasta Recipe
It's time for a detailed recipe! This vodka cream sauce is restaurant-quality and so simple to prepare! This is Gigi's identical Instagram recipe, and it can be made with or without vodka!
Ingredients
1 lb of pasta (shells or penne pasta)
1 cup of pasta cooking liquid
1/2 cup of olive oil
1 cup of red onion (you can also use white or yellow onion)
3 cloves of garlic, minced
1/2 cup of tomato paste
2-3 Tbsp of vodka (or lemon/lime with apple juice for vodka substitute)
1 cup of heavy cream
2 ½ tsp of red pepper flakes (or to your liking)
2 Tbsp of butter
¾ cup of Parmesan cheese
salt and pepper, to your liking
basil
Instructions
Prepare pasta al dente according to the instructions on the package. Save 1 cup of the cooking pasta liquid prior to draining the dish.
Add olive oil to a large pan over medium heat while the pasta cooks. Add onion when the oil is heated. Next, add garlic and continue cooking for an additional minute. Stir often to avoid burning the garlic.
Add tomato paste and simmer, stirring often, for two to three minutes. The tomato paste's color will darken somewhat.
Add vodka, if using, and simmer for one minute, just until the alcohol evaporates.
Add red pepper flakes and heavy cream. It will thicken up rapidly! Cook for a minute or so, stirring often.
Include your pasta, butter, and 1/2 cup of pasta water. Gigi says to keep stirring until the butter is "melted and juicy." Make sure the sauce is evenly distributed throughout the pasta. If the sauce looks too thick, add a bit of extra pasta water.
Add Parmesan cheese and mix well. Add salt and pepper if desired after tasting. Basil should be a last touch before serving.
Share the image below to your Pinterest board if you've liked this copycat of Gigi Hadid's pasta!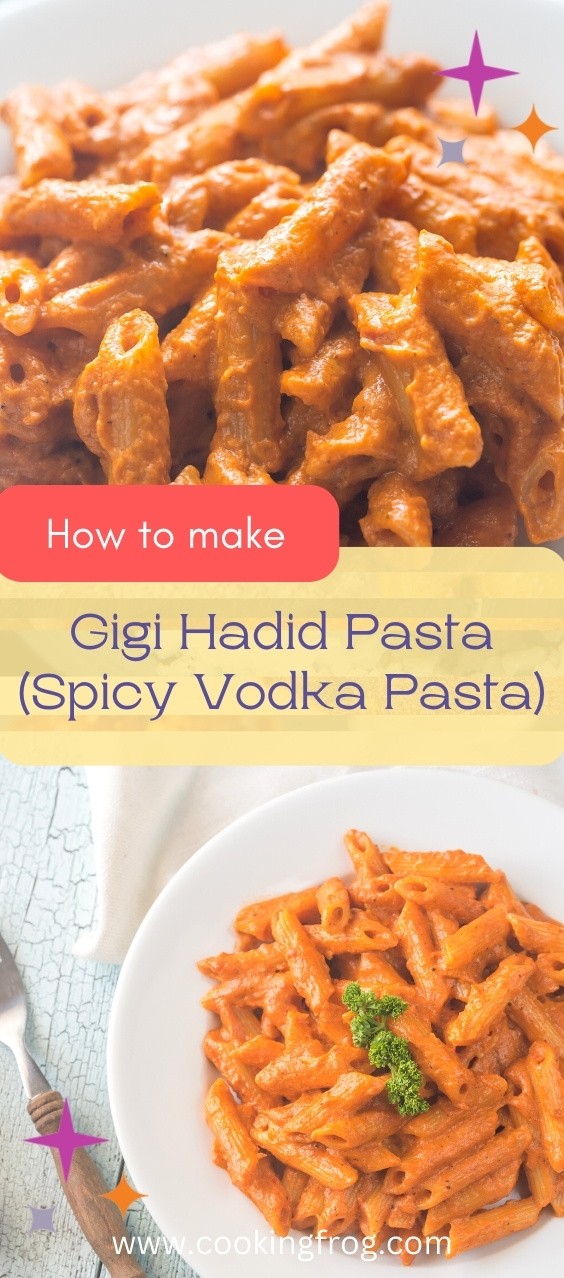 FAQs
Is Gigi Hadid's pasta hot?
Yes, if you add the red pepper flakes, the vodka spaghetti will become hot. To eliminate the heat, omit the red pepper flakes; the meal will still be wonderful. You may replace the red pepper chile flakes in the sauce with grated parmesan for a cheesier taste.
What are the ingredients for Gigi Hadid pasta?
To create Gigi Hadid's spicy vodka pasta, you need a handful of basic Italian ingredients, like pasta, olive oil, shallots, garlic, and vodka! And you may add ingredients like mozzarella cheese or remove undesirable ones like garlic.
What type of pasta does Gigi Hadid use?
The original recipe for Gigi Hadid's spicy vodka pasta calls for shell pasta, but you can substitute whichever pasta you choose! Therefore, you may prepare it with penne pasta, ordinary wheat pasta, whole wheat pasta, linguine, rigatoni, or even gnocchi.
Is Gigi Hadid's vodka pasta worthy of its reputation?
Yes, it is 100% worth the effort, especially given the fact how easy it is to make it! This restaurant-quality spaghetti is extremely simple to prepare! It is creamy, rich, and made using simple, readily accessible ingredients.
What to add to Gigi Hadid's pasta?
You don't need to add anything to this recipe because it's delicious as it is. However, this recipe would benefit greatly from the addition of grilled chicken or shrimp.