If you are looking for a simple but flavorful recipe to relish on weekend nights, the homemade creamy Rasta pasta recipe is a great choice. The dish has its origin in the Caribbean Islands (Specifically Jamaica), which explains the colors and flavors in it. Though you can prepare this in just about 30 minutes, you will be surprised to note that this dish gives out a rich, creamy and spicy taste at the same time.
What is Exactly Rasta Pasta Recipe?
True to its Jamaican culture, Rasta Pasta is dominated by many colors, thanks to the colorful bell peppers used in it. Though pasta has its origins in Italy, the Rasta Pasta was first prepared in the Caribbean Island of Jamaica. Most of them believe that this dish was named Rasta Pasta, an ode to the Rastafarianism social movement prevalent on the island in the 1930s.
This dish was served as a vegetarian option in the initial days as people following this social movement didn't eat meat or poultry.
However, as time evolved, most of the people of the Caribbean Islands started enjoying this dish along with jerk chicken or shrimp. Looking for a simple recipe to cook this creamy and comforting dish? You have come to the right place, then.
Some Alternatives to Rasta Pasta Recipe
If you want to add more spice to your dish, you can also add a tablespoon of sliced jalapeno to the sliced bell peppers.
If you want the traditional coastal flavors of the sea, you can use 1 cup of full-fat coconut milk instead of heavy cream.
You can also add a cup of canned or fresh or roasted tomatoes for additional colors and flavors while adding the onions.
Instead of using chicken breasts, you can cook a pound of shrimp, just as we explained with chicken in the recipe above.
You can make this dish completely vegetarian as well. All you need to do is skip the chicken part completely and use vegetable stock instead of chicken broth while cooking the ingredients.
It is important to cook pasta in salted water and take it out al dente, which means it shouldn't be cooked entirely. The pasta will get cooked in the later stages of the recipe, so overcooking should be avoided. Please follow the instructions exactly to get your pasta cooked in the right consistency.
If you love to experiment with different flavors, you can add both chicken breasts and shrimp to the pasta. You can reserve this rich dish when you are calling friends over or on special weekend nights.
You can get authentic Jamaican Jerk Seasoning in almost all retail stores. However, you can make this at home when you have time. Store it in airtight jars so that you can use the seasoning whenever you need it. Almost all spices like cinnamon powder, cloves, nutmeg, ginger, salt, cayenne pepper, garlic, onion, thyme, and nutmeg, thyme, etc. make a part of this seasoning.
Though penne pasta works best for this recipe, you can also use other types like Fusilli, Fettuccine, Rigatoni and more.
If you don't have green onions, you can substitute them with shallots for unique flavors.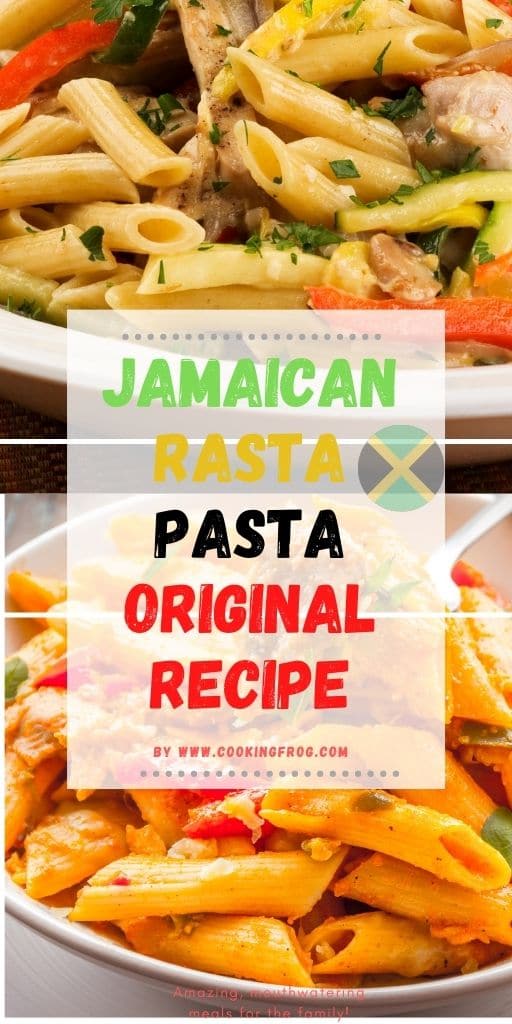 Ingredients
Penne Pasta – 1lb
Boneless chicken breasts – 3
Jerk seasoning – 2 tablespoons
Salt – as needed
Olive oil – 2 tablespoons
Sliced bell peppers – 1 each of green, red and yellow (or orange)
Sliced green onions – about 1/3 cup
Minced garlic – made from 3 cloves
Chicken broth – ½ cup
Full–fat cream – ¾ cup
Grated parmesan – ½ cup
Directions
The first step of making Rasta Pasta is to ensure that you cook the penne pasta well. Usually, the instruction for the quantity of water to be used and the time for cooking would be mentioned in the packet. Follow these instructions strictly.
Once pasta is cooked to the right consistency, drain all the water from it, and set it aside in a bowl.
It is now time to season the chicken breasts so that all flavors seep into the meat well. Season it with 1 tablespoon of jerk seasoning and the required quantity of salt.
Now, cook these seasoned chicken breasts on a skillet on medium flame for about 8 minutes. Before placing the breasts, apply about 1 tablespoon of olive oil on the skillet. Ensure you turn the sides at regular intervals. Switch off the flame when the breasts turn golden brown and the meat no more looks raw. Set aside the cooked chicken breasts to be relished along with the Rasta pasta that you are about to cook in the next step.
In a pan, add the remaining 1 tablespoon of olive oil and sauté the sliced bell peppers. Don't overcook them, as they need to be crunchy but soft. The bell peppers would be done in about 3 to 4 minutes.
Add the minced garlic and some green onions to this mixture and sauté well. Save some green onions for garnishing the recipe at the end. Cook the garlic and onions for a minute before adding the remaining jerk seasoning to the pan.
Once done, you can add the chicken broth and heavy cream to the mixture. Stir the contents well and allow them to simmer on medium-high flame for about 5 minutes. You will notice that the mixture becomes nice, thick, and creamy at this stage.
Once the mixture reaches this consistency, add the pasta, freshly-grated Parmesan cheese and cooked chicken breasts in the pan. Stir the contents well. Switch off the flame and give all the contents a nice toss so that you get to taste all the flavors in a spoon.
For the toppings of the Rasta Pasta, you can use the leftover green onion slices and more Parmesan Cheese.
Original Jamaican-flavored Rasta Pasta is now ready to be relished!