Slow Cooker Swedish meatballs recipe soaked in a delicious and flavorful sauce. The mix of tender pork, ground beef, and spices makes a comfy and satisfying meal. It serves as a light appetizer or an enjoyable meal, and it goes perfectly with egg noodles or mashed potatoes.
Slow Cooker Swedish Meatballs
Hello there from Cooking Frog; we're delighted to share this nice recipe for cooking Swedish meatballs with you. To make these juicy slow cooker meatballs, there are three key factors to know.
Choosing the right mixture of meat, cooking over a long period of time under controlled heat, and adding panade. I have experimented a lot of times with this meal to get the result so that every time you make them, you have the right balance of texture and taste.
The slow cooker is the perfect choice for braising meatballs for a long period of time. It should never go above the boiling point to prevent them from overcooking. With a slow cooker, the heating will be consistent enough.
Meatballs are simmered in a light and thickened beef broth, and to provide a rich taste, the cream is added just at the end of cooking. It is a meal that requires almost no effort to make.

Ingredients for Swedish Meatballs
In order to get meatballs that can be easily sliced with a teaspoon but have a nice texture, you'll need an equal amount of pork and ground beef. Pork adds a rich taste of sausage and a nice texture to them. Adding a mixture of panko breadcrumbs, cream, and eggs to the meat mixture helps to seal the delicious aromatic juices in each meatball. Adding grated onions in contrast to roughly chopped pieces provides savory notes without any crunch.
Compared to these traditional Italian meatballs, in this Swedish version, the warm spices that are commonly used in baking make almost all the difference. The allspice and grated nutmeg blend beautifully with the creamy sauce. The taste is very similar to the famous bechamel sauce. Emphasizing the taste of autumn and winter, it is a surprisingly appetizing meal.

How to Make Slow-Cooker Swedish Meatballs?
Cook the meatballs until they have a sturdy texture and brown color and release flavor.
After that, make gravy for the meatballs but make sure that it is thick enough and add it to the slow cooker.
At the end of the cooking, stir the cream to prevent the clots in the sauce.
Cook the meatballs slowly for about 100-120 minutes at a high setting or 4 to 5 hours at a low temperature. To keep them warm until you're ready to serve, you can keep them in a pot on a low heating temperature. These Swedish meatballs are very convenient to be prepared ahead of time for dinner or parties. This meal is best served with some homemade mashed potatoes or noodles of your choice. Believe me, this sauce can go over everything, and this recipe is designed so that the sauce is very rich and tasty. If you make this meal just once, it will be on at least once a week dinner menu, which is easy to make!
Share the image below to your Pinterest board if you like these Slow cooker Swedish Meatballs!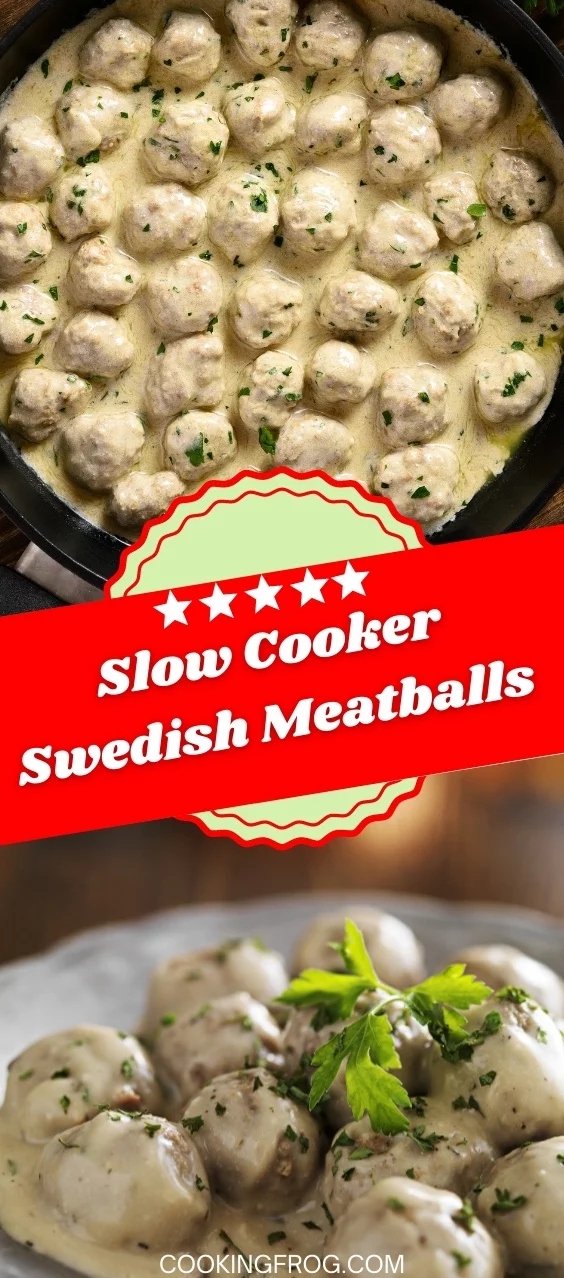 1 teaspoon of minced garlic
2 teaspoons of kosher salt
1 cup of heavy cream
1 whole egg
1/2 cup of panko breadcrumbs
8 ounces of ground pork
1 grated yellow onion
1/4 teaspoon nutmeg
A pinch of allspice
1/4 teaspoon of black pepper
8 ounces of ground beef
3 tablespoons of butter
3 tablespoons of flour
3 cups of beef broth, unsalted
lemon juice
1 tablespoon of chopped parsley
Instructions
Whisk together ¼ cup egg and cream in a medium size bowl.
Add panko breadcrumbs to the mixture and stir it nicely.
Add pork, garlic, grated onion, baking powder, a teaspoon of salt, allspice, nutmeg, and black pepper. Put it all in a large bowl.
To mix and combine, use your hand and mix until consistent in appearance, do it for about 1 minute.
Add the panade breadcrumbs and mix with your hand to combine until smooth for another minute.
Add in the beef and mix with your hands until combined nicely; this will take less than a minute.
Next, roll the meatball mixture into two spoon-sized balls, about 18 total.
Take a large skillet and heat over medium temperature. Add a tablespoon of extra virgin olive oil; once it's warm enough, add the meatballs.
Cook the meatballs for 5-6 minutes. Lower the heat to medium and turn over and cook for 3-4 minutes more.
Do not discard the pan before moving the meatballs to the slow cooker
Heat the pan until it reaches medium temperature; add butter and flour, whisk to combine, and cook for another 30-40 seconds.
Slowly whisk the beef broth, and scrape up any browned parts in the pan.
When the broth is at the boiling point, whisk the sauce until it thickens, this will take about one minute.
Turn the heat off, whisk in one and a half teaspoons of salt, and place the sauce in the slow cooker.
Keep the meatballs covered and cook them for 100-120 minutes at a high setting or 4 to 5 hours at a low temperature.
Squeeze the lemon in half a cup of heavy cream and stir.
Make sure to taste the sauce and season it with salt and pepper according to your taste.
Decorate the meatballs with parsley.