Are you looking to switch up your typical meatball recipe? Enter these Smoked Meatballs, where classic ground beef meets a sweet BBQ glaze.
This recipe takes the classical ground beef base, enhances it with aromatic herbs, and then introduces a game-changing BBQ sauce made from a combination of classic BBQ, honey, and brown sugar. This blend ensures each meatball is juicy and flavorful and has that distinctive smoky note that sets it apart.
Excellent for both weekday dinners and special events, these smoked meatballs are a delightful twist on a traditional, offering both familiarity and a refreshing taste experience. Let's explore the ingredients and steps to get this dish to your dining table.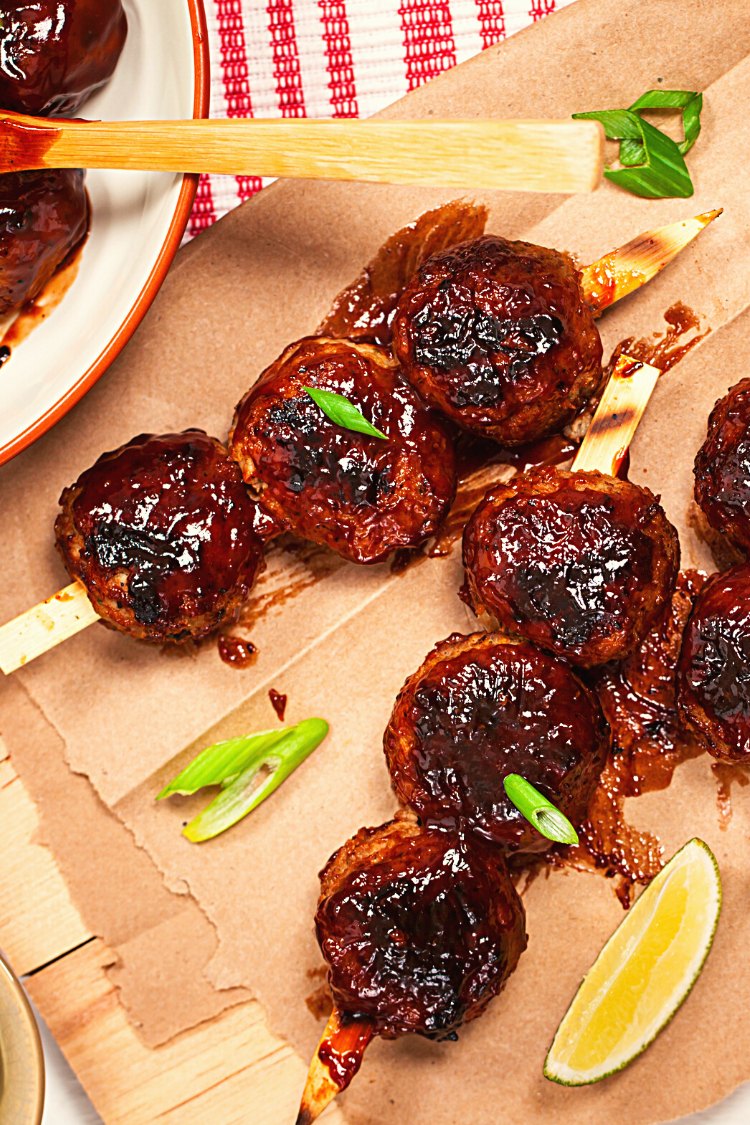 Why These Smoked Meatballs Are a Must-Try:
Unique Flavor Profile: Smoking the meatballs introduces an unparalleled richness of flavor. The smoky aroma mixed with the sweet and tangy BBQ glaze is a match made in culinary heaven.
Versatility: These meatballs are perfect for appetizers, sandwich fillers, or even the main course with spaghetti or mashed potatoes.
Crowd-Pleaser: Whether it's a family dinner, a BBQ party, or a potluck, these meatballs will surely be a hit.
Serving Suggestions:
Spaghetti & Meatballs: Toss your meatballs with some spaghetti and marinara sauce for a smoky twist on the traditional spaghetti meatballs.
Meatball Sub: Place the meatballs in a sub roll, top with some mozzarella and the BBQ glaze, and broil until the cheese liquefies.
On Skewers: Serve these meatballs on skewers as appetizers. The BBQ glaze makes them finger-licking good!
Smoky Meatball Sliders: Use mini buns to create meatball sliders. Place a meatball on each, top with a slice of cheddar cheese or mozzarella, a dollop of the BBQ glaze, and some lettuce. Perfect for parties!
Meatball Salad: Toss arugula or spinach with some olive oil, lemon juice, cherry tomatoes, and olives. Top with hot meatballs and drizzle with the BBQ glaze.
Rice and Meatballs: Serve these smoked meatballs on steamed rice or risotto bed. The BBQ glaze acts as a delightful sauce.
Loaded Meatball Pizza: Use these meatballs as a topping for your homemade pizza. Slice them up, spread them over your pizza base, add your favorite veggies, cheese, and bake!
Variations to Experiment With:
Cheese Center: Stuff your meatballs with a cube of fresh mozzarella or cheddar for a cheesy surprise in the middle.
Herb Infusion: Add some fresh basil or oregano to the meat mixture for an aromatic touch.
Spicy Kick: Add some red pepper flakes or diced jalapeños to the mix for those who like it hot.
Veggie Boost: Mix finely chopped bell peppers or zucchini into the meatball mixture for an added veggie boost.
Asian Twist: Swap the BBQ glaze with a teriyaki glaze and sprinkle some sesame seeds for an Asian-inspired variation.
Mediterranean Flair: Add some feta cheese and olives to the meat mixture and swap parsley with fresh mint.
Taco Meatballs: Introduce taco seasoning to the beef mixture and serve with guacamole and salsa on the side.
Bacon-Wrapped: For an extra layer of flavor and smokiness, wrap each meatball in a bacon strip, like in the photo below, before smoking.
With these variations, the recipe becomes more versatile and caters to a broader range of taste preferences. Whether you're hosting a dinner party or just looking for a twist on a classic, these smoked meatballs will surely be everyone's favorite!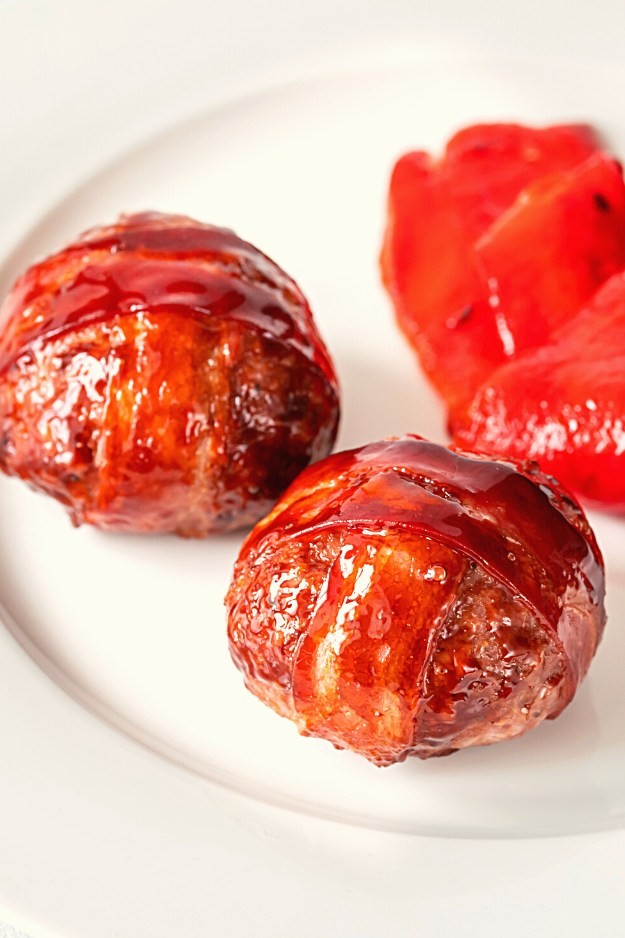 Smoked Meatballs Recipe
Introducing our Smoked Meatballs: a lovely blend of classic meatball excellence with a hint of BBQ sweetness. Perfect for those evenings when you're yearning for something familiar yet slightly adventurous.
Ingredients:
For the Meatballs:
1 lb Ground beef
2 Eggs
1 cup Breadcrumbs
1/2 cup Parmesan cheese, grated
1/4 cup Fresh parsley, chopped
3 Garlic cloves, minced
1 tsp Salt
1/2 tsp Pepper
For the BBQ Glaze:
1 cup BBQ sauce
1/4 cup Honey
2 tbsp Brown sugar
Instructions
Preparation: Mix the ground beef, eggs, breadcrumbs, parmesan cheese, parsley, minced garlic, salt, and pepper in a large bowl. Make sure everything is well blended without overmixing.
Shape: Roll your mixture into golf ball-sized meatballs.
Smoke: Preheat your smoker to 200F. Place the meatballs inside the smoker and let them smoke until they're cooked through and have soaked that lovely smoky flavor. It should take around 1 to 1 1/2 hours.
Glaze: While the meatballs are smoking, prepare your BBQ glaze. Combine the BBQ sauce, honey, and brown sugar in a saucepan. Let it simmer until it thickens slightly. Brush this glaze over the meatballs in the last 10 minutes of smoking.
Serve: Once glazed and smoked to perfection, serve your meatballs hot and enjoy the burst of flavors!
Think our Smoked Meatballs are a hit? Slide that photo below onto your Pinterest board. Who knows, it might just become the talk of your next dinner chat! 🙂