This Homemade Beef Tapa Filipino Recipe is an authentic dish that has its origin in the Philippines. Tapa is usually made from cured and dried meat. Though beef is most commonly used for making tapa, other dishes like mutton, horse meat, and venison are also used for making this lovely dish. It is the main course, prepared in a traditional way in the Philippines.
Thin strips of beef (or any other meat) are first cured with salt and spices before they undergo a conventional preservation method to prepare delicious tapas. It can be served with rice, fried eggs, ketchup, sliced tomatoes, or any other side dish you want.
Tapa, or Thapa, in the Filipino dialect, means "smoked." In the earlier days, tapa was usually made from smoked fish. Only later, other types of meat were used for making this dish. Today, beef tapa is one of the most-loved dishes (besides this famous Filipino chicken adobo) by people all over the world, and this dish has brought Filipino cuisine to the limelight indeed!
Tips for Cooking Beef Tapa the perfect way
To ensure that the spices seep into the meat well and the beef cooks well, you should always make very thin slices of the meat. Filipino cooking experts recommend freezing the meat for 10 to 15 minutes to make thin slices easily.
You don't have to stick only to the ingredients mentioned here. You can use your creativity with the ingredients available in your area. For example, if you cannot find calamansi juice in a store near you, don't worry. You can always substitute it with lemon juice, vinegar, or wine.
While marinating the beef in the refrigerator, it is highly recommended that you only do so for about 8 to 10 hours. Marinating the meat for a long time will take away the taste from the beef because the protein fibers will lose their natural taste.
Beef tapa tastes awesome when you use sirloin or the tender cut of the meat. These will cook in about 5 minutes. However, if you are not able to find sirloin, you can also use tougher cuts of meat. After marinating the tough cuts of meat, you can cook them with a bit of water to allow them to turn soft and tender. Once they turn tender, you can cook the meat with oil and switch off the stove when it turns golden brown.
The best way to serve this beef tapa is with garlic fried rice and sunny-side-up eggs. This combination makes for a wholesome breakfast option.
Some changes you can try with beef tapa
For the marinating ingredients, you can use ¼ cup of coconut sugar, two tablespoons of fish sauce, one tablespoon of tamarind soy sauce, and ½ teaspoon of baking soda, along with the usual calamansi juice and soy sauce. With these ingredients, you may marinate the beef for about 5 to 6 hours.
Though beef tapa is a Philippines-based dish, you can also add/delete certain ingredients to make it belong to your country. For example, to make it a Thai-based curry, you can mix certain authentic Thai ingredients like two tablespoons of lemongrass, one teaspoon of kaafir lime leaves, and two tablespoons of coriander roots to the normal marinating elements to make delicious beef tapas. It is enough for these ingredients to keep the meat marinated for about 4 hours. While serving, don't forget to serve beef tapa with pickled cucumber.
To make Japan-based beef tapa, the unique marinating ingredients you can use are equal measures (about ¾ cups each) of Japanese soy sauce, Japanese sweet rice wine, and cooking sake, one teaspoon of butter, and four teaspoons of special Japanese chili powder. Mix all the ingredients with the thin slices of beef and marinate them for about 3 to 4 hours before frying them as usual and serving the tapa with rice and eggs.
As you can see, as long as you take care of the beef cuts and the marinating time, you can make fantastic Filipino beef tapas. This dish requires a lot of time only for the marinating spices to seep in. You can cook the tapas in minutes if the meat is marinated well. Ensure you always choose the right type of beef cut to make delicious beef tapa.
Pin the image below on your Pinterest board if you like this Filipino Beef Tapa Recipe!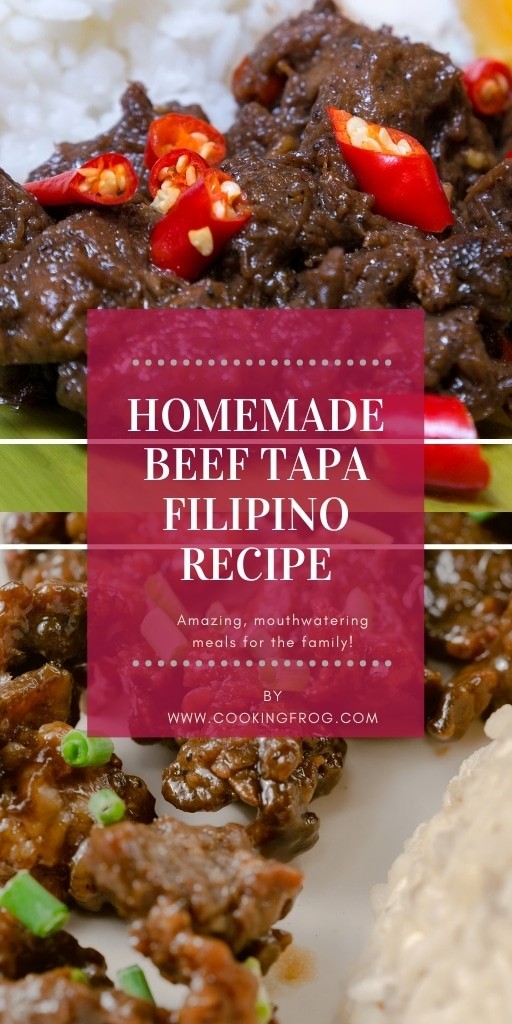 Homemade Beef Tapa Filipino Recipe
Ok, it's time to make another fantastic Filipino dish, so gather the ingredients, and let's start with Beff Tapa Recipe!
Ingredients
Soy Sauce – ½ cup
Calamansi Juice – ¼ cup
Garlic – Peeled and crushed (about 1 head)
Sugar – 2 tablespoons
Salt – ½ teaspoon
Freshly ground pepper – ¼ teaspoon
Beef Sirloin – 3 pounds (ensure you cut the meat into very thin slices)
Canola oil – as needed
Instructions
Take a big bowl and mix all the ingredients except beef and canola oil in it.
Mix the contents well until the sugar and salt crystals dissolve completely.
Now add the beef slices to the mixture and place it in such a way that the meat is fully coated with this mixture.
Keep the bowl in the fridge for about 8 to 10 hours. This is the time needed for the beef slices to cure.
After 8 hours, take out the marinated beef from the refrigerator. Drain off any liquid left in the meat.
Place a pan on the stove on medium heat, and apply about 1 or 2 tablespoons of canola oil on the pan.
Add the marinated beef to the pan and cook for about 3 to 5 minutes. Keep turning the sides frequently to ensure even cooking of the slices. Wait until all the liquid is absorbed from the pan.
Keep cooking until the slices turn golden brown.
Once they turn golden brown, switch off the stove and serve with other authentic Filipino dishes like sinangag (garlic fried rice) and itlog (fried egg).