Are you ready for another amazing Filipino dish? For breakfast, lunch, or supper, try our delectable Chicken Tocino Recipe. It's composed of pineapple juice, brown sugar, garlic powder, ketchup, and chili sauce. The Chicken Tocino recipe is an excellent genuine Filipino dinner.
This Filipino recipe is so delicious but, at the same time, simple to make. What more could you want?
All you have to do is throw all the ingredients in a bowl and stick it in the fridge to seal in all those amazing flavors. After that, you boil it in the sauce to reduce the liquid and make it sticky, and then pan fry it. That's it; you're done.
It's going to taste absolutely amazing! Let's begin.
What is Chicken Tocino?
Tocino is a Philippine meal usually served for breakfast but also an excellent choice for dinner or lunch, accompanied by rice and a sunny-side-up egg cooked in butter. The meat is usually left in a marinade overnight. Pork and chicken are popular meats in the Philippines, and this dish may be made with either pork or chicken. In our dish, we've chosen to use chicken.
Let me tell you something: this Chicken Tocino recipe is a game-changer. The chicken is marinated in delicious taste and has a little bit of crunch from the caramelized sauce.
It's an excellent dish to have on hand for a quick and delectable dinner or even just as a delicious supper any day of the week.
The dish is also a favorite among children and adults, so you're sure to keep everyone satisfied.
To get the red Chicken Tocino color, you can use annatto powder. This is optional.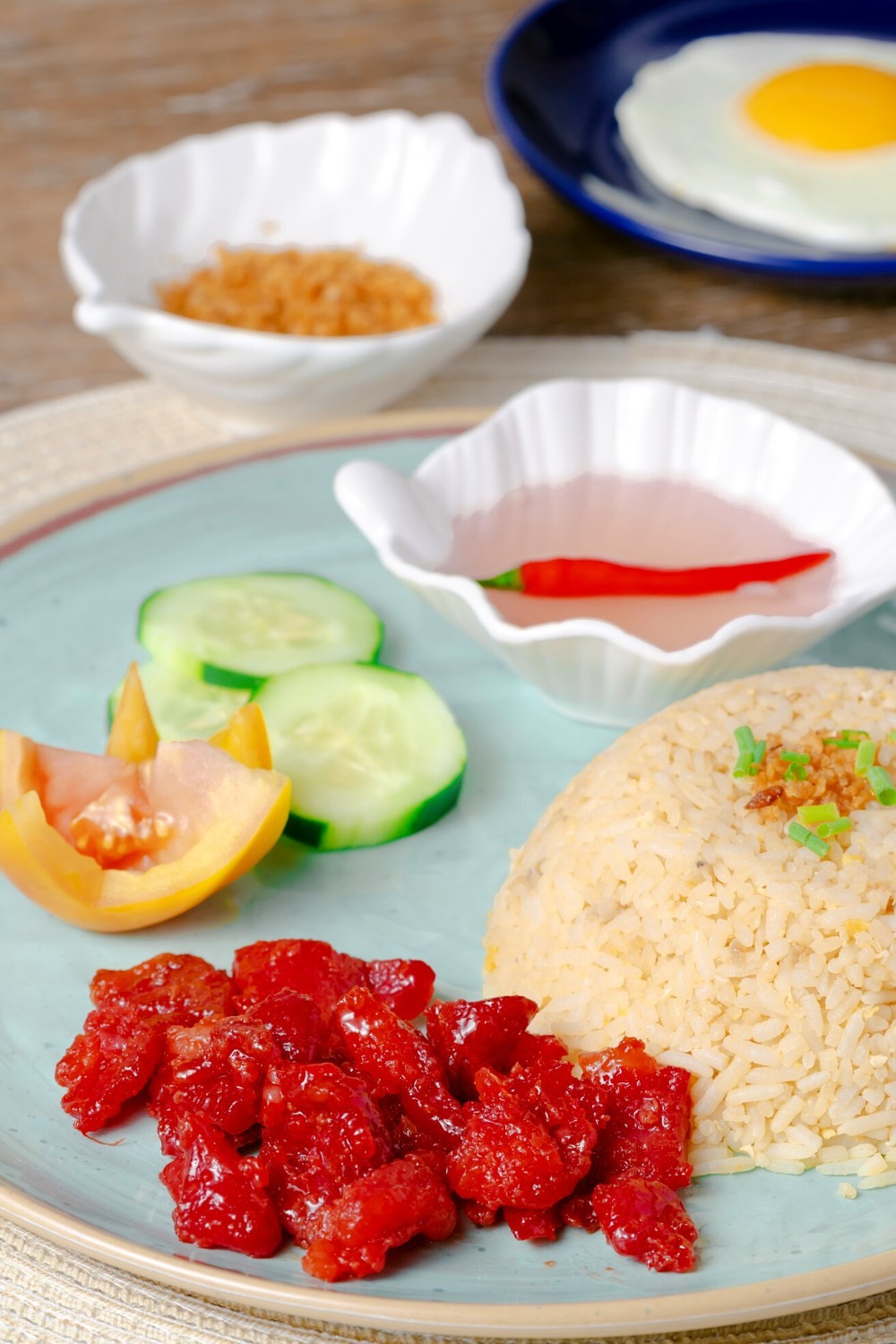 Ingredients for Chicken Tocino
The Chicken Tocino recipe is an excellent substitute for pork or beef tocino. As you know, chicken is healthier than the other two types of meat since it has less fat. Chicken tocino is a flavorful dish that's savory and tangy with a little bit of spice and sweetness.
All you'll need for this Filipino dish are the following ingredients:
1 pound of your favorite cut of chicken (breast or thighs) in chunks
1 can (8 oz) pineapple chunks plus juice if desired, or 1 cup of fresh pineapple cubes ->
3 tablespoons ketchup
3 tbsp brown sugar
2 tbsp chili sauce
1 tsp garlic powder
½ tsp salt
½ tsp black pepper Freshly ground black pepper
⅓ cup of water
Pinch of salt to taste.
Try using the following combination: 1 tablespoon oil and 1 teaspoon soy sauce.
How to Make Chicken Tocino
Cube the chicken meat and set it aside. In a large mixing bowl, combine pineapple juice, ketchup, chili sauce, sugar, salt, and garlic powder or minced garlic.
Toss to coat with the marinade. Combine the chicken in the bowl and mix thoroughly. Cover and refrigerate for at least a day or more. Remove slices of chicken from the marinade and set aside, discarding the remaining marinade. Heat a large frying pan on medium-high and add cooking oil.
Place chicken on the hot pan and fry both sides for about 5-10 minutes or until golden brown. Remove and serve hot. Enjoy!
First Marinate the Chicken
Let your chicken marinade as long as possible, trust me. However, as long as you marinate it for at least 4 hours to cure the meat, it will still come out great. In a bowl, begin by combining your pineapple juice, ketchup, sugar, chili sauce, and seasonings.
After that, add your cubed chicken to the mixing bowl and allow it to marinate in the refrigerator for at least 4 hours or overnight.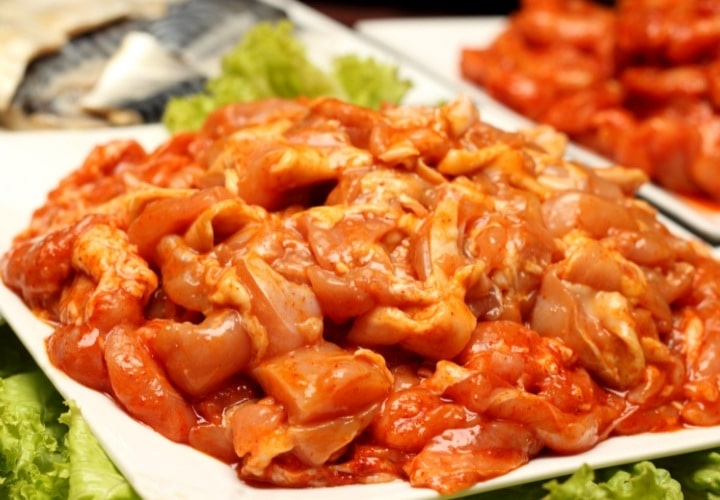 Next, boil the Tocino.
After all those flavors are locked in from the marinade, this step is to get all the extra liquid out. Put the chicken with the sauce in a pan over medium-high heat and let it start to boil. As it reduces, be careful that it doesn't burn.
Add the water in and let it cook out. As the sauce starts to become a glaze, be sure to keep things moving as the sugar in the sauce is very susceptible to burning, we want it to caramelize, not burn.
Lastly, Pan-fry and finish the dish.
We are almost done already! I told you it was easy; add oil and let it heat up. Start frying your chicken while continually tossing them. When the sauce gets dark and sticky, you know it's done—plate it with your rice and whatever other sides you choose.
Happy Eats!
Best way to reheat and store your Chicken Tocino
Step 1: Preheat the oven before proceeding. Set the oven to 350°F and let the chicken rest at room temperature while it warms up.
Step 2: Add moisture. When the oven is fully heated, place the chicken in a baking dish with several tablespoons of chicken stock or water—just enough so that there's a thin layer of liquid in the pan. Then cover the pan tightly with two layers of foil. The steam generated by the water will ensure that the meat stays juicy.
Step 3: Reheat. Place the chicken in the oven and leave it there until it reaches an internal temperature of 165°F. Remove your chicken from the oven once it has heated through; it should be juicy and delicious.
Freezing Leftovers
In general, most items will keep in the freezer for about three months. After that, you'll probably develop freezer burn. If you have a deep freezer, your frozen foods may last a bit longer since the freezer is opened and closed less frequently, and things at the bottom are less exposed.
When you are freezing cooked chicken tocino, a vacuum sealer might be a good option. I recommend sealing it in one-cup portions so that you can easily remove exactly what you need. Some vacuum sealers claim to keep freezer burn at bay for up to three years.
Now It's Your Turn To Make This Delicious Filipino Dish!
That's how you make delicious, tangy, and zany chicken Tocino at home! It's simple to prepare, features basic ingredients, and everyone who tries it will like it! Anyway, I hope you enjoy this chicken Tocino recipe as much as I do. Next time try Pork Tocino!
CHICKEN TOCINO RECIPE | AMAZING CHICKEN TOCINO RECIPE
This chicken Tocino is the ideal meal if you're in need of something rich in taste. It's tangy and savory, with just enough sweetness and a little bit of heat. It's also simple to make and contains just a few basic ingredients.
Cuisine: Filipino
Prep Time: 10 minutes
Cook Time: 10 minutes
Total Time: 20 minutes
Yield: 4 servings
Category: Breakfast
Method: Stovetop
Pin the image below if you like this chicken tocino recipe!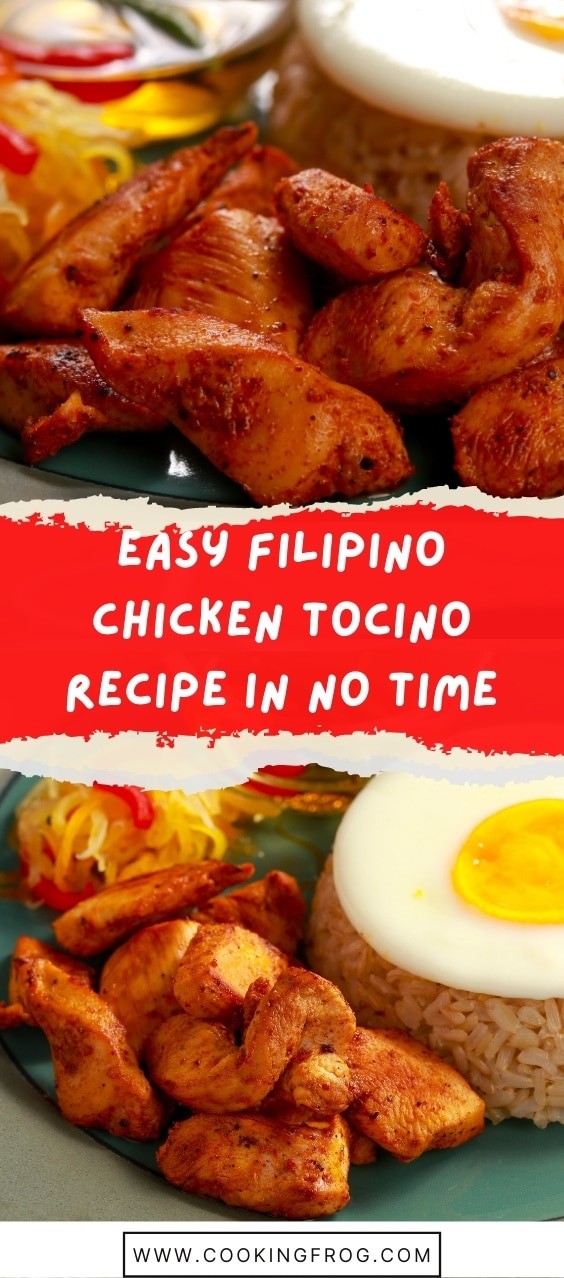 Ingredients
1 Pound cubed chicken (breast or thigh)
1/3 Cup of Pineapple Juice
3 TBSP brown sugar
4 tsp of chili sauce
3 TBSP of ketchup
1 TBSP of minced garlic
2 tsp of salt
2 tsp black pepper
Third cup of water
1 TBSP oil
1 tsp of soy sauce
for red food coloring, you can use annatto powder (optional)
Instructions
In a mixing dish, combine pineapple juice, ketchup, brown sugar, chili sauce, soy sauce, garlic powder, salt, pepper and annatto powder.
Add the chicken and combine well. Place all in the zip lock bag and refrigerate overnight.
In a saucepan, bring the chicken and the marinade to a boil. Add water and continue boiling until the water has evaporated and the chicken is cooked.
Add oil to a pan over medium heat and cook the chicken until caramelized.
Serve with garlic fried rice, a fried egg, and sliced pepper on the side.
Video Instructions
Nutrition
Serving Size: per 1 serving

Calories: 178

Fat: 9g

Carbohydrates: 12

Fiber: 0

Protein: 16g