Are you ready for another amazing Filipino dish? For breakfast, lunch, or supper, try our delectable Chicken Tocino Recipe. It's composed of pineapple juice, brown sugar, garlic powder, ketchup, and chili sauce. The Chicken Tocino recipe is an excellent genuine Filipino dinner.
This Filipino recipe is so delicious but, at the same time, simple to make. What more could you want?
All you have to do is throw all the ingredients in a bowl and stick it in the fridge to seal in all those amazing flavors. After that, you boil it in the sauce to reduce the liquid and make it sticky, and then pan fry it. That's it; you're done.
It's going to taste absolutely amazing! Let's begin.
What is Chicken Tocino?
Tocino is a Philippine meal usually served for breakfast but also an excellent choice for dinner or lunch, accompanied by rice and a sunny-side-up egg cooked in butter. The meat is usually left in a marinade overnight. Pork and chicken are popular meats in the Philippines, and this dish may be made with either pork or chicken. In our dish, we've chosen to use chicken.
Let me tell you something: this Chicken Tocino recipe is a game-changer. The chicken is marinated in delicious taste and has a little bit of crunch from the caramelized sauce.
It's an excellent dish to have on hand for a quick and delectable dinner or even just as a delicious supper any day of the week.
The dish is also a favorite among children and adults, so you're sure to keep everyone satisfied.
To get the red Chicken Tocino color, you can use annatto powder. This is optional.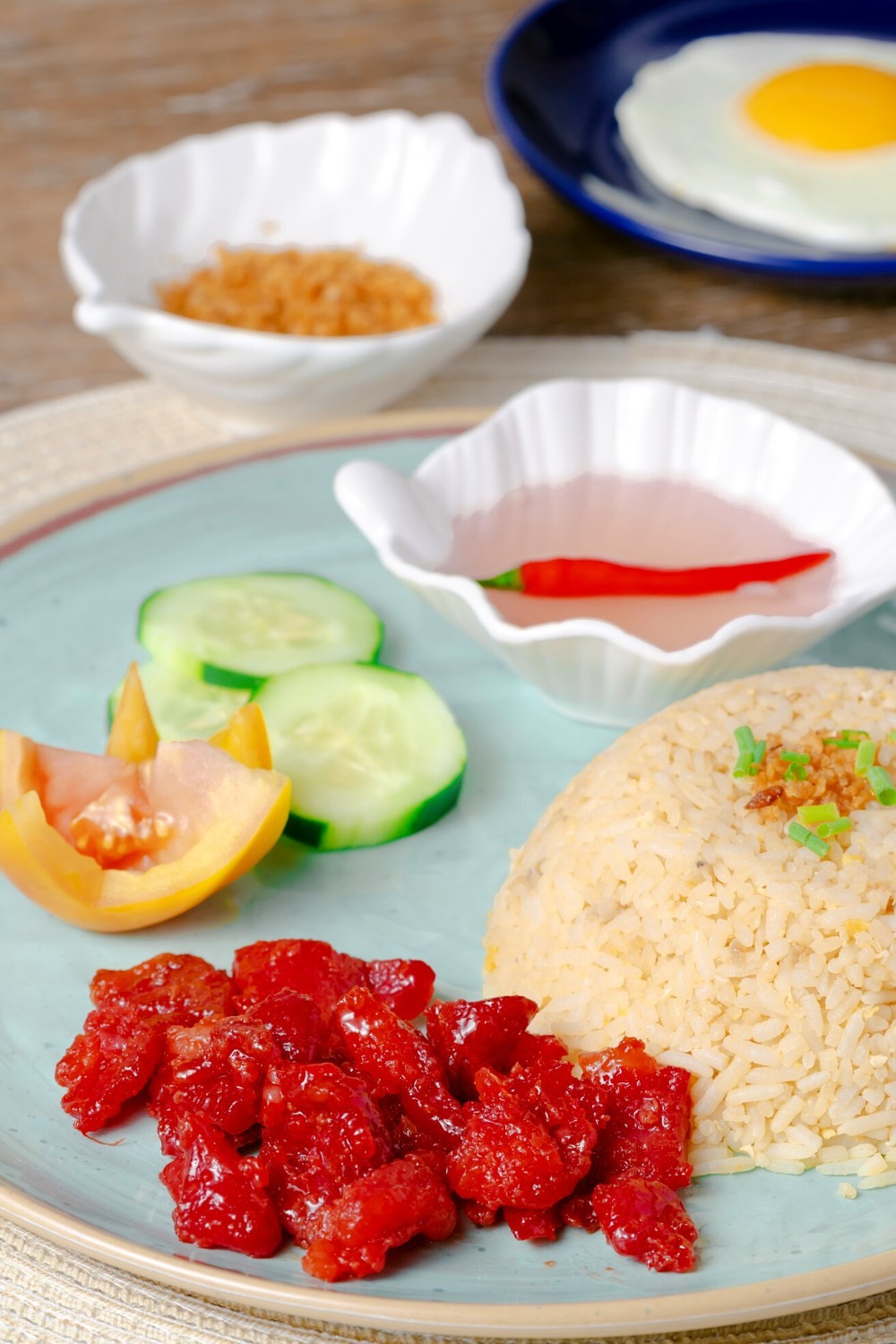 Chicken Tocino Recipe
Ingredients
1 Pound cubed chicken (breast or thigh)
1/3 Cup of Pineapple Juice
3 TBSP brown sugar
4 tsp of chili sauce
3 TBSP of ketchup
1 TBSP of minced garlic
2 tsp of salt
2 tsp black pepper
Third cup of water
1 TBSP oil
1 tsp of soy sauce
for red food coloring, you can use annatto powder (optional)
Instructions
Prepare the Marinade: In a large mixing bowl, combine pineapple juice, ketchup, brown sugar, chili sauce, soy sauce, garlic powder, salt, pepper, and annatto powder. Stir these ingredients until well mixed.
Marinate the Chicken: Add your chicken pieces to the bowl with the marinade. Toss them gently to ensure they are fully coated. Transfer the chicken and marinade into a zip lock bag. Seal the bag, ensuring there's little air inside.
Refrigerate: Place the bag in the refrigerator. Let the chicken marinate overnight to absorb all the flavors.
Cook the Chicken: The next day, pour the contents of the zip lock bag (chicken and marinade) into a saucepan. Bring it to a boil over medium heat. Add a small amount of water and continue boiling. Keep boiling until the water has mostly evaporated and the chicken is thoroughly cooked.
Caramelize the Chicken: In a separate pan, heat some cooking oil over medium heat. Add the cooked chicken pieces to the pan. Fry them until they achieve a nice caramelized, slightly crispy exterior.
Serve: Plate the caramelized chicken tocino with a side of garlic fried rice and a fried egg. Add some sliced pepper for extra flavor and color.
Tips
Marinating Time: The longer you marinate the chicken, the more flavorful it will be. Overnight marination is recommended for the best taste.
Adjust Spiciness: Feel free to adjust the amount of chili sauce based on your preferred spice level.
Serving Suggestion: For a complete meal, serve this with a cup of steaming garlic fried rice, a sunny-side-up egg, and some fresh vegetables or a salad.
Love this Chicken Tocino recipe? Share the joy by pinning the image below! Let's spread the deliciousness together!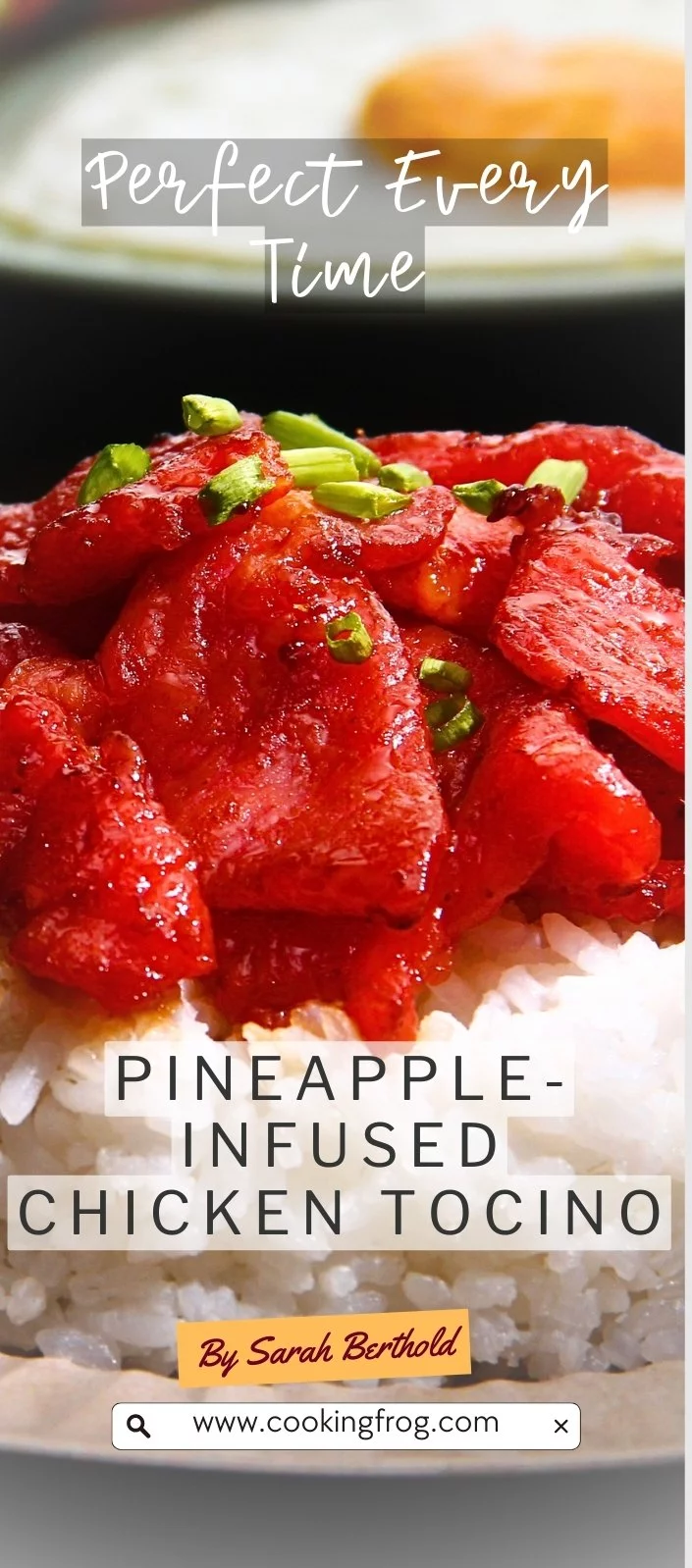 Video Instructions
Nutrition
Serving Size: per 1 serving

Calories: 178

Fat: 9g

Carbohydrates: 12

Fiber: 0

Protein: 16g