This Peanut Free Pad Thai Recipe is as tasty as the version that includes peanuts. Keeping all the flavors of original Pad Thai Recipe, is a treat to all that have allergy to peanuts, as well as for those that don't.
Peanut Free Pad Thai
When I asked the question to some of my friends "If you're not limited by any food allergies, what meals would you order from Asian restaurants?" A lot of them responded with a peanut-free Pad Thai. I believe many would agree and it's my personal favorite dish to order at a Thai restaurant.
However since my of my kids has a history of reacting to peanuts, Thai food generally was a rare treat in our home, so rare that I can barely remember when I made it last time.
I've made a lot of Thai recipes before, even on this site I have a recipe that is very popular. However, with my present situation, i must adjust. So I've decided to make it taste even better than the version that includes peanuts. Before that, I would like to talk about the analysis of Pad Thai Allergens because I've mastered the subject and feel obligated to share my findings with you.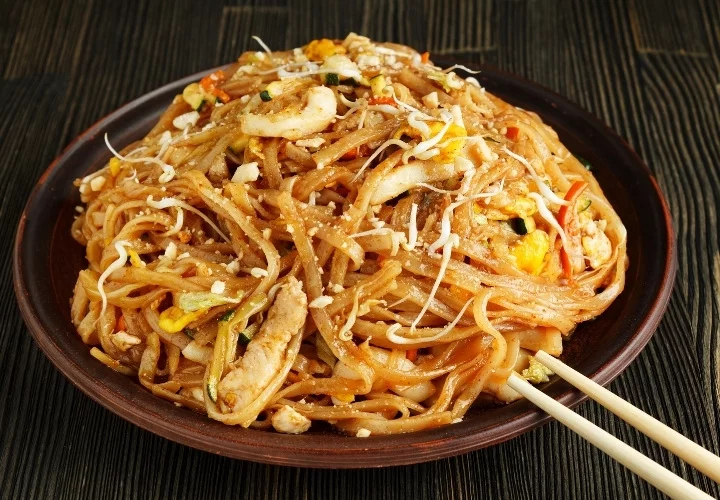 Analysis of Pad Thai's Allergens
A normal Pad Thai dish might be an allergy landmine with most of the top 8 allergens in it. It may have fish sauce, shrimp, peanuts or sometimes cashews, eggs, tofu, and also the soy sauce (that contains wheat) and wheat starch (if you use fresh noodles rather than dried rice noodles).
You can find possibly 6-7 out from the 8 top allergens, except dairy ingredients.
There's also a small possibility of cross-reactivity just because a traditional recipe for Pad Thai can include tamarind, a legume just like peanuts, beans, and soy. I was just able to locate one possible source of Info here but nothing peer-reviewed or scientific to confirm.
If you've got any concerns about tamarind, please discuss them together with your allergy doctor before adding in your dish. Since my kids don't like foods that are seasoned with Worcestershire sauce, that contains tamarind, I skipped it and used only a little extra lime juice instead and you can also use vinegar as well.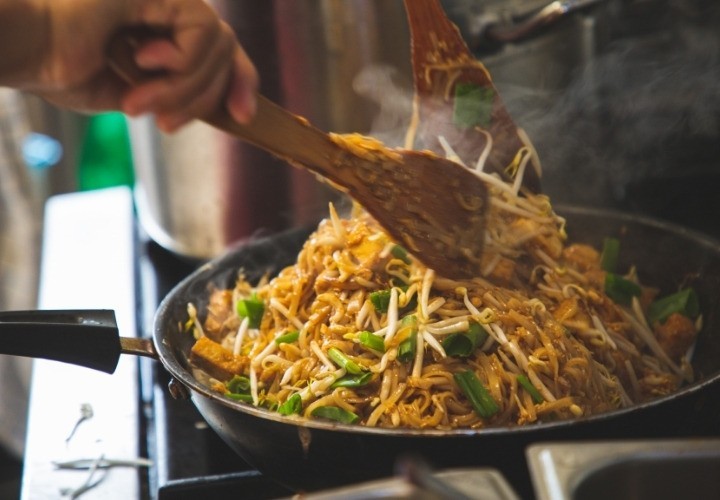 What makes Pad Thai So Great?
The important thing for making an excellent allergy-friendly Pad Thai is knowing why is Pad Thai so good by taking a glance at how it's made in Thailand and how Thai chefs make it. I've discovered that Pad Thai needs to have a balance of sour, sweet and salty flavors.
Sweet: Some recipes use around 4 Tbsp of sugar and provide noodles a delectable caramelized flavor. I reduced the quantity of sugar to really make the dish healthier and used brown sugar. That is to offer the dish more depth of color, but white sugar works just as well.
Sour: As stated above, some recipes demand tamarind paste or tamarind juice. But I replaced it and used lime juice instead. If you happen have a lime available. You may also substitute with rice vinegar or vinegar, but lime is really a better choice if you're cooking for anyone who must avoid gluten.
Salty: I like to use Red Boat Fish Sauce, made in a fish-only facility and is gluten-free. It appears only a little pricey ($9 for a tiny bottle). But I'm so pleased with my purchase that I'm almost out and will obtain a larger bottle next time. I've purchased bottles of fish sauce from the Asian market before at a low price but they're not to my liking. Other brands reek and don't taste so good. I love fish sauce since tasting Red Boat. Proceed and purchase Red Boat fish sauce and thank me later in the comments. If you need to avoid fish, then you can certainly substitute it with soy sauce and other soy sauce alternatives.
Homemade Pad Thai That is Both Allergy Friendly and Authentic
The nature of cooking for anyone with food allergies involves substitutes and modified recipes. But I've wanted to be cautious not to change it to the level of making something different and calling it Pad Thai.
Some individuals may want to substitute the crunch and flavor of peanuts with crushed sunflower seeds. Which really is a great alternative for those for folks who aren't allergic to sunflower seeds. But when you use sunflower seed butter, then it becomes a recipe similar to sesame noodles. Or like dan dan mein, both that use peanut butter in the sauce and taste awesome but certainly not pad thai.
Within my quest to master why is Pad Thai authentic and resembles what is made and served from the street carts in Thailand, I've found that the reddish color is more of an American style. And using tomato ketchup to give Pad Thai a red color is critiqued.
Pad Thai gets its slightly red colorization when prepared with whole shrimp. When you take of the shell and the top, leave the juicy guts which turn red when you cook. Maybe shrimp heads and guts may appear unpleasant to the Americans, but whole shrimp is actually really tasty.
If utilizing the "nasty parts" from shrimp is really a deal-breaker, then try using paprika or sriracha. To supply the noodles a reddish color with only a little spicy kick. I bought my first bottle of sriracha sauce produced by|created by Huy Fong Foods, top 8 allergen free, gluten free, and certified Kosher with this recipe.
Authentic Pad Thai
Almost all traditional dishes use dried rice noodles, which are usually manufactured in rice-only facilities and top 8 allergen-free and gluten-free options (check with the producer to ensure). I buy packs of rice sticks produced by Walong and sold at 99 Ranch shops. Three Ladies is a brand name version with a contact number printed on the package for you to call if you need any info.
The rice stick noodles can be found in all kinds of widths, I prefer using medium or large-sized noodles with this recipe. These rice sticks are added in cold water for one hour till soft and pliable but I choose the ease of using fresh pad thai noodles since they are ready to utilize without soaking.
Fresh rice noodles can be found in Asian markets as well as other fresh rice noodle sheets, noodles, and rolls. Including the sort that's used for beef chow fun recipe. But, sometimes the fresh noodles would use wheat starch that might not be appropriate for people who are wheat-free or gluten free and could be produced on shared space with shrimp.
Shrimp for Pad Thai
I purchased some fresh shrimp with the shell on from an Asian market cause I was too cheap to get the shelled and was willing to cook shrimp. It tasted OK but I didn't like the additional flavor of shelling and deveining the shrimp.
For another test, I purchased frozen raw shrimp that's shelled and deveined. I needed some big juicy ones and found four different kinds at Trader Joe's: Argentine Red Shrimp ( shared space with fish), large cooked shrimp ( wheat, milk, egg, soy in the same location), wild blue shrimp (also fish in the facility), raw shrimp ( milk, soy, wheat at the facility). I really liked the blue wild shrimp the very best since the big shrimp was so meaty and featured a nice texture.
The allergy advisories are available for phone conversations. I suggest calling to test on your own before buying and consuming. You might genuinely believe that shellfish will be free of peanuts and tree nuts inside their seafood processing locations. But it's subject to alter anytime, whenever and their langoustine tails have 3 nuts and other allergens inside the facility.
Some traditional Thai pad recipes may also include dried shrimp and sweet radishes. However, I did not include them, for the recipe to stay simple and use ingredients you'll find generally in most supermarkets.
It's possible also to use crushed sunflower seeds to replace peanuts. But I've left sunflower seeds out from the recipe to prevent any potential problems with the crunchy texture that could be related to peanuts.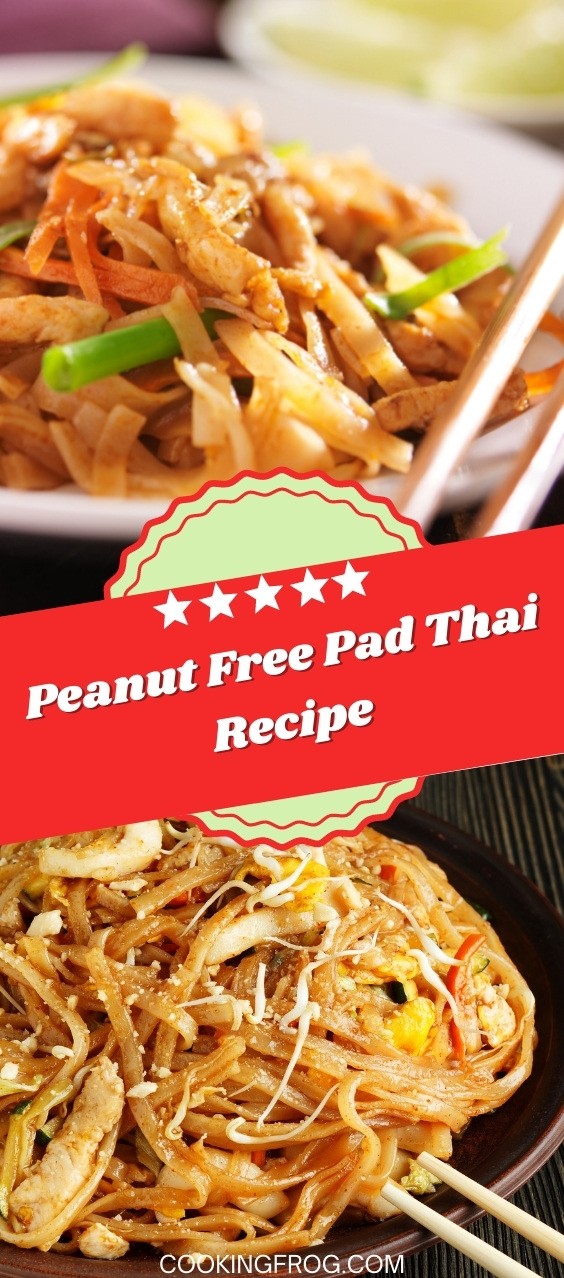 Ingredients
3 Tbsp of fish sauce
2 Tbsp of brown sugar
2 Tbsp of lime juice
1 tsp of sriracha sauce, optional to your liking
1 Tbsp of olive oil, or other vegetable oil
1/2 chopped yellow onion, medium size
3 garlic cloves minced
4 chopped stalks of scallions, 1-2 inch pieces and separate the white parts from the green parts
1 diced boneless skinless chicken thigh
8 large shelled shrimps, deveined
4 oz of firm tofu pressed, drained, pan-fried, and cubed
2 cups of mung bean sprouts
1/2 pound of fresh rice noodles
1/4 cup of hot water
2 whole eggs
for garnish, lime wedges
How to make Peanut Free Pad Thai Instructions
If you are using dried rice stick noodles, add them in a sizable bowl of cold water and soak for about one hour.
To make the sauce, mix the fish sauce, sugar, lime juice, and sriracha sauce (if using), and leave aside.
Warm-up a wok (or if you don't have one, use a frying pan) on medium-high temperature until a drop of water sizzles. Add 1 Tbsp of oil, and swirl to coat nicely.
Add in the onions and saute, white areas of scallions and garlic until fragrant, for around 30 seconds.
Place in the chicken and stir fry until it's about half-cooked, should take 2 minutes.
Add in the shrimp and stir fry also until half-cooked, for about 2 minutes more.
Add in the tofu, cup of bean sprouts, 1 / 2 of the remaining scallions, and noodles.
Keep stirring the sauce and noodles, and add 1/4 cup of warm water to the sauce and stir fry.
Slowly stir fry for a couple of minutes on medium-high temperature till the noodles nicely absorb sauce. No more than 5 minutes.
Move the noodles to one side of the wok or pan, and add one teaspoon of oil, add both eggs into the pan.
Break up the egg yolk and scramble slowly, so your egg white doesn't completely mix with the yolk till. No more than 3 minutes.
Stir the egg and noodles and serve on a dish with the remaining residual bean sprouts on the side.
Sprinkle the remaining portion of the scallions on the top and place the remaining bean sprouts for a wonderful crunch. Wedge of lime on the side for a good tart drizzle.