The simplest Sisig recipe you'll ever prepare! Sisig is the most renowned Kapampangan dish of all time! Have this quick and straightforward Sisig dish with a grilled pig belly! Crispy and hot, exactly how it should be.
What exactly is Sisig?
Sisig recipe is the most iconic Kapampangan cuisine in the Philippines, and it is attracting increasing popularity across the world. You can find Sisig dishes on the menus of most restaurants and Carinderias, which are small food vendors.
This Sisig Recipe is the modernized version of the Sisig most people know. Sisig, a Kapampangan term, means to eat any sour or unripe fruit with vinegar dressing.
Because of the vinegar and/or calamansi juice, it was historically a highly sour meal. Pork or other meat was not incorporated until much later.
Ingredients Needed for Sisig
Authentic Filipino Sisig recipe is prepared with pig head parts like snouts, ears, jowls, cheeks, and (believe it or not) pig brain. If you're not a big fan of them or are having difficulty locating such items, this recipe is for you! Here's what you'll require:
The pork belly is fatty but meaty, making it ideal for Sisig. It's easy to cook and can be found at any meat shop without question.
The two spices I use are garlic and onions. I also added green chili peppers to create a more aromatic flavor and red chilies to make it spicier!
Seasonings: soy sauce and liquid seasoning. If you've been limiting your salt consumption, choose reduced-salt soy sauce.
Liver pate, also referred to as the liver spread. It adds richness and taste to the Sisig.
Calamansi is also called calamondin or Filipino lime. This gives Sisig its distinctive tanginess taste. If you don't have Calamansi, It can be replaced with lemon or lime juice. However, the taste will be unmistakably different. A dash of vinegar can be incorporated for extra acidity.
Mayonnaise is frequently used as a replacement for pig brain, making Sisig rich and velvety. I've heard that sisig aficionados typically avoid using mayonnaise, but I enjoy it.
Eggs. It is optional, but you could top your Sisig with a fried egg.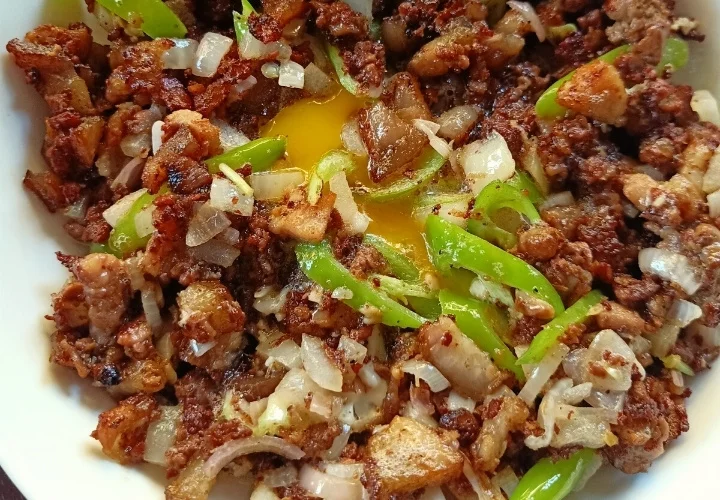 How to Cook Sisig with Pork Belly
Pork belly may be used in two main ways for Sisig. Both methods are simple and involve less work than traditional charcoal grilling.
Prepare it from scratch by boiling pork belly strips in water until soft. The time required to cook it is based on the size of the meat. Allow it to air dry for several minutes before seasoning it with salt. Fry till crisp in heated oil. You may also bake to avoid splatters.
Make use of leftovers – do you have any leftover Lechon or fried pork? Turn that into Sisig! That's all there is to it!
FAQs
How Do You Serve Sisig?
Serve Sisig immediately from the pan. Then garnish with additional raw onions and raw egg to make it extremely velvety (radiant heat will fry the egg, don't panic!) If feasible, move to a sizzling hot plate. I usually use a cast iron pan that doubles as a serving dish. It kept the heat far longer than a typical steel pan. Serve with rice by itself or with beer or your preferred ice-cold beverage.
What are the storage and shelf-life requirements?
Keep the leftovers in an airtight container in the refrigerator for 3 to 4 days. After that, freeze in a sealed container or heavy-duty freezer bags to prolong the shelf life. Thaw completely before cooking on the stove or in the microwave.
Can I use chicken liver paste instead of liver paste?
You may use raw chicken liver instead of liver paste.
To get ready: Season with pepper and a touch of salt before cutting into serving pieces and pan-frying until done but still soft. Avoid overcooking. Shred it with a fork, then put in the remaining sisig components shortly before the spices.
What's the difference between Traditional and Modern Sisig Recipe?
Sisig was adapted and evolved into what it is now because of the inventive thinking of Lucia Cunanan, a.k.a. "Aling Lucing," who served it in her Angeles City Carinderia. She devised a means to repurpose the pigs' heads that would otherwise be discarded by the distribution centers that made food for the American soldiers when they were stationed at Clark Airbase.
It quickly became famous as "pulutan," or beer food, at this late-night establishment. Later, a competitor, Benedicto Pamintuan, suggested presenting it on a sizzling platter. Not to be outdone, Aling Lucing began to feed her Sisig in the very same fashion.
In Pampanga, it is also commonly served as a side dish with rice. However, as a "pulutan," it is typically served on a sizzling platter and adorned with a raw egg in other localities.
Nowadays, there are many variants of the original pork Sisig, such as chicken Sisig, tuna Sisig, and squid Sisig, to mention a few. I've tasted many types of Sisig from all throughout the country.
Share the image below on your Pinterest board if you like this Sisig Recipe!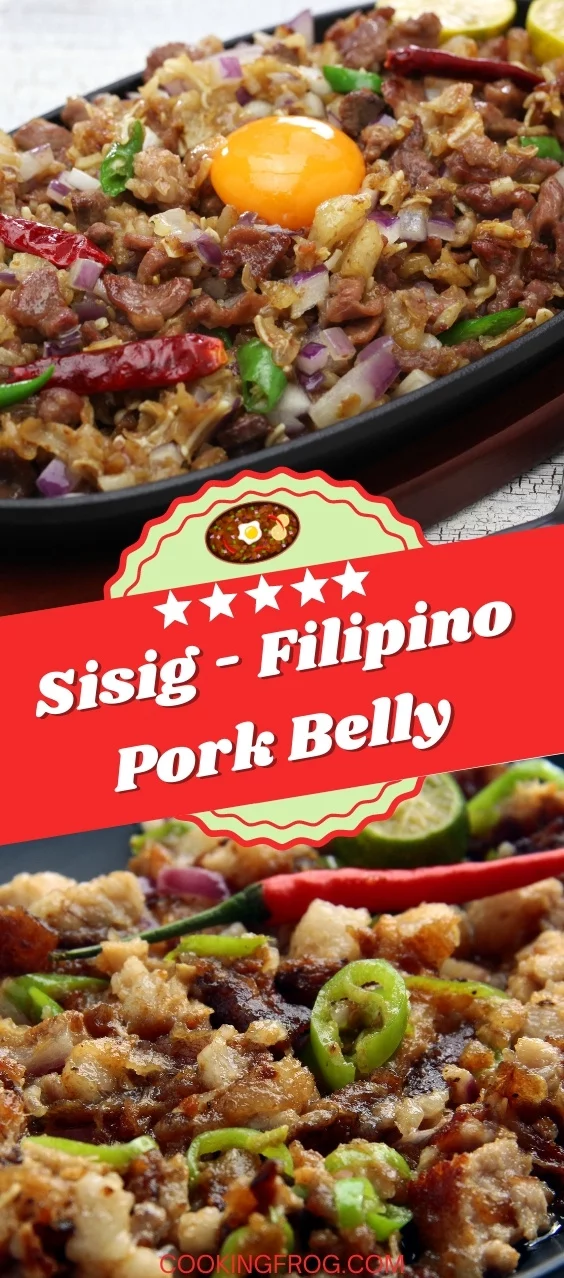 List of Ingredients
salt and pepper to taste
1 ½ tsp soy sauce
1 tbsp liquid seasoning (add more if you wish)
2 tbsp vegetable oil
2 tbsp calamansi juice (add more if you wish)
3 tbsp mayonnaise
3 cloves garlic
Chopped green and red chilies (with reduced seeds)
¼ cup liver spread
1 large onion
500 g pork belly (18 oz)
Water for boiling
1 Egg (optional)
Directions
Boil the pork belly for 30 to 40 minutes or until soft. Allow it to air dry before seasoning it with salt.
Pan-fry in hot oil until crisp, or oven-fry for 30 minutes at 230°C. Cut into small chunks. Set aside for some time.
In a skillet or cast-iron pan, heat the oil. Mix in the garlic and onions. Cook until caramelized. Mix in the red and green chilies. For a few seconds, whisk until aromatic.
Chop up some fried pig belly or Lechon and throw some in. Whisk together for 2 to 3 minutes. Next, put the liquid seasoning, soy sauce, liver paste, and 1⁄2 of the calamansi juice* into a mixing bowl.
Add the black pepper to taste.
Stir until the meat is thoroughly covered with the sauce.
Mix in the mayonnaise. If you want, top it with a raw egg and cook it in the remaining heat.
Take from the heat and top with additional raw onions. Serve hot on a serving dish or sizzling plate. If desired, add extra calamansi and liquid seasoning.
SISIG RECIPE TIPS AND SUGGESTIONS:
Pork belly – if possible, use leftover pork belly lechon or Lechon kawali.
Calamansi is another name for calamondin. If you substitute lemon or lime, the flavor variation will be evident. *
Knorr, Maggi, or Bragg Liquid Aminos are the best options
Liver paste – replace with two pieces of chicken liver
Season the chicken liver with calamansi, black pepper, and soy sauce. Cook for two minutes per side in heated oil. Mince with a fork before refrying till crispy.
More Filipino Recipes:
Homemade Beef Tapa Filipino Recipe
Authentic Pork Siopao Asado Recipe
Easy Chicken Tocino Recipe In No Time
Authentic Ensaymada Recipe (Filipino Buns)
Conclusion
I hope you've enjoyed this Filipino Sisig Recipe. If you follow my blog, you can see the pattern of me posting more and more Filipino recipes; no wonder they are amazing. Please let me know if you have any questions or suggestions about this Sisisg recipe down in the comments section, and I will reply. Thanks!