Here's my colorful, spicy rice recipe, a perfect clone of the famous Nando's Spicy Rice Recipe. This rice tastes so amazing. The blend of various spices and vegetables gives your every bite a unique flavor.
Nando's Spicy Rice
My love for this takeaway recipe inspired me to think about why I should not create this recipe at home. It's perfectly fair to cook this fantastic cuisine at home in pretty large quantities than opting for Nando's quite expensive takeaway.
Whether you have tried this rice earlier or not, get into reading this copycat Nando's Spicy Rice recipe, and you will find yourself mouthwatering.
Ingredients
Olive oil: 2 TBSP
Onion: 1
Red pepper: 1
Garlic cloves: 2
Canned tomatoes: 7 Oz
Cumin: 1 TSP
Frozen peas: 4 Oz
Cayenne pepper: ½ TSP
Salt: 1 TSP
Smoked paprika: ½ TSP
Turmeric: ½ TSP
Chicken Stock: 2 cups
Long grain rice: 1 cup
lemon juice: 1 TBPS
Directions
Cut the onion and red pepper into small diced cubes.
Put a pot on the stovetop, and add the olive oil. After that, add tiny bits of chopped onion and cook for 2 to 3 minutes.
Then add in chopped bell peppers. Mix, making sure everything is combined.
Cover it with a lid for 2 to 3 minutes on medium heat. When you hear that sizzling sound, put off the lid, stir it once.
Then add chopped garlic and cook further for 1 to 2 minutes on medium heat.
When the onions start getting some color and the pepper becomes soft, add in smoked paprika, chili flakes, turmeric, and canned tomatoes. Give a good stir around so that everything is nice and combined.
Cook for another 3 minutes with the lid on. If you feel that the mixture is getting drier, add in a bit of water. Just add a splash of water to avoid burning it.
After that, pour the chicken broth into the pan.
Then add the rice along with some salt and pepper. Mix it.
Now add in the frozen peas. Mix gently to combine peas with rice.
Then bring rice to a boil on very low heat for 5 minutes.
Take off the lid; the rice will get swollen by absorbing water.
Now add in the lemon juice.
Heat for another 10 minutes until the peas are cooked and all the water is absorbed.
Plate your Nando's rice and ENJOY!
Tips
Before beginning the preparation, soak the rice in water for nearly 30 minutes.
To minimize the starchiness in the final dish, thoroughly rinse the rice.
Check the package of the rice brand you're using to create this dish for the cooking time, as each rice brand has a different cooking time
Carefully pour in the water. If you use too much water, the rice will become gloppy. If you use less water, the rice will become undercooked.
Add the salt along with the broth. Stir it gently. It will uniformly distribute the salt throughout the rice, resulting in a pleasant flavor.
While the liquid simmers, keep the cover on the pot. To make your rice more appealing, do this step on a low flame.
Pin the image below if you like this Nando's Spicy Rice Copycat!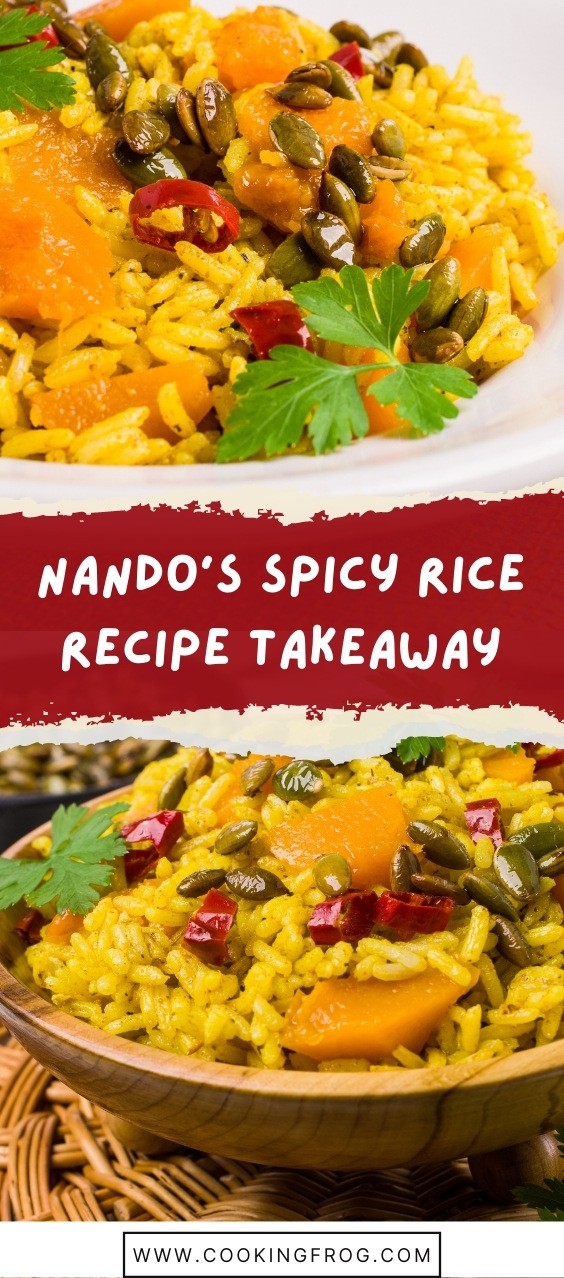 FAQs
Can I add water instead of broth?
Yes, water can be added. Whether you use water or broth is entirely up to you. I like to add the broth to give this dish that distinct Nando's spicy rice flavor. You can also add a chicken stock cube if you wish. It also goes great with the spicy rice recipe.
How to set the quantity of water to make spicy rice?
If you want your rice to be juicy and tender, use two ratios one method. Use 2 cups of water for every cup of rice. If you mix the water and rice in a 1:1 ratio, your rice will be crunchy. So, for whatever rice recipe you
want to make, 2 ratios 1 works best.
How to store the leftover Nando's spicy rice?
Nando's spicy rice leftovers can be stored in a plastic box. The spicy rice can be kept both in the refrigerator and the freezer. The exact storing point is determined by the amount of time you want to keep it. Refrigerate the rice if you wish to keep it for 24 hours. If you've cooked a large batch of rice to serve the whole month with your favorite peri-peri chicken or fish, freeze it.
How to reheat the rice?
There are 3 techniques to reheat the rice.
If you want to reheat the rice quickly, place it on a dish, and microwave it for a couple of minutes. To reheat the rice plate properly, place a moist cloth on top of the dish.
Pan-heating is my preferred technique of heating. Place the rice in a pan with a splash of water and heat it. Make sure the rice is covered with a lid. While the rice is heating up, give it a gentle stir now and again.
The oven is the third mode of heating. Place the rice and a splash of water in the oven tray. Aluminum foil should be used to cover the tray. Reheat the rice for 15 to 20 minutes at 300°F.
All of these techniques of reheating work well for safe heating. Keep in mind a few tips
Before reheating, defrost the frozen rice in the fridge.
Break up any large clump of rice with a fork before heating via any method.
Nutrition Facts
Here are the nutrition facts about Nando's style spicy rice
Calories per serving: 230
Carbohydrate: 40g
Protein: 5g
Fat: 8g
Conclusion
My over obsession with Nando's has always provoked me to try Nando's dishes at home. My homemade version of Nando's special spicy rice went very well. You can pair this recipe with steak or fish to add some extra flavor. I wholeheartedly recommend you to try this at home. I'm sure you would love its every single bite.
If you liked my recipe, do share it with your lovely friends, especially ones with Nando's obsession.
Thanks!