Are you ready for the best-ever Wet Burritos? Smothered burritos are made with ground beef and refried beans and wrapped in large tortillas. They're topped with red sauce and melted Mexican mix cheese.
Serve this tasty authentic Mexican dish with your favorite toppings, such as guacamole or sour cream, lettuce, and onion, tomatoes, and tomato sauce. These are often requests from friends and family.
You can freeze leftovers if you cook for two. Reheat the leftovers by allowing them to cool completely before heating up your oven to 400°F. Bake for 15-20 minutes or until they are heated through.
Wet Burritos Recipe
You can also check out this amazing California Burritos with Carne Asada Recipe!
Ingredients
Ground beef 1 lb

2 teaspoon minced garlic

1/2 cup chopped onion

1 teaspoon of cumin

1/2 teaspoon salt

1/2 teaspoon pepper

5 oz diced green chile peppers

15 oz refried beans

8 oz tomato sauce

10 oz enchilada sauce

15 oz chili without beans

2 cups shredded lettuce

6 tortillas for a burrito (approx 10-12 inches)

3 cups Mexican mix cheese

For garnish, chopped green onions

Toppings to your liking
Instructions
Preheat the oven to 400°F

Using a skillet, brown the onion and ground beef together over medium heat.

Cook until the onion starts to soften and is evenly browned.

Drain the grease and season it with salt, cumin, garlic, and salt.

Mix in the green chilies, refried beans, and salt until everything combines well.

Keep warm, but turn off the heat.

Mix together chili (no bean), tomato sauce, and enchilada.

Mix well and heat on medium heat to heat through.

Keep warm and turn off the heat.

Divide the bean and beef mixture into six portions.

Place one-half of the ground beef mixture on top of a tortilla the size of a burrito.

Add some cheese and lettuce to the top.

If you don't wish to bake the lettuce, leave it out.

Place the filling on the tortilla by folding it in half.

Fold the tortilla in half, forming a pouch.

Continue with the remaining 5 tortillas.

Put seam side down in 2 greased 9×13 oven-safe dishes.

Sprinkle the sauce in a large saucepan over the top of your burritos.

Take the remaining cheese you have, and add it over the top of the burrito, be sure it's evenly spread.

Bake for 15-20 minutes in the oven until the burritos have been heated through and the cheese has melted.

Add more tomato, lettuce, sour cream, dried chives or other toppings.
Pin the image below if you like this smothered burrito!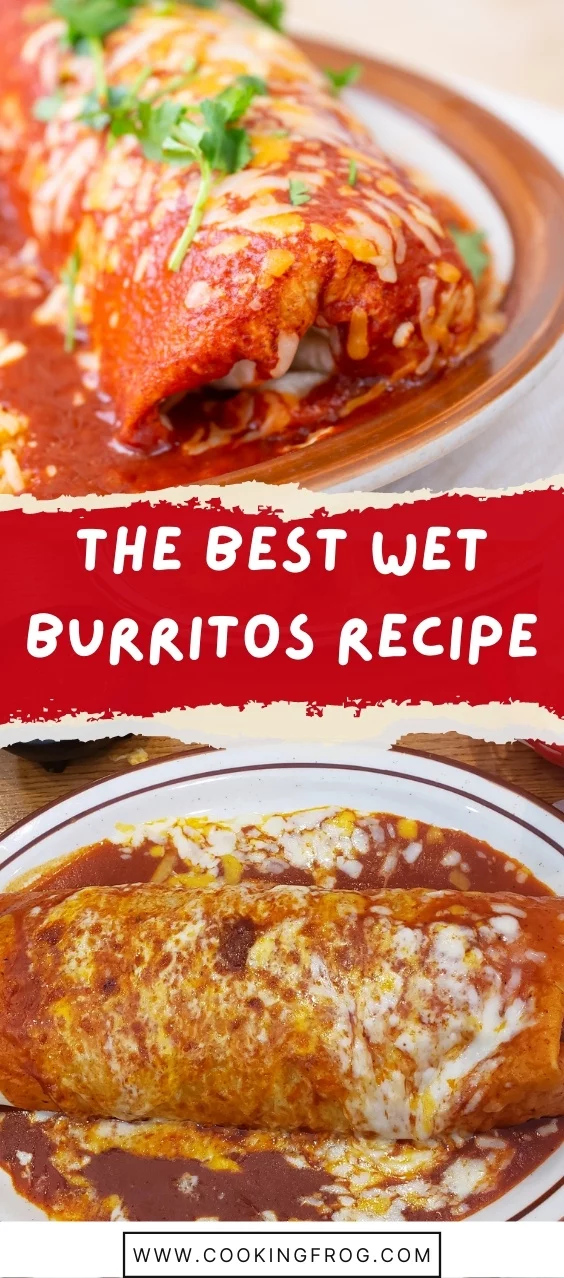 What is a "wet burrito"?
A wet burrito has been smothered with red enchilada sauce and melted cheese and then covered.

Also known as a smothered Burrito,

This meal can be made completely to your liking. It's an excellent choice for a family dinner.

You can swap out the meats and rice for your favorite meat, beans or vegetables. Also, you can use your favorite red or green enchilada recipe.

An excellent option for leftovers!

This is a great way to use leftover meat from a meal.

Restaurant Quality: This meal is simple but delicious and filling. It also looks great, just like a meal at your favorite Tex-Mex restaurant.
The Best Wet Burritos Ever
Are you familiar with The Beltline Bar's Famous Wet Burritos of Grand Rapids, Michigan, or The Grand Villa Dungeon's Wet Burritos of Grandville, Michigan? If you are, you know their burritos are amazing! This recipe is even more delicious, and you can make it in your own kitchen.
Do you want something to accompany it? This Basque Burnt Cheesecake and this Crustless Creamy Cheesecake for Two are great options.
What's the difference between an enchilada, a burrito, and a chimichanga?
What is a burrito, you ask?
Burritos are made with tortillas that have been filled with one or more ingredients. You can fill your burrito with any cheese, meat, sausage, egg, all kind of sauces, beans, or other veggies. You can usually eat one of these burritos per meal. They can be smothered with sauce or picked up and eaten independently.
What is an Enchilada?
Enchiladas are made with corn tortillas. They are wrapped in a filling, rolled up, and then wrapped again. These are usually served with chili sauce or enchilada sauce on a bed with cheese. These are small enough to fit on one dinner plate.
What is a chimichanga?
Chimichangas can be described as deep-fried burritos. To get a crisp outer shell, they can be lightly brushed with oil and baked in an oven. You start with a burrito-sized flour tortilla. The fillings can vary, but they are generally filled with the same fillings as burritos. Chimichangas come with cheese, sour cream and guacamole.
FAQS:
Can you freeze wet burritos?
After filling and rolling your burritos, wrap them in foil. Place in a bag or container that is freezer-safe. These can be frozen for up to 60 days, or more.
What about using a green enchilada?
You can use any enchilada condiment you like. A chicken filling is a great pairing for green sauce.
Which tortilla is best?
Large burrito-sized tortillas are best, measuring approximately 9-10 inches in diameter. Either buy ready-made or make your own. When you are short on time, one of my favorite options is to buy raw tortillas at the markets. These can then be prepared in your own kitchen.
Expert Tips
Warm all your fillings before filling the wet burritos. This reduces the baking time and ensures that everything stays warm throughout the cooking process.

I prefer using a baking dish rather than a cookie sheet. Enchilada sauces can get drippy, so use a baking dish to prevent any spills.
Notes
You can freeze leftovers if you cook for two.

Reheat by allowing it to cool completely, then heating your oven to 400°F. Bake for 15-20 minutes until the cake is heated through.