Yes, we are making sushi again! Today we are going in-depth on what is Tobiko and Tobiko Sushi recipe. I am going to show you all you need to know to make a perfect Tobiko Sushi! These are tobiko eggs. Or, you might know them as flying fish roe. They are tiny pearl balls with a diameter between 0.5 and 0.8mm.
Tobiko, unlike other eggs like Capelin roe or Masago, is much larger than ikura (salmon roe). Mostly, Tobiko is used in maki, sashimi, and other Japanese dishes that involve fish.
So, it is our practice that, unlike other recipe websites, we'll start the post with the recipe, so you don't have to scroll to the bottom of the page to see the recipe. However, I highly recommend you to check out the entire post, in order to get the most out of this Tobiko Sushi recipe. See our other seafood recipes.
Ingredients Tobiko Sushi
For sushi rice
1 cup of short-grain sushi rice

Cup of water

1 TBSP of sushi vinegar. (To make it, mix 1 TBSP of mild rice vinegar with 1/2 cup sugar and 1/2 teaspoon salt.)
For Tobiko Sushi
3 TBSP of tobiko, a flying fish roe

1 /2 of cucumber cut into 1/2 inch strips

6 oz of boiled shrimp, salmon, tuna or crab

2 seaweed nori sheets

2 avocados
Instructions for Tobiko Sushi
Wash the rice first, then add the water and rice to the rice cooker.

After the rice has been cooked, place it in a large bowl and allow it to cool just a bit.

Once the rice reaches a warm temperature, add the sushi vinegar.

After that, cover the bamboo mat with plastic wrap. This will make it easier to clean and keep the rice from sticking.

Next, fold the nori sheet and then cut them in half. Then place the nori sheet half on top of the bamboo mat.

Spread 3/4 cup of the cooked rice on the nori. Make sure your hands don't stick. Next, dip them in vinegar water. Finally, flip it so the rice points downwards.

Place the cucumber, shrimp, and avocado on the nori. Next, place your thumbs underneath the bamboo mat to raise the edge and cover the filling.

Next, roll the bamboo mat in the opposite direction from you. Use light pressure to tighten the mat and then continue rolling until it touches the end.

And finally, Tobico. Remove the bamboo mat, then spread the tobiko over the roll.

Place the plastic wrap over the sushi, then cover it with a mat. Finally, press down gently to spread Tobiko over the roll.

Now, you will need to take off the mat, but keep the plastic intact. Then cut the roll into bite-sized pieces.

Take off the plastic wrap and serve.
Pin the image below if you like this Tobiko Sushi Recipe!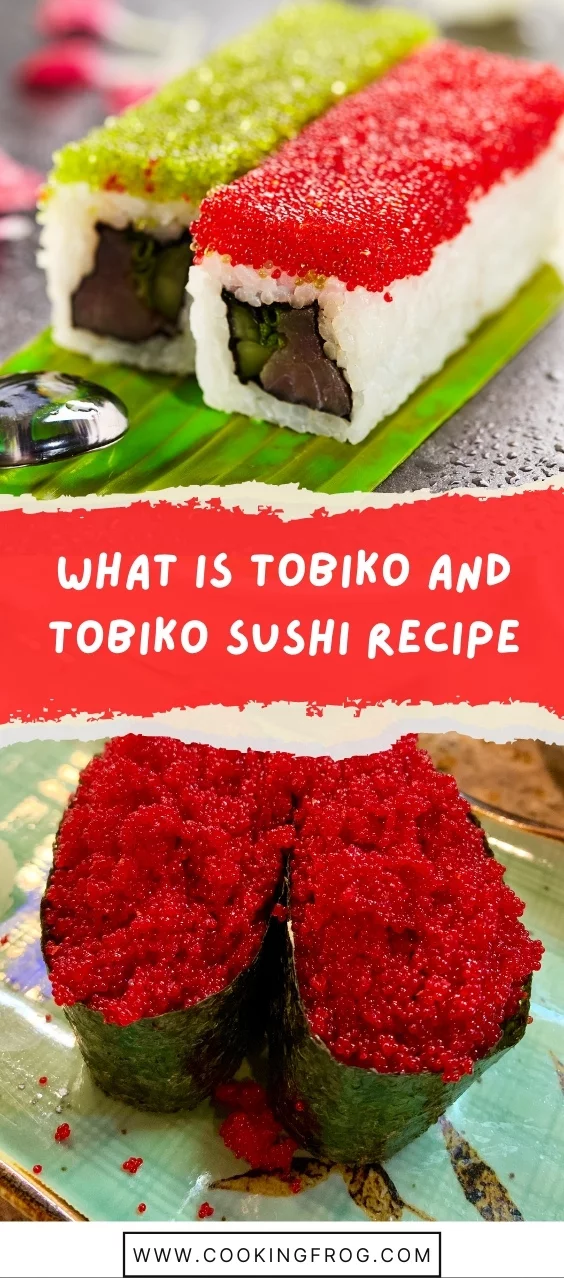 What is Tobiko (flying fish-roe) and Tobiko Sushi?
For the second time, you go to your local sushi restaurant and order an exotic-sounding sushi roll. Tobiko, Japanese for flying fish-roe, is one of the ingredients in the roll. It's often added to various dishes as garnish. The Green Dragon roll arrives at the table and you notice that the tobiko is not the same color as the one from the previous night. It has apparently changed from orange to lime green. Are you concerned about the contamination of your food? Are you losing your mind? We are here to assure you that everything is fine.
Tobiko is a Japanese topping that gives sushi dishes a unique and tasty taste.
Tobiko, Masago, and ikura are the most popular flying fish roes that can be used interchangeably in Japanese cuisines.
Masago eggs differ from Tobiko eggs in that they are smaller than Tobiko eggs. On the other hand, Ikura Japanese salmon eggs, also known as the Japanese version caviar, are Ikura.
Tobiko may not be well-known in the West. However, you can still find it in a variety of packaging in Japanese grocery stores. Take a spoon and eat as much as you like.
What does tobiko taste like?
Tobiko is salty with a slight smoky flavor. However, it tastes a lot sweeter than other variations of roe. You can feel the delicate texture and crunchy texture. It works well as an addition to rice or fish.
One thing I can guarantee is that your taste buds will thank you when you eat tobiko-decorated sushi rolls.
What is Black Tobiko?
Tobito can take on the colors of other ingredients so the black tobiko that you see is not tobiko. However, it has been dyed using either squid or food coloring. The color ranges from dark black-red and green to black-red.
As I mentioned, Tobiko eggs absorb color perfectly. This is why sushi chefs often use different colors to create unique dishes.
Japanese chefs use beets to cook their tobiko eggs. Squid Ink is used for black, wasabi for green and red beets are used for red. Blue tobiko is a rare color.
There are some fish species in Australia that can produce natural blue eggs. But there is a lot of fish eggs around the world, each with its own distinctiveness. We'll get to it another time.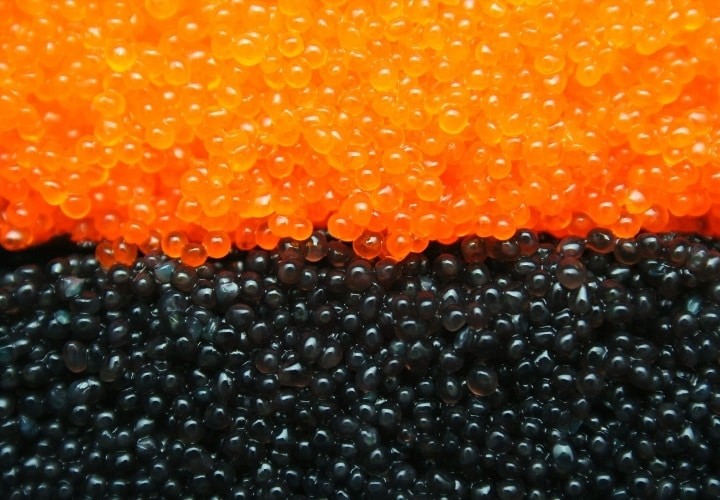 What's the difference between Masago and Tobiko?
Tobiko, as well as masago are fish roe. They are often used in sushi rolls.
Tobiko is flying fish roe, and masago is the egg of the capelin. Tobiko has more flavor to it and is, therefore, more expensive than masago.
Is it safe to eat tobiko raw?
It is 100% safe to eat, and if you eat Tobico Sushi that means you are eating raw Tobico. Raw tobiko is a great source of Omega 3, selenium, and a great source of protein. The only downside is it has higher levels of cholesterol, so I advise eating smaller portions.
Different types of tobiko available in different colors
Tobiko can take on the color and taste of other ingredients when it is filled with them.
Black tobiko – In combination with squid Ink

Green tobiko – In combination with wasaki

Yellow tobiko: In combination with yuzu (Japanese citrus lemon)

Red tobiko: In combination with beetroot
How to make Tobiko with other dishes
Tobiko can be enjoyed with sushi or sashimi as well as a variety of other dishes like:
Tobiko Pasta: To add a teaspoon of tobiko to fresh-made creamy pasta, it will give it a slight saltiness that balances the creaminess and adds a hint of smoky flavor.

Dips: Tobiko can also be added to nachos and crackers, as it tastes great with some lemon zest.

Salads: Tobiko can be added to salads to provide extra nutrition and protein. It will make your salad look better, and it will taste great!
Where can I buy tobiko?
If you're located in the US you can find Tobiko at your local Aian or Japanese grocery stores, this is where you'll get the best Tobiko. They will likely have a variety of choices for you to choose from.
If you are buying Tobiko for the first time, I suggest you choose a smaller size. You won't need as much sushi unless you make lots.
Don't worry about the price, masago and tobiko are very affordable, as they freeze well so they can be purchased all year.
And if you don't want to bother making Tobiko Sushi, and you're from San Francisco, here's the list of 15 best restaurants for Tobiko Sushi.
Tips when buying Tobiko
If you're buying online, choose a seller you trust. They will offer a money-back guarantee or a replacement product.
Read reviews written by other cooks who purchased the tobiko brand you are interested in.
Make sure that the tobiko jar or tin is not opened.
Masago is very similar to tobiko, so be sure to check the label before you buy the ingredient.
Tobiko is perishable so it is best to only purchase what you need.
Be aware of the expiration date so that you can use the ingredient within the time limit, or to freeze it.
How do you store tobiko?
Tobiko can be stored in two ways.
Tobiko can be kept in the fridge
You can store your Tobiko in a jar, and keep it in the fridge for up to 10- 14 days.

If the jar is unopened it can stay in the fridge for up to three days.
Tobiko can be stored in the freezer
Tobiko can also be frozen and refrozen for future use.
Tobiko can be stored in the freezer for up to three months. When you are ready to use it, use a spoon to scoop out the desired amount from the bowl. Then let it thaw before putting the rest in the freezer.
Tobiko Sushi Nutrition Facts
Quantity per Serving
Calories 68

Total fat 3g 7%

Cholesterol 29 mg 10%

sodium 87 mg 4%

Potassium 106 mg 3%

Total carbohydrate content 6 g 3%

1g 5% of dietary fiber

Sugars 1g

Protein 3.5 g 6%
In Conclusion
Tobiko's smoky and briny taste and subtle sweetness make it an excellent garnish for sushi rolls, omelets, and other fish-based dishes.
Tobiko is a fish roe that can be used sparingly in a variety of dishes to add color and saltiness.
Now that you have all the information you need about this raw, fresh ingredient, I hope that you can try it in your favorite recipes soon!