Chicken Gizzards–in this Southern fried chicken gizzard recipe, the gizzards are tossed in a spicy batter with buttermilk and hot sauce and then coated in a spicy flour mix and finally deep-fried to golden brown sublimity.
These delicious fried chicken gizzards are a staple and favorite dish in Superbowl and festive parties. I'm not sure if anyone would drop by at my place if I hadn't prepared these. The secret to making them nice and tender is to spare some extra time to pre-boil them. And if you have any leftover broth, you can use it in the freezer.
What is Chicken Gizzard?
If you ever watched chicken nibbling at the ground, they are actually eating small pieces of rock and gravel, which moves through the chicken's digestive organs and binds to the gizzard.
When the chicken eats something, the gizzard shrinks (like a small hand squeezing), which is necessary to process its food and allow proper digestion.
Now, there is at least one fried gizzard lover for every ten fried chicken lovers. You can easily find these in eateries and so I decided I had to concoct a recipe to honor this special Southern favorite here on my blog.
Chicken gizzards are basically muscled tissue or organs. They are very small and they have a distinct chewy texture and taste. The taste can be described as something similar to dark meat parts e.g. chicken or bird thighs from a whole bird, but harder.
How to prepare Chicken Gizzard?
Due to their chewy texture, I begin this recipe with a buttermilk batter. The acids in it help bring some of the chewiness and hardness down without affecting much its natural taste. Thanks to the incorporation of salt and pepper, the flavor is slightly amplified (it's best to let these soak in these for some time).
There are three steps involved in seasoning the chicken gizzards. The first stage is adding salt and pepper, then transferring these to the seasoned buttermilk and finally to the flour coating. There is spice and flavor in every single piece of the chicken this way. I also love to add a bit of garlic powder to this to add more flavor. You may also add a kick of heat with cayenne pepper and paprika powder.
The final stage involves frying these to a golden standard. It's best to use a deep fryer (if you have) so you won't need to flip them over or work with a spread-out amount of oil in a pan. This will also help them fry evenly from every side.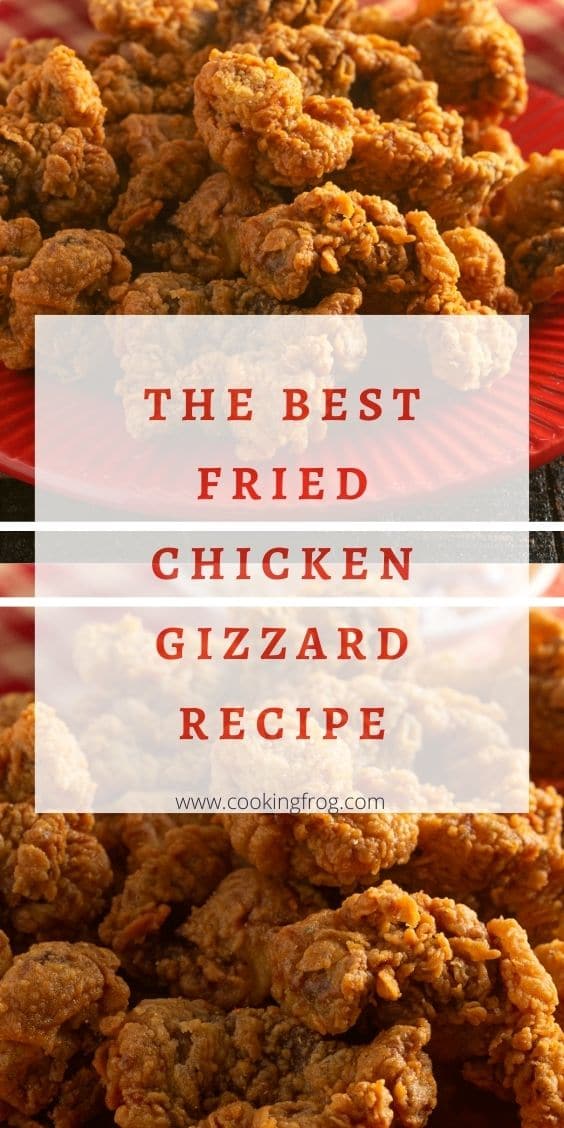 Fried Chicken Gizzard Recipe
Ingredients
1 lbs. chicken gizzards
1 ¼ cup self-raising flour
2 cups buttermilk
2 tsp hot sauce
1 tbsp+2 tsp seasoned salt
1 ½ tsp black pepper
½ tsp cayenne pepper
½ tsp garlic powder
½ tsp paprika
Oil (for frying)
Instructions
Begin by removing the excess fat and from the gizzards.
Combine the hot sauce and buttermilk in a plastic storage bag and shake well to combine. Toss in the gizzards and allow to set for a couple of hours.
Combine the flour, black pepper, garlic powder, paprika and cayenne in a large food-grade bag.
Once the gizzards are soaked well, add them in a few batches to the flour mix bag and toss evenly to cover all sides then transfer to a baking sheet lined with parchment paper. Keep in the fridge for 20 minutes to let the flour set.
Heat a pan with the oil over medium to high heat. Make sure that the oil is min. 2-3" tall.
Fry until they turn golden brown and transfer to a serving dish lined with paper towels to drain.