KFC Chicken Littles Recipe is a Copycat recipe for one of the most famous sandwiches in the world. To get an idea of how popular KFC Chicken Littles are is the fact that there is actually a Facebook petition page you can find here.
The chicken little is meant to be an excellent soft roll instead of a seeded slider bun. It was also a chicken patty, reminiscent of a school restaurant lunch. And it had a pretty decent quantity of mayonnaise, no lettuce.
This new sandwich has been trashed by the real lovers of the original chicken little, and we are all asking the question, why can't they merely bring back the original?
So, in the meantime, I actually have tried to copy this sandwich in my kitchen and try and satisfy my cravings for this old-fashioned love. It's not precisely just like the classic, and I did add pickles cause I do love the mix it offers the sandwich; however, trust me, this can be much better than the new wannabe KFC "chicken little."
How to make KFC Chicken Littles as the Original :
Buy the softest dinner rolls you can find in your bakery or your supermarket.
Toast the bun slightly on the stove first.
Don't skimp on the mayonnaise; it needs a decent lather.
You need to flash-fry the chicken before you bake it. It needs an additional soft crunch instead of an extra crisp coating.
Pickles are optional, chose according to your liking.
If you wish to make this sandwich even more like the classic, you can purchase chicken patties in the frozen section of your supermarket.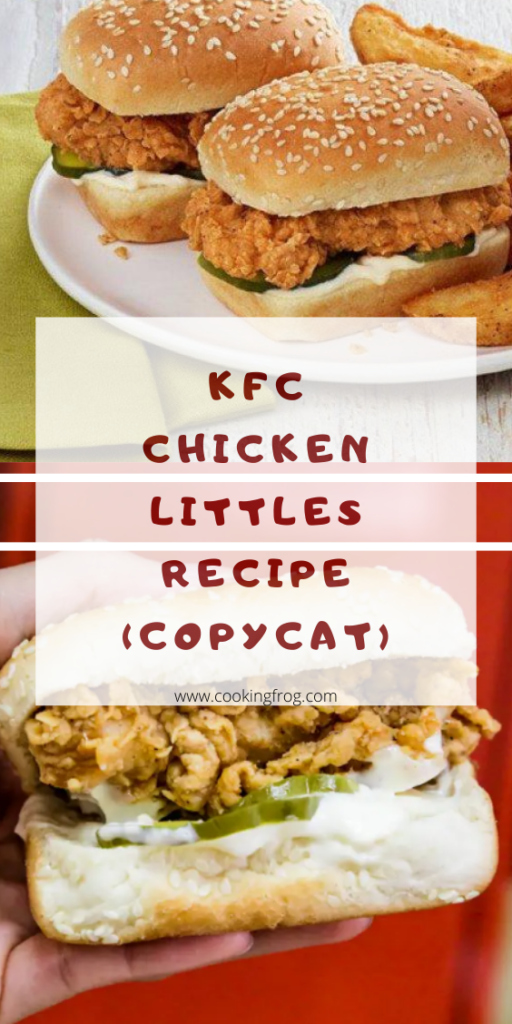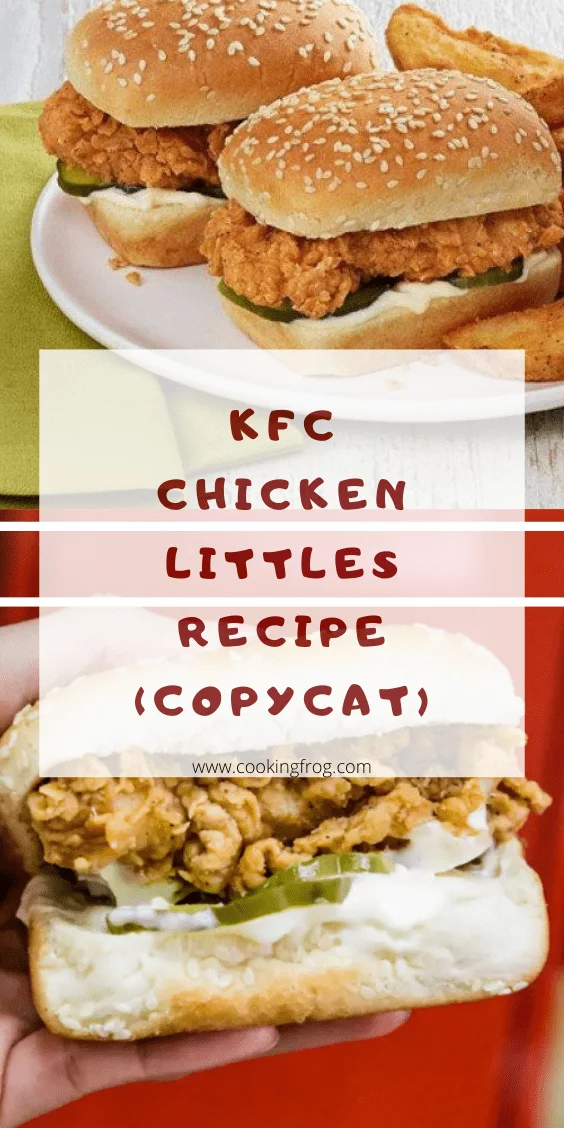 How to make KFC Chicken Littles Recipe (Copycat)
Cut the chicken breasts into 3-inch pieces.
Pounding with a kitchen mallet, or if you don't have one, use a rolling pin to ensure even cooking and tenderness.
Heat the oil to about 400F using a fry-safe pot.
Heat the oven also to 400 F and prepare a pan lined with parchment paper.
Mix the flour and all seasonings using a dish or a plastic bag.
Mix together eggs and water in a bowl and beat well.
Toss the chicken in the flour mix, then into to egg mixture, and back into the flour mixture.
Flash fry for about two minutes a bunch of chicken pieces at a time.
Be sure to move them around to prevent them from sticking.
Take away the chicken, place it onto a stack of paper leave it to rest while you repeat with the remaining chicken.
Once all chicken is cooked nicely, place onto the baking sheet lined with parchment or foil and bake for around 15 minutes, or till the internal chicken temperature reaches 160-165F.
Prepare the sandwiches while the chicken is baking.
Toast each side on the roll slightly using a skillet on medium heat, sprayed with nonstick oil spray.
When the buns are cooled a bit, add mayonnaise generously to each side of the rolls, and place four pickle slices (if you like) on every bottom half of the bun.
Place a piece of warm tasty chicken on every sandwich, and enjoy!
Ingredients
2 1/2 cups of flour, all-purpose
2 tsp of paprika
1 tablespoon of salt, seasoned
2 tsp of sugar, granulated
2 tsp of black pepper
3 whole eggs, with 1/4 cup water, beaten
Duke's mayo (full fat )
50 pickle slices (if you like)
12 pcs of dinner rolls, old fashioned
frying oil
4 chicken breasts
If you like these KFC chicken littles, please check these Chicken Minis from Chick-fil-a, McDonald's Chicken McGriddles and Popeyes Chicken Sandwich Recipes, and Crispy Keto Chicken Wings.